Ohio State Football: Is Armon Binns or DeVier Posey Ohio's Top Receiver?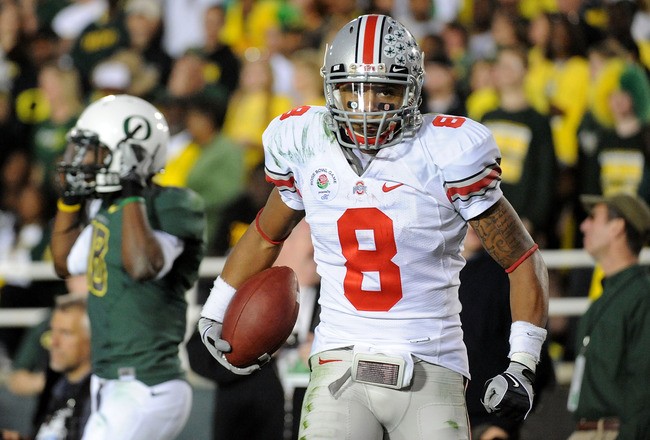 With the 2010 season just around the corner, the state of Ohio finds itself possessing two of the top receivers in the whole country.
For Ohio State, speedster DeVier Posey broke out last season in his first year as a starter. He garnered 828 receiving yards and eight touchdowns.
But if you travel south down Interstate-71, you'll find another receiver who also made a name for himself in 2009.
Although he wasn't in the spotlight due to Mardy Gilyard's success, Armon Binns quietly established himself as a top receiver in the Big East for Cincinnati. The big target finished the year with 888 yards and 11 touchdowns.
Their successful seasons established the receivers as two of the top returning pass-catchers in America.
Who is the top dog in their own state, however?
Posey is one of the fastest players in the nation and made himself into a very effective route-runner in his first year as a starter.
With Binns, you have a receiver with elite size that can come down with any ball. While all the attention was given to Gilyard, Binns established himself as Tony Pike's favorite receiver in the red zone.
So who does own the Buckeye State? I'll debate that in the next few slides.
Size - Binns' Best Asset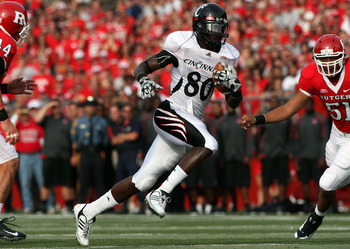 Both Binns and Posey have elite size for college receivers.
Posey pushes 6'3", which usually gives him the leg up when it comes to wrestling a ball from a defender. What makes the receiver so deadly is how he combines his size with his speed and ability.
For Binns, size is his most important factor.
At 6'4", Binns will win most jump balls against corners. His size is what made him Cincinnati's go-to threat in the red zone, allowing him to finish the year with 11 touchdowns.
His length is also what has pro scouts drooling most over. He was listed as Mel Kiper's second best senior receiver in his early rankings for the 2011 class.
While Gilyard was busy burning defenses with his agility, Binns balanced out the attack by out-muscling corners on short throws. He usually came out on top in those situations.
Both may have the size of upper-echelon college receivers, but Binns' 6'4" frame is his biggest asset. It is what made him such a threat last year and it is why NFL scouts are raving about him now.
Advantage: Binns
Speed - Posey Is a Burner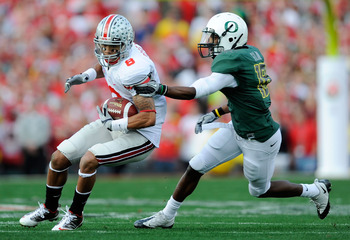 Size might be Binns' best weapon, but Posey's speed is one of the biggest reasons he excels at the position.
A former track standout in high school, the receiver has the ability to beat most corners off the line. His quick first step usually gets him open underneath, and he's deadly once he gets the ball in open field.
Check the highlights from the Oregon game. Terrelle Pryor found Posey plenty of times on short routes and the receiver gained chunks of yards after the catch almost every time.
His breakaway speed makes him a home run threat and a game-breaker for the Buckeyes. He has the chance to outrun any defense if he's given some space.
For Binns, he never really showed elite speed as a receiver last year.
He has a quick first step off the line and is a threat for the Bearcats on short routes, but he relies more on his height for those plays.
Don't expect Binns to pull off the jaw-dropping, open-field runs that Gilyard was known for last season. He just doesn't possess the same agility Mardy possessed.
In the end, Posey's ability to separate from defenses is much better than Binns'.
Advantage: Posey
Hands - Both Reliable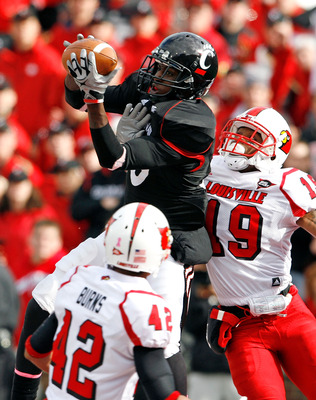 This category isn't nearly as clear-cut as the previous two.
For the most part, both are reliable receivers who have an occasional drop.
Posey said that dropping passes was one of his biggest weaknesses in 2009 and something he's trying to fix for next season.
He did have some key drops on the season, but Pryor wasn't afraid to target him all the time last year. Whether that's because the two are best friends or because Pryor finds him as a reliable receiver is questionable.
Binns came up with the big catches for Cincinnati throughout the year. His ability to go up and secure balls is what made him so effective as the Bearcats' No. 2 receiver.
Like Posey, he did have drops every now and then, but was certainly a receiver Tony Pike was comfortable with.
Like I said, this one's harder to choose than the previous ones, but I think Binns has the slight advantage.
Advantage: Binns
Route-running - Posey's Top Asset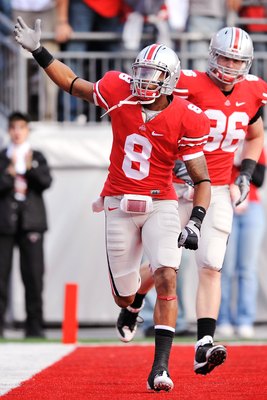 Posey said that route-running was something he wanted to improve on before 2009 began. His hard work definitely paid off.
As the year progressed, Posey's routes became more crisp as he became more comfortable as the Buckeyes' No. 1 guy.
His attention-to-detail with his routes and his quickness were huge factors in his ability to get open. He also showed great awareness in adapting to different coverages and made smart adjustments off them.
Plus, the chemistry he has with Pryor is a huge asset. The pair's timing is amazing. They are almost always on the same page.
For the most part, Binns runs effective routes too.
He has the ability to get open underneath. Pike targeted Binns on short routes all the time last year and Binns excelled in the situations.
He isn't nearly the same smooth route-runner that Posey offers, however. While Binns relies on his size to excel, Posey's precise routes are what sets him apart.
It's hard to deny Posey on this one. He clearly is the winner in this category.
Advantage: Posey
Overall - Who Takes the Crown?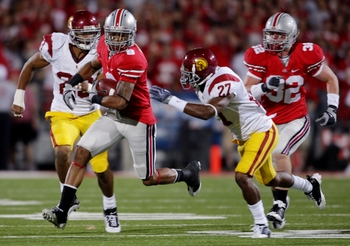 Like I said in the beginning, this would be a tough choice. Both proved last season that they're elite receivers.
In the end, however, one can't deny everything that Posey brings to the table.
He possesses almost everything desired in a receiver. Size, speed, athleticism, and intelligence. He's the total package, and that's why he should bring in over 1000 yards in 2010.
Binns is very talented too, but his success could be attributed to defenses giving so much attention to Gilyard and Brian Kelly's wide-open offense. It's unknown if he'll flourish in the same fashion under Butch Jones.
The biggest difference between Binns and Posey is their open-field speed. Posey has the chance to break the game open at any second, but the same can't be said for Binns.
Binns does have his size going for him. With Gilyard out of the picture, he could pull in even more touchdowns than the 11 he had last season.
Overall, Binns should garner around 1000 yards with new QB Zach Collaros at the helm. He'll be the main target in a very talented receiving corps.
But when it comes down to who's the top receiver in Ohio, it's hard to deny Posey.
Keep Reading

Ohio State Football: Like this team?