10 Teams Who Could Win the National Championship in 2010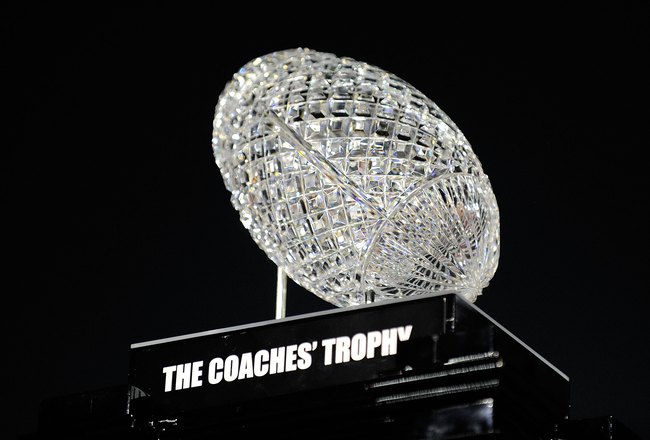 The 2010 college football season should be very entertaining and interesting to watch this year.
With 120 programs fighting to win the heralded national championship trophy it should be another classic season.
But who can win the championship?
Well I have 10 teams in mind who could be crowned the National Champions of college football.
10. Miami Hurricanes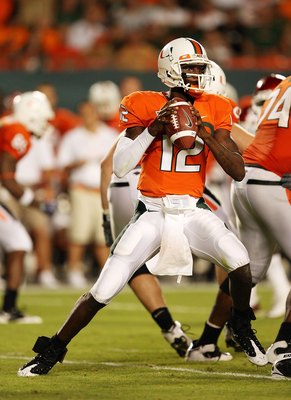 Last year the Miami Hurricanes had a comeback year with the emergence of star quarterback Jacory Harris.
Harris has the the capability to be one of the best quarterbacks in the nation with his arm and legs. He also brings great poise back to the Hurricanes and the rest of his teammates seem to follow him.
The Hurricanes also have leading rushers Graig Cooper and Damien Berry back. They also have leading receivers Leonard Hankerson and LaRon Byrd coming back to give Harris more targets.
Along with the offense, the Hurricanes have a hard hitting, speedy defense that can play with anyone.
A huge game that could make or break this team is in week 2 when they play Ohio State at the Horse Shoe.
9. Virginia Tech Hokies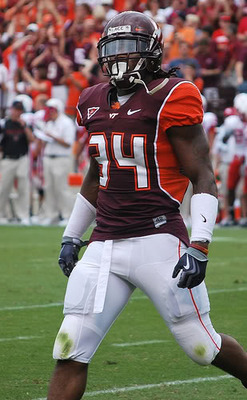 After a solid season in 2009 the Hokies are looking very good for the 2010 season.
Sophomore running back Ryan Williams could be a Heisman candidate and lead this team to a major bowl or even a national championship.
Williams rushed for over 1,600 yards during his freshman year and is looking to improve upon those scary stats.
Quarterback Tyrod Taylor is also a playmaker with his running ability, and is a solid passer that can get it done either way.
A huge game that could make the Hokies season is their first game of the season against Boise State.
8. Nebraska Cornhuskers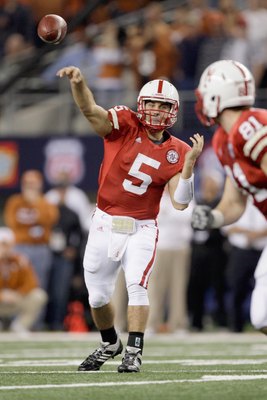 Quarterback Zac Lee is coming back after another solid season and he has many weapons alongside him.
Roy Helu Jr. is a very good running back that rushed for over 1,100 yards last year, and is looking to improve on those stats this season.
Wide receiver Niles Paul also had over 700 yards receiving averaging just about an astonishing 20 yards per catch.
The defense is also looking very solid maybe a top five defense in the nation.
A huge game is when they have to travel to Washington to play the Huskies in the third week.
7. LSU Tigers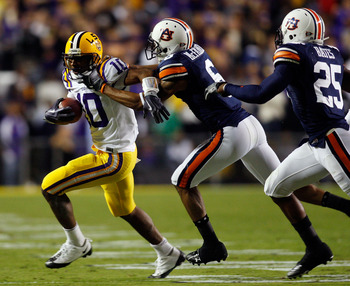 Quarterback Jordan Jefferson looks to improve upon his already superb stats from last year with maybe the best athlete in the nation alongside him, Russell Shepard.
Shepard rushed for 277 yards on only 45 carries averaging over 6.2 yards per rush and could come in at quarterback or receiver this year.
Terrence Toliver is the leading receiver coming back after having more than 700 yards receiving and with Jefferson improving Toliver should be also improving.
And after only allowing 16 points per game last season, the LSU defense looks to keep that SEC defense as one of the best in the nation.
On October 9th the Tigers have to play the Florida Gators at the swamp which could be a make or break game for this team.
6. Iowa Hawkeyes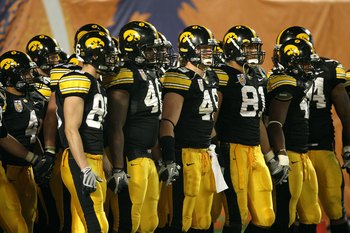 After an impressive season last year the Hawkeyes are only improving with young players.
Quarterback Ricky Stanzi is coming off a great season that was cut short by injury. Stanzi leads a team that has a great young running back in Adam Robinson who rushed for more than 800 yards.
Robinson, only a freshman last year, will look to improve upon those numbers after he also was injured.
Derrell Johnson- Koulianos also comes back after being the leading receiver for the Hawkeyes with 750 yards.
Another star player to watch for is defensive end Adrian Clayborn who leads a defense that only allowed 15.5 points per game last season.
A tough game will be when the Hawkeyes visit Arizona to play a tough Wildcat team which could really make this season with a win.
5. Oklahoma Sooners
After a disappointing season for the Sooners they are ready to make strides with all the talent they have.
Landry Jones leads the young talent after filling in for Sam Bradford for most of last season and putting up great numbers.
Landry will be throwing to his lead receiver Ryan Broyles who had over 1,100 yards receiving and 15 receiving touchdowns.
Another weapon is running back DeMarco Murray who rushed for over 700 yards while splitting carries with Chris Brown.
The defense also looks to be another top defense in the nation only allowing 13.5 points per game last season.
Two make or break games will be against Florida State at home and Cincinnati away.
4. TCU Horned Frogs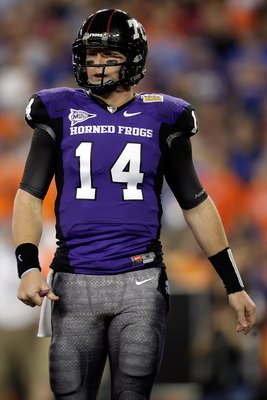 After a breakout perfect season, the Horned Frogs look for only one thing; a national championship.
Quarterback Andy Dalton had a superb year last year and only looks to improve in the 2010 season.
Behind Dalton is sophomore running back Matthew Tucker who ran for almost 700 yards and had eight rushing touchdowns as a true freshman.
Also both leading receivers Jeremy Kerley and Jimmy Young come back after both put up over 500 yards receiving each.
The hard hitting defense also looks to keep teams to the same amount of points per game as last year at 12.4, but what's scary is that their defense could improve.
A tough game will be against Pac-10 opponent Oregon State in the first week of the season which could be a true test for the Horned Frogs.
3. Boise State Broncos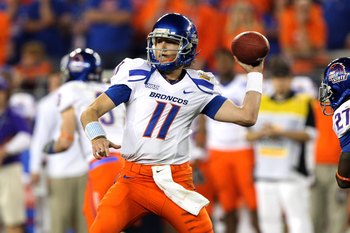 After another great season the Broncos look to finally make it to a national championship out of a less than stellar WAC conference.
But with Kellen Moore at quarterback things are looking up after having a career season with 39 touchdowns and only three interceptions.
Moore goes into the 2010 season as a legit Heisman candidate and most likely will improve on a already Heisman like season.
Behind him is Jeremy Avery who rushed for over 1,100 yards and is also looking to improve with a mammoth of an offensive line helping.
Doug Martin also looks to contribute at goal line situations after scoring 15 touchdowns in the 2009 season.
Both leading receivers are coming back, Titus Young and Austin Pettis who also look to have great seasons with the emergence of Moore.
The Broncos defense also look to improve after a solid year allowing 17.7 points per game.
Maybe the biggest game of Broncos history will be played in the first week of the season against Virginia Tech.
Winning this game will for sure give the Broncos the credit that they are a very good team in a bad conference but losing it will kill their chances of going to the national championship.
2. Alabama Crimson Tide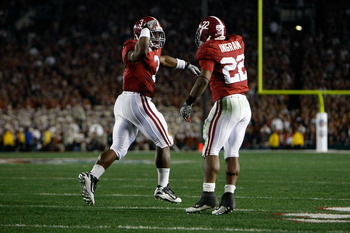 The Crimson Tide were the 2009 champions and are heavy favorites to win it again.
Heisman winner Mark Ingram had a incredible season carving up SEC defenses for over 1,600 yards and 17 touchdowns.
Ingram is only a junior and looks to be a Heisman favorite heading into the 2010 season.
Quarterback Greg McElroy had a solid season producing numbers that were pretty good and he returns for the 2010 season.
Wide receiver Julio Jones also returns as a huge target for McElroy to throw to.
And with maybe the best defense in the nation only allowing 11 points per game the Crimson Tide look to keep that up but it will be tough after defensive tackle Terrence Cody left and linebacker Rolando McClain left.
A tough game will be against LSU at Death Valley where they face a tough SEC rival with the Death Valley crowd making it a living hell for them to play.
1. Ohio State Buckeyes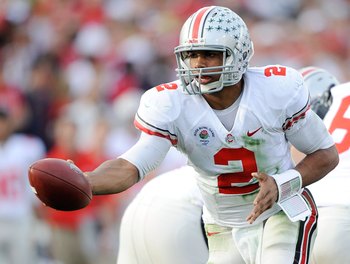 The Ohio State Buckeyes are a favorite to win the national championship after a great 2009 season with a Rose Bowl win.
Quarterback Terrelle Pryor is a highly skilled athlete that can pass and run. After a solid 2009 season, Pryor looks to improve and keep up his 2009 stats where he rushed for over 700 yards and passed for over 2,000.
Behind Pryor are running backs Brandon Saine and Daniel "Boom" Herron. Saine rushed for over 700 yards while Herron complimented him with 600 yards.
Pryor will be throwing to DeVier Posey who had over 800 yards receiving and eight touchdowns while speedy receiver Dane Sanzenbacher will put up some solid stats to.
Also the defense looks to remain one of the best in the nation only allowing 12 points per game and only allowing 17 to the dynamic Oregon offense which averaged 38 points per game.
A couple tough games that could be deadly for the Buckeyes are in week 2 and 11.
Week 2 they play the Miami Hurricanes which will tough against a very good team. In week 11 they play Big 10 rival Iowa Hawkeyes which could decide who wins the Big 10 and maybe a national championship birth.
Keep Reading

Ohio State Football: Like this team?