Luke's Detailed Money In The Bank 2010 Predictions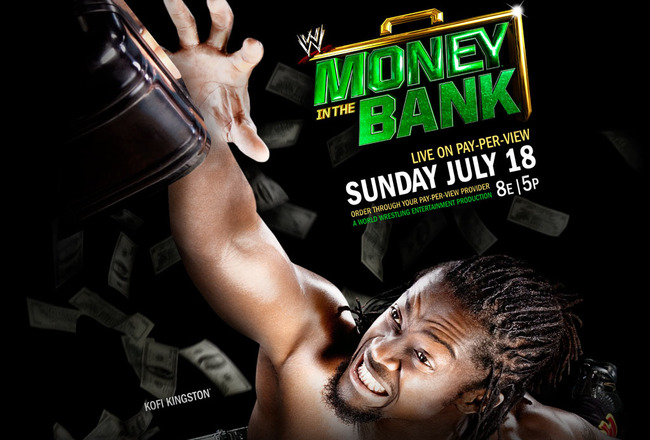 Well, yet again the WWE has come up with a brand new PPV concept which they are debuting this Sunday. The concept of the PPV may be new but the Money In The Bank ladder match itself has become a traditional Wrestlemania match, until now. WWE are really hoping that this PPV will mean money in the bank for them , and just looking at the card you have to say that there is every possibility of this being the PPV event of the year thus far.
After a woeful Over The Limit PPV and an almost equally bad Fatal 4 Way, WWE can finally change the tide, because everyone loves a ladder match. I for one hope they still keep the annual one at Wrestlemania because in that match the winner gets a title shot on any brand they like which makes great TV.
There are also plenty of other potentially decent matches at this PPV, so without further ado let me start predicting (which is going to be no easy task):
SmackDown! Money in the Bank Ladder Match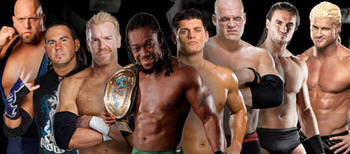 I feel this match will open the show because WWE will probably want the match opening and closing the event. Next to the Royal Rumble, this is probably the second hardest match type to predict the outcome of. So to start, let me eliminate a few names from contention:
Big Show, Kane, Kofi Kingston (even though he's on the poster), 'Dashing' Cody Rhodes.
Why? Big Show can't climb a ladder, Kane is too busy with his Undertaker storyline, Rhodes isn't ready yet and Kingston is already Intercontinental champion.
Ok that halves the playing field leaving Matt Hardy, Christian, Drew McIntyre and Dolph Ziggler. So now I have to look at the names and consider who is ready for the main-event.
Let's start with Matt Hardy. He has been in the WWE for many years now and has never tasted a world title. He gets a big face reaction every time he wrestles and people want to see him win the gold. However, since having surgery last year, Matt Hardy is yet to return to full fitness and his matches have been a little sloppy since his return.
Moving on to Drew McIntyre. Over the last few weeks it looked as though his push was over. However, on Smackdown! last week he defeated Intercontinental champion Kofi Kingston which is quite a big deal. Also, cashing in Money In The Bank would be exactly the sort of way Drew would win a world title.
Dolph Ziggler would be my personal pick to win the match. I think this guy has terrific in-ring skills and is full of charisma. Saying that, he has been defeated by Christian recently and is currently in a storyline relationship with Vickie Guerrero. Then again, can Vickie really help him in Money In The Bank? Something tells me WWE aren't going to give this one to Ziggler, I hope I'm wrong.
Now for Christian, who I can sum up quickly. Basically everything I said about Matt Hardy applies to Christian, except for the fact that his in-ring work has been maintained at his usual high level.
So in my estimation it is going to be either Christian or Drew McIntyre.
Personally I think it is Captain Charisma's time to shine
Winner: Christian
Unified Tag Team Championship: The Hart Dynasty (c) vs. Jimmy & Jey Uso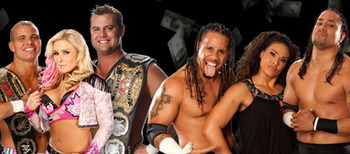 Well, on a slightly negative note I have to say this. How on earth have The Uso's deserved a PPV match for the tag titles? So far they have competed in a few matches and have shown me nothing special. Sure, they won the majority of the matches they have competed in but surely WWE does not believe they are ready for the gold yet?
The Hart Dynasty beat them about a month back on Raw, but were beaten by The Uso's this past week on Raw. So I'll make my awkward prediction on the basis that The Uso's had the last word heading into the PPV, and that there needs to be a balance of face/heel wins at the event.
Winner: The Hart Dynasty (Still Champions)
Divas Championship: Alicia Fox (c) vs. Eve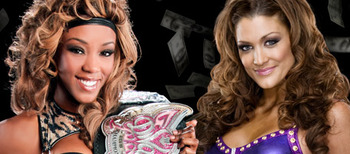 Now this has to be a first for a long while, both the Divas and Women's Championship's being defended at the same event. I'll have to admit that I was in absolute rage after the Divas segment on Raw this week which totally belittled women's wrestling. How is it that Raw only feels the need to promote its divas division for 5 minutes a week? You wonder why people aren't interested in the divas WWE, its because you do not invest enough in the division.
I for one am delighted to see two female matches on the card, and really hope WWE devotes around 20 or more minutes of the PPV to these two matches. Give the divas a chance to shine, don't disrespect them like you did on Raw WWE, it was disgraceful.
Anyway, onto the prediction. The WWE is said to be very high on Alicia Fox at the moment and recently signed her sister to a developmental deal. Couple that with the fact that Alicia only won the belt 4 weeks back, and I really do see only one result here.
Winner: Alicia Fox (Still Champion)
World Heavyweight Championship: Rey Mysterio (c) vs. Jack Swagger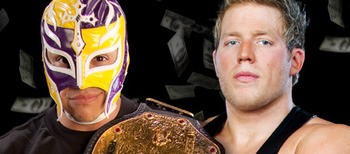 Before I start I have one question: How on earth is Rey Mysterio a heavyweight? I notice on WWE.com that they are referring to him as 'world champion' convieniently forgetting the middle word.
Anyway, this really is the one match that I am confident in predicting because I think its fairly clear that Rey will retain here (however much it regrets me to say it). Why? First of all Rey is supposed to be injured after Swagger's ankle lock, and the kids just love it when their hero comes through adversity to win. Secondly, it is possible that there will be interference in this match, if not from Kane then Big Show or even a dong from Undertaker which will cost Swagger.
This also sets up a possible Swagger vs. Undertaker match for SummerSlam.
Either way, the guy who should win this match will not win this match.
Winner: Rey Mysterio (Still Champion)
Women's Championship: Layla (c) vs. Kelly Kelly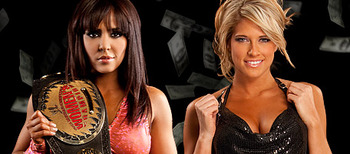 I want to say that I absolutely love the LayCool gimmick, it has revitalised my interest in Women's wrestling.
I really hope WWE do not make a big mistake by giving the belt to 'Smelly' Kelly. LayCool are doing a brilliant job of winding people up, and having them as co-champion's makes for good TV. So, I see Layla retaining her title with a little help from Michelle McCool.
Please WWE, do not break this team up!
Winner: Layla (Still Champion)
WWE Championship: Sheamus (c) vs. John Cena (Steel Cage Match)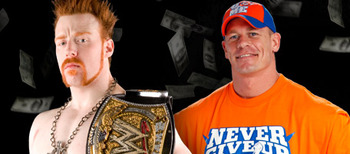 That orange t-shirt is really annoying me.
This is a very hard match to predict mainly because of The Nexus. What makes me laugh is that the WWE seems to want us to think that just because this is a steel cage match, interference is impossible. Well, I'm sure Nexus could surround the cage and climb up into the ring if they wanted to.
The way I see this going down is thus: The Nexus destroy both Cena and Sheamus inside the cage, while preventing people from climbing in to help. They then put both Cena's and Sheamus' arms over each others chest's and the referee counts leading to a draw. That seems to me to be the most likely outcome.
They may fight off the Nexus, escape the cage and touch down at the same time.
But I will say this, I do not see Cena leaving the event as champion whatever happens.
Result: Draw (Sheamus Still Champion)
Raw Money in the Bank Ladder Match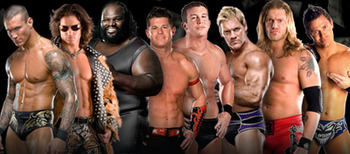 This is a damn sight harder to predict than even the Smackdown! Money In The Bank match. There are so many big stars. But again I will try to eliminate a few for various reasons:
Mark Henry, Evan Bourne, Ted DiBiase and John Morrison.

Why? Mark Henry is never going to win the match, Evan Bourne, Ted Dibiase and John Morrison are not ready for main-event yet.
So we're down to Orton, Jericho, Edge and Miz. I want to say at this point that I would have no problem with any of these guys winning.
The Miz has been booked strongly going into the event, and nothing would please me more than for him to win it. But because he has been pushed so strongly you just get the feeling that WWE wants to make him out as a legitimate threat, but perhaps don't quite have the confidence yet to give him the win. He is also US champion, and I discounted Kingston from the Smackdown! match just because he was Intercontinental champion. So it is with regret that I also eliminate Miz from the running.
Now lets consider Jericho. Last month he lost to Evan Bourne at a PPV. We also have to consider that if he won the match, who would he cash it in on? I cannot see WWE putting him over Sheamus or Cena. Sure, the contract is valid for a year but I don't think he is going to win here. Again, I say that with regret because he is probably the best mic worker and the best ring worker in the company at the moment.
So, almost predictably, it comes down to Orton and Edge. Now I have narrowed it down to them, I can only really see one winner. Edge has won the Money In The bank match before and has owned the briefcase itself twice. Orton has yet to win a Money In The Bank match, and cashing in on a defence-less champion totally suits the character of The Viper. It could also mean a heel turn when he does cash it in, which is something he desperately needs at the moment. It is just so sad to see him raising John Cena's hand after tagging with him, this is not the Viper of 2009. He needs re-venomising.
It would be a great way to end the PPV to have Orton holding the briefcase. However, I cannot help but forget his conversation with Nexus 3 weeks ago on Raw where they offered to make a deal with him. He didn't turn them down, he just told them to get out of his face. Wouldn't it be great if Cena won his belt back, then the Nexus beat him down and Orton cashed in his briefcase? That is of course conditional on which match closes the show.
Winner: Randy Orton


Keep Reading