Top NFC West Threats: The Best of the Worst Division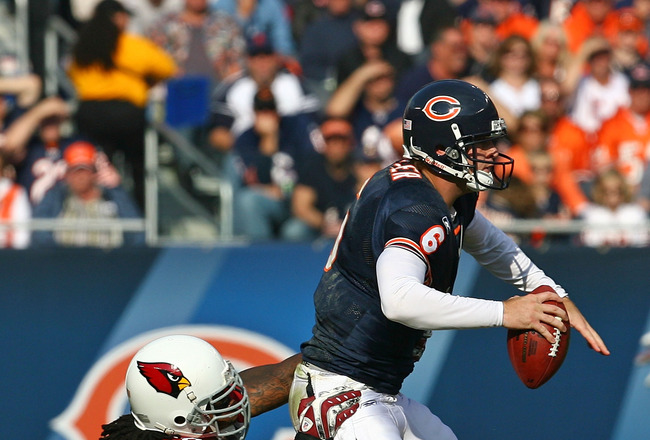 After seeing how well the AFC West topic turned out (it didn't), I figure I might as well attempt this for all divisions. Since I get Seattle games as well as Denver games, the NFC West was an obvious choice to continue this.
As I said in the last topic, these are the greatest threats that coaches must face in game, whether they be edge rushers, quarterbacks or lock down corners these are the guys that all coaches need to worry about.
Since only 10 can make this list, let's talk about the guys who are right on the edge and just short of making this list.
AFC West topic can be found here:
http://bleacherreport.com/articles/420561-top-ten-threats-of-the-afc-west
Honorable Mentions
Arizona Defensive Linemen Darnell Dockett and Calais Campbell
Seattle Defensive Tackle Brandon Mebane
St. Louis Center Jason Brown
San Francisco Nose Tackle Aubrayo Franklin
St Louis Middle Linebacker James Laurinaitis
Arizona Cornerback Dominique Rodgers-Cromartie
Darnell Dockett and Calais Campbell seemed to switch places in terms of talent last year. Because on the Cardinals deep playoff run Dockett was the guy to worry about on the defensive line, but last year Calais stepped up and made Dockett look like a lot less. So taking the average performance of these guys, they are both just short of the intended mark. Dockett's run defense went down from last year, so if he can pick that back up he's probably a good contender, and Calais just needs another year like last to prove he isn't a fluke.
Brandon Mebane is a player who isn't talked about because he doesn't look the part. You don't see him dominating the offensive line like a Kevin Williams or Albert Haynesworth, or clog like a Vince Wilfork, but if you see what the linebackers behind him do, you'll notice that he does let them make the plays they need to. It's not pretty, and I don't think it's enough to crack the top 10, but he does deserve some love.
Aubrayo Franklin got a lot of love from me because San Francisco had such an impressive defense last year. However, when you consider how little he was actually on the field, it's hurt his chances here. He played really well, but he was a cog player in a good defense who overachieved because of the guys around him. If he wasn't playing beside Justin Smith and in front of Patrick Willis he'd be easily taken care of.
Jason Brown is an good young center, and he might be the best interior linemen in the NFC West, but that really doesn't say much about him as a player. He's actually a really good pass blocker, but he's not a force of nature like a Nick Mangold or a Shaun O'Hara is.
James Laurinaitis is a good young middle linebacker for the Rams, but he needs to work on his consistency if he wants to build himself up as a threat. Add to the fact that he's on a bad team and it's really hard to do good when everyone around you sucks. He's probably a better linebacker than I'm giving him credit but he doesn't really have a defense around him, I'm sure if he did he'd be a force to be reckoned with and a much bigger threat.
Cromartie is the last guy I'm talking about for a reason. That's because he's pretty much 10A to me. I couldn't really decide between him and number 10, but I chose number 10 for two reasons. His impact is greater on the game, and he did a little bit more with a little bit less. Cromartie is an excellent cover corner with a really good defense around him, but number 10 is...
10. Vernon Davis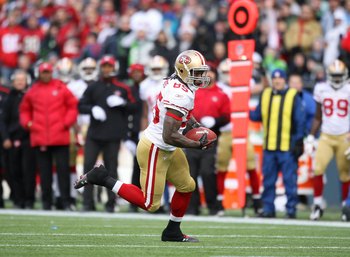 10. San Francisco 49ers Tight End Vernon Davis
Vernon Davis is an excellent tight end on a really rough offense. When you're catching balls from a first-round bust and a game manager journeyman, it's hard to look good.
Vernon does it in style. He has quite a few issues, but most of those stem from Alex Smith being a terrible passer. Vernon was the passing offense of the 49ers last year, while Michael Crabtree was still raw and Issac Bruce was as old as the cheese in my fridge. For some odd reason the 49ers didn't play to their strengths (i.e. Gore) so Vernon Davis got to show the world what he could really do. 78 catches for 965 yards, and 13 touchdown passes is huge. If only he had a quarterback that wasn't a first-round bust.
9. Lofa Tatupu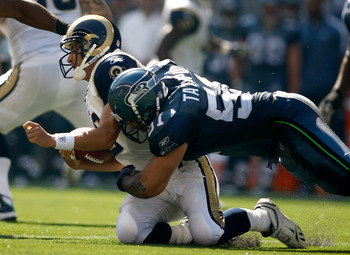 9. Seattle Seahawks Middle Linebacker Lofa Tatupu
Tatupu is one of the best middle linebackers in the game right now. Great speed in coverage, a nose for the ball and a solid blitzer. Why only 9? Well, it starts with the fact that he was injured last year and only played in 5 games. If you want to be a top ten threat you need to stay on the field.
While Tatupu looks like he'll be back in full condition, if he isn't he could be down to the 4th best middle linebacker in the division. I wouldn't worry too much about that. He's got some young quarterbacks to prey on, including former teammate Matt Leinart. Good luck against Tatupu and the Seattle defense.
8. Kerry Rhodes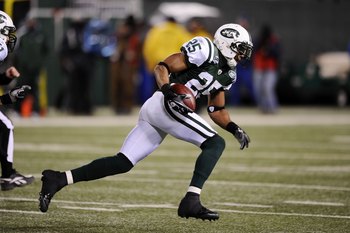 8. Arizona Cardinals Free Safety Kerry Rhodes
Kerry Rhodes is a top 5 safety in the game when he's healthy, and the Jets made a huge mistake by letting him go. The Jets may have added Brodney Pool, Antonio Cromartie and Kyle Wilson, but none of those guys will replace what Kerry Rhodes did for the Jets. Like the guy two spots of ahead of him, and Troy Polamalu of the Steelers he's one of the few true complete safeties in the league today.
The downsides are that he's in a new scheme and once again he's playing second fiddle to an awesome defensive back on his team. Kerry is an excellent player and I'd love to have him on my team. Hope he doesn't mind being 8th on this list.
7. Oshiomogho Atogwe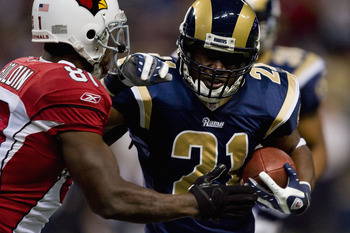 7. St. Louis Rams Safety OJ Atogwe
I want to refrain from spelling his whole name, What I will say is that OJ plays an excellent style of football, but he's only good at one trick, turnovers. Sure it's a great trick, and the entire reason he's here on the list, but he lacks the variety of the safeties between him.
He's small so he gets physically abused. In terms of ball skills, he might be the best. I'm kind of surprised no one took a flier on him in Free Agency. OJ is really good.
6. Adrian Wilson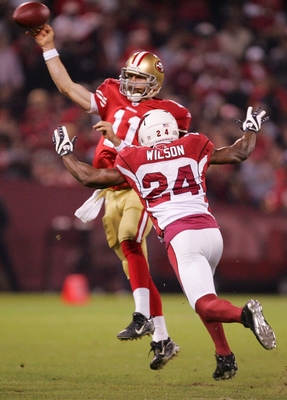 6. Arizona Cardinals Strong Safety Adrian Wilson
Don't worry, the run of safeties ends here. Wilson is a complete safety, one that is surprisingly rare. He gives you everything you want in a safety. It's been said a lot by announcers that he's excellent in run support and in the box play, but his true talents lie in coverage. He claimed 5 interceptions last year, and an impressive 65.5 quarterback rating against when thrown at or around the ball.
It may hurt him on this list because he's paired with another excellent safety, but honestly I have a hard time putting him over any of the top 5 guys.
5. Frank Gore
5. San Francisco 49ers Halfback Frank Gore
Don't mess with Gore. He's been one of the top halfbacks in the league for a long time (long time for a running back anyway). He's one of the few power backs in this league that have been in the league for more than a couple of years so you know he has the stamina and durability to dish it out in the NFL. For years he's been the offense of the San Francisco 49ers and I feel obligated to give him the respect he deserves.
Frank can always give you 2 yards if you need it. What separates him from the typical power back is that he can give you 20 yard runs when you need them, he has the speed to get around guys but prefers his power. I feel comfortable putting him here at 5, as he is the least freakiest of the freaks on this list.
4. Justin Smith
4. San Francisco 49ers Defensive End Justin Smtih
Smith typically plays 3-4 Defensive end, a position more known for clogging than playmaking. However, Justin Smith is not a typical player. In his career he's played Defensive End in both the 3-4 and 4-3 schemes and he takes the best of both schemes to become an unstoppable force. The most sobering thing I can say to you is 44 pressures as a 3-4 Defensive end. (That's more than every 4-3 defensive end last year).
His sack numbers aren't as high, but pressures are just as important because they put the quarterback off his guard. He's not poor against the run either, he's set in both facets of the game, his 32 tackles and edge sealing skills say more than enough about that. He's not really a big name, but honestly he should be.
3. Larry Fitzgerald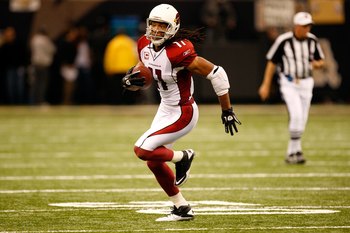 3. Arizona Cardinals Wide Receiver Larry Fitzgerald
I almost feel bad for having him "only" at 3. That's how talented I think he is. He's either the best or second best receiver in football today, one of the most targeted guys and a plain class act.
Whether you throw short medium or long he'll get the ball, between the hashes, in the red zone or on the sideline, he'll get it. He's only 3 because he's not quite the freak the two guys ahed of him are. Lemme put it this way, I'd put him number 1 in the AFC West and in the NFC North as well. However he is not so lucky to get that benefit in this division.
2. Steven Jackson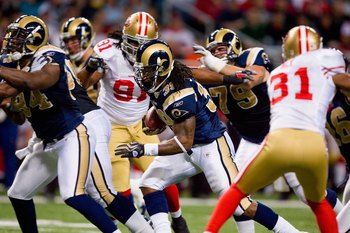 2. St. Louis Rams Halfback Steven Jackson
How does one do so much with so little is the question I want to ask Steven Jackson every time I see him play. He wasn't lucky enough to be part of the greatest show on turf in their prime. Instead of Kurt Warner he gets Marc Bulger and a offensive line hellbent on killing him and everyone behind them.
Receivers Torry Holt and Isaac Bruce are gone, replaced with no names like Donnie Avery and Danny Amendola. Never had Dick Vermeil coach his team up, he's always been the best of a bad situation.
Jackson has always been a complete back, great power and speed along with the ability to catch it out of the backfield. If he ever got any help from his line he might have been the 2000 yard rusher we're all gushing over. Jackson finishes his runs, almost always falls forward, and made most of his yards after contact. He doesn't do it pretty, he can't afford that luxury, but he does it better than nearly anyone. A shame he couldn't be on a good team.
1. Patrick Willis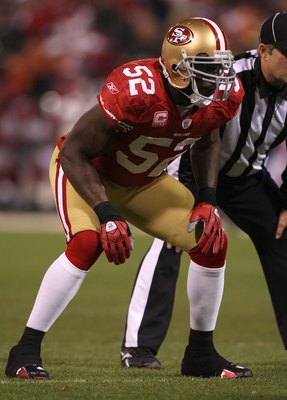 1. San Francisco 49ers Middle Linebacker Patrick Willis
I hope you all knew this was coming, Patrick Willis is hands down the best defender in football today. Ok, best defender is just an opinion (one I'd have a real challenge defending actually), best inside linebacker in a 3-4 or 4-3 scheme is a fact. His first year he was a tackle machine, won the Defensive rookie of the year, but needed work on the rest of his game.
In his sophomore year, he doesn't slump whatsoever and gets way better in coverage. That's not good enough for him though, and teaming up with coach Mike Singletary has really brought out the best in him, because now he forces turnovers like the best of them. It's like look at Ray Lewis 10 years ago, this guy is a leader of men, and I don't think any inside linebacker out there is better than he is.
Oh and he doesn't have an injury history either. He took all but 1 defensive snap last year. He might just be the biggest threat in the NFL, if it wasn't for the golden age of passing.
Conclusion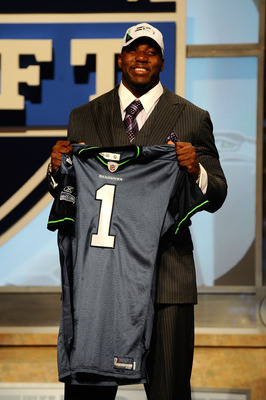 I might as well give a prediction for best young gun to sneak in here in a few years. So I'll take a crack at a Seattle rookie since Seattle players are lacking on my list. 6th overall pick Russell Okung looks like he'll be an amazing Left Tackle, and in a weak division for offensive linemen, he could become the best one in the division. Did you know Russell Donkeykong is brothers with NDonkeykong Suh? ... Lame joke I know, but I hoped you enjoyed this article, I had fun making the list and writing it.
Keep Reading

San Francisco 49ers: Like this team?