The MLB's Top 20 Seasons in 2010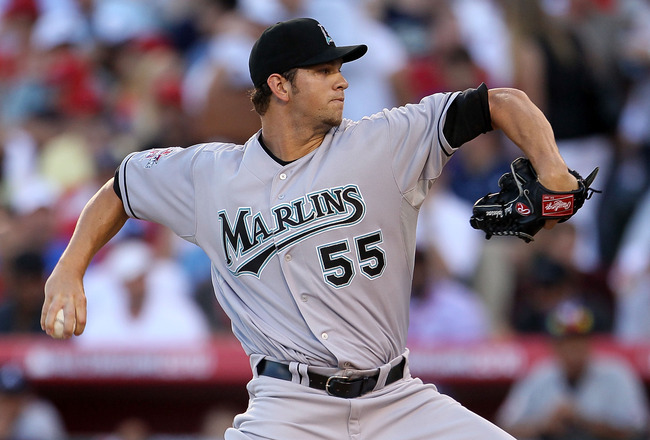 With the All-Star break concluding yesterday, I thought it would be a good time to look at the best players in baseball through the first three months of the season.
I decided the best way to do this objectively was to use the Wins Above Replacement (WAR) stat that is used on many sites, including the one I used (Fangraphs.com).
WAR is a stat that measures how many wins a player is worth over a replacement level player, or a player that any team can plug into a hole whenever is needed (think a AAA player filling in for an injured player).
This stat is calculated in a complicated way, but it has been proven to be a worthwhile.
On the pitching side, WAR doesn't put too much weight into wins and instead looks at peripheral numbers like strikeouts, walks, and home runs per nine innings, ERA, FIP (Fielding Independent Pitching, or how a pitcher would perform with an average defense behind them), innings pitched, etc.
Instead of looking at just offensive statistics for position players, it also takes into account what they do on the defensive side of the ball.
Think of it this way. A run saved on defense is just as valuable as a run produced on offense. Even if a player is hitting .220, he can still be valuable to his team if he is playing the best defense in the league at his position.
Ultimate Zone Rating (UZR) is the stat that quantifies defense, taking into account throws, range, and errors that each fielder makes. It's a complicated formula and not extremely reliable in all areas, but it is a good start and gives us a good framework for who is good on defense.
If you want a more in depth look at UZR, go here: http://www.fangraphs.com/blogs/index.php/the-fangraphs-uzr-primer/
A number above zero means that a defender is above average while a number below zero means that a defender is below average. Simple enough.
Just to make sure I have this clear, these rankings are based on the WAR stat on Fangraphs.com and not my personal opinion. Let's check them out.
#20 - Felix Hernandez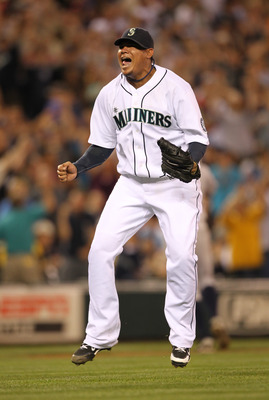 WAR: 3.4
Felix didn't make the All-Star team this year, but you shouldn't be surprised to see his name on this list considering his near Cy Young season in 2009.
His record of 7-5 isn't impressive, but looking at all the other pitching stats, it is obvious that Felix is still a top pitcher in the AL.
His ERA of 2.88, which isn't too far off of the 2.49 ERA from his well celebrated 2009 season. He is striking out 8.56 batters per nine innings and is only walking 2.75 per nine.
Add those stats to the really impressive innings total he has given his team this year (137.2 in 19 starts), make him able to crack Fangraph's top 20 list.
#19 - Marlon Byrd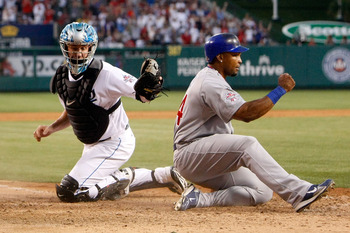 WAR: 3.5
This may not make sense to a lot of people, but Marlon Byrd has been the second most valuable outfielder in the NL Central this season.
His batting line of .315/.368/.477 is pretty awesome, but his UZR of 8.6 so far in the outfield this year is the fifth best in all of baseball and helps him to be the most valuable Cub this year.
We all saw his talent in the All-Star game, so this ranking shouldn't be too much of a surprise.
Remember, a run prevented on defense is worth the same amount as a run produced on offense. So, Byrd earns his spot on this list by being a good player on both sides of the ball.
#18 - Andres Torres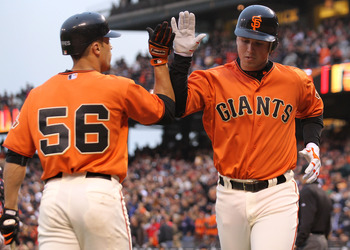 WAR: 3.5
Here's another guy being lifted by his work on defense (11.0 UZR), but he has also had a very underrated offensive season for the Giants this year.
When people look at his .281 batting average, they probably aren't too impressed, but his .378 on base percentage and .483 slugging percentage are very good and add up to a .861 OPS.
Playing the majority of his games in a large center or right field in San Francisco, Torres has been a defensive whiz and earned this "surprising" inclusion in the top 20 players in baseball.
#17 - Adrian Beltre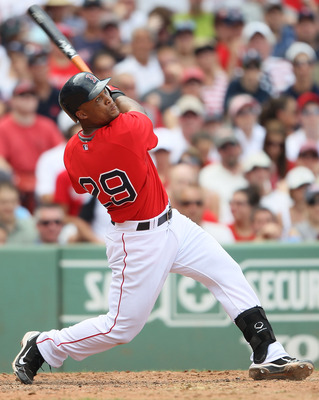 WAR: 3.6
Even though he is struggling with nagging injuries, Adrian Beltre is putting together his best season since his MVP type season in 2004, both on offense and defense.
The 31-year-old third baseman is hitting .330/.370/.537 in 85 games this season and has a nice 4.4 UZR to go along with it.
You could make the argument that Beltre and Kevin Youkilis are the ones keeping the Red Sox afloat during their incredible injury streak that is going on right now. Could he be an MVP candidate? Possibly, if he keeps it up.
#16 - Ubaldo Jimenez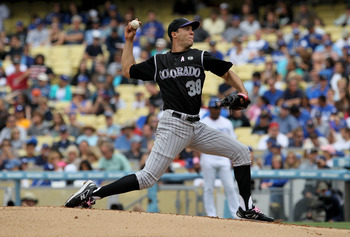 WAR: 3.6
Some may be surprised to see Ubaldo Jimenez ranked this far down the list, but when you look at his peripherals, it is clear that he hasn't been the best pitcher in the NL this year, even with the 15 wins.
Since his ERA bottomed out at a mind-boggling 0.78, Jimenez has been about a league average pitcher, raising his ERA to 2.20, which is still no doubt impressive.
Jimenez's K rate is 8.01, which is fairly good, but it doesn't support his 2.20 ERA.
Still, this guy is 15-1 and definitely deserves a spot in the top 20 players of 2010.
#15 - Jon Lester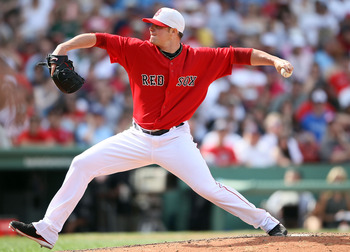 WAR: 3.6
Jon Lester keeps improving in each full season he has in the major leagues and I think it is safe to say he is the legitimate ace of the Red Sox right now.
His 2.78 ERA is supported by his 2.97 FIP and his 9.30 K-rate.
Lester has averaged 6.2 innings per start this season and has 11 wins, earning him a spot on the All-Star team. Nothing about his peripherals suggest that he can't keep this up, so Red Sox should be excited for his future.
#14 - Ryan Zimmerman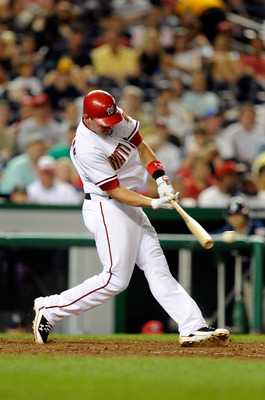 WAR: 3.7
Ryan Zimmerman is consistently one of the most underrated players in all of baseball, as evidenced by his head scratching absence from the All-Star game.
The 25-year-old has slugged 16 home runs this season while knocking in 48 runs and scoring 52 himself.
Add those stats to his .294/.383/.526 line and 6.4 UZR and you have one of the best overall players in all of baseball.
Hopefully, the Nationals can continue to build around this guy because he could be a real star on a playoff type team in Washington.
#13 - Miguel Cabrera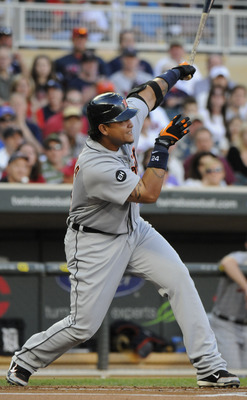 WAR: 3.7
Miguel Cabrera is a legitimate MVP candidate in the AL and the only thing keeping him out of the top 10 on this list is his below average defense.
The line of .346/.423/.651 that he is putting up is one of the best ones you will see in the entire league and he has been doing it consistently all season long.
Looking at his offensive numbers (top five in all three Triple Crown categories), it's hard to imagine what the Tigers offense would look like without him dominating in the middle of their lineup.
I might be on the Cabrera for MVP bandwagon right now, but let's see what happens the rest of the year.
#12 - Evan Longoria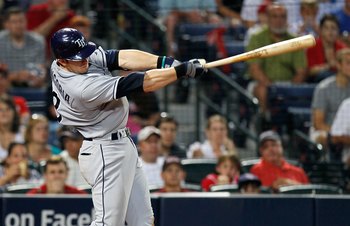 WAR: 3.7
Longoria's WAR is usually inflated by his incredible defense (15.3 and 17.7 in his first two seasons), but that's not the case this year as seen by his pedestrian 1.6 UZR this season.
Even though his defense isn't helping his WAR too much this year, his offense has still been dominant enough to put him in the top 15 players in baseball.
Longoria is hitting .300 and has an awesome 11.6 percent walk rate to go along with his 13 home runs and 61 RBI. Baseball fans should be excited to watch how good Longoria can get during his career.
#11 - Cliff Lee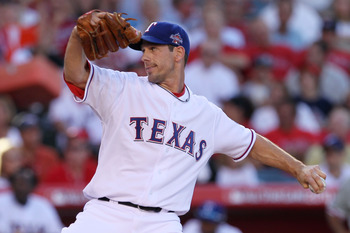 WAR: 3.8
It's amazing to see how high Cliff Lee is on this list when you consider that he has missed an entire month of the season. The fact that only three pitchers are higher than him is startling.
His K-rate is only 7.27 per nine innings, but his six walks on the year make his K-BB ratio a unbelievable 15.17.
Now that he is with the Rangers, his ERA may sneak towards 3.0 because of where he will have to pitch and his history there. Still, his ERA is sitting at 2.64 right now (2.58 FIP), which is very impressive in the AL to say the least.
#10 - Matt Holliday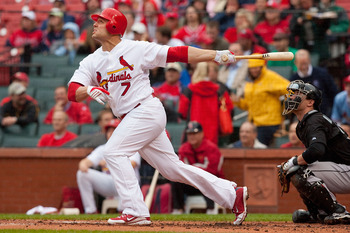 WAR: 3.9
There has been much said about how Matt Holliday has been a disappointment hitting around Albert Pujols this season, but he is actually putting together a great offensive and defensive season this year.
His batting average is right at .300 and his OPS is an impressive .903, but those numbers don't get him in the top 10 without the way he is playing defense this season.
His 9.2 UZR playing in left field is great and already represents a career high with about half the season to play. If he can keep this up, he will certainly be worth the contract that was given to him by the Cardinals this off-season.
#9 - David Wright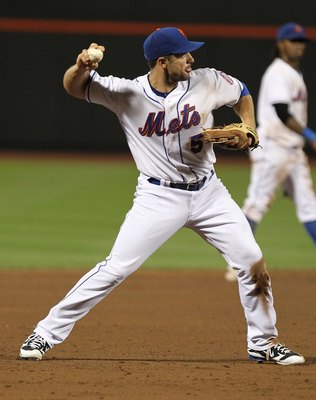 WAR: 4.1
David Wright is considered an MVP candidate in the NL, and for good reason. He has a good .310 average and a .913 OPS that ranks him 9th in the NL.
His 3.3 UZR is just okay, but it is probably the reason he makes an appearance in the top 10 rather than someone like Cabrera.
Wright has hit 14 home runs and batted in 65 runs. So he has been a great run producer for the surprising Mets this year. His near 30 percent K rate is alarming and could be a problem, but it isn't right now.
#8 - Francisco Liriano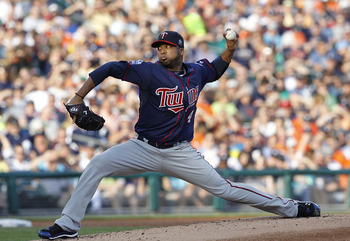 WAR: 4.2
Talk about another fire-baller who is having a very underrated season in 2010. Sure, he made the All-Star team, but he isn't getting a lot of national respect.
Liriano's ERA isn't sparkling (3.86), which is probably why he isn't getting respect, but he is striking out nearly 10 batters per nine innings and is only walking 2.5 per nine, making his FIP a great 2.18.
His two percent home run to flyball rate seems like it could be a bit lucky (average is 10 percent), but he is still pitching well enough to have a below average rate. Still, Liriano is pitching very well for the Twins this year and could be an ace in the playoffs.
#7 - Joey Votto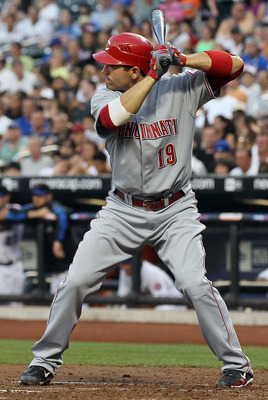 WAR: 4.2
Much has been made about the fact that Joey Votto needed the "Final Vote" to make the All-Star team after his great first half. Truth be told, he has been the best positional player in the NL this season according to Fangraphs.
Votto's .314 is pretty good, but his .422 OBP is awesome and his .589 slugging percentage is the best in the entire NL.
His UZR is 4.0, but it is obvious that his offense is the reason he is in the top 10 on this list.
Hopefully Votto can keep it up and lead the Reds to a surprising win in the NL Central division because the MLB could use some new faces in the playoffs!
#6 - Josh Johnson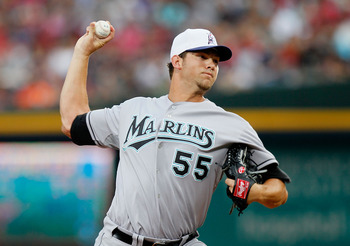 WAR: 4.4
Josh Johnson has taken over the ERA lead away from Ubaldo Jimenez in the NL and that number keeps dropping with every start he makes (currently sits at 1.70).
Johnson is striking out nine per nine innings and is only walking two batters per nine innings, putting together a nice 4.5 K/BB ratio. Too bad he is on the Marlins and he only has nine wins through 18 starts this year.
As it sits right now, I'm not so sure that Johnson shouldn't be the leader in the NL Cy Young race even with Ubaldo's 15 wins and Halladay's better WAR (as you'll soon see).
#5 - Robinson Cano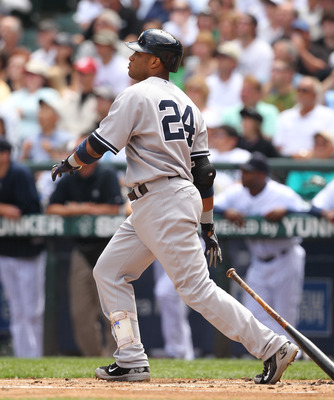 WAR: 4.4
Cano is also in the conversation for the AL MVP at the break, mainly because of what he is doing with the bat.
The 27-year-old had a great year last year and is building on that this season. His .336/.389/.556 line is MVP worthy and his 16 home runs and 58 RBI are near the top of the AL.
Even with that, Cano sneaks into the top 5 because of his nice 5.6 UZR (fourth in the MLB for second baseman). This Yankee is by far the most valuable second baseman in baseball, beating his nearest competitor by one full win.
#4 - Josh Hamilton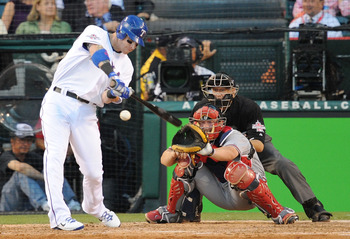 WAR: 4.4
Even though Hamilton started the season a little bit slow, he has been on a torrid pace over the last month and a half and has the best batting average in all of baseball (as of 7/15).
After an up and down 2009 year riddled with multiple injuries, Hamilton has stayed completely healthy this year and is outperforming his magical 2008 season.
Hamilton's 1.029 OPS tells the whole story of how well he is hitting this year and his rocket arm in left and center field gives him an above average UZR (2.6).
#3 - Roy Halladay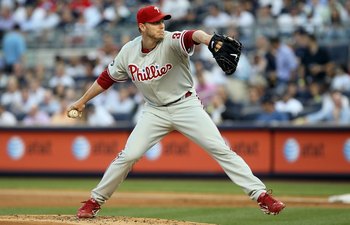 WAR: 4.6
A perfect game probably helps your WAR quite a bit, but Roy Halladay would be on this list even if he didn't sit down 27 Marlins in a row this June.
Some "experts" say he is having a disappointing stretch recently, but looking at his numbers, you wouldn't know it.
He may have seven losses, but that's because the Phillies went through a terrible offensive drought that robbed Halladay and the rest of the pitching staff a lot of wins.
His 2.19 ERA is awesome, as are his 148 innings pitched, .67 home run rate and 1.16 walk rate. It should come as no surprise that Halladay has been the most valuable pitcher in all of baseball this season, especially with those numbers.
#2 - Carl Crawford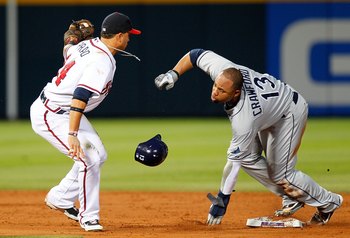 WAR: 4.8
Crawford has been great this year, but I don't think people realize just how great he has been.
His 31 steals are just behind Juan Pierre for the AL lead and his UZR of 15.2 at this point in the season is just ridiculous.
Combine those speed and defensive stats to his .321/.380/.521 line and you have the best outfielder in the game.
Free agency looms for Carl Crawford this off-season and based on these numbers, he should be one of the highest paid everyday players in the MLB.
#1 - Justin Morneau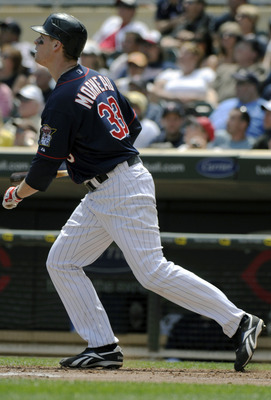 WAR: 5.0
Justin Morneau is putting up similar offensive numbers to Miguel Cabrera, but the fact that he is playing well above average defense and preventing runs is the reason he is the most valuable player in the game right now.
He just hit the DL so he wont be here for long, but his .345/.427/.618 stat line means he has the highest OPS in the game.
UZR is a questionable stat for a first baseman because it doesn't really quantify everything that the player does. Still, when you sport an 8 UZR at first, there is no doubting you are a plus defensive player.
Hopefully, the Twins are able to keep Morneau and Mauer together for a while because it's only a matter of time before they lead the Twins to a World Series Championship.
Keep Reading