Top Five Yankee Favorites From The Late '90's Dynasty Era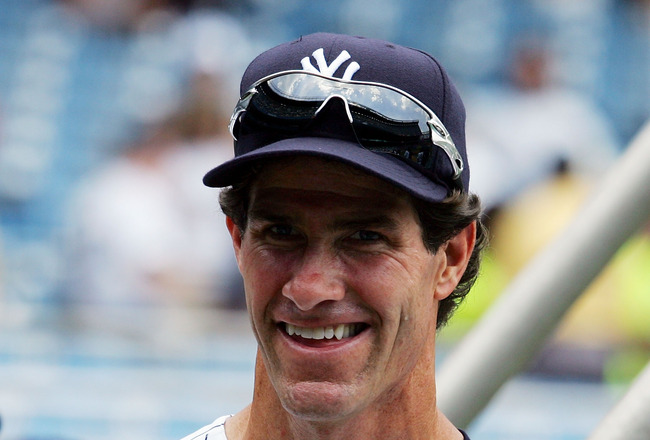 With the best record in baseball through the 1st half of the season, the defending champion New York Yankees look to be in prime position to make a run at their 2nd World Series Championship in as many years.
On the streets there are rumblings of the return of the, "Dynasty."
Years 1996 - 2000 hold a special place for every Yankee fan. To this day, I can remember the entire starting line up of the '96 Yankees, but I can't do multiplication to save my life.
I am sure many Yankee fans are the same way. To fans like us, baseball is more important than math. After all, the scoreboard tells us all we need to know. And to date, we only need to be able to count to 27 (well, 28 by the end of this year).
I only had two requirements for this list:
1) The players must be retired, and
2) They must have been members on 3 out of the 4 Championship teams.
Here are 5 players most adored by Yankee fans:
5. Scott Brosius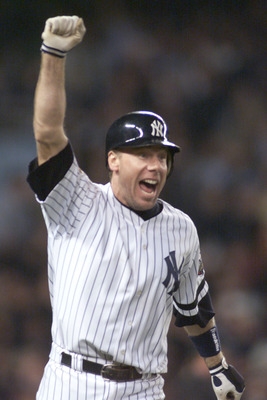 Years with the Yankees: 1998 - 2001
Accolades:
-1x Allstar with Yankees ('98)
-1x Gold Glove winner ('99)
-1998 Babe Ruth Award
-1998 World Series MVP
Greatest Hit: Scott Brosius's biggest moment came in Game 3 of the 1998 World Series. Trailing by 3 runs in the bottom of the 6th inning, Brosius jump started the Yankees offense with a solo homerun off NLCS MVP Sterling Hitchcock. In the 8th inning, Brosius would seal the Yankees win with a 3 run homerun.
Last Hoorah: 3 years after his World Series Heroics, Brosius would leave his mark on the Yankees world again. Trailing by 2 runs in the bottom of the 9th, with 2 outs and a man on, Brosius went yard sending the game into extra innings. Yankees would go on to win the game in the 12th, but would eventually lose the series.
4. David Cone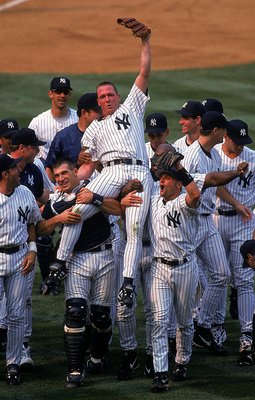 Years with the Yankees: 1995 - 2000
Accolades:
-2x Allstar with Yankees ('97, '99)
-1998 Hutch Award Winner
-All-time Yankee leader in strikeouts per 9 innings (8.67)
-Yankee single season record for strikeouts per 9 inning (10.25 in '97)
-Last Yankee pitcher to strike out 200+ batters in consecutive seasons.
Greatest Hit: On July 18th, 1999 David Cone became the 18th pitcher In the modern era of baseball to throw a perfect game. The game took place against the Montreal Expos, making it the 1st interleague perfect game since Don Larsen's (caught by Yogi Berra) perfect game in the 1956 World Series. Ironically enough, July 18th, 1999 was Yogi Berra Day at Yankee Stadium, and Don Larson threw out the 1st pitch.
Last Hoorah: Unfortunately, David Cone's greatest hit happens to also be his last hoorah. After his perfect game, David Cone became quite ineffective. The following season he went 4-14 with an ERA of 6.91 and was brought in to face only one batter in the entire 2000 World Series.
3. Tino Martinez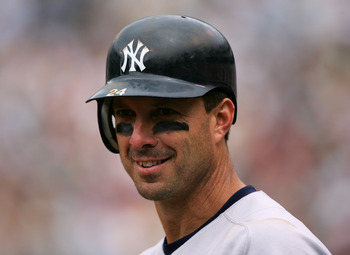 Years with Yankees: 1996 - 2001, 2005
Accolades:
-1x Allstar with Yankees ('97)
-Silver Slugger Award ('97)
-1997 Home Run Derby Champ

It should be noted that Tino came to the Yankees with some big shoes to fill. 1995 saw the retirement of Don Mattingly, whom New Yorkers love with all their heart, leaving a vacancy at 1st base. Coming off a break-out season with Seattle, Tino helped lead the Yankees to their first World Series Championship since 1978.
Greatest Hit(s): 1998 World Series, Game 1. After falling behind 5-2 in the 5th inning, the Yankees staged a comeback in the bottom of the 7th. Chuck Knoblauch's three run shot to tie the game was just a foreshadowing of things to come. Later in the inning, with bases loaded and a 3-2 count, Tino blew the game wide open with a upper deck grand slam.
Skip ahead to 2001, again. The Yankees go down 2 runs late in Game 4. Jeter (who will one day inevitably be #1 on this list) leads off and is thrown out bunting, O'Neill lines a single to left, and Bernie strikes out. Tino steps up and smashes one over the wall in right-center, sending the game into extras. In the 12, Jeter's walk-off earns him the nickname, "Mr. November."
Last Hoorah: In 2005 Tino returned to the Yankees for one year. From May 7th to 11th, Tino hit 5 home runs in 5 games. Even though he was held homer-less in the following game, he did have a multi-home run game on May 15th which brought the total to 8 home runs in 8 games.
2. Bernie Williams
Years with the Yankees: 1991 - 2006
Accolades:
-5x Allstar with Yankees ('97 - '01)
-4x Gold Glove Winner ('98 - '01)
-Silver Slugger Award ('02)
-1996 ALCS MVP
Greatest Hit: While his career numbers are very impressive, Bernie did it all flying under-the-radar. There is no one specific defining moment of his career, no big home run or spectacular catch that propelled him into superstardom. But Bernie does boast one record that no one else has ever touched. In 1998, Bernie became the 1st player, ever, to win the batting title (.339 avg), the Gold Glove, and a World Series Ring in the same year. After his career year, he resigned with the Yankees to the tune of 87.6 Million dollars over 7 years. This was one of the most lucrative deals in baseball at the time.
Last Hoorah: Bernie Williams was a lifer. The only team he ever knew was the Yankees (not counting PR in the WBC). Over his 15 year career as a bomber, Bernie climbed through the All-time ranks of Yankee hitters. On the Yankees All-time lists, he Currently ranks:
3rd in doubles
4th in walks
5th in hits
5th in extra base-hits
6th in home runs
and 6th in RBI's
1. Paul O'Neill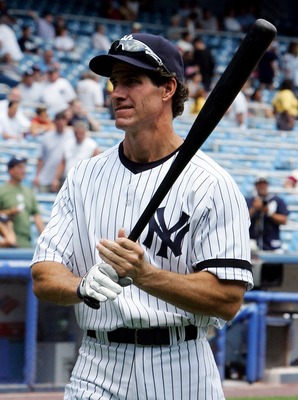 Years with the Yankees: 1993 - 2001
Accolades:
-4x Allstar with Yankees ('94, '95, '97. '98)

Paul's numbers may not stand out like Bernie's, and he may not have that famous home run like Tino or Brosius. Other than winning the batting title in the lock-out shortened season in '94, he really has no awards so-to-speak.
But what Paul did have was heart. I swear, if you cut him open, he would literally bleed pinstripes. No one was harder on themselves than he was, no one was more passionate about playing baseball, and no one verbally abused their bat more than Paul did. Thanks to him, many, many water coolers were destroyed.
That's what NYY baseball is all about. The desire to win; Paul had the most desire, and that is what the fans appreciated most. Knowing that he was going to show up everyday and fight for his team.
He may have been born in Columbus, Ohio, but he is a true New Yorker in every sense.
Greatest Hit: Paul's father died only hours before game 4 of the '99 World Series. Paul was there, suited up, and helped the Yankees sweep the Atlanta Braves for their 3rd championship in 4 years.
Last Hoorah: Game 5 of the 2001 World Series. O'Neill's final game at old Yankee Stadium. A hero, the man who personified Yankees baseball, gets a heroes send off.
Keep Reading

New York Yankees: Like this team?