NBA Player Power Rankings: Top Five Dynamic Duos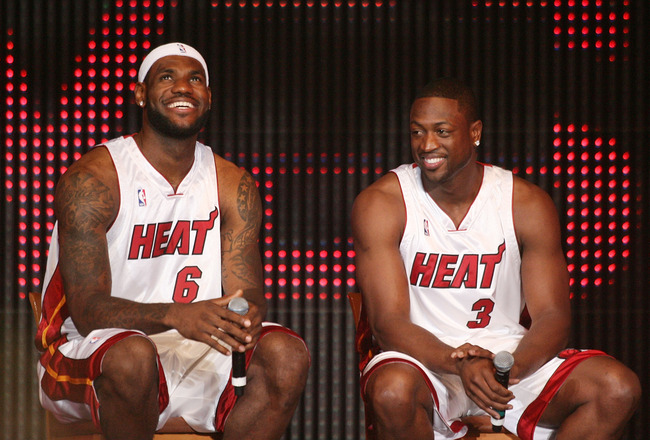 The "Batman and Robin" concept in the NBA is one of the more effective ways a team can win a title.
Ask Michael and Scottie, Shaq and Kobe, Jerry West and Elgin Baylor, Magic and Kareem, Bird and McHale, Duncan and Robinson and so on.
The following is a list of the top five "Dynamic Duos" in the NBA today.
Two players on the same team where both have proven that they can play at an elite level, who display excellent chemistry together and are winners.
In other words, Batman and Robin.
Given the fact that this concept has yielded so many championships it should be no surprise that many on this list have either already won a title, or are expected too.
Included in this slideshow as a bonus is two extra Dynamic Duos that I believe has great potential, but are still just that, potential.
1. Dwyane Wade and LeBron James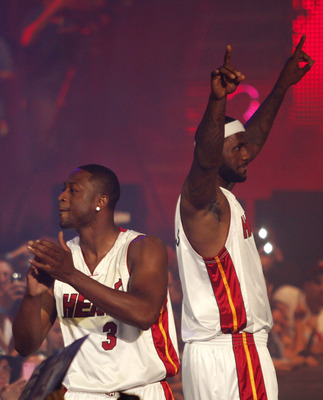 Any team with James will inherently make the playoffs regardless of the players around him.
Any team with Wade in the playoffs has a chance of winning it all.
Many have questions about how they will fit together offensively thinking that both want the ball but I believe it will be fine because both are excellent and willing passers.
Many believe, including myself, that LeBron is more comfortable passing in clutch and tight situations than scoring. The two will not interfere with one another in that regard as Wade will be the closer.
Defensively they have elite potential. Wade on the ball is a demon and LeBron is one of the best help defenders in the NBA.
Both are easily top five players in the NBA. They have experience playing with one another for Team USA. The experience was so much fun they had to repeat the experience.
2. Kobe Bryant and Pau Gasol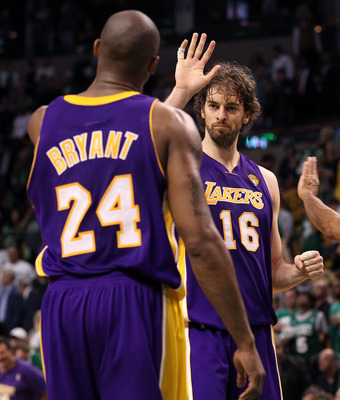 Considering they have won back-to-back NBA titles it is kind of hard to dispute them as one of the best duos in the NBA.
They play off one another perfectly within the confines of Phil Jackson's triangle offense and their pick and role can be impossible to defend. Offensively both are among the more complete players in the NBA.
Kobe is a Hall of Famer and one of the top five players in the NBA.
Pau is not. So while it is true that collectively Pau and Kobe are better than they are apart, Pau is not on Kobe, Wade or LeBron's level.
3. Rajon Rondo and Kevin Garnett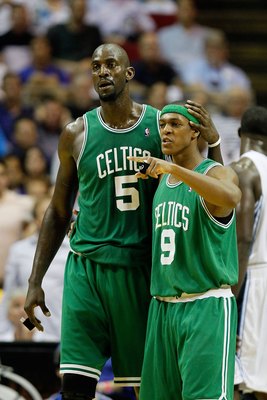 They play beautifully off one another offensively and defensively. There is not another duo in the NBA that is better defensively.
They are both natural born winners.
Garnett last year was a shadow of himself, but towards the end he began he showed enough progression with his knee that my expectations of him for next year are of his first year with the Celtics.
Rondo and KG aren't the scorers some on the list are, but both possess the inherent ability to always impact the game on both sides of the court whether they are near the ball or not.
4. Tim Duncan and Manu Ginobili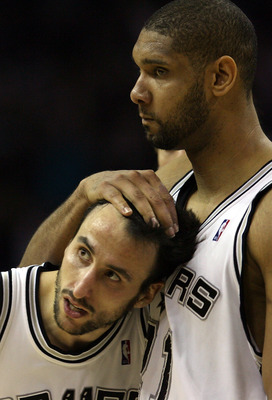 The only thing keeping these guys from being No. 1 on this list is father time. Timmy is 33 years old and Manu is no spring chicken either but for every step the two seem to lose they seem to become two folds wiser.
While they may not be the championship threat they once were, Duncan and Ginobili are both capable of taking over a game at any moment and carrying the team to victory.
At this point in their partnership Duncan is more of an anchor on the defensive side while Ginobili has taken an increased role on the offensive side, which makes them even more perfect for each other.
The truly sad thing about this is that given their age, this upcoming season could be the last year that these two can be the kind of duo that can threaten for a championship. Hopefully they can go out in style.
5. Kevin Durant and Russell Westbrook
Realistically these two are the only duo in the NBA that has a legitimate chance of dethroning Wade and LeBron.
Durant is already the most natural, effective and lethal scorer in the NBA and the other aspects of his game are rapidly improving. And combine that with the fact that Durant is already the unquestioned leader of the team.
Westbrook might have the highest ceiling of any point guard in the NBA. He is already an elite defender, rebounder and leader while his scoring and passing skills are rapidly increasing.
Both love the game and playing with one another, which cannot be understated.
While some might find it premature that they are here, it was clear to me that aside from the Celtics the Thunder gave the Lakers the most difficult series during their run to the title.
I fully expect these two to form the core of a future dynasty, no pressure.
Waiting in the Wings: Andrew Bogut and Brandon Jennings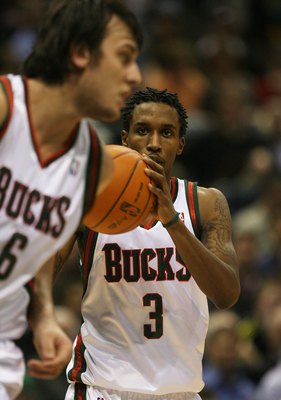 Last season, Bogut and Jennings achieved the once thought impossible task of making people in Milwaukee think that not drafting Chris Paul wasn't a mistake.
Before Bogut was hurt, he was the second best center in the NBA. What was remarkable about Bogut was how rounded his game was becoming. He plays fantastic low post defense while also guarding the rim like a goalie.
His offensive repertoire is also very mature as he can not only score with ease but also he is the best passer out of the low post in the league.
Jennings is as quick as a young Allen Iverson only he loves to pass and is fun to play with. While he ran very hot and cold during the season his progress was obvious. By the end of the playoffs he was an above average defender to go along with the fact that he is a gifted scorer and passer.
While the two have evident talent what was truly impressive was how quickly they began playing off one another. There is a chance, health willing, that these two could become the leagues best pick and role combination since Stockton and Malone.
Waiting in the Wings: Tyreke Evans and DeMarcus Cousins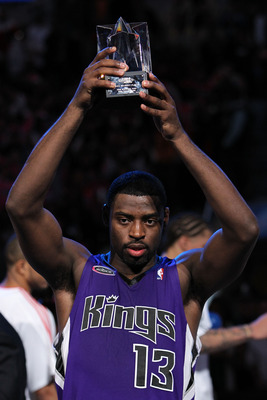 As a rookie last year Tyreke Evans became a member of the exclusive 20x5x5 club, whose founding members include Oscar Robertson and Michael Jordan and whose current members include LeBron James and Kobe Bryant.
Evans accomplished that feat while still figuring out how to be an effective player and teammate.
Cousins on the other hand might be the most offensively gifted center to enter the league since Yao Ming. While many questioned Cousins sanity during the pre-draft process word out of summer league is that he has been a revelation as a player and as a teammate.
If these two can form a good chemistry they have a chance of establishing a inside-outside duo the likes of which we have not seen since Kobe and Shaq. Surround these two with three point shooters and gritty role players and you might have the foundation for something special.
While they probably don't have the potential to grab three titles in consecutive years, it is not unimaginable that they could grab at least one if they play up to their potential.
Keep Reading