5 Ways the Lakers Must Prepare for Potential Finals Showdown with Heat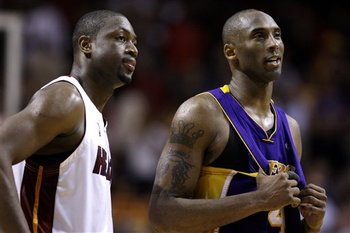 The Lakers successfully repeated as NBA Champions a little more than a month ago, so could it be too early to be talking about a potential Finals matchup against a team whose nucleus has never been seen together on the NBA hardwood?
Not really.
Not when that nucleus includes Kobe Bryant's two greatest (and perhaps only remaining) rivals.
Not when the Lakers are on the verge of doing something only Michael Jordan's Bulls have ever accomplished: winning three consecutive NBA titles on two separate occasions in the span of 10 years.
Not when the team most likely to stand in the Lakers' way of that goal encompasses three of the best 12 players in basketball and not when we may be witnessing the beginning of the next great rivalry in the NBA.
Should the Lakers and Heat meat in the NBA Finals, a possibility that some believe to be inevitable, here are five ways that the Lakers can earn victory.
5) Limit Andrew Bynum's Regular Season Minutes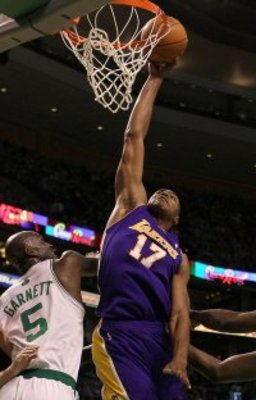 It's probably fair to paint Andrew Bynum as the Lakers' personal barometer.
Typically, when he's healthy all is well in Laker land. His mere presence accounts for so much of the Lakers' rotation and is one of the main reasons people believed in the depth of the Lakers' roster, despite the ineffectiveness and inconsistency of their bench.
His presence allows the Lakers to keep Pau Gasol at the power forward position, his most natural position, allows Lamar Odom to come off the bench, and gives the Lakers a physical, talented inside presence that most teams in the NBA are incapable of matching up against.
On the other hand, when he's absent or hurt, Gasol and Odom log heavier minutes and the Lakers' interior defense becomes much more vulnerable, as evidenced in Game Four of the NBA Finals where Celtics' forward Glen Davis went berserk, scoring nine of his 18 points in the fourth quarter alone.
The strong majority of those points came from within five feet of the basket, nearly all of the rest came from the free throw line for three-point play opportunities.
That doesn't happen if Andrew Bynum is healthy.
One of the two weaknesses in the Miami Heat's roster is that they lack physical interior defense, a problem which Chris Bosh isn't big or strong enough to handle and Zydrunas Ilgauskas isn't going to come close to fixing.
The Lakers will need someone to not only get them easy looks inside, but have a physical post-presence to defend drive attempts from LeBron James and Dwayne Wade.
That can only happen if Andrew Bynum is operating at or close to 100 percent.
4) Fortify the Bench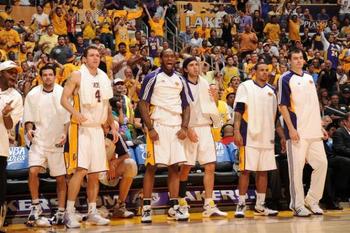 We already talked about size being one of the Heat's two visible weaknesses.
The other is their lack of depth. With their recent acquisition of Ilgauskas and Mike Miller they now have (barely) enough players to run a pickup game, but not enough for an NBA season.
The Heat won't have enough remaining finances to fill out the rest of their roster with quality players—at least not yet, and that's another area the Lakers will have to take advantage.
The talks of Raja Bell disrespectfully canceling his meeting with Kobe Bryant and agreeing to terms with the Jazz are just that, talks. Nothing is official yet. The Lakers would be well served to continue pursuing Bell's services.
Not only would he offer the Lakers another defender to throw at Dwayne Wade, but he would give the Lakers some much needed help in the three-point shooting category, where the Lakers 34 percent success rate from beyond the arc tied the Minnesota Timberwolves for a dismal 23rd in the league.
Tracy McGrady has also expressed interest in becoming a Laker, but not in the veteran's minimum salary that the Lakers are offering.
Though Tracy McGrady isn't the perennial MVP candidate he once was, maybe Kobe Bryant should bring out his checkbook for this one, particularly if Shannon Brown decides to follow in the money hungry footsteps of former Lakers Jordan Farmar and Trevor Ariza.
3) Limit Kobe Bryant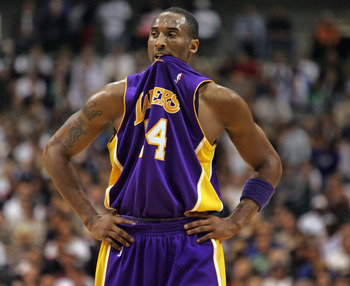 Limiting Kobe Bryant's regular season minutes is one thing, and that should be one of the Lakers' primary concerns, but what is perhaps even more critical is monitoring what Kobe Bryant does in those minutes.
Far be it from me to diminish the greatness of a five time NBA Champion, but Kobe Bryant's greatest (and perhaps only) weakness is his shot selection.
Simply put, there isn't a shot he won't take.
Double covered and trapped? Shoot. 15 or more seconds left on the shot clock and no clear look at the rim? Shoot. Teammates haven't gotten their share of touches yet? Shoot.
Not only does this throw the Lakers' offense out of sync completely, but it adds to the wear and tear of Kobe's knees and worse, his hands and arthritic finger, and it's just not necessary.
With Amar'e Stoudemire and Carlos Boozer headed East, the Suns and Jazz, two of the Lakers' opponents on the way to claiming the NBA title are substantially weaker. The Spurs may or may not be able to retain Richard Jefferson and the Mavericks are as shaky a team as they've ever been.
The West is finally getting a bit easier.
The Lakers may not be able to shift through the regular season on cruise control, but neither should it require everything in their arsenal to secure the West's number one seed.
Kobe Bryant won't allow himself too much rest, but the Lakers can definitely make it a lot easier on both Bryant and themselves in the long run by taking a more balanced offensive approach.
2) Revive Ron Artest's Offense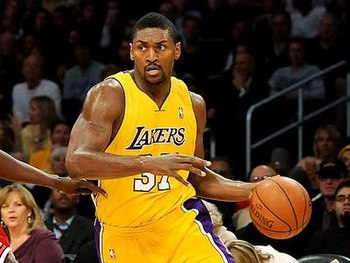 Defensively the guy is a juggernaut. He's among the very best in the league and he proved it as he hampered both Kevin Durant, the 2010 NBA scoring champion, and Paul Pierce, the 2008 NBA Finals MVP en route to claiming his first championship.
Offensively it's another story.
Artest was once a semi-franchise player. He was capable of not only being a team's first or second scoring option, but also being a team leader in assists.
Artest made the transition from franchise leader to defensive specialist quite gracefully after joining the Lakers, but would benefit the Lakers even more if he were to recover some of his former offensive moxie.
Artest admitted that his offense, his jumpshot in particular, suffered under the intense feelings of pressure that he felt after becoming a Laker.
He also admitted to bringing some of that pressure on himself when he said:
"They won last year, and I'm the new addition. The fans expect to repeat. Everybody in L.A. expects a second ring. And if we don't then yeah, they should point it right at me, throwing tomatoes and everything," shortly after becoming a Laker on July 8th.
Well, one championship ring and a year in the triangle offense later, it isn't terribly unlikely that Ron Artest will recover some of his offensive game.
If the Lakers make a point of including him in the offense a bit more than they did last season, it should allow Kobe Bryant more rest and help Artest establish a rhythm for (I can hardly believe I'm saying this) his first title defense in the coming postseason.
1) Run the Line Up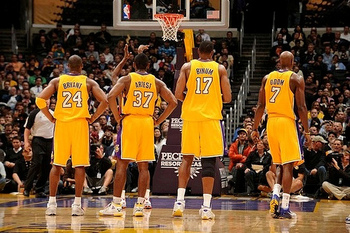 It's time.
You know, like in the original Karate Kid when Daniel decided to resort to the crane kick that Mr. Miyagi briefly touched on during their training, like in Aliens when Ripley desperately runs for the massive robot/impromptu battle suit, or when all-time great Muhammad Ali unleashed all his fury on an exhausted George Foreman after the rope-a-dope.
Every main warrior of a story has a patented move or an ultimate technique to be broken out only in case of an emergency. This is what the Lakers ultimate technique looks like:
Point Guard: Kobe Bryant
Shooting Guard: Ron Artest
Small Forward: Lamar Odom
Power Forward: Pau Gasol
Center: Andrew Bynum
Not only does that lineup lack any major chink to attack on offense, but it maximizes the Lakers' size and talent.
In the past, Jackson has shown great hesitancy in replacing Fisher in the starting lineup, presumably out of respect and loyalty.
Jackson has even gone as far as to intimate that the Lakers would have won the 2004 Finals had they started Fisher over Gary Payton (and that's probably the most ridiculous basketball related statement Jackson ever uttered).
That said, Jackson will likely have no choice but to give serious consideration to running the lineup. Guarding LeBron James and Dwayne Wade individually has required a total team effort. Now that they've paired, it will be impossible to stop both of them.
To stand a chance against them, teams will need a combination of size, athleticism, and interior presence; the lineup maximizes all the above.
For matchup purposes, Phil Jackson was uncomfortable with running this lineup against the teams the Lakers faced during the 2010 season, but the Lakers didn't meet a team quite like this year's Heat–maybe no one has.
That's why I think if the Lakers and Heat do meet in June and the chips are down for L.A., it's pretty likely that they'll resort to this lineup at some point, even if they don't start with it.
Desperate times call for desperate measures.
Keep Reading

Miami Heat: Like this team?