Phoenix Suns: Draft Picks That Could Have Been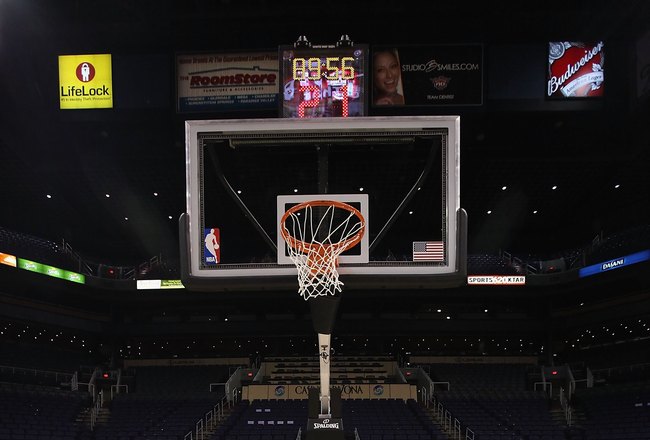 Over the past 15 years, the Phoenix Suns have made some terrible decisions on NBA Draft Night by trading away players who could have been great fits for our style of play.
Now and then, the team has found themselves lucky with Steve Nash, Amar'e Stoudemire, Shawn Marion, and most recently, Robin Lopez and Goran Dragić.
Here are a list of players that could have been in a Suns uniform.
Stephen Jackson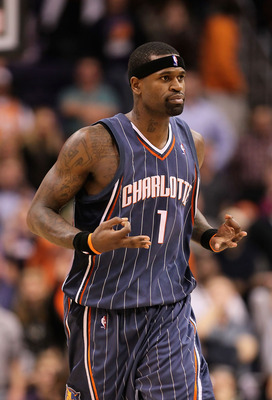 In 1997, the Suns drafted Jackson as their forty-third overall pick out of Oak Hill High School, but cut him shortly on October 30.
Jackson has spent many years traveling around the NBA, finding success with several teams, including the New Jersey Nets, San Antonio Spurs (where he won a ring as a crucial role player), Atlanta Hawks, Indiana Pacers (remember the infamous Detroit Pistons brawl), Golden State Warriors (where he led the eight-seeded Warriors over the first-seeded Mavericks), and now with the Charlotte Bobcats.
Jackson's career averages are 16.1 points, 3.2 assists, and 1.37 steals per game.
Luol Deng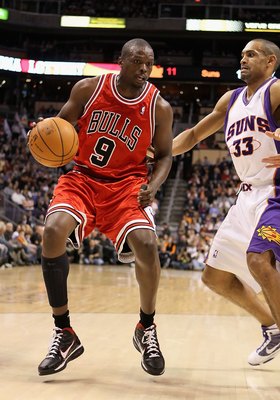 In 2004, the Suns drafted Deng with the seventh pick out of Duke University. He was immediately traded to the Bulls for the rights to Jackson Vroman, cash, and a future first round pick. Deng has spent his whole career with the Bulls.
He has career averages of 15.8 points, 6.5 rebounds, and a 47.4 field goal percentage.
Just imagine Al McCoy saying every night, "Shazam! Deng for 3!"
Nate Robinson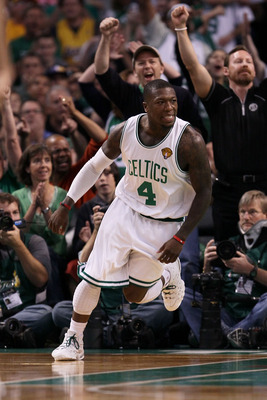 Robinson, out of Washington, was the Suns' twenty-first pick in the 2005 draft. He was then traded that night to New York with Quentin Richardson and future considerations for Kurt Thomas and the draft rights to Dijon Thompson. Even though Thomas and QRich played essential parts for the Suns, you still have to consider what Robinson's energy could have brought to the team.
He spent 5 seasons with the Knicks before a mid-season trade to the Boston Celtics this last season. He showed spurts of his skills in the Finals.
His career averages are 12 points, 2.7 assists and .9 steals per game.
Marcin Gortat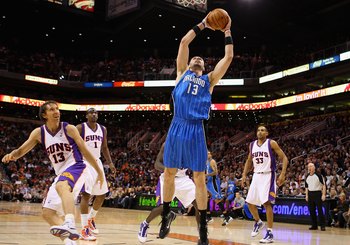 Marcin "The Polish Hammer" Gortat was the Suns' fifty-seventh pick in the 2005 Draft.
He was then traded to the Orlando Magic for future cash considerations.
Gortat spends his time as a backup for Dwight Howard, having earned respect during the Magic's Finals run. Off the bench, he averages 3.7 points, and 4.3 rebounds per game.
Rajon Rondo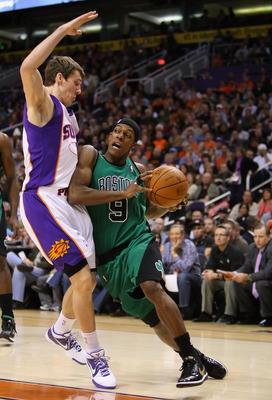 Probably the biggest draft mistake the Suns have made was selecting, then trading, the Kentucky point guard to the Boston Celtics in the 2006 Draft.
All Rondo has done is lead the Celtics to two Finals appearances, and has made the case for being considered one of the top five point guards in the league.
Last season he started in 81 games and recorded career highs in several categories: 13.7 points, 2.3 steals, 9.8 assists, 50.8 field goal percentage, and appeared as a starter in 81 games.
If we still had Rondo, would he have shown the same potential coming off the bench behind Steve Nash, or does the picture tell the better story?
Only time will tell.
Rudy Fernandez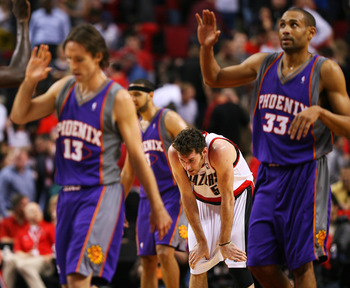 Fernandez was the Suns' twenty-fourth pick of the 2007 Draft. Shortly after his selection, he was sent to his current team, the Portland Trailblazers. He played one more year in Spain for DKV Joventut before he announced he would leave to play for the Blazers.
Each year, he shows his capability in spurts, but has yet be as consistent as he was in the playoffs this year's first round of playoffs.
After each season he flirts with the idea of going back to play in Europe.
Over his two-year career with the Blazers he has averages of 9.4 points and shoots 38% from behind the arc.
Keep Reading

Phoenix Suns: Like this team?