NFL Uncertainty: The Biggest Questions Facing 10 Teams This Season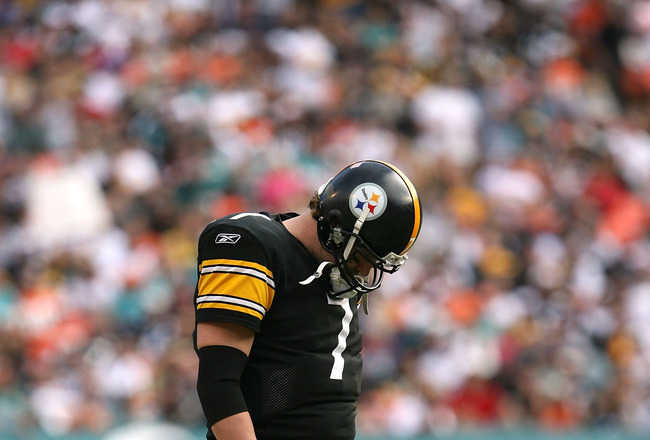 While we're all relishing the warm weather and enjoying the seemingly never-ending baseball season, most sports fans will tell you that they are waiting for the NFL to start up again.
For these fans, thoughts of football lurk in the back of their heads like Andy Reid's cravings for a double Whopper with cheese.
The middle of July might mean a lot of things to a lot of different people, but to NFL junkies, it means it's about two weeks before training camp starts and about seven weeks until the regular season kicks off.
Fans everywhere got a little bit of their NFL fix from the draft in late April, and they will be getting a little more when training camp starts.
But because there's so much time until the games actually count, most fans are either left alone with their thoughts or talking to their same two friends who are as obsessed with football as they are.
This anticipation that has continued to build up over the weeks and months generally means that there are a lot of questions floating around with very few answers.
While some of these questions will be answered during training camp, most of them will have to wait much longer, which is what makes them so intriguing.
Maybe it's because of the violent nature of the sport or because an NFL season is only 16 games long, but for whatever reason, pre-season questions that are facing NFL teams seem more pressing than pre-season questions in other sports.
Whatever the reason may be, going into every NFL season there are a host of questions facing most teams and this season is certainly no exception.
Here are 10 of the biggest questions facing NFL teams going into the 2010 regular season.
Will the New York Jets be able to live up to the high expectations?
At the start of the 2009 season, the Jets had definitely taken a few steps in the right direction; drafting their quarterback of the future in Mark Sanchez and hiring a fiery defensive genius to lead the team in head coach Rex Ryan.
But most Jets fans and NFL experts alike thought the team was at least two or three years away from making any kind of noise in the playoffs, much less being one half of football away from the Super Bowl.
After their impressive run through the playoffs last season where they beat the Bengals and Chargers on the road and held a first half lead over the Colts in the AFC Championship game, this team has become one of the Super Bowl favorites and is a sure fire contender heading into the 2010 season.
Another reason why the Jets are considered a Super Bowl contender is because they weren't content to rest on their laurels after the playoffs ended.
Their general manager, Mike Tannenbaum, hit the free agency market hard this off-season adding; Ladanian Tomlinson, Jason Taylor, Antonio Cromartie, and Santonio Holmes to help bolster the squad.
Adding those experienced and talented veterans to an already impressive young roster has this Jets team facing probably the highest expectations in franchise history.
There's no doubt that the Jets are one of the most talented teams in the NFL and they certainly have what it takes to live up to their expectations as Super Bowl contenders, but it's one thing to have a successful season when you're flying under the radar and quite another to have one when every team you play is gunning for you.
Will this be the year the Dallas Cowboys finally put everything together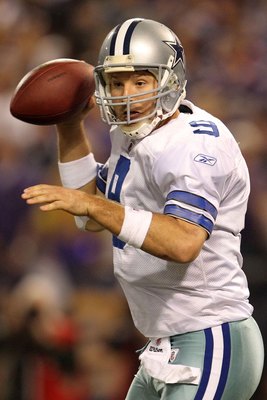 Going into the last few seasons, the Dallas Cowboys have had one of the best rosters in the NFL. They've looked great on paper, and overall, have performed well during the regular season.
But the Cowboys have been a completely different team in the playoffs, and despite their talented roster and regular season performance, they only have one playoff win since 1996.
Thankfully for Cowboys fans, their lone playoff win in the last 14 seasons came during the 2009 playoffs.
If nothing else, their 34-14 throttling of the Philadelphia Eagles in the first round of the 2009 playoffs got the monkey off the franchise's back and might have prevented Jerry Jones' head from exploding all over his luxury box.
Going into this season, the story remains the same, as the team looks great on paper once again, and with the talent on the 2010 Cowboys roster they have the ability to dominate the game on both sides of the ball.
To add to all of the pressure the Dallas Cowboy franchise has been feeling, this year's Super Bowl will be held on their home field and the team has made no secret of their plans to be playing there come February.
This team hasn't quite been able to get over the playoff hump the last few seasons, but if you're a Cowboys fan you have to like your chances heading into 2010.
How will the Ben Roethlisberger fiasco affect the Steelers season?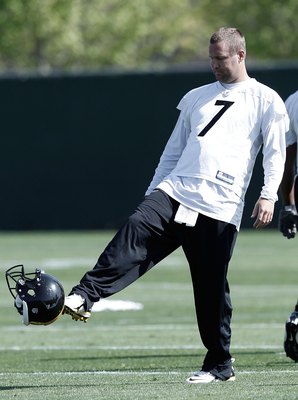 Ben Roethlisberger has had himself another controversial off-season and his activities away from the football field figure to throw a wrench in the Steelers plans for a successful 2010 season.
In March, the 28 year-old quarterback was accused of sexually assaulting a college student in a Milledgeville, Georgia nightclub and although his accuser has since dropped the charges it's impact will be felt around the NFL.
Not only has Roethlisberger received a six game suspension for violating the NFL's personal conduct policy, but a proud Steelers organization has had its good name tarnished and Big Ben's teammates have had to deal with the controversy surrounding this ugly situation.
On the football field, Roethlisberger is one of the league's best quarterbacks and has already led Pittsburgh to two Super Bowl titles in his first six NFL seasons.
While Roethlisberger's six game suspension may be shortened to four, it's still a major concern for the Steelers that they will be without their franchise quarterback for at least a fourth of the regular season, if not more.
In the wake of the Roethlisberger fiasco, the Steelers currently have three other quarterbacks on their roster; Dennis Dixon, Byron Leftwich, and Charlie Batch all of whom are decent options but none of which will be able to air it out like Big Ben.
With the Steelers playing in an increasingly tough AFC North and facing a possible six games without their leader, it could be a lost season for a franchise that always has high expectations.
How will the Chris Johnson contract situation play out in Tennessee?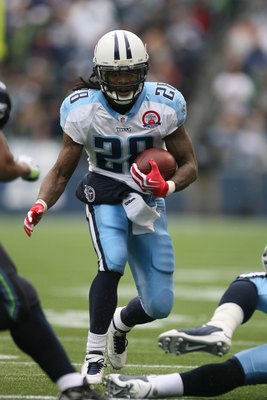 What do you do after you have one of the greatest seasons for a running back in NFL history?
Ask for more money.
And that's exactly what this 24 year-old Pro-Bowler is doing.
Coming into the 2009 season we all knew that Johnson was one of the best young running backs in the league, but not many knew that he might very well be the best running back in the league, period.
He absolutely made the case for that in 2009, when he torched almost every defense he played against to the tune of just over 2,500 total yards as well as 16 total touchdowns.
Not many will argue with the fact that Johnson is the fastest offensive player in the NFL, which is what makes him a threat to score every single time he touches the ball.
After the breakout season Johnson had last year, most everyone will agree that he's one of the premier running backs in the NFL, but here's where the problem begins; he's scheduled to make only $550,000 this season.
Johnson has been very vocal with both the Titans organization and anyone else who will listen that he wants a long term deal and while Johnson's agent and the Titans have talked, it doesn't seem like the two sides are getting close to an agreement.
Because of this contract dispute he has already missed all of the team's off-season workouts and it seems like Johnson is willing to skip training camp as well.
In these types of situations, the superstar usually gets their money but the longer this situation carries on for, the more of an issue it will become.
Is Kevin Kolb ready to be the man in Philadelphia?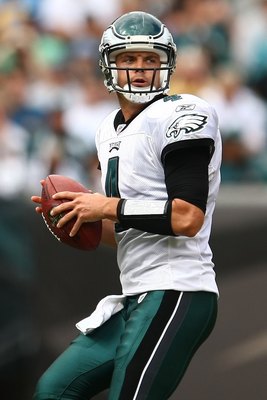 After 11 seasons of the Donovan McNabb soap opera playing out in Philadelphia, the team finally got rid of one the best quarterbacks in team history.
People can say what they want about Donovan and criticize the fact that he never was able to bring home the ultimate prize to Philadelphia, but he was definitely a winner and at 33 years-old you have to think that the veteran signal caller still has something left in the tank.
The Eagles apparently didn't, as they shipped him over to divisional rival Washington in exchange for a couple of draft picks.
Enter the 25 year-old quarterback out of Houston, Kevin Kolb, who will assume McNabb's vacated position.
While Kolb's been on the Eagles for three full seasons, he doesn't have much NFL experience; attempting less passes in regular season NFL games (130) than McNabb's started over his long career (148).
But just because he's inexperienced doesn't mean Kolb isn't ready for the challenge nor is he a complete novice when it comes to starting NFL games.
Just last season, Kolb was called into duty in weeks two and three when McNabb was sidelined with a rib injury.
In those two games Kolb performed fairly well amassing 718 passing yards as well as throwing four touchdowns, while the Eagles posted a 1-1 record.
Coming into the 2010 season Kolb has been named the starter of a very young and potent Eagles offense that undoubtedly has the surrounding talent to help him succeed.
Featuring players like DeSean Jackson, Brent Celek, Jeremy Maclin, and LeSean McCoy, Kolb will have the necessary weapons to make a smooth transition, but the fact remains that he will have to adjust from backing up McNabb to being the Eagles starter.
Washington Redskins- Multiple Questions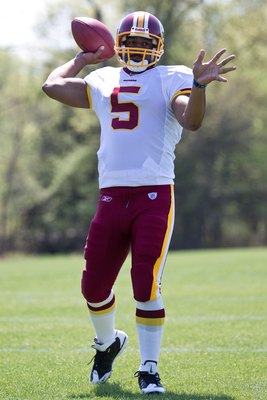 There are a multitude of questions that the Washington Redskins are facing as we head into the 2010 season.
How will Albert Haynesworth be welcomed back to the team?
Defensive tackle, Albert Haynesworth who signed a seven year $100 million contract with the Redskins just a season ago has made it quite clear that he is unhappy with the teams switch to a 3-4 defense in which he would have to play nose tackle.
He went so far as to skip a mandatory mini-camp in mid June which drew the ire of both his own teammates as well as the media.
While Washington entertained the idea of trying to trade Haynesworth, it appears that he will be playing for the team this season, although he will have some serious work to do to win back the other players in the Redskins locker room.
How will Donovan McNabb adjust to a new team?
The team added former Eagles quarterback Donovan McNabb who has only played for one coach and in one city his entire 11 year career.
Washington obviously believes that McNabb can still be a great player, but considering that he will be adjusting to a new city, team, coach, and playbook at 33 years old it might take Donovan a little bit of time to get comfortable in the nation's capital.
Will a veteran backfield be able to carry the load in D.C.?
Finally, the Redskins added veteran running backs Willie Parker and Larry Johnson to help support Clinton Portis.
While there's no doubting how good all three of these players have been during points of their career, it is fair to question their durability and effectiveness as all three combined for just 1,464 yards last season and only one rushing touchdown.
Look at it this way, when the combined ages of your three main running backs is one year younger than Betty White, things don't exactly look great for dominating the ground game.
How will the Cardinals deal with the losses of four key players?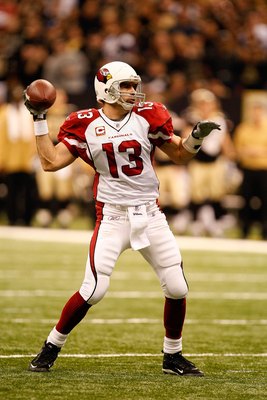 The off-season was not kind to Arizona Cardinals fans, as the team lost; Kurt Warner (retirement), Anquan Boldin (trade), Karlos Dansby (free agency), and Antrell Rolle (free agency).
All four of these guys were crucial to the team's recent success and will be difficult to replace.
Perhaps the biggest departure is that of quarterback Kurt Warner, who seemed to have found the fountain of youth in the Arizona desert and looked like the same guy who was at the helm of the greatest show on turf just a few seasons ago in St. Louis.
This season, Matt Leinart will have every opportunity to show that he was worth being a high first-round pick, but it's very difficult to replace a guy like Warner, no matter how talented you are.
As for the three others who left, the Cardinals have added Joey Porter and Kerry Rhodes to help sure up their defense while wide receivers Early Doucet and Steve Breaston appear primed to take on much bigger roles in the passing game.
Even though the Cardinals seem to have a viable back-up plan at pretty much every position they lost this off-season, it is very difficult to replace four players like the ones they lost.
With the help of Mike Martz will Jay Culter be able to bounce back?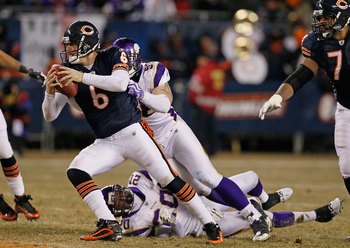 When the Bears traded away Kyle Orton and two first-round picks for Jay Cutler in 2009, they envisioned him turning the Bears offense into one of the leagues best.
Going into the 2009 season there was no reason to think that Cutler wouldn't be able to step into the windy city and do just that.
After all, Cutler had just completed an extremely impressive third season with the Denver Broncos where he passed for over 4,500 yards and 25 touchdowns.
Unfortunately for Bears fans Cutler had a rocky season, as the team finished 19th in points per game and 23rd in total offense during the 2009 season, not to mention compiling a disappointing 7-9 record.
Cutler had his moments during his first season in Chicago, but ultimately, he turned the ball over way too much for the Bears to be successful.
In all, Cutler threw 26 interceptions during the 2009 season which is the third most thrown in an NFL season in the last 15 years.
In February the Bears hired famed offensive coordinator Mike Martz to work with Cutler and help improve the Bears sputtering offense.
Martz is best known for being the architect of the aforementioned St. Louis Rams offensive juggernaut of the late 1990's and early 2000's.
If there's anyone out there that can help Cutler bounce back from his disappointing 2009 season it might very well be Martz, but his famed offensive schemes are amongst the most complicated in the NFL.
I hope Jay Cutler is ready to memorize a 600 page play book.
Will Brett Favre be coming back to the Minnesota Vikings?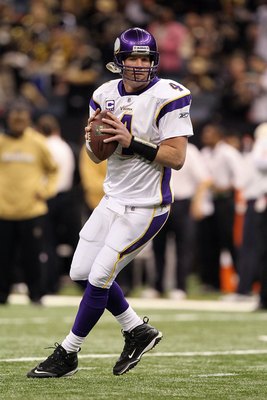 I'm sure we're all sick and tired of this question, so I'll keep it short.
With Favre on the roster, the Vikings are an obvious Super Bowl contender and without him, they're a solid team but nowhere near the Super Bowl.
In the unlikely event that Favre doesn't come back, Vikings fans are stuck watching the likes of Tarvaris Jackson or Sage Rosenfels play quarterback, which is like watching someone trying to start a fire by rubbing two sticks together.
The better question to ask in this instance is, when Favre does come back will his body be able to withstand another season?
Something tells me we're going to find out.
Is Ryan Mathews ready to be the Chargers featured back?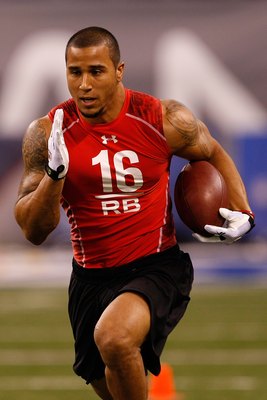 Despite yet another disappointing exit from last season's playoffs, the San Diego Chargers enter the 2010 season looking like one of the better teams in the NFL.
There's no doubt that the Chargers have one of the most lethal passing attacks in the entire NFL, featuring Philip Rivers, Vincent Jackson, and Antonio Gates.
But after they released the team's all-time leading rusher, LaDainian Tomlinson, the only established NFL running back on the roster was Darren Sproles, who at just 5'6'' doesn't possess enough size to be an every down back.
Instead of reaching for an aging veteran during free-agency, the team decided to trade up to the 12th pick in the 2010 draft and select Ryan Mathews out of Fresno State.
Mathews will give the Chargers a little bit of everything, as the 6'0'' 220 pound running back possesses 4.37 speed but can also break a few tackles, and he should be able to make a difference catching the ball out of the backfield as well.
As it stands now, Mathews will be the teams starting running back which seems like a great fit for the rookie because opposing defenses will have their hands full trying to contain the Chargers passing game.
Matthews has the luxury of going to an established and successful team, but this also means that they will be counting on him to adjust quickly to the NFL as San Diego has Super Bowl hopes for this coming season.
While it looks like he will be able to help the Chargers win, Mathews will need to carry the load in the team's running game, not to mention replacing one of the greatest running backs in NFL history which can be a daunting task for any rookie.
Keep Reading