NFL Positional Power Rankings: Offense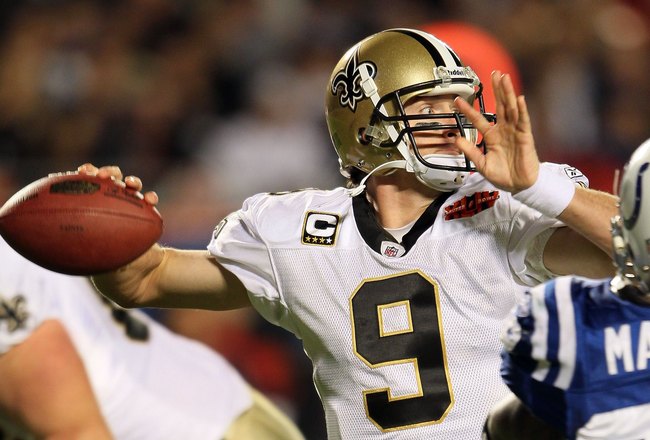 Being a top five player at a position in the NFL is not an easy task for any player to achieve regardless of talent. Football is a hard, unforgiving, violent sport that has little sympathy for the weak or hurt.
Being a top five player at a position requires more than talent; it also requires durability, leadership, being a good teammate, and performing in clutch situations.
The following is a list of the top five offensive players at all positions except fullback. This is not about potential for seasons afterward but only the 2010/2011 NFL season. Injured players or those who seem destined for a protracted holdout are not included.
Quarterback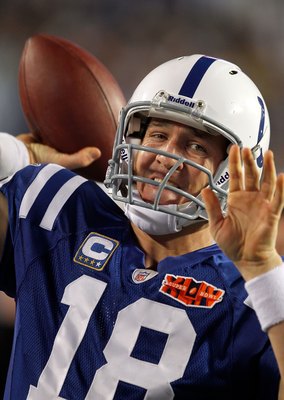 1. Peyton Manning, Indianapolis Colts
Has more responsibility and pressure to perform on a game-to-game basis than any other QB in the NFL.
2. Tom Brady, New England Patriots
Even Tom Brady is mortal, and it wasn't until mid-season that he was mentally over the Bernard Pollard hit. But he is still Tom Brady.
3. Drew Brees, New Orleans Saints
While he doesn't have the responsibility that Peyton does, and while he is not as clutch as Tom, he might be more accurate than either of them right now.
4. Phillip Rivers, San Diego Chargers
The fact that Rivers is the league's best downfield passer in the NFL despite only having a slightly above average arm isn't a fluke, just a result of talent and hard work.
5. Aaron Rodgers, Green Bay Packers
Perhaps the best quarterback in the NFL at manipulating his throwing motion and release point and at throwing off balance while retaining zip and accuracy.
Injury Replacement—Eli Manning, New York Giants
Never misses a game, always has his team in contention for the playoffs, and quickly turned a green wide receiving core into one of the league's best.
Running Back
1. Chris Johnson, Tennessee Titans
I would like to see the Titans limit his carries more only because I want his career to last longer.
2. Steven Jackson, St. Louis Rams
Poor Jackson. By the time the Rams are good again he will be old.
3. Ray Rice, Baltimore Ravens
Reminds me of Tiki Barber in that he is always on the field, is always a threat, and plays big in big situations.
4. Adrian Peterson, Minnesota Vikings
So talented, but how long until the name "Adrian Peterson" becomes synonymous with the word "fumble"?
5. Maurice Jones-Drew, Jacksonville Jaguars
Maurice Jones-Drew was by the midpoint of last season the second-best running back in the NFL. But by season's end, not so much.
Injury Replacement—Frank Gore, San Francisco 49ers
Injuries in college robbed him of draft position and health. And he is still this good.
Wide Receiver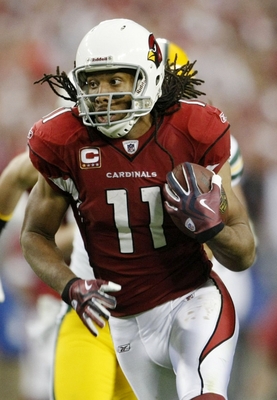 1. Larry Fitzgerald, Arizona Cardinals
He can single-handedly win a playoff game.
2. Andre Johnson, Houston Texans
Some would argue he should be No. 1, but his lack of playoff appearances and his disappearances in some games make him No. 2.
3. Reggie Wayne, Indianapolis Colts
Few NFL players can get in and out of their cuts as naturally and with such little loss of speed. One bad Super Bowl moment doesn't stop that.
4. Randy Moss, New England Patriots
He has lost a step or two, and it is obvious. But when you're Randy Moss you can afford to lose five steps and still have above-average NFL speed.
5. Calvin Johnson, Detroit Lions
One of the few receivers who demands universal double- and triple-teaming on every single play.
Injury Replacement—DeSean Jackson, Philadelphia Eagles
One of maybe five or six NFL players who can score from anywhere on the field. The word explosive does him no justice.
Tight End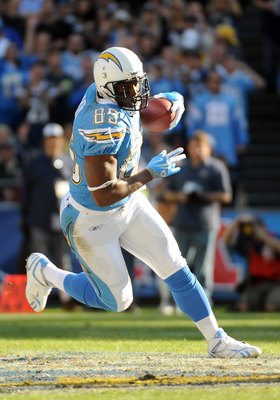 1. Antonio Gates, San Diego Chargers
For such a big man Gates has an effortless, bouncy grace to his movement. The ball just seems to find his hands—it's freaky.
2. Dallas Clark, Indianapolis Colts
Can play inline, slot, h-back, and pretty much any skill position but running back. Even a better blocker than he's given credit for.
3. Vernon Davis, San Francisco 49ers
Davis is easily the most talented tight end in football, but he is still working on maintaining his focus more consistently. Still can get much better.
4. Jason Witten, Dallas Cowboys
Witten is the most reliable possession tight end in football; the definition of a security blanket.
5. Tony Gonzalez, Atlanta Falcons
I gave up trying to predict when he is going to start slowing down.
Injury Replacement—Brent Celek, Philadelphia Eagles
Andy Reid loves him and is going to force-feed him the ball, with good reason.
Offensive Tackle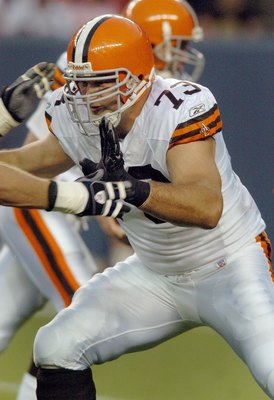 1. Joe Thomas, Cleveland Browns
Has consistently been the best left tackle in the NFL since his rookie season.
2. Jake Long, Miami Dolphins
Not only is he a great protector, but he is also a nasty mauler who intimidates defenders.
3. Jared Gaither, Baltimore Ravens
He might have a bad attitude and be a pain for an organization to deal with, but on the field he locks people down.
4. D'Brickashaw Ferguson, New York Jets
Still has a ways to go to fulfill his potential, but he is above average in all aspects.
5. Jason Peters, Philadelphia Eagles
Overrated as a pass blocker but vastly underrated as a run blocker and screen leader.
Injury Replacement—Michael Oher, Baltimore Ravens
Might have been the most dominant right tackle in the NFL at the end of last season.
Offensive Guard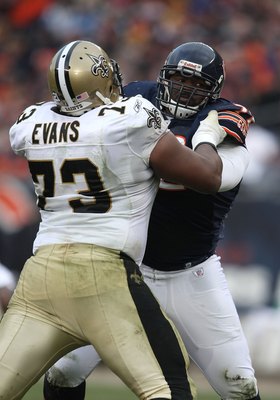 1. Jahri Evans, New Orleans Saints
Just about impossible to defeat at the point of attack. People hurt for weeks after playing him.
2. Chris Snee, New York Giants
Been the best lineman on what has been arguably the best offensive line in the NFL since 2005.
3. Ben Grubbs, Baltimore Ravens
The rare interior lineman who can handle elite 3-4 lineman one-on-one.
4. Davin Joseph, Tampa Bay Bucs
One of the few offensive lineman in the NFL who can block multiple people at the same time.
5. Logan Mankins, New England Patriots
A technician with the mind of a professor who still wants to hit people.
Injury Replacement—Carl Nicks, New Orleans Saints
Not as good as Evans, but a mauling, nasty player in his own right.
Center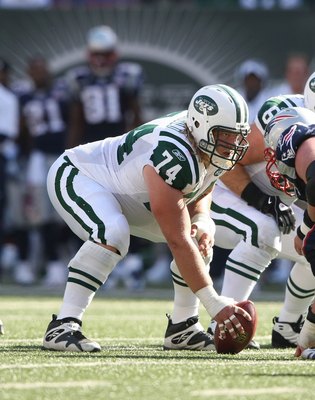 1. Nick Mangold, New York Jets
Might be the best offensive lineman in the NFL regardless of position.
2. Ryan Kalil, Carolina Panthers
Kalil makes his fellow lineman play on a much higher level, whether they are highly talented or not. He's not bad himself either.
3. Andre Gurode, Dallas Cowboys
An elite run blocker and an above-average pass blocker.
4. Shaun O'Hara, New York Giants
Losing athleticism quickly but is such a smart player that he can still compensate and play at a high level.
5. Jason Brown, St. Louis Rams
Defenses last year knew Steven Jackson was coming and crowded the line of scrimmage. Yet Brown still created clean lanes.
Injury Replacement—Alex Mack, Cleveland Browns
Had a rookie season that stacks up against Nick Mangold's. Eric Mangini knows how to find and develop centers and cornerbacks.
Keep Reading