Top Five George Steinbrenner Free Agent Signings for New York Yankees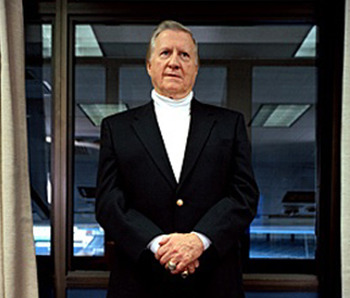 We will never see another owner like George M. Steinbrenner III.
Free agency began in December of 1975 and the Yankees owner, just two years in at the time, was willing to spend in order to see his team finish on top.
Steinbrenner would go on to sign pitchers (Catfish Hunter), stars (Reggie Jackson), the "fat, pus*y toad" (Hideki Irabu), and seemingly every other can't miss free agent.
Under his reign, Steinbrenner's Yankees won 16 division titles, 11 American League pennants, and seven World Series Championships. To put his winning ways into perspective, the rest of the New York sports teams, since 1973, won a combined 10 titles.
The next five slides are the best players/manager that the Boss acquired during his 37 years as the Yankees owner.
Thank you, George, for being willing to spend your money, unlike many other owners out there today.
This is the reason why he spent his millions:
"The only thing I care about is the Yankees fans. I could care less what the other people or detractors say. It really doesn't bother me."
No. 5: Hideki Matsui (2003-09)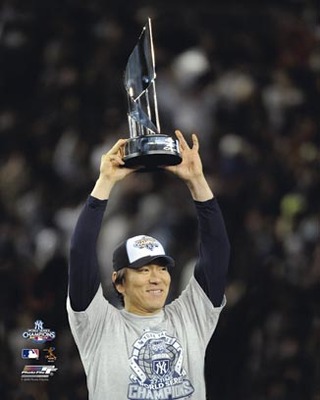 The Yankees' first acquisition from Japan, Hideki Irabu, did not perform as well as the Yankees had expected.
He was signed to a four-year, $12.8 million contract and was later called a "fat, pus*y toad" by Steinbrenner for not covering first base in a spring training game. He finished his Yankees career with a 29-20 record to go along with a 4.80 ERA.
In 2003, the Yankees signed their second Japanese player. This time they got it right!
Hideki Matsui, the Japanese version of Babe Ruth, came over in 2003 with more fanfare than any international player had before. Yes, even more than Ichiro.
A parade was held before Matsui headed to the U.S., and in his initial season in pinstripes, Matsui had a line of .287/.353/.435/.788 (16 HRs, 106 RBI, 82 runs).
Just like Reggie Jackson, Godzilla saved his best for the postseason.
In 12 games, Matsui put together an unbelievable line of .389/.463/.750/1.213 (four HRs, 12 RBI, four runs).
In his final act, one of the classiest Yankees to ever put on the pinstripes had a Game Six for the ages. Matsui was the best hitter on either team during last year's World Series. His average was .615, and his on-base percentage was .643.
Nope, you didn't misread that. Those two statistics are his average and on-base percentage. His final line for the series was .615/.643/1.385/2.027 in 13 at-bats.
On Nov. 4, 2010, Matsui added to his Yankee legacy with one of the greatest performances in a playoff game. With his impending free agency on the horizon, Matsui was the easy choice for World Series MVP after he crushed a homer and amassed six RBI in Game Six.
Once the night was over and the Yankees had won their 27th World Series, I was satisfied with Matsui leaving in free agency. He had thrilled Yankees fans one last time and ended his time in pinstripes with a bang.
The Yankees didn't get it right the first time with Irabu, but more than made up for it with the 2009 World Series MVP, Hideki Matsui.
*Best Yankees Season (2004): .298/.390/.522/.912 (21 HR, 108 RBI, 109 runs).
*Yankees Career Numbers: .292/.370/.482/.852 (916 games, 140 HR, 597 RBI, 536 runs).
*Career Numbers: .289/.367/.476/.843 (1,001 games, 150 HR, 644 RBI, 560 runs).
Accolades:
*Two-time All-Star
*World Series Champion
*2009 World Series MVP
No. 4: Catfish Hunter (1975-79)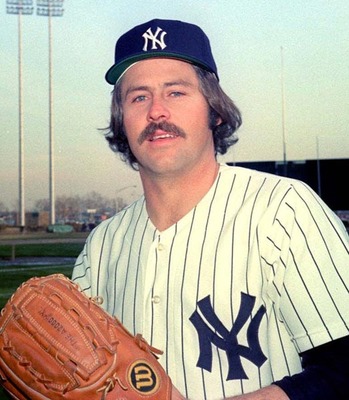 The free agency period began in December of 1975, and George M. Steinbrenner III was ready to acquire the prized free agent on the market.
Before he was signed by the Yankees, Hunter was a six-time All-Star, won the 1974 AL Cy Young Award, and finished in the top four of Cy Young voting three years in a row (1972-74).
He was a spectacular 161-113 with a 3.13 ERA from 1965-74.
From 1971 to 1974, he won at least 21 games and had a ridiculous record of 88-35 with a 2.68 ERA.
The Boss was ready to sign the 1974 AL Cy Young Award winner to a very lucrative deal at that time. Adjusting for inflation the five-year, $3.2 million deal that Hunter signed would be worth $12,618,195 today.
The highest-paid pitcher at the time was expected to continue his streak of 20-win seasons, which was at four when he joined the Bombers.
Hunter would go on to lead the league in wins (23) for the second consecutive season, pitch an astonishing 30 complete games, totaling a whopping 321 innings. He finished second to Jim Palmer in that season's Cy Young voting.
In 1976, Hunter ended up winning 17 games and led the team in complete games and innings pitched once again.
*Best Yankees Season (1975): 23-14, 2.58 ERA, 30 complete games, 39 games, 328 innings.
*Yankees Career Numbers: 63-53, 3.58, 492 Ks in 137 games, 993 innings.
*Career Numbers: 224–166, 3.26 ERA, 2,010 Ks in 500 games, 3,449.1 innings.
Accolades:
*Eight-time All-Star (two with Yankees)
*Five-time World Series Champion (two with Yankees)
*1974 AL Cy Young Award Winner
*Oakland A's No. 27 Retired
*One of only four men to win 20 games for five consecutive seasons. The legendary group includes Walter Johnson (10), Lefty Grove (seven), and Bob Feller (five). All four are Hall of Famers.
*Hall of Fame in 1987 (76.27 percent of vote)
No. 3: CC Sabathia (2009-Present)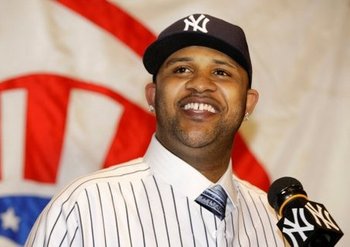 If you look at 2001 and 2003, years in which the Yankees were defeated in the World Series, they did not have a dominant ace—a pitcher they could rely on to get the job done.
Instead, they were facing the other team's ace (Josh Beckett, Curt Schilling, Randy Johnson) without one of their own.
You could even look at 2004-07, where the Yankees did not have a formidable pitcher to match up against the No. 1 pitcher on the other team's staff.
Well, enter C.C. Sabathia. The big man dominated in 2008, just like Sparky Lyle had in 1974, and the Yankees realized he was one of the pieces they were missing to their World Series-winning puzzle.
Brian Cashman and the Yankees threw a seven-year, $161 million deal at Sabathia, and he took it without hesitation. As the newest highest-paid pitcher in baseball, Sabathia had a lot to live up to.
After an All-Star first half, the powerful lefty flourished as the calendar turned to August. He went undefeated in August and September (9-0) and had a minuscule 1.96 ERA.
His numbers after the All-Star break were impressive to say the least. He lived up to the billing as an ace and went 11-2 with a 2.74 ERA.
Due to his dominance down the stretch, the Yankees easily found their way into October, and Sabathia turned it up another notch. In the ALDS (1-0, 1.35), ALCS (2-0, 1.13), and World Series (0-1, 3.29), Sabathia was everything the Yankees had hoped for and more.
*Best Yankees Season (2009): 19-8, 3.37 ERA, two complete games, 34 games, 230 innings.
*Yankees Career Numbers: 31-11, 3.27, 301 Ks in 53 games, 361 innings.
*Career Numbers: 148–84, 3.59 ERA, 1,694 Ks in 307 games, 2,020.1 innings.
Accolades:
*Four-time All-Star (two with Yankees)
*World Series Champion
*2009 ALCS MVP
*2007 AL Cy Young Award Winner
No. 2: Reggie Jackson (1977-81)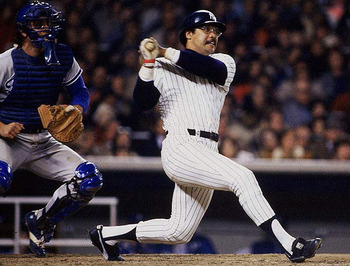 Reginald Martinez Jackson, the two-time Yankees World Series Champion (1977 and 1978), was the best free agent player that the Boss acquired.
Arguably the flashiest player that the Boss ever took ended up becoming a star in New York. Even though he played 16 seasons on other teams (Kansas City/Oakland A's, Baltimore Orioles, California Angels), Mr. October went into the Hall of Fame as a Yankee.
He was at his best on the big stage. In three World Series as a member of the Yankees, Jackson produced a ridiculous line of .391/.490/.871/1.361 in 15 games. He hit eight home runs (three in Game Six, and five total in the 1977 World Series).
In 34 playoff games as a member of the Yankees, he smacked 12 home runs, had 29 RBI, and posted a .385 OBP.
*Best Yankees Season (1980): .300/.398/.597/.995 (41 HR, 111 RBI, 94 runs).
*Yankees Career Numbers: .281/.371/.526/.897 (653 games, 144 HR, 461 RBI, 380 runs).
Career Numbers: .262/.356/.490/.846 (2,820 games, 563 HR, 1,702 RBI, 1,551 runs).
Accolades:
*14-time All-Star (five with Yankees)
*Five-time World Series Champion (two with Yankees)
*Two-time Silver Slugger Award Winner (one with Yankees)
*1973 AL MVP
*Oakland A's No. 9 Retired
*New York Yankees No. 44 Retired
*Hall of Fame in 1993 (93.6 percent)
No. 1: Joe Torre (1996-2007)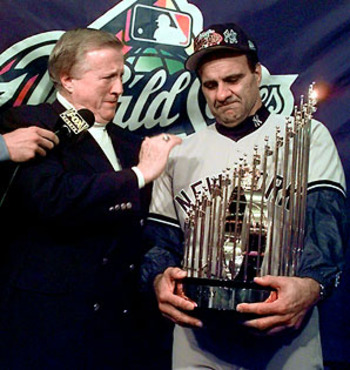 While the final few years between Joe Torre and the Yankees are not remembered well, he was the manager at the helm of four World Series Championship teams, which is the most for any manager under Steinbrenner.
Over 18 seasons as a player, Torre played for the Milwaukee/Atlanta Braves, St. Louis Cardinals, and New York Mets. From 1960-77, he had a borderline Hall of Fame playing career.
After the 1977 season, he retired and went on to manage the Mets (1977-81). After being fired by the Mets, Torre went on to manage the Braves from 1982-84. With two strikes against him after being fired by the Braves, Torre went to manage the Cardinals (1990-95).
He had managed for 14 seasons and compiled a record of 894-1,003, finishing in first place just once.
In 1995, and after losing a tough ALDS to the Mariners, the Yankees fired their manager, Buck Showalter.
While looking for a new man to lead the Yankees to their first World Series since 1981, Steinbrenner took advice from a long-time Yankee associate, Arthur Richman, who told him that Torre was the right guy for the job.
Richman not only revived Torre's career, but a sleeping giant in the form of the Bronx Bombers as well. The Yankees would go on to win the World Series in 1996, 1998, 1999, and 2000 and also won the American League pennant in 2001 and 2003.
In total, Torre went 1,173-767 as the manager of the Yankees and presided over the 125-50 1998 Yankees, a team that many consider to be the best ever.
Over 12 seasons at the helm, Torre's Yankees won nine AL East Division titles in a row and 10 total. The even more amazing statistic is that while Torre managed in pinstripes, the team never missed the playoffs.
His time as Yankee manager was the longest during Steinbrenner's time as owner and the second longest stint in the history of the franchise (Joe McCarthy 1931-46).
While Torre had a rocky end to his Yankee managerial career, he called Steinbrenner on his birthday this year and still had a good relationship with The Boss.
Torre issued this statement when Steinbrenner passed away:
"I will always remember George Steinbrenner as a passionate man, a tough boss, a true visionary, a great humanitarian, and a dear friend. I will be forever grateful that he trusted me with his Yankees for 12 years. My heart goes out to his entire family. He will be deeply missed in New York, Tampa and throughout the world of baseball. It's only fitting that he went out as a world champ."
Keep Reading

New York Yankees: Like this team?