Top 10 NBA MVP Candidates for 2010-11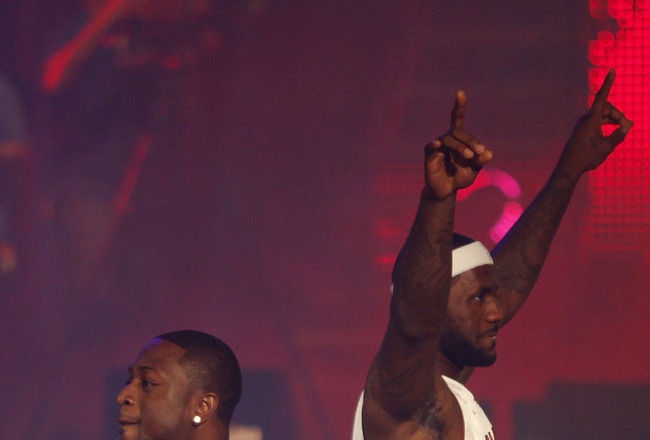 Now that the best free agents have signed, rosters for the most part aren't going to have major changes.
I'd like to tell you who the Top 10 MVP candidates for the upcoming 2010-11 NBA season are.
#10 John Wall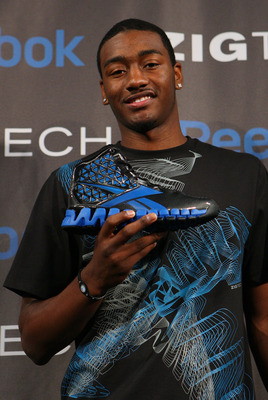 Any rookie who is the first overall pick and as good as this guy can be MVP.
If Wall can take the Wizards to the playoffs, you have to at least consider him for MVP.
The Wizards got Wall for a reason: They were straight-up awful. If Wall, the rookie point guard out of Kentucky, can turn a troubled franchise, he will earn somebody's vote for Most Valuable Player.
#9 Dwight Howard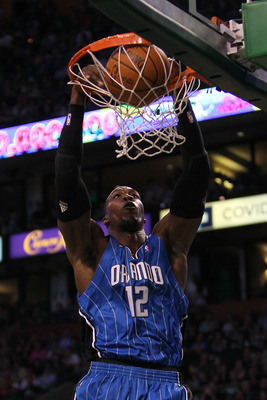 Arguably the best center in the NBA, Howard is a MVP candidate year in and year out.
Howard, who has a power forward's body with the post moves of an elite center, is also the best shot blocker and rebounder in the league.
When the Magic struggle, Dwight picks the whole team up and dominates opponents. The only thing holding Howard back is his supporting cast in Orlando.
It would surprise few if Orlando "upset" the favorites, the Miami Heat, in a playoff series. If the Magic were able to pull off such a feat, it would be Howard leading the effort.
#8 Derrick Rose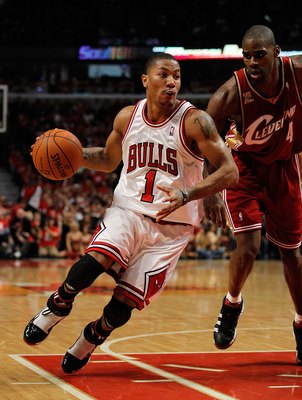 Another contender in the East, the Bulls are led by Rose.
Rose, who only has two NBA seasons under his belt, plays like a veteran. He has great court vision, which allows him to find the open man. He worked on his jump shot after his rookie season, which adds another weapon to his arsenal.
I can see Rose scoring almost 25 points per game, along with close to double digit assists. If he can limit turnovers and keep getting a fair amount of steals, the Bulls will succeed and Rose will be a top five player this season.
#7 Steve Nash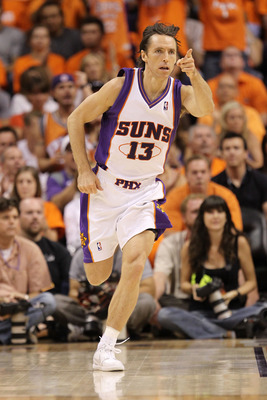 Now that Amar'e Stoudemire has left, it will be up to Nash to take this team to the Finals.
The loss of Stoudemire should not affect this team significantly. Amar'e was not a great defender, and as we all know, most of his points came off the pick-and-roll from Nash.
Number 13 can find another guy to do the same thing Stoudemire did, and I see Hakim Warrick fitting that role nicely. He isn't as tall, but he can score. Adding Hedo Turkoglu and Josh Childress make the Suns better, but Nash is the guy who could make them the top team in the West.
#6 Tyreke Evans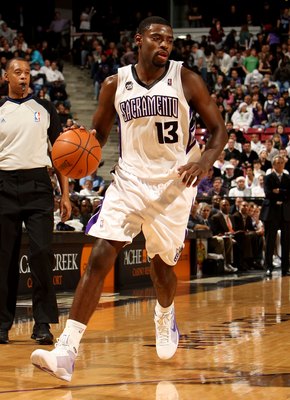 The reigning Rookie of the Year, Evans will have to carry the entire city of Sacramento on his back if he wants his Kings to make the playoffs this season.
After trading away Kevin Martin, Evans became the go-to guy in Sacramento. Losing Spencer Hawes and Andres Nocioni to the 76ers will only make it tougher on Evans. If rookie big man Demarcus Cousins doesn't perform well, Evans will be the only good player on this team besides Jason Thompson.
Getting the eighth seed should earn Evans a top three in MVP voting.
#5 Brandon Roy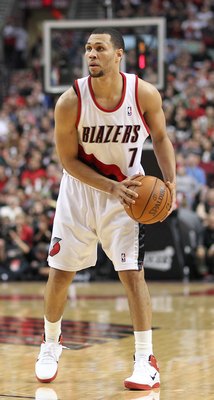 Rookie Philadelphia 76er Evan Turner is being compared to Roy. Turner should wish very much to be just like Roy.
The shooting guard/small forward for the Portland Trail Blazers had a problem with injuries last year, and for a guy with a long history of injuries, he could have another shortened season.
If Roy is healthy this year, he can score 30 points on any given night.
The Blazers are an exciting young team. With Roy leading the way, they could surpass many Western Conference teams this year, making Roy a top candidate for MVP.
#4 Chris Paul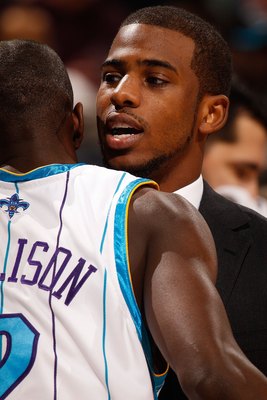 Paul is arguably the best point guard in the NBA.
He missed a lot of time due to injuries, which led to the Hornets missing the playoffs. If he can put up top numbers and take the Hornets to the playoffs, he will be once again in the MVP discussion.
Look for Evans's Kings and Paul's Hornets to fight hard for the eighth seed in the West.
#3 Kobe Bryant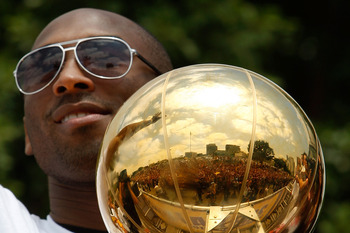 He has five NBA Championship rings. He was probably the best player on his team for the first three, and without a doubt, the best for the last two.
If you want a high-flying, in-your-face scorer, go with LeBron James. If you want the guy who can shoot from anywhere on the court and get you 30 points a game, Dwyane Wade is your man.
But if you want clutch, a finisher, a player who can hit a three-pointer with a defender in his face despite a shooting finger with worse arthritis than an 80-year-old man, Kobe is it.
Kobe has a better supporting cast than your next two candidates, so although he is the best player in the NBA, he doesn't mean more to his team than these players.
#2 Carmelo Anthony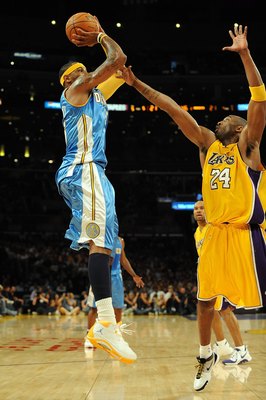 Carmelo Anthony is the most underrated player in the league. It's about time he gets some credit.
Anthony is one of those guys who makes everyone around him better. The Nuggets almost went to the NBA Finals two years ago on his shoulders.
After all of this LeBron talk, Carmelo wants to show everyone that he means more to a team than the player taken two spots higher in the 2003 draft.
If the Melo-CP3-Amar'e trio works out in NYC in 2011 or 2012, this is Anthony's last shot at getting a MVP award, and you all know he will be driven to get that award just to show that he is no less than LeBron.
#1 Kevin Durant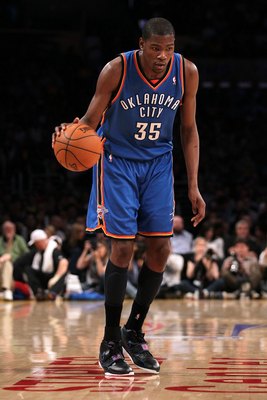 With LeBron James now on the Heat, this award is Kevin Durant's to lose.
Anyone who knows the NBA will tell you that players don't top out until after their third season. That means Kevin Durant will likely improve on last season, when he became the youngest scoring champion in the NBA's history.
The sky is the limit for this young man, and with a good but not great supporting cast, Durant is definitely my pick.
Why LeBron, D-Wade, And Bosh Do Not Qualify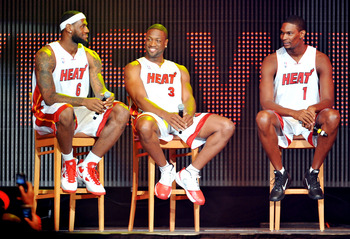 When you have two of the league's top 10 players as teammates, you should not even be considered for MVP.
That is what LeBron James, Dwyane Wade, and Chris Bosh must understand. Even if all these guys average 25 points per game or more, and double digits in rebounding or assists, who is to say that one is really so much more valuable than the other?
I'm sorry, Heat fans, but you can't disagree with the world on this one. LeBron's impact on the Heat will not mean more than what Durant means to the Thunder. Carmelo's impact on the Nuggets matters infinitely more than what Wade will mean to the Heat.
It's just how it is. The Heat will be very good, but they do not have a MVP as long as the trio of James, Wade, and Bosh play together.
Honorable Mentions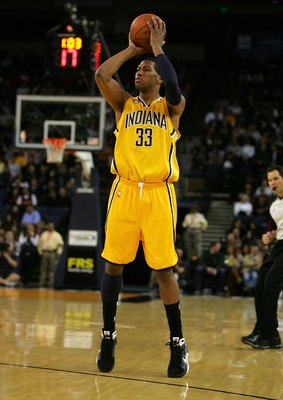 Honorable Mentions:
Danny Granger (Pacers)
Yao Ming (Rockets)
Deron Williams (Jazz)
Stephen Curry (Warriors)
Brandon Jennings (Bucks)
Dirk Nowitzki (Mavericks)
Tim Duncan (Spurs)
Evan Turner (76ers)
Leave a comment below if you think anyone got snubbed. Any thoughtful explanation would do, and I'll likely respond as to why they were not chosen.
Keep Reading