Carson Palmer, Key Players: the Cincinnati Bengals Then and Now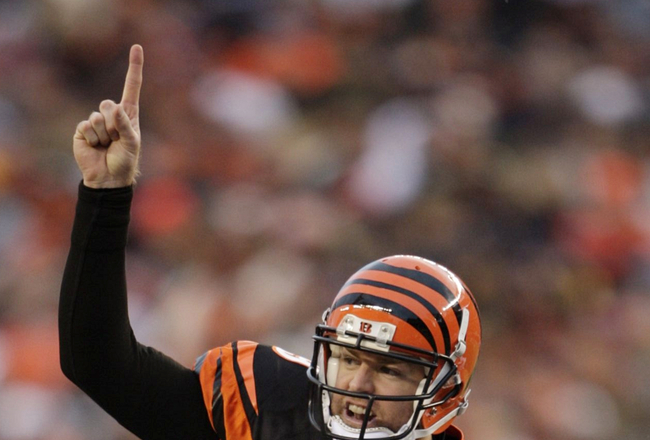 Going into the 2009 season, the Cincinnati Bengals had some concerns. Experts and fans alike predicted they would win seven games.
If things went well, they thought they could win eight.
As we all know now, they exceeded those expectations by sweeping the division, winning ten games, and going to the playoffs.
Here are some concerns that Bengals fans and experts had one year ago.
Carson Palmer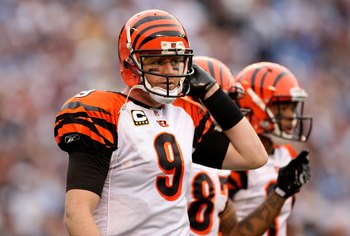 Before:
Prior to 2008, Carson Palmer was thought to be an elite quarterback.
However, after only four games, Palmer's worst season was over when he was diagnosed with a partially torn ligament and tendon.
Bengal nation was concerned when Palmer elected not to have surgery. Were his problems due to his health or did his run of great quarterbacking come to an end? Was Palmer ever going to be the same?
After:
While the Bengals were a running team, Palmer showed that he can still throw when the Bengals need him to. He ended up completing 60.5 percent of his passes for 3,094 yards.
Even more impressive were the game-winning and game-tying drives he engineered.
Antwan Odom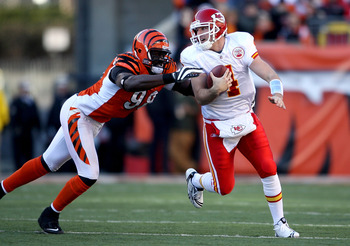 Before:
There were many NFL experts that thought Antwan Odom would only excel with great players around him.
In 2007 for the Tennessee Titans, Odom had eight sacks playing next to Kyle Vanden Bosch and Albert Haynesworth.
After signing a big contract with the Bengals, the experts thought they were correct when Odom had only three sacks in 12 games.
After:
Odom showed that he can be a force when he had eight sacks in just six games last season. The pass rush fell apart when he got hurt.
Chad Ochocinco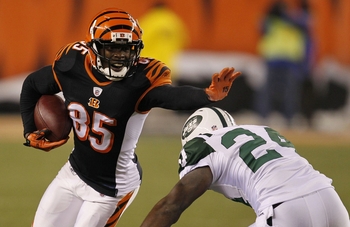 Before:
Last summer, most people thought that Chad Ochocinco was finished as a productive wide receiver.
Many Bengals fans and radio talk show hosts wanted him to be cut. To them, he quit on the team in 2008 after an offseason where he demanded a trade whenever a microphone and camera was near.
He was coming off the worst season of his career.
After:
Ochocinco bounced back from that miserable season in 2008 by having a typical Ochocinco year with 72 catches for 1,047 yards.
Kyle Cook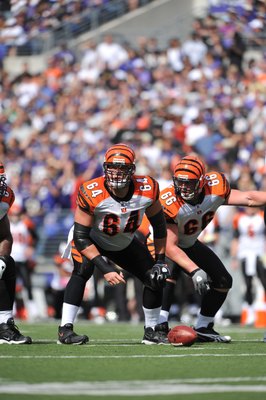 Before:
The Bengals had just cut center Eric Ghiaciuc. Kyle Cook was the new center going into camp. Many Bengals fans were nervous going into the 2009 season with an unproven center.
After all, Cook was undrafted out of Michigan State University. He spent 2007 on the Bengals' practice squad. He spent the 2008 season on the injured reserve list due to a foot injury.
The prevailing opinion was that the Bengals should have signed a veteran center.
After:
In 2009, Cook proved those doubters wrong. Many now think he is the glue to the offensive line.
Quarterback Carson Palmer compares him to former Bengals great Richie Braham.
Laveranues Coles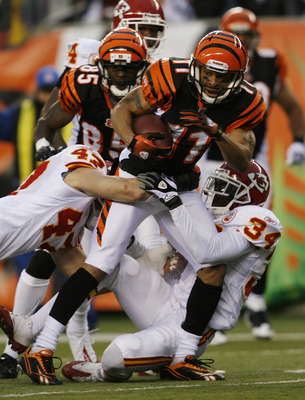 Before:
When T.J. Houshmandzadeh left via free agency to the Seattle Seahawks, the Bengals signed Laveranues Coles.
Coles was a big name, proven free agent. Many Bengals fans were comfortable with him. There were some that even thought Coles was an upgrade to Houshmandzadeh.
After:
Coles didn't have a horrible season, but he did not live up to those lofty expectations. He ended up with 43 catches for 514 yards but disappeared at times.
Coles never caught more than five balls in a game and only did that once.
The Bengals cut him in early 2010.
More Bengal articles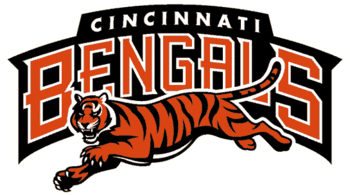 What did you think of the Bengals last summer? While pondering that, check out these other Bengals articles:
Here is a list of the top wide receivers in Bengal history. Spoiler: Ochocinco is number 1.
This article previews the Bengals defensive line for the 2009 season. See who may be a surprise cut.
Here is a preview of positive things for the Bengals going into training camp.
This is a list of Bengal concerns going into camp.
This is a list of Bengal weaknesses.
Here are five things the Bengals should not do.
This article reviews the top unrestricted free agent signings by the Bengals.
This article has been criticized on Bengal boards all over the net. It looks at Carson Palmer's career and why he hasn't gotten a playoff win.
This article gives five reasons why the Bengals signed Adam "Pacman" Jones.
Keep Reading

Cincinnati Bengals: Like this team?