MLB Trade Rumors: Texas Rangers Aren't Done Dealing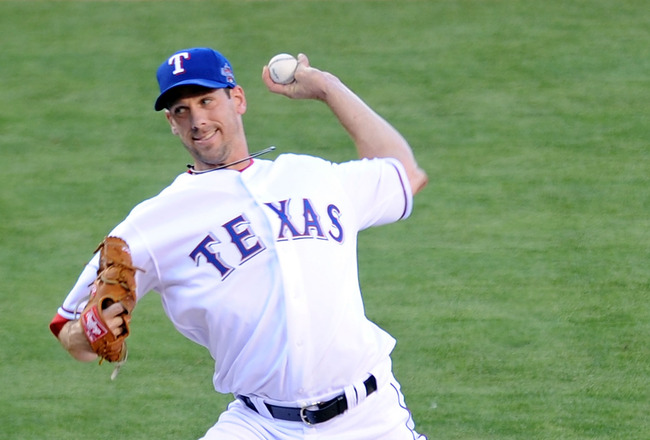 The Texas Rangers made, arguably, one of the biggest trades in franchise history for a guy that was called the "biggest impact pitcher" since Nolan Ryan wore a Rangers' uniform.
Rangers' general manager Jon Daniels decided that first baseman Justin Smoak was expendable, and was able to sneak in under the radar and bring Cliff Lee to the Rangers.
But, just when it seemed like the Rangers could be done dealing, there are rumors and rumblings to the contrary.
While Chris Davis will be their starting first baseman of the future, at least for now, it wouldn't hurt for Daniels to go out and land another player that could spell Davis at first and not lose much offensively.
If you're asking for my opinion, the Rangers' bullpen still needs a lot of work, as does their rotation.
Sure Neftali Feliz gives the team a lockdown closer, Darren Oliver and Darren O'Day have had better than expected years, but besides that they don't have another pitcher that makes teams fear the late innings.
So, here are my list of players that the Rangers should look at as well as explaining what they would bring to the team. The team isn't done dealing, they still have moves to be made, these are just a few players they should or could look at.
Xavier Nady (OF—Chicago Cubs)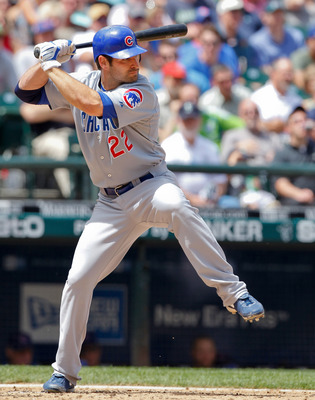 Xavier Nady is a name that came up in early July as ESPN Chicago's Bruce Levine wrote that the Rangers had "serious interest" in the Cubs' outfielder.
Now, if you go back and read where Levine wrote that, you'd notice that his suggestion was to replace Justin Smoak at first base. With Chris Davis now occupying that position, I don't know if the team still has interest in Nady or if their interest has cooled.
Not only can Nady spell Davis at first base, but he can also transition to the outfield and give any of those guys a day off. Though he won't give the team the production of Vladamir Guerrero or Josh Hamilton, he can still hold his own.
Scott Downs (LHP—Toronto Blue Jays)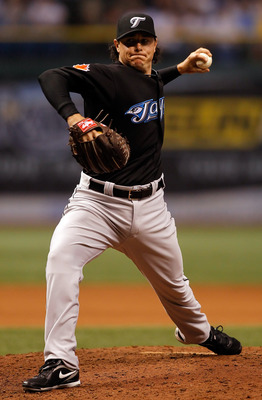 Scott Downs would be a great candidate for the Rangers to add to their bullpen.
Downs is currently 3-5 with a 2.65 ERA and has not given up an earned run in 12 straight relief appearances. The last time he gave up an earned run was back on June 6 against the Yankees.
The Rangers could use a good set up guy to bridge the gap to closer Neftali Feliz. Sure, Darren Oliver is doing the unimaginable with a 1.36 ERA so far, as has Darren O'Day (1.49 ERA), who hasn't given up an earned run in 16 straight appearances.
While those two guys have been better than expected, Frank Francisco and Dustin Nippert have been less than stellar. Adding Downs to the mix would make the Rangers bullpen that much better.
Matt Capps (RHP—Washington Nationals)
The current Washington Nationals' closer has been rumored to be on the move for the last few weeks, even though he's been vocal about not wanting to be traded.
He's not the only one saying those same words, as first baseman Adam Dunn and outfielder Josh Willingham also have made it known that they would rather sign extensions with the team than be traded.
However, the Nationals are still trying to decide whether they're going to be buyers or sellers at the deadline with the arrow falling more and more on the sellers side of things.
Capps currently sports a 3-3 record and a 3.18 ERA with 23 saves on the season. Though he's never pitched at The Ballpark at Arlington, when you look at his numbers at a pitcher's park like Petco, you see his 9.00 ERA in seven appearances. That might make you think twice about him.
Brett Myers (RHP - Houston Astros)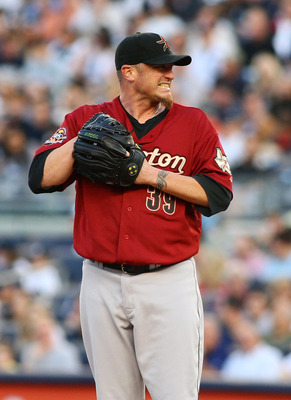 Brett Myers is a good pitcher on a bad team.
The righthander could be one of the many players that could get dealt during the Houston Astros' fire sale in the next couple of weeks.
Everyone wants to talk about Roy Oswalt, but the Rangers should look no further than a few hours south at this righthander that's sporting a 6-6 record and a 3.41 ERA.
He's not going to cost that much in the way of payroll and may be able to get Houston to pick up the remaining $3 million on his contract in the deal. The Rangers could unload a mid level prospect or two to satisfy the Astros.
If you bring in Myers, you can put him into the rotation right behind Cliff Lee and follow them with C.J. Wilson, Tommy Hunter, and Colby Lewis.
Heath Bell (RHP—San Diego Padres)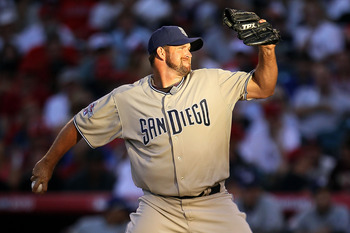 First of all, I'm not 100 percent sold that the San Diego Padres will be willing to deal their closer at the deadline. Not only because the team is in first place, but their closer in waiting, Mike Adams, is more than likely headed to the disabled list with an oblique injury.
That being said, I think the Rangers could still contact the Padres and see what it would take for them to part with their closer.
MLB.com's Corey Brock was on 1090 AM in San Diego admitted that even with Adams' injury, there will be teams that will contact the Padres about Bell's availability, and says that if the team is blown away by a trade they would need to think about it.
Brock admits that trading Bell would be a "tough sell" to Padre fans, but maybe trading high would be the right thing to do for the Padres, especially seeing as he's making $6 million in 2011. Something that could also be a sticking point financially for the Rangers.
He's not untouchable by any stretch, and if the Rangers want a solid guy in the bullpen, Bell is definitely a guy I would look at if I were Jon Daniels.
Keep Reading

Texas Rangers: Like this team?