LeBron's Dream Team Planned 2 Years Ago!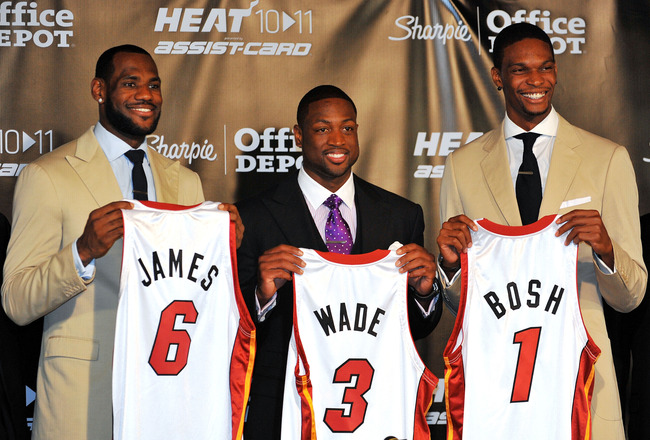 Doug Benc/Getty Images
Dream Team Planned 2 Years Ago
The Dream Team has landed. One big step backwards for the Cavs and one giant step forward for the Heat. The idea started more then two years ago. Wade, Bosh, and James along with the other great players overwhelm the Olympic competition. In and around the time of the Olympics these three formed the bond that was later to reemerge in Miami. If one researches the comments made by Bosh and others it becomes clear that the idea was planted then. I will make a bet that as time goes on it will leak that it was always the plan. At the center of it is the CAA agency that has the ability to handle something of this magnitude. CAA acquired the Rose and Thomas's agencies that represents all three. Rose and Thomas now work at CAA. Rose is James's agent and Thomas is the agent for Bosh and Wade. The Heat may or may not have been the landing place but the fact that all three of them would end up together will come out.
Very few on this site or those who write about sports understand the hidden powers of these big sports agents. I have lived and worked in Hollywood for many years. The big talent agencies control the movie studios and have tremendous influences on the TV networks. Because when you get down to it, it still is the talent that drives the whole entertainment business and professional sports is an entertainment business. Professional sports needs to fill stadiums, arenas and have eyeballs staring at TV sets that sell products. Yes, marketing is important but in sports winning is always best. The best results often come with the utilization of the best talent. That is why the talent makes so much money.
On the ESPN circus known as," The Decision", James complemented twice or more in the hour, his agent, Leon Rose. These agents are masters of perception. The great agents play at the highest levels where millions are involved and know how to orchestrate the deals. When one looks back at all the comments and actions made by James, Wade and Bosh over the last two years it leads to the Dream Team.
PS
NBA Fans
The only thing that can stop this new Dream Team from dominating the NBA is, themselves.
So Chicago, New York, New Jersey, Los Angeles (Clipper Fans) and most of all the Greater Cleveland area; how does it feel to be played like a fiddle?
Someone should do a movie about it!
This article is
What is the duplicate article?
Why is this article offensive?
Where is this article plagiarized from?
Why is this article poorly edited?