Real Red River Showdown: The Ultimate Bob Stoops-Mack Brown Comparison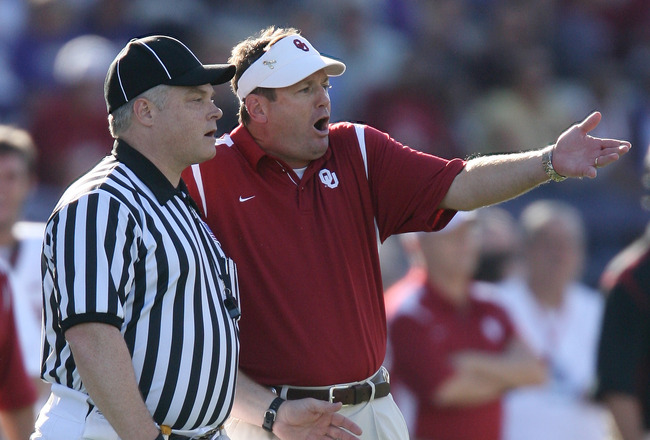 Bob Stoops and Mack Brown. Together, the two men have combined to form a duo that has cast a formidable shadow over the competition for more than a decade.
But the supreme awesomeness shared between the two rival head coaches cannot be defined solely in terms of wins, division crowns, conference titles, or national championships.
What makes Stoops and Brown so effective as leaders of two of the more prestigious college football programs in America, in fact, is not just numerical. It's not just statistical, nor is it simply tangible.
And try as you may, you'd be hard-pressed to find two coaches in the game whose collective accomplishments surpass, or even equal, those of Stoops and Brown.
But what if we pitted the two against one another?
It's a delicate debate—and one that could easily swing in favor of either side, if for no other reason than the fact that the two's résumés are so strikingly similar.
Let's see what develops.
All images provided by Getty Images
Program Invigoration
I say invigoration because when it comes to programs the stature of Texas and Oklahoma, the terms "rebuilding" or "resurrection" simply aren't included in the lexicon.
That being said, both Brown and Stoops arrived in Austin and Norman, respectively, at exactly the right time.
At the time of Brown's hiring, Texas fans were longing for the days of yesteryear. The three successors to legendary coach Darrell Royal—Fred Akers, David McWilliams, and John Mackovic—had produced a record of 158-85, but the Longhorns won only six conference titles and no national championships during the '80s and much of the '90s.
By the time the Big 12 had coalesced in 1996, the air surrounding Texas football had gotten stale and the program needed a new face, which it got in Brown—oddly enough, a former OU offensive coordinator—in 1998.
Since his arrival, Brown has transformed UT football into the national force it was under the guidance of Royal, who won a trio of national titles during his 20-year tenure. Brown, who had achieved only minimal success at Tulane before making his name as the head coach at North Carolina, has captured two Big 12 championships and a BCS title, dispensed countless players to the NFL, coached a Heisman Trophy winner, and led the Longhorns to 128 wins, including a remarkable nine consecutive seasons of 10 or more victories.
And don't forget that he is now arguably the face of the nation's most powerful and financially-fit athletics department.
When OU called in 1999, Stoops was the defensive coordinator at Florida and had never been a head coach. For many, the 38-year-old was a suspicious choice, if only for his inexperience and youth. So much for that.

In his first season, Stoops led the Sooners to a 7-5 mark and the program's first bowl appearance in four years. From that point on, things have been gravy (unless you count the BCS letdowns), as Stoops and OU have basically run roughshod over much of the Big 12 en route to eight seasons of 11 or more wins, seven BCS berths, and a national title—not to mention multiple Heisman winners and too many NFL draftees to count.
The Stoops Era could go down as the most successful period in OU football history, perhaps mentioned in the same breath as legends Bud Wilkinson and Barry Switzer, who combined for 302 victories, 26 conferences championships, and six national titles.
But more importantly, when it's all said and done, Stoops may be known as the man who saved Oklahoma football. In the 10 seasons between Switzer's departure and Stoops' arrival, the Sooners mired in an unfamiliar malaise.

The threesome of Gary Gibbs, Howard Schnellenberger, and John Blake posted a record of 61-50-3, including a paltry 12-22 mark under Blake, Stoops' predecessor. It was the first time since 1924 that Oklahoma had endured three straight losing seasons.
Edge: Draw. Prior to the arrivals of the coaches, both programs were a shell of their formerly dominant selves. Now, with each school's brand as lethal as ever, Stoops and Brown are reveling in success and have their programs well-positioned in the lucrative BCS era of college football.
"Uh-Oh" Moments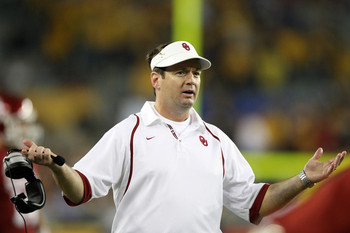 I guess I'll start with Big Game Bob, who seemingly had no problem living up to the moniker early in his OU tenure. That shimmer faded, of course, after the coach had notched his first national title in 2000.
The first chink in the armor occurred in 2003, when en route to an eighth championship the Sooners, touted as possibly the best team ever, fell flat in a stunning 35-7 loss to Kansas State in the Big 12 Championship game. The inexplicable no-show wasn't enough to keep OU out of the BCS title game, but it became a moot point once the Sooners fell to a talented LSU squad.
The rest I think we all remember well: A 36-point loss to USC in the so-called "game of the century" versus Matt Leinart, Reggie Bush, and USC. The unforgettably zany 43-42 loss in the Fiesta Bowl that put Boise State on the national map. And who could forget the BCS meltdown the following season — a 48-28 head-scratcher against West Virginia less than a month removed from a convincing performance against No. 1 Missouri?
When it comes to laying an egg in big games, the pickings have become easy as far as Stoops is concerned, but Brown is not without his fair share of clunkers.
The one that rings loudest is the last-second loss in Lubbock in 2008 that cost the Longhorns a shot at a BCS championship. And how's about the 49-point undressing No. 11 Texas got from No. 10 Oklahoma in 2000, forever etched in the record books as the Longhorns' worst-ever loss.
The 2001 game was fun. That's when the No. 3 Sooners limited No. 5 Texas to 225 yards of offense in a 14-3 defensive slugfest. You may remember this little snippet from that game.
(Note: Thanks to Rocky for correcting me on the date of the Roy Williams "Superman" play, which I had mistakenly written had taken place in 2000.)
Or what about the awful 12-0 loss a few seasons later, when a punchless offense cost Brown and Texas a shot at beating the second-ranked Sooners at the Red River Shootout? In fact, pick any one of Texas' five consecutive losses to Oklahoma — they're all painful.
In 2007, the Longhorns were stumped twice in addition to their annual flub in Dallas. A week before falling to OU, No. 7 Texas surrendered 41 points to Ron Prince and unranked Kansas State in an embarrassing 20-point defeat at home.
Then, in the season finale, came a heartbreaking loss to rival Texas A&M that all but sealed the Longhorns' postseason fate, which consisted of a Holiday Bowl date with Arizona State.
Edge: In this particular category, coming up on top is not a good thing. That being said, Stoops is the clear winner due to his string of recent high-profile bowl belly-flops.
"Student"- Athletes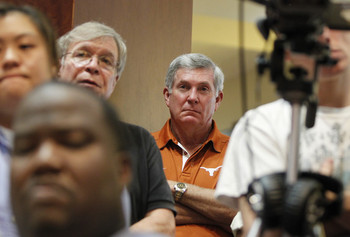 For all their accomplishments and ensuing personal wealth, perhaps there's one thing that Stoops and Brown don't excel at: making sure players graduate.
Based on the most recent data released by the NCAA, Oklahoma and Texas had the lowest graduation rates among Big 12 South teams.
According to the data, which was compiled from freshman classes that entered school from 1999 to 2002, the OU program graduated 45 percent of its players, while the UT program was only slightly better at 49 percent.
Oklahoma's mark was dead last in the Big 12.
Yes, those figures are astounding and, as the report states, well below the FBS average of 67 percent, but it's hard to imagine that they aren't a bit skewed. You have to wonder what the percentages would be if it were not for the NFL.
Are these percentages taking into account those players that make the jump to the professional game prior to receiving a diploma? Furthermore, if a former player returns to school to obtain his degree while playing professionally, are we to assume that he is excluded from the data?
Nonetheless, those marks are far too low, particularly when you consider that Baylor, SMU, and TCU—three institutions, albeit private, that battle OU and Texas for some of the same recruits—all finished with graduation rates of at least 65 percent.
Edge: I suppose it's Brown, but it's nothing to be proud of.
Dollars and "Sense"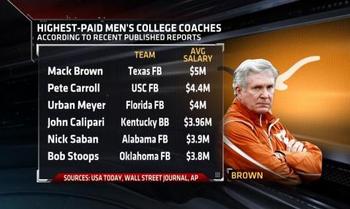 The economy is down and out. But if you wish to complain about how your $10-per-hour job simply isn't enough to heat the house or put enough Ramen noodles on the table, don't come sniveling to Brown and Stoops, who will be too busy counting their exorbitant salaries to listen.
Of course, I kid, but the fact the two men will combine to make more than $10 million as early as this coming season is ludicrous. Already two of the more well-taken-care-of coaches in the nation, both Stoops and Brown last year received modifications to their contracts that will increase the flow of money.
According to the Norman Transcript, in June of 2009, the OU Board of Regents approved an extension to Stoops' contract that includes an annual raise of $250,000, a one-time bonus of $800,000 in 2011, and something called a "stay bonus," which will pay the head coach the handsome sum of $700,000 every July he is on the job.

Unless the world is soon destroyed by alien forces, and college football no longer exists, Stoops will earn in the neighborhood of $5 million during the 2011 season.
As "baller" as Stoops' loot may seem, his take is less than that of Brown, whose payout reconstruction in December raised the ire of Texas' Faculty Council. A resolution was ultimately reached and, long story short, the college game's richest head coach got richer.
(Note: I trust the site's figures, but the folks need to work on their conference affiliations. For example, did you know that USC was an Independent?)
The talent-laden Longhorns could lose every game on the schedule in 2010, and Brown would make $5.1 million.
Or, according to the more likely scenario, Texas could rally behind first-year quarterback Garrett Gilbert, capture its second straight Big 12 title, and defeat Ohio State/SEC school of your choice for the BCS crown—in which case bonuses would cause Brown's salary to balloon to $5.7 million, thanks in large part to a massive $450,000 incentive the he missed out on in 2009 with the loss to Alabama.
How tragic. But don't feel bad for Brown: Even if he fails to win another national title, he'll still receive an annual raise of $100,000 through the end of his current contract in 2016.
Just for the hell of it, you can view Brown's contract here and Stoops' here.
Edge: Regardless of how utterly ridiculous it may be, Brown's salary is king in college football, so he gets the vote here. However, only time will tell how high Stoops' payday may soar, assuming he remains at OU past the end of his current contract, which expires in 2015.
NFL Friendliness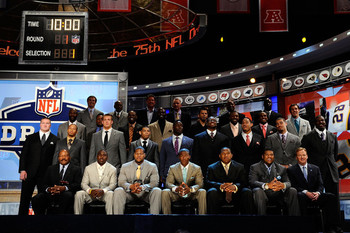 Labeling collegiate programs as official preparation camps and manufacturing factories of the NFL has become somewhat of a cliché and terribly mundane, but only a few are worthy of the label.
USC, Ohio State, Florida, Florida State, and Miami immediately come to mind.
Other than assembling and developing the talent needed to win conference and national championships, the goal of any college head coach should be to prepare his players for the future, whether that's the NFL or some other professional venture.
By my count, the Stoops regime at Oklahoma has sent 48 players to the pros, including 12 selected in the first round. Four of those 12 (Sam Bradford, Gerald McCoy, Jermaine Gresham, and Trent Williams) were taken in this year's draft alone.
And wouldn't you know it, Brown and his staff have sent off 48 players to the NFL, 14 of which had their names called within the draft's first 32 picks. More than half (8) of those selections were chosen from 2004-07, when Texas produced two first-rounders in four consecutive drafts.
The margin is non-existent, and the task of discerning which of the two coaches has packaged more impact players to the NFL level is somewhat subjective.
If you want to get down to the nitty-gritty, tally up the Pro Bowl selections—here and here.
As for me, I'm going by the numbers and calling this one a draw.
Edge: You tell me. Both programs churn out NFL prospects with the efficiency of a Pez dispenser operated by a chubby kid on a mission.
Recruiting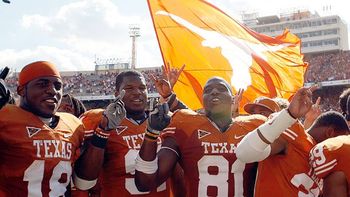 It's the lifeblood of any successful college football program, and no two coaches have restocked the shelves better and at a higher level more consistently than Brown and Stoops.
According to Rivals.com, the Longhorns and Sooners have ranked in the top 20 nationally in recruiting rankings every season since 2002. Both have placed in the top 10 four times during that span.
But who has done it better?
Well, it's hard to argue against Brown, whose mastery with the overflowing pool of talent in the Lone Star state—around which nearly every other Big 12 staff concentrates its efforts—has made the usually arduous task of recruiting an annual breeze.
Brown and his staff seldom stray outside Texas' borders to find players, but, then again, they don't really need to. On average, Texas' backyard produces around 200-300 BCS-caliber players every year, and a majority of those kids are willing to sell their souls to receive the privilege to wear burnt orange.
In fact, Texas' recruiting prowess is so elite that it leaves every other Big 12 program fighting over the Longhorns' scraps. If there's an exception, it's Oklahoma, a program with prestige and panache that enables it to pursue blue-chip athletes with the same fervor and confidence.
But Stoops and his team of recruiters don't stop with Texas, where the Sooners were able to pull Adrian Peterson right out from under Texas' nose.

Not surprisingly, a majority of the top prep players in Oklahoma migrate to Norman, and the Sooners have ventured all over the map to replenish their reserves—plucking LB Ryan Reynolds and RB DeMarco Murray from Las Vegas in 2005 and '06, respectively, RB Chris Brown from Louisiana in 2006, tackle Phil Loadholt from Kansas in 2007, and QB Landry Jones from New Mexico in 2008, just to name a few.
Edge: Given Texas' clout within its own borders, the Longhorn staff need not exert much energy, or establish even a budget for out-of-state travel, when it comes to recruiting. It needs only continue to rake in the best of the Lone Star state, which should continue to happen as long as Brown resides in Austin.
Championships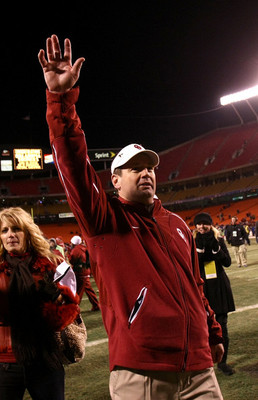 This one's pretty cut-and-dried.
Both have won a national title, Brown doing so in 2005 and Stoops in 2000, just his second season on the job. And both have made repeat trips to the big game, only to succumb to the speed of an SEC opponent.
The sheer dominance of Brown and Stoops' programs, though, have been no more evident than within the Big 12, where the two have combined for eight conference crowns, including each of the last seven.
Of those eight Big 12 titles, six belong to Stoops, including an impressive run of five in six years from 2003-08. Meanwhile, Brown's Texas teams have stumbled in the conference championship game, losing to Nebraska in 1999 and Colorado two years later.
And were it not for a last-second field goal made possible by a controversial call in the waning seconds of the game in 2009 against the Huskers, Brown's success rate in the Big 12 title game would be below 50 percent.
Edge: Brown, fresh off a BCS title hunt, leads in the game of "What Have You Done For Me Lately," but Stoops' fully-stocked display of Big 12 trophies is too hard to ignore.
Head-To-Head Series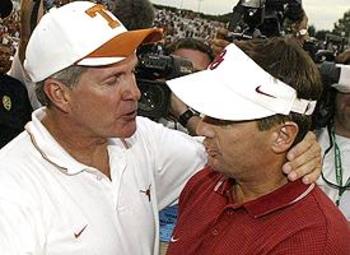 Regardless of what they're calling it these days, the annual grudge match between Oklahoma and Texas has recently been designated as a de facto Big 12 South title game.
Since Brown and Stoops first encountered one another in 1999, the winner of the Red River Rivalry—or is it Shootout?—has represented the division in the Big 12 championship game eight times. The exceptions have been 2001, 2006, and 2008, the season of the now-infamous three-way tie between Oklahoma, Texas, and Texas Tech.
Equally compelling have been the sporadic pockets of one-sidedness that have come to characterize this matchup as of late.
Entering the 2010 season, Stoops holds a slim 6-5 lead over Brown, made entirely possible by a strong five-game winning streak during which Oklahoma outscored Texas by an average of 27 points.
But the Longhorns' 2005 national title run, which included a 45-12 thrashing of OU, changed the tide. Brown and Texas have won four of the past five meetings, with three of those victories coming by 10 or more points.
Barring any unforeseen catastrophes in September, both teams should be at or near the top of the polls when they collide in Dallas on Oct. 2. Will Brown pull even, or will Stoops regain his advantage?
Edge: Though he's nine years Stoops' senior, Brown was treated like a red-headed stepchild by his younger counterpart for a half-decade. A flurry of Texas wins has put the series back on equal footing, and although Stoops' advantage in the head-to-head is dwindling, it is what it is.
What To Expect In 2010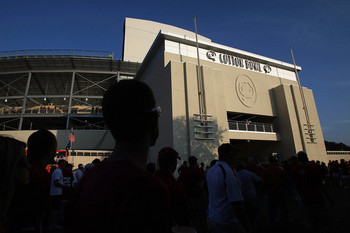 For good reason, the game between Nebraska and Texas in Lincoln on Oct. 16 is getting top billing from pundits this offseason. If you think I'm lying, check out ESPN.com Big 12 blogger David Ubben's recent poll, which attempts to find a proper nickname for what could be a preview of the conference title game.
But I don't fancy Texas' chances of making a repeat trip to Arlington in December if it can't take care of business two weeks prior to the Nebraska game, when it faces OU in Dallas.
As always, the Red River Shootout will be one of the marquee games on the college football schedule, and its implications will be just as crucial to the aspirations of the Sooners, who will look to break the Longhorns' two-game winning streak in the series.
Last season, defense ruled the day. Neither offense was able to crack the goal line more than once, and the teams combined for eight turnovers. For two teams with so much offensive firepower, it was a contest of epically ugly proportions, and the X factor was a fourth-quarter field goal by Hunter Lawrence to give Texas the 16-13 win.
Aside from a few more points being scored, the 2010 edition of this rivalry should much of the same. Both teams should, all in probability, be ranked somewhere in the top 8 or 10 when preseason polls are released, and despite OU's brutal non-conference schedule (Air Force, Florida State, at Cincinnati), neither team is in overwhelming danger of suffering a blemish in September.
Whether he's aware or not, this year's Red River game features an interesting side note for Brown. If Texas captures its third win in a row over Oklahoma, the head-to-head series between Brown and Stoops will be even at six wins per side, marking the first time since 2000 that Brown has been level with his counterpart.
That season, an OU win evened the series between Stoops and Brown, who a season before, in 1999, took the first matchup between the two.
Furthermore, a Texas win in 2010 would mark the first time the Longhorns have defeated the Sooners three times in succession since 1997-99.
Texas leads the all-time series 59-40-5.
As for a comprehensive preview of the game, I'll leave that to the Oklahoma and Texas Featured Columnists.
That being said, as a Big 12 guy, I feel compelled to at least lay out what I think will be crucial to the success of both teams:
•Is Garrett Gilbert ready to handle his first Red River Shootout? What we saw from the first-year starter against Alabama was by no means a large enough sample size, but the kid's clearly got the talent and can win. For God's sake, he hasn't lost a game since, like, Pee Wee League. Will that be enough going against the best defense he'll likely face all season?
•And what about Landry Jones? Thrust into action after Sam Bradford went down, he was effective at times in this game last season, but during others the deer-in-headlights look took over. Can he limit mistakes and manage the game as the Sooners' No. 1 quarterback?
•Can the Horns reload effectively enough on defense? The NFL ravaged the unit, and did so at all three levels, claiming safety Earl Thomas, end/linebacker Sergio Kindle, tackle Lamarr Houston, and linebacker Roddrick Muckelroy in this year's draft. Granted, this is Texas, so coming up with interchangeable parts should not be a monumental task. The question is, will those parts be firmly in place by early October?
•Will OU's offensive line care to show up this season? Stoops broke in numerous new starters up front in 2009, and it showed at times, particularly against Texas. Forget about the free run by corner Aaron Williams that resulted in Bradford's injury and early exit; I want to know if the Sooners can improve on the -16 yards they gained on 22 carries against Texas last season. If experience doesn't translate for the big guys, and the offense can't find a balance, Oklahoma—and, more specifically, Jones—could be in trouble.
•Speaking of running games, does Texas have one? And, if so, will it hop on the team bus before it leaves for Dallas? The Longhorns did average 147.6 yards on the ground last season, but that was only fifth-best in a defensively deficient Big 12. During spring ball, Brown admitted that due to the efficiency of his team's passing attack, the run was often ignored because, well, it wasn't needed. With the inexperienced Gilbert under center, will Brown call on the likes of Fozzy Whittaker and Tré Newton with more frequency?
•Will the teams get caught looking ahead? The week prior, OU visits defending Big East champ and BCS bowl participant Cincinnati. If the Sooners stumble, it can only because they have Bevo on the mind. Likewise, Texas must guard against a letdown at home versus an upstart UCLA team. If both the Sooners and Longhorns go down and slip in the polls one week prior to their showdown, will some of the luster be chipped away?
OK, fine, here's a prediction: Oklahoma, 23-17
Keep Reading