2014 World Cup: 10 Bold Predictions for the 2014 World Cup in Brazil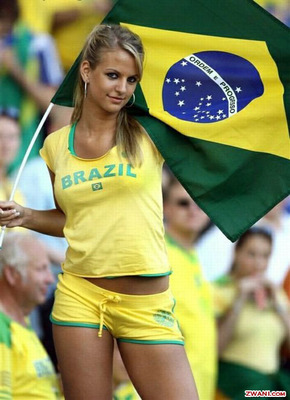 Now that Spain's triumph in Johannesburg has left a World Cup-shaped hole in our lives, there is little else to do but look forward to the next edition of the world's greatest sporting event.
Here are 10 bold predictions for the 2014 World Cup in Brazil.
No. 10: Samba-drone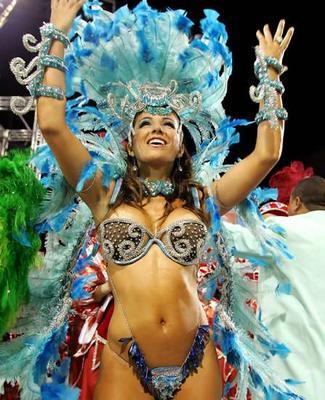 Get ready for a Samba-related overdose, as the world's media will constantly utilize the name of Brazil's famous dance to describe the 2014 World Cup.
Good teams will play Samba soccer. Crowds will dance to the Samba beat. Every kickoff will be Samba time.
The drone of commentators eulogizing about Brazil's free-spirited, Samba culture will be the 2014 World Cup's vuvuzela.
No. 9: Switzerland Will Be Boring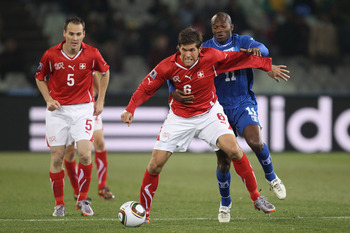 Bad news for fans of exciting soccer, Switzerland is likely to bore you senseless for a third successive World Cup in 2014.
Many players from the Swiss side, that surprised Spain before being eliminated because it couldn't score against Honduras, will be hitting the peak of their careers over the next four years.
Add in some of the stars of the team that won the 2009 Under-17 World Cup, who may begin making the step up to senior level, and Switzerland should be solid candidates to qualify for Brazil.
But, unless whoever is coaching the team suddenly frees the players from the defensive mindset which has drawn groans of despair from the watching world over the past two tournaments, expect "Switzerland 0" to be a feature of the 2014 World Cup.
No. 8: No Empty Streets During Brazil Games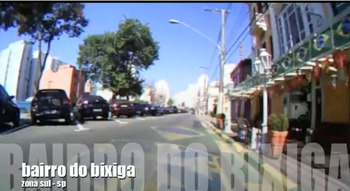 When Brazil plays a World Cup match, the entire country shuts down so everyone can watch the game on TV.
The video below shows the empty streets of the usually traffic-choked Sao Paolo during one of the team's recent World Cup games.
But the arrival of fans from all over the world to Brazil in 2014 should ensure at least some people are out on the streets during Brazil's games.
In fact, that's a handy travel tip for fans heading to the next World Cup: Get to your destination quickly by traveling when Brazil plays.


No. 7: A Balkan Dark Horse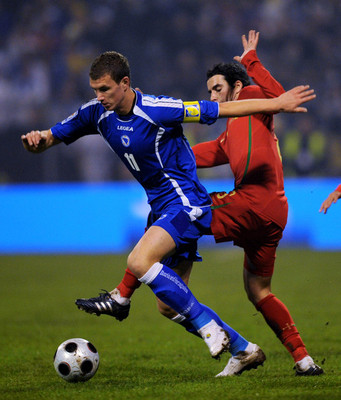 As is traditional at a World Cup, 2014 will see a team from the Balkans being widely tipped as the tournament's dark horse.
A likely candidate for the title in Brazil is Bosnia and Herzegovina, whose young team, including current Manchester City target Edin Dzeko, was unlucky not to beat Portugal in the playoff to qualify for South Africa.
However, like Serbia before them, the Balkan team of technically gifted players will be eliminated in the first round after three disappointing performances.
No. 6: Worries About Brazil's Readiness
As the 2014 World Cup draws closer, the media will begin reporting about how the proposed stadiums are way behind schedule, the country has major security issues, tickets for the games are not selling out, and the whole tournament is going to be a disaster.
But none of the concerns will be realized, as the venues will be magnificent, the Brazilian people brilliantly hospitable, the games mostly sold out (even if, shock horror, a tie like Slovenia vs. Algeria doesn't quite fill a 50,000-seat stadium), and the 2014 World Cup will be an unparalleled success.
No. 5: Diego Maradona Will Be Back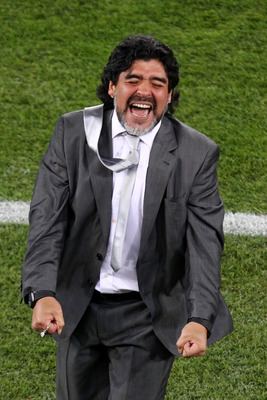 Argentina's defeat at the hands of Germany may not have surprised those people who knew that a tactically superior coach would eventually outwit Diego Maradona's team, but fans of la Albiceleste don't appear to care.
Argentina returned home from South Africa to a hero's welcome from supporters who were simply relieved that the team didn't embarrass themselves, as many thought they might.
Maradona's position as king of Argentine soccer has been strengthened, and the country's FA just might be romantic enough to think that four more years in the job might lead to a glorious triumph in the backyard of the country's most hatred rivals.
The ultimate Brazilian nightmare would be Maradona lifting the World Cup in a newly refurbished Maracana Stadium.
Will Argentina be bold enough to pursue this dream?
No. 4: An African Team Will Reach the Semifinal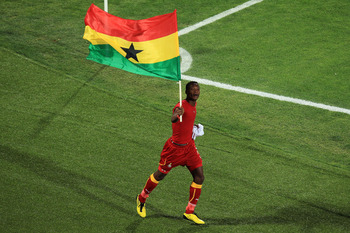 Brazilian legend Pelé once predicted that an African team would win the World Cup before the end of the 20th century.
He couldn't have been more wrong, and a team from Africa has yet to even reach the last four of a World Cup.
But a far less bold prediction—that an African side will reach the semifinal in 2014—has a good chance of coming through.
Ghana is the obvious candidate, as the roster that reached the quarterfinals in South Africa had an average age of just 24.
If the development of the young Black Stars, who graduated from the 2009 Under-20 World Cup winning team, continues, then Ghana could be genuine contenders for the title in 2014.
Despite disappointing 2010 campaigns, both Cameroon and Nigeria also have a good number of promising young players who could feature in 2014.
No. 3: Extra Officials, Not Technology
In the aftermath of the Frank Lampard goal that wasn't seen by the referee, FIFA president Sepp Blatter announced that the sport's governing body would put the use of technology to aid match officials back on the agenda at its next meeting.
But, given that FIFA had only just ruled out the use of goal-line sensors or video replays before the tournament, it is likely that Blatter was making an empty promise, knowing that the fuss would soon die down.
So it remains highly unlikely that technology will be used in soccer anytime soon, especially not by 2014.
Much more probable is that Brazil will be the first World Cup to feature extra officials behind each goal, despite the mixed success of the idea's experimental introduction in last season's Europa League competition.
But, you have to assume that an assistant referee standing behind the goal would have seen that Lampard's shot had crossed the line, even if it is far more likely that more humans will lead to more human error.
No. 2: The Pressure Will Get to Brazil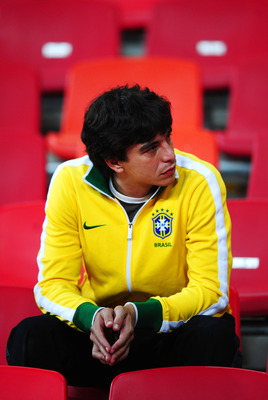 With a record number of world championship victories and an unmatched pedigree in international soccer, Brazil is perhaps unique amongst soccer nations for it enters every World Cup with its fans expecting the team to take the title.
(Actually England fans do likewise, but this is a case of mass delusion, rather than realistic ambition.)
Brazil's players face enormous pressure to return home with the World Cup every four years, so imagine how great the levels of expectation will be when the country hosts the tournament in 2014.
The Brazil side that failed to deliver in 2010 was based on an aging roster, and whoever replaces Dunga as coach will have to build a brand new team.
This shouldn't be too difficult as Brazil has loads of promising young players, including the sensational 18-year old Santos striker Neymar and numerous stars from the team that finished runners-up at the 2009 Under-20 World Cup.
But how would a youthful Brazil team cope with the pressure of the expectant home fans in 2014?
The host nation's anticipation of lifting a sixth world title at its legendary Maracana Stadium will be so feverish, it will be less a case of must-win, and more of a must-not-lose.
It may prove to be more than an inexperienced team can deal with, and Brazil might just be reminded of the crushing disappointment suffered when it last hosted a World Cup, back in 1950.
No. 1: Europe to Conquer South America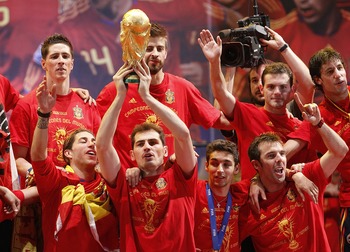 If Brazil succumbs to the immense pressure of the home fans' expectations, and Argentina continues to remain an unbalanced side of exceptional forwards and inadequate defenders, then the likelihood is that a European side will triumph in South America.
Spain's current side will probably be past its peak after Euro 2012, but there is already an exciting new generation of players in place, ready to take on the challenge of defending the team's world title in Brazil.
And if Germany was good in 2010, how great can this team become when young stars like Thomas Muller, Mesut Ozil, and Sami Khedira arrive in Brazil with four more years of experience under their belts?
Brazil and the rest of South America will be very worried about the possibility of Europeans conquering the continent for a second time in 2014.
Keep Reading