The Phillies Five Best Wins, Five Worst Losses in the First Half of 2010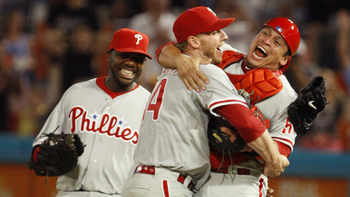 The All-Star Break is a great time to reflect on your favorite team's first half of the season: remembering the good times and the bad of the last three months.
So here they are (in my opinion): the five best wins and five worst losses for the Phillies during their first half of 2010.
Let's start with the five worst losses and finish with the wins, and therefore, a high note. Enjoy!
Fifth Worst Loss: Tues., April 20...Braves 4, Phillies 3 (10 Innings)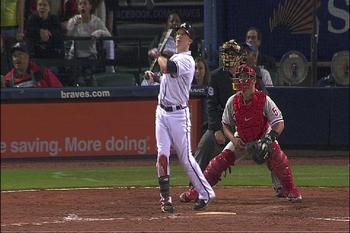 "Congratulations Phillies fans, you just wasted three hours of your night."
This is the kind of loss that just makes you want to throw up...
Kyle Kendrick pitches eight shutout innings (lowering his ERA to 7.24), only to see then-closer Ryan Madson surrender the lead on a pair of two-out ninth inning home runs (by Troy Glaus and Jayson Heyward).
Nate McLouth hits a lead-off homer in the 10th to win it. Perfect.
In the first half this season the Braves have won quite a few home games like this. Is it really just their year? In a few months, we'll know for sure.
Fourth Worst Loss: Weds., May 27...Mets 3, Phillies 0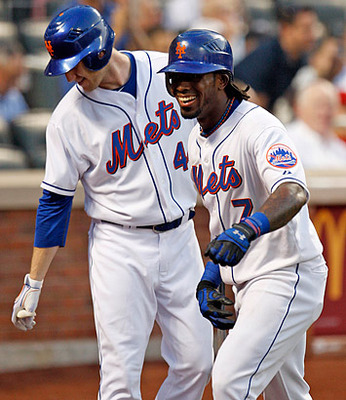 It's embarrassing to watch your team fail to score a single run in a three-game series. It's especially torture if that three-game series comes against the New York Mets.
The Phillies have scored in just one of their last 47 innings at-bat. They have been shut out in four of their last five games.
Overall, the Phillies score a total of 17 runs in 11 games between May 22 and June 2. Just brutal.
Third Worst Loss: Tues., June 15...Yankees 8, Phillies 3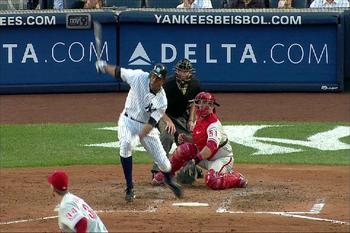 Roy Halladay surrenders six runs in six innings (three homers) as the Phillies fall in their return to the new Yankee Stadium.
The Phillies are 8-17 in their last 25 games, and have scored five or more runs in just four of those games. They have fallen to third place in the NL East. Their record is just 32-30.
Somehow, the Phils rally to win the next two in the Bronx behind unlikely hero starters Jamie Moyer and Kyle Kendrick.
Second Worst Loss: Mon., June 28...Reds 7, Phillies 3
Scott Rolen homers, drives in three, and Johnny Cueto pitches great as the Reds beat the Phils.
But the biggest loss of the night comes when Chase Utley injures his thumb when sliding into second. He is expected to miss two months, while the ailing Placido Polanco also goes on the DL.
The Phils had won 9 of their last 14 and were finally gaining some momentum. Finally, they were almost healthy. But after the injury news that came in the wake of this game, the Phils fell back to square one.
Worst Loss: Sat., June 19...Twins 13, Phillies 10 (11 Innings)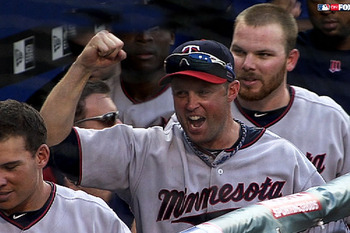 Every team loses a game like this during the course of a 162-game season. But that doesn't make it any easier to deal with.
The Phils blew a 9-4 ninth-inning lead on a scalding hot Saturday afternoon at the ballyard. Joe Mauer hit a two-out homer off Lidge into the Philadelphia twilight to tie it.
Later, Ross Gload tied it with a homer in the 10th, but the Twins won it anyway with three runs in the 11th off Danys Baez. This game was as bad as it gets.
Fifth Best Win: Mon., April 5...Phillies 11, Nationals 1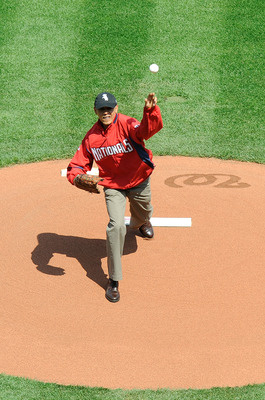 Our Commander and Chief didn't bring his good stuff to the ballpark. His ceremonial first pitch had slightly less strike-zone accuracy than it had velocity.
But the Nationals pitching staff could have used Barack's talents on this day. Opening Day was such a perfect day for the Phils. Newcomers took center stage, as Roy Halladay dominated and Placido Polanco hit a grand slam and drove in six runs.
Rollins, Polanco, Utley, Howard, Werth, Ibanez, Victorino, Ruiz.....
Saying that lineup is just music to my ears. Unfortunately, Opening Day was one of only SEVEN days that Charlie Manuel was able to pencil in all those guys during the first half of 2010.
Fourth Best Win: Fri. May 21...Phillies 5, Red Sox 1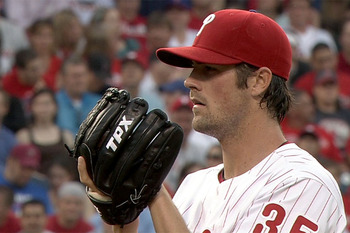 This game was picture perfect. The Phillies roughed up John Lackey, Cole Hamels dominated, and Jayson Werth hit a homer that landed in the far south west corner of RFK Park.
Nothing could possibly ruin this night.
Then Jimmy Rollins pulled up lame in the seventh inning after aggravating his calf injury. He had returned from the DL just four days earlier.
After tonight, the Phillies were a season-high 11 games over .500 at 26-15, in first place by 4.5 in the division.
But they won just nine of their next 26 in Rollins' second extended absence from the lineup.
Third Best Win: Sun., May 2...Phillies 11, Mets 5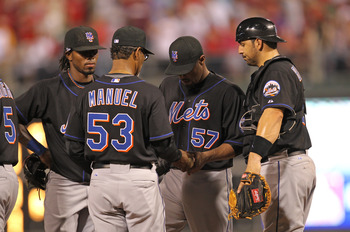 Is there anything better than watching the Mets get hammered on national TV?
The Phillies scored nine runs in the fourth, highlighted by a grand slam by Victorino. Johan Santana has the worst start of his career, allowing 10 runs and four homer runs in just 3.667 innings.
Of course, the Mets contended that this win was not legitimate, saying that the Phillies bullpen was somehow stealing their pitcher's signs. There's nothing better than hearing the Mets whine.
Second Best Win: Sat., May 29...Phillies 1, Marlins 0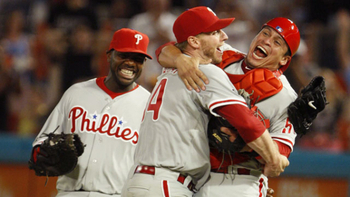 You may have heard a lot about this one. Roy was perfect. That pretty much sums it up.
PS: How great is this picture?
Best Win: Fri., July 9...Phillies 9, Reds 7 (10 Innings)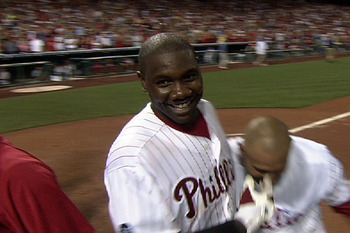 Here it is! Finally! A character, comeback win.
All year people in this town have been saying this club is complacent. That, they don't have the fighting spirit that past years' Phillies teams had.
What's even better than watching the Phillies score six in the ninth to force a 7-7 tie? How about watching Ryan Howard win it in the 10th with a walk-off homer on a down-and-away breaking ball from one of the best lefty specialists in the game (Arthur Rhodes)?
Past Phillies teams won games like this with regularity. Hopefully this will be a sign of things to come in the second half of 2010.
Keep Reading

Philadelphia Phillies: Like this team?