Top Five African World Cup Stars Likely Moving During Transfer Window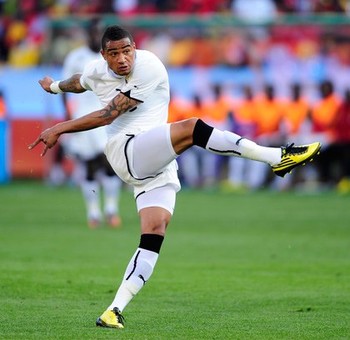 As business in the transfer window takes an even more serious tone, we look at the top 5 African players that participated in the just-ended 2010 FIFA World Cup and that are likely to switch clubs this summer.
Places in this following five-man list have mostly been occupied by Ghanaian players and this surely doesn't come as a surprise. The Black Stars of Ghana had a relatively good campaign and eventually caught the attention of several clubs in Europe especially.
However, other African names such as Wolfsburg's Karim Ziani and Nigeria's Taye Taiwo aren't missing either as they both complete this top 5 list.
Ghana's Asamoah Gyan – From Rennes To Liverpool Or West Ham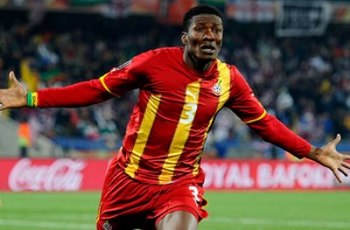 Why not start with Asamoah Gyan, the man whose wonderful 2010 World Cup adventure in South Africa suddenly turned into a bitter nightmare as his last-second penalty miss in the quarter-finals against Uruguay saw luck desert Africa's last hope?
The Rennes striker is a role model in Africa as a player for his mental determination on the pitch and his desire to make the most of his talent.
Having scored important goals for Ghana at the World Cup – the highlight of those being his extra-time winner against the USA – Asamoah Gyan established himself as the Black Continent's brightest star during the World Cup. His performances were even recognized by FIFA as Gyan became a nominee for the tournament's Golden Ball award.
The 24-year-old forward, who once played in Italy with Udinese and Modena, is being eyed by new Liverpool manager Roy Hodgson if reports are to be believed.
English magazine News of the World reported that the Merseyside Reds were in pole position to grab the services of African star Asamoah Gyan. Rennes, who had signed the Ghanaian player at € 8 million, could let him go for £ 20 million.
Asamoah Gyan's transfer fee, which got raised by the French club based on the striker's achievements and performances during the 2010 World Cup, might see interested club West Ham drop their pursuit of the player.
The Hammers are reportedly eying to sign Asamoah Gyan for a fee of £ 7 million. Now with Fernando Torres' stay at Liverpool yet to be confirmed ahead of the 2010/2011 campaign, rumors around Asamoah Gyan's possible transfer from Rennes to the Reds remain alive.
Ghana's Anthony Annan – From Rosenborg To France Or Italy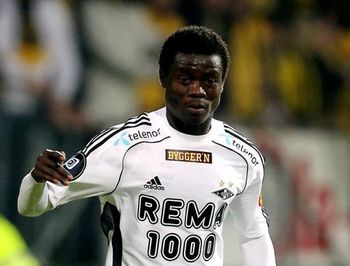 Not because he is the nephew of former UN Secretary-General Kofi Annan, but because of his performances for the Black Stars in South Africa, Ghana's midfielder Anthony Annan is being tracked by a few clubs in Europe.
The Rosenborg BK player has a contract with his current club until December 2011 but options are there for Annan to move away from Norway and embrace the limelight in one of Europe's top leagues. Perhaps, talks about interests from Manchester United, Chelsea, and Arsenal are nothing more than rumors from the media and fantasies from Ghanaian fans.
However, the situation looks more serious between Italian Seria A club Bologna and the player. According to reports, Anthony Annan is part of Franco Colomba's transfer wish-list during this summer transfer window. The Italian club have made Annan one of their main priorities.
Anthony Annan will join national team mate Stephen Appiah in Bologna if Genoa and Olympique Lyonnais drop their hunt for his signature.
Ghana's Kevin Prince Boateng – From Portsmouth to Italy or Liverpool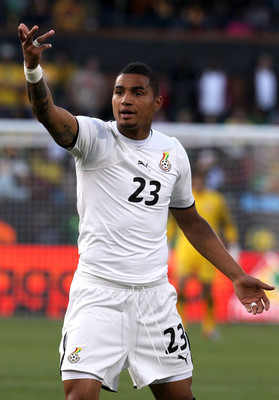 Kevin Prince Boateng is definitely looking at options to quit English Premier League relegated side Portsmouth. The Ghanaian midfielder's dazzling performances during the 2010 World Cup have led a few European clubs to consider signing the player.
Reports indicate that Lazio and Portsmouth came to an agreement for a fee of € 5 million but the obstacle in the transfer comes from Kevin Prince Boateng himself.
The German-born player reportedly asked for a better contract in terms of salary, demanding not least than € 1.7 million and € 400,000 in bonuses. S.S Lazio Chairman Claudio Lotito might give in to Kevin Prince Boateng's demands.
Either way, the player could still put his sights on a summer transfer from Portsmouth to Genoa or Liverpool.
Genoa president Enrico Preziosi is reported to be interested in the 23-year-old Ghanaian midfielder and a £ 6.6 million deal could prove enough to price Boateng out from Portsmouth.
However, Liverpool also have the player on their radar according to the media. New Reds manager Roy Hodgson is said to be attracted by Boateng because the player is not only good but also affordable considering Liverpool's current financial crisis. Kevin-Prince Boateng could be tempted to join Liverpool finally as the Merseyside club are willing to offer £ 7 million.
Nigeria's Taye Taiwo – From Marseille To A North London Club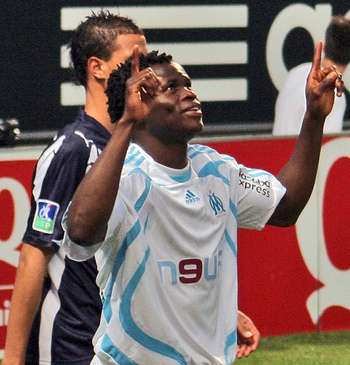 After spending six years in Marseille, Nigeria's Taye Taiwo is dreaming of a new challenge. The very fact that he lost his left-back position to Gabriel Heinze last season has intensified Taiwo's desire to quit the French club.
Although Marseille boss Didier Deschamps tries to rubbish claims over the player's likely departure, rumors are very much alive since it is believed that Taiwo refused to extend his contract which will expire in a year's time.
Atletico Madrid's £ 4 million bid has reportedly been rejected, so Tottenham and Sunderland have more space to track the Nigerian defender. But Europa League defending champions Atletico Madrid will play Champions League football next season; and this is something that attracts Taye Taiwo the more.
However, only a fee starting from the € 10 million mark which Marseille have set will let Atletico Madrid complete a move for the player. Now Spurs are offering £ 6 million to Marseille, but this amount could well be enough for the French club who fear that Taye Taiwo would leave next year as a free agent.
In this case, Birmingham City and Sunderland will certainly lose in the race to sign the Nigerian.
Algeria's Karim Ziani – From Wolfsburg To LOSC Lille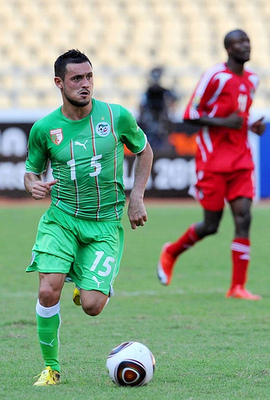 As we sign off our coverage about the top 5 African stars likely to be transferred this summer, we take a look on issues surrounding Algerian play maker Karim Ziani. The midfielder is currently a Wolfsburg player but could end his relatively negative years in Germany sooner rather than later.
Despite recovering from series of injuries, Karim Ziani was kept on the sidelines by Coach Lorenz Guenter Koestner. The Algerian told French newspaper Le Buteur that his situation at Wolfsburg was 'not understandable' and that it was 'making him frustrated'.
Ziani has long been linked with a move back to France where he was born and where he was formerly a Troyes, Lorient, Sochaux, and Marseille player. Saint-Etienne, Monaco, and Paris Saint-Germain have shared interest in signing Karim Ziani.
However, it is Nord outfit Lille that looks more serious in their bid to offer the Algerian and escape route from Wolfsburg. Lille's Ludovic Obraniak seems very much on his way out of the French club and this could see things ease themselves up around Karim Ziani's possible arrival at the club.
There are still a few concerns, though, about how Ziani will fit in LOSC Lille's formation since attacking midfielders Gervinho and Eden Hazard have well sealed their place in the team's starting XI.
Keep Reading