LeBron James' Free Agency Fiasco: The Seven Biggest Winners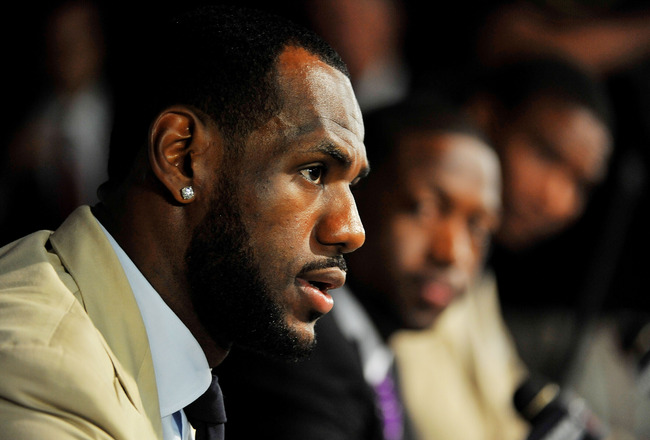 It's been almost a week since LeBron James went on national television to build his brand and announce what was apparently a foregone conclusion.
In the wake of LBJ's crab dribble to the Miami Heat, all hell has broken loose.
The outpouring of criticism has been immediate and staggering when you consider this was an athlete who once enjoyed such an incredible approval rating.
The voices of skepticism include David Stern, Reggie Miller, Charles Barkley, Chris Webber, the New York Times, ESPN, FOX Sports, and everywhere in between.
The harshest condemnation came from Cleveland Cavaliers' owner Dan Gilbert.
The one resident of the Sixth City with ZERO reason to complain took the platinum pacifier out of his mouth long enough to spew some truly ridiculous and counterproductive idiocy.
Nobody's gonna have sympathy or patience for a whining billionaire who had seven years of exclusive ear-bending to convince LBJ to become a lifer.
Of course, the fun didn't stop there as Jesse Jackson took a page from Gilbert's book and one-upped him on the stupidity scale.
Sadly, the Reverend's knack for sniffing out racial machinations everywhere they hide means his comparison of obscenely privileged professional basketball players to slaves doesn't even sneak into his top 10 dumbest blunders (I have the Duke lacrosse abomination and his hostility toward Obama's genitalia battling it out for the title).
Outside of humility, it's clear the biggest losers in this unnecessary mess have been the city of Cleveland and LeBron James, himself.
But who (or what) walks away from the mushroom cloud with the biggest smile and cleanest hands?
In honor of each year the dethroned king so charitably gave to a place he'll always call home, here are the charade's seven biggest winners.
No. 7—ESPN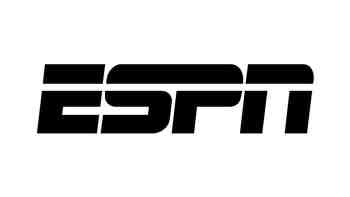 Can you believe the sports media giant came out of this so squeaky clean?
This is allegedly a journalistic outlet, yet they engaged in a DIRECT conflict of that interest by creating an incentive to suppress the release of information until a time of optimal revenue generation.
Then ESPN had one of its minions teasing the story of LeBron heading to Miami from the minute the travesty was announced.
THEN it had the nerve to publish editorials from its roster of columnists actually criticizing James for "The Decision."
Yet nobody's talking about the network's bloody hands and it got huge ratings from the slow-motion car wreck.
No. 6—Chris Bosh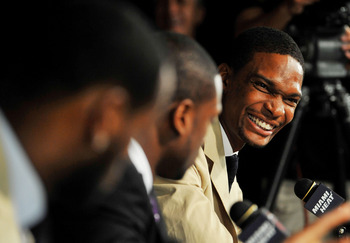 Dude went from the godforsaken Toronto Raptors to a VIP table inside the pearly gates with the Miami Heat.
He traded Hedo Turkoglu and Andrea Bargnani for Dwyane Wade and LeBron James.
And he moved from Canada to South Beach in the process.
Life was already pretty good for Bosh, who turned 26 in March and has enjoyed at least a seven-figure salary since 2003 (not to mention an eight-figure one since 2007).
It just got better.
No. 5—Lakers/City of Los Angeles
I can't remember a two-time defending champion in ANY sport ever staring in a mirror and not seeing the prohibitive favorite for the upcoming season in its reflection.
Not when the champ still boasted the nucleus from the title teams and the game's best player.
Thanks to the Heat's superstar orgy, that bizarro world is precisely where the Los Angeles Lakers find themselves.
Miami will be a formidable opponent once all the pieces are assembled so the Lake Show might not be able to withstand the coup, but one thing is certain—Kobe Bryant and his mates will not suffer from complacency.
If its second favorite team—LA, first and foremost, belongs to the Dodgers—manages to turn back the insurgents from Dade County, let the hyperbole flow...
No. 4—Kevin Durant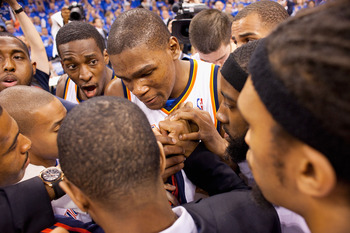 It's hard to believe, but this tyke doesn't turn 22 until September 29th of this year.
I don't recognize the player, but the face over Durant's right shoulder in the picture says it all.
Somewhat lost in the LeBron-to-Miami shuffle was the story that the pride of the Oklahoma City Thunder signed a maximum extension with the club.
During the press conference to officially announce the deal, the air in the room was thick with words like "loyalty, commitment," and "we."
Contrast that with the feel of James' "Tribute to Me" and consider that LBJ's escape to Dwyane Wade's shadow retards both superstars' ascents to Kobe Bryant's summit.
Kevin Durant has miles to go before he can join that discussion, but the door is now open.
No. 3—Dwyane Wade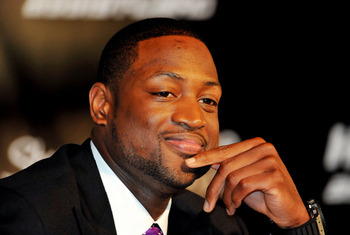 Flash was never foremost in the "Who's the Best in the NBA" discussion—that was generally a two-sided affair between Kobe Bryant and LeBron James.
So having LBJ join his squad won't do much to hurt that particular part of Wade's legacy.
On the other hand, the arrival of arguably the NBA's shiniest jewel is a deep notch in the bedpost for the former Marquette Golden Eagle.
He not only evidenced the ability to wield greater influence in the pair's dynamic, but he helped create a championship contender out of the franchise that drafted him.
Furthermore, if all goes according to plan and South Beach is showered in confetti for years to come, it will always be Wade's team winning the rings.
Which means, barring another evolution from LeBron (certainly not out of the question), Dwyane Wade just assured himself a leg up on his buddy.
No. 2—Heat/City of Miami
I'm not sure I've ever seen a franchise's stock rise faster than the Miami Heat's did when LeBron James made his announcement.
Having Dwyane Wade and Chris Bosh would've been nice, but adding LBJ to the mix almost guarantees they'll be vying for a trip to the NBA Finals at the very least. Most observers now call them the favorites to end the Lakers' run.
Since this was a team that made the playoffs more by virtue of the mediocre East than by being a true contender in 2009-10, that's one heck of a boost.
Yes, they'll be reviled by basically everyone who knows what a basketball is and lives outside the State of Florida.
Yes, they'll face unrelenting pressure because of expectations and animosity. Yes, any championships the Heat do win will be dismissed by many as ill-gotten gains.
Ask the Yankees and city of New York if any of that matters to them.
And then cover your ears.
No. 1—Kobe Bryant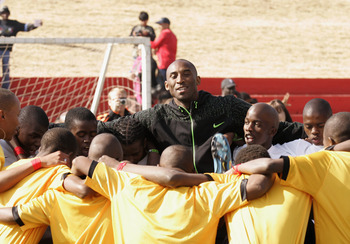 The question regarding who the best player in the NBA is got answered emphatically the minute LeBron James took his hyperventilating talents to the land of orange juice.
Kobe Bryant is the best in the game; it's as simple as that.
Basketball, like most sports, is as much about mental toughness as it is about physical toughness. Patience is one manifestation of this psychological strength, perseverance is another, and the greatest show both at key moments in their legends.
In uprooting himself after only seven years to chase a title with two supremely talented athletes in their primes, James showed a rabid desire to win and a willingness to sublimate parts of his ego to do so.
But he also demonstrated a lacking of the aforementioned virtues.
Kobe was savagely selfish in establishing himself as the Laker alpha dog and the situation got very ugly at times, but the Closer ultimately backed it up.
Now, he gets to savor the fruits of his labor safely because his two closest rivals have joined forces and individually hamstrung themselves.
Better yet, he can only add to his myth.
Remember, he's going for a three-peat with all the power-brokers from last year in place yet his Lakers are shaping up to be underdogs.
And everyone loves an underdog.
Keep Reading

Los Angeles Lakers: Like this team?