Darnell Dockett, Kerry Rhodes, and the 15 Biggest Feuds in NFL History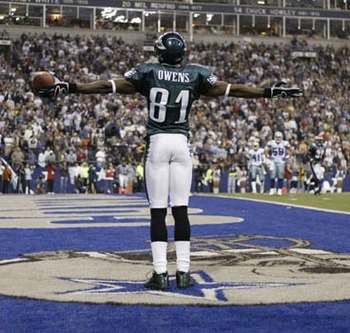 Coming from a fan perspective, there is nothing more exciting in the NFL than a good old teammate feud.
In the past years, we've seen just about everything imaginable. If it isn't Terrell Owens causing havoc for one team or another, it is Darnell Dockett engaging in an online war with Kerry Rhodes.
Here's a look at the 15 Biggest Feuds in NFL History, along with a little reminder for those fans that may have missed out on a few.
Is your favorite player, team or coach on the list?
It's time to find out.
15. Darnell Dockett vs. Kerry Rhodes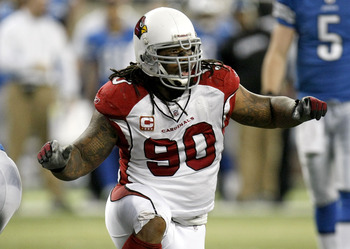 These days it seems every argument happens online. Instead of talking trash to one guy's face, or simply picking up the telephone, it is much easier for a Twitterholic like Darnell Dockett to jump online, and act as a keyboard warrior.
In case you are unaware, this month Darnell Dockett took quite a snap at Kerry Rhodes, or his recent vacation.
"@kerryrhodes u taking all these trips & sh*t! I hope u getting ready to play some FOOTBALL cuz antrell rolle would be ready."
Okay, so Dockett's grammar and spelling is far from great—Rolle's first name is actually spelled "Antrel"—but think what you like, he did make a worthy point when mentioning Antrel Rolle.
It is likely this feud will all blow over, and we'll probably see both guys buddying-up nicely this season. However, anything could happen, given the remainder of the offseason.
14. Keyshawn Johnson vs. Jon Gruden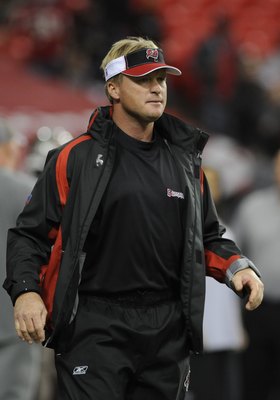 When Tampa Bay won the Super Bowl, everything was finally coming together for the Buccaneers.
That is until the very next season. Keyshawn Johnson decided to create quite a disturbance off the field for Tampa Bay, resulting in a six-week layoff appointed by head coach Jon Gruden toward the end of the 2003 season.
As much as I am a Jon Gruden fan, his decision back in 2003 didn't make all that much sense.
For starters, Tampa Bay was in a solid position to put forward some magic in the postseason, and they were fresh off a Super Bowl victory.
So why bench Keyshawn Johnson?
Well that's the question he'd still like an answer to. At the time the feud was quite large, but it has died a little as time has worn on.
Still, when a great coach benches a great player, you can expect it to create some headlines.
13. Peyton Manning vs. Mike Vanderjagt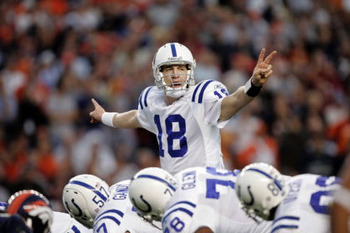 It feels almost odd thinking back to when Peyton Manning was a young, inexperienced, and questionably-talented quarterback.
However, when we look back at his feud with then-teammate Mike Vanderjagt, memories come flooding in.
For the most part, this feud is a little underrated. But given how much Peyton has developed and showed us all why he is the No. 1 guy in the quarterback department, the feud now becomes a little more important.
So what really happened? Well, following the Colts 2002 playoff exit, kicker Mike Vanderjagt felt it necessary to tell the world that Peyton Manning didn't have the skill to become an elite quarterback.
Boy was he wrong. He also had this to say following that statement.
"All week before the Jets game I'm like, '(No.) 18, we're going to handle it, me and you we're going to win this game.' And he's like, 'Yeah, yeah, OK.' "And I'm like, 'Peyton, show some enthusiasm, you're the quarterback and we need to win this game.' I just don't see it from him."
Maybe it's just me, but Mike Vanderjagt now looks pretty stupid, wouldn't you agree?
Manning then got the last laugh by famously reminding Vanderjagt of his place during a sideline interview with Lynn Swann during the Pro Bowl:
"Here we are, I'm out at my third Pro Bowl, I'm about to go in and throw a touchdown to Jerry Rice, we're honoring the Hall of Fame, and we're talking about our idiot kicker who got liquored up and ran his mouth off."
12. Steve Mariucci vs. Terrell Owens
Let me assure you, this isn't the only time that Terrell Owens will feature on this list.
No, in Terrell Owens' early days, he did create some controversy with San Francisco 49ers head coach Steve Mariucci.
As usual, Terrell Owens felt it necessary to criticize Mariucci's coaching ability and style. It seems T.O. wasn't overly happy Mariucci's play calling, and the fact that he often declined to run up the score on opponents.
If you thought this was bad though, things continued to go south fast when the 49ers began to lose.
Terrell Owens was still talking, and the team was still losing. Fortunately for all of us, Mariucci kept a cool head, as this could have gotten out of hand. Still, it was a feud, and one of many that Terrell Owens created.
11. Brian Mitchell vs. Clinton Portis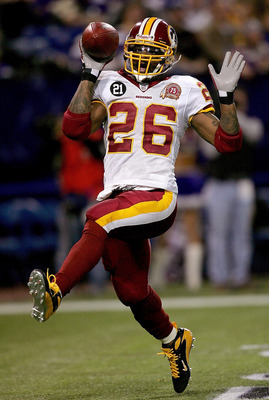 In Clinton Portis' defense, this was one of the rare occasions that he acted out of order.
In case your wondering what Clinton Portis did that was so wrong to earn him the 11th spot on this list, it wasn't all that new.
All Clinton Portis did was throw both his teammate Brian Mitchell and his head coach under the bus in a media interview.
These days it doesn't seem all that bad, but given the Redskins' turmoil, it was taken quite seriously at the time.
If there's one thing that a player should never do, it's criticizing a teammate and his head coach in the media. Not only is it wrong, it also shines a bad light on the team.
Deem it a feud if you wish, however it could go down as a mere stupid moment in Portis' career.
10. Conrad Dobler vs. Bill Bergey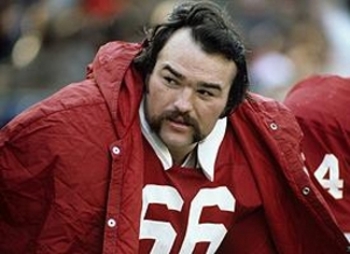 There's nothing better than two big guys in the NFL going at it all year round, right?
Some people reading this may not be aware of who these guys are. While I wasn't alive to witness either play, I have become knowledgeable enough of them to be able to tell you that neither were fond of playing by the rules.
According to some analysts, both guys were witnessed engaging on tackling after the play, unnecessary roughness, and above all else, biting.
But none of this compares to the warfare that both engaged upon each other. At time, the Cardinals and Jets were together in the NFC East conference.
Therefore, both Conrad Dobler and Bill Bergey were able to meet up on several occasions.
If you ask either guy how they felt about each other at the time, the pure word of "hate" will arise on more than one occasion.
Both guys targeted each other, and once Conrad Dobler sucker punched Bill Bergey during a tackle. It was pretty much all for one and one for all from there on out.
These days, the hate has spilled onto the golf course. Playing 18 holes together, the two reminisce about old times.
Is it a feud? You bet it is.
9. Paul Brown vs. The Cleveland Browns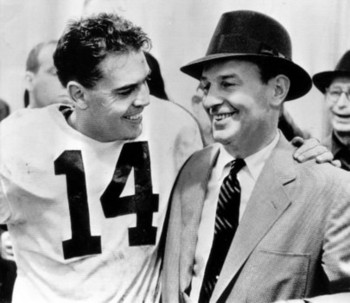 Ah the old glory days of the Cleveland Browns, is there any better sight? I don't think so.
Back in the 1950s, Paul Brown was the Cleveland Browns. He was a unique coach, who had a knack for the game that couldn't quite compare to anyone else besides Vince Lombardi, Bill Walsh, or Tom Landry.
However, as popular as Paul Brown was, he wasn't very popular with new owner Art Modell, who struggled to form any real relationship with the coach.
Cruelly, the relationship ultimately saw Paul Brown fired, and left to regather his life.
As sad as this story was at the time, soon enough Paul Brown returned to coaching, only with the Browns current rival and then "new on the scene team," the Cincinnati Bengals.
According to experts, Paul Brown's motifs were clear. To beat the Browns twice a year, and get some revenge on Art Modell.
I think at heart Paul Brown was always a Brown, but when it comes to coach and team feuds, this one just about takes the cake.
8. Joey Porter vs. The Cincinnati Bengals
Ask anyone and they'll tell you what a nice guy Joey Porter is off the field.
On the field though, he is a loudmouth, an ego maniac, and above all else, a complete pain in the rear end for any opposing team.
If you watch pregame footage of Joey Porter, you'll notice one thing, the amount of time he spends in the facemask of opposing team players.
During his time in Pittsburgh Joey Porter was the master trash talker. That is until Chad Ochocinco stepped onto the scene, and he ultimately met his match against the Cincinnati Bengal star wide receiver.
I guess you could say that much of this contributed to the Steelers vs. Bengals rivalry, but when T.J. Houshmandzadeh took it to the next level by wiping his cleats with the Terrible Towel, Pittsburgh faithfuls were extremely ticked off.
Joey Porter then used all of this to fuel the Steeler fire, and much of that continues to the present day.
Unlike the past slides, this feud is still going, although Joey Porter is now away from Pittsburgh. It's a great feud, but a better rivalry, so lets thank Joey for providing us with that.
7. Steve Young vs. Joe Montana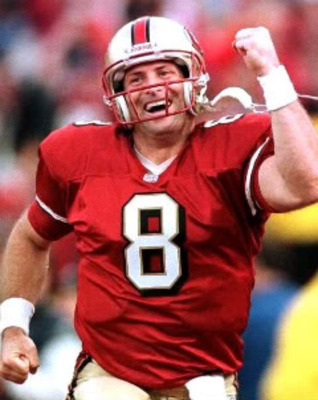 If there is any better quarterback vs. quarterback feud, I haven't found it.
At the time, Joe Montana was the 49ers poster boy. He gave the franchise hope, granted them championship success, and left the entire city happy that their team was finally on the map of contenders.
Toward the end of it all though, Joe Montana began to slow down a little. He picked up an injury or two, and once Bill Walsh traded for Steve Young from Tampa Bay, the pressure began to mount on Montana's shoulders.
During this time, both players were annoyed. Steve Young was annoyed that old timer Joe was still in his way, and Joe Montana was annoyed that a young but questionable talent was behind him, ready to take his glorified place.
At the end of it all things sorted out. Joe Montana went to Kansas City, and Steve Young had a successful career under center.
As feuds go though, this one was as big as any other. One golden boy vs. a then-average passer made for quite a battle. It's a shame that is all over now.
6. Jerry Glanville vs. The AFC Central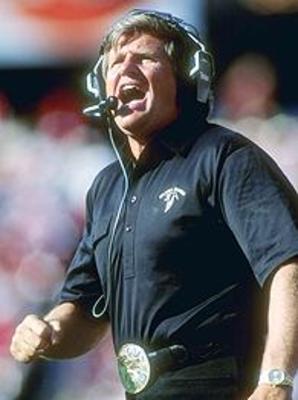 For those that aren't familiar with Jerry Glanville, he is perhaps one of the most hated coaches in all of sports.
The most notable time for Jerry Glanville though was during his 1980's stint with the Houston Oilers, when he portrayed himself as quite a charismatic, fun and flashy character.
I know what you're thinking, "How could he be hated for that?" It's simple, Jerry Glanville got under the skin of every AFC Central team, and became a marked man.
Realistically, Jerry Glanville was never a bad coach. Sure he argued a little, but when it came right down to it, he put some wins on the board.
Still, his style made him the enemy of every Central team, and the feud between the two was almost humorous to watch.
5. AFL vs. NFL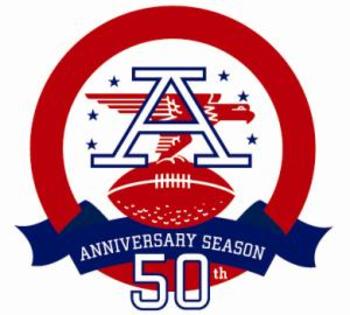 For any veteran football fans that are reading this, you would be well aware of the AFL vs. NFL feud.
A 10-year war that saw both leagues destroying each other, finally resulted in the AFL out, and the NFL in.
During the time, the NFL had a grip on pro football. That is until the new American Football League stepped onto the stage, and dazzled many fans for it's new approach to the game.
Older NFL veterans looked at the AFL as a new and flashy league, that wasn't any good for anyone. While AFL guys looked at the NFL as "old news" and felt that they were the next best thing.
Not only this, Draft picks became more valuable, and both leagues competed heavily for new and brighter talent.
At the end of it all, the AFL and the NFL merged. To this day some fans yearn for the old AFL as a separate league, while others are glad it is a distant memory.
It was more than feud at the time, it was a choice for players on which league they could join. Still, it was also a rivalry, and quite a bitter one at that.
4. Terrell Owens vs. Donovan McNabb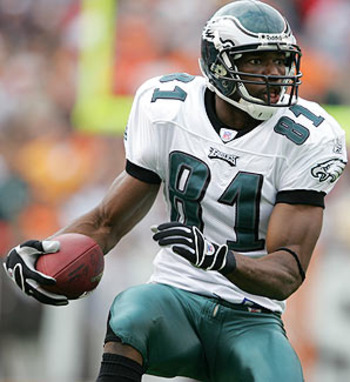 You knew this one was coming sooner or later, so here it is.
In what came as a promising time for the Philadelphia Eagles, also came as quite a disappointment.
Donovan McNabb had campaigned for Terrell Owens to come to Philadelphia, and when the two finally met up, touchdowns and passes began to flow on the field.
Finally, Philadelphia fans were happy that they had a worthy wide receiver for Donovan McNabb. That is until T.O. became an ingrate, and began to complain.
After arguing on the sidelines with Donovan McNabb about missed opportunities, Terrell Owens eventually made his way out of Philadelphia, and turned The City of Brotherly Love into the City of T.O. Hate.
To me, this was a feud between T.O and McNabb, but now it is a feud between T.O and the city of Philadelphia.
3. George Allen vs. The Dallas Cowboys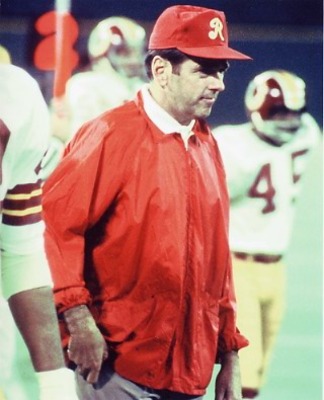 For the most part George Allen is like every NFL fan, he hates the Dallas Cowboys.
Much of Allen's hate for Dallas brewed during his time with the Los Angeles Rams. This then spilled over to his time with the Washington Redskins, when he would give it his all to beat the Cowboys on any given opportunity.
Some of Allen's techniques were to tell his players to insult Cowboy players. At times it worked, while other times it made him appear foolish and a little juvenile.
However, at the same time he also earned a lot of fans. Hating the Cowboys is something many people can get behind, and while he was the coach of the Redskins, he formed a following.
Nowadays, George perhaps still hates Dallas, but no one really knows for sure. It was a feud though, and quite a heated one at that.
2. Buddy Ryan vs. Mike Ditka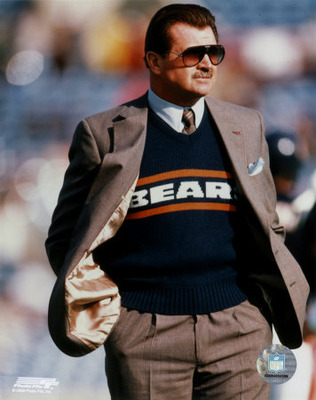 This Chicago Bears feud was pure hatred. Buddy Ryan didn't like Mike Ditka, and he made it known on several occasions.
Looking back now, this feud does seem a little strange. It almost resembles a primary school playground fight between two young boys that despise each other and continue to argue all day long.
The most notable part of this feud though was when Buddy Ryan blatantly put down Mike Ditka in front of his team.
These type of things are prevalent in old school feuds, and in the Bears long and illustrious history, it almost makes them look even tougher.
1. The Oakland Raiders vs. The World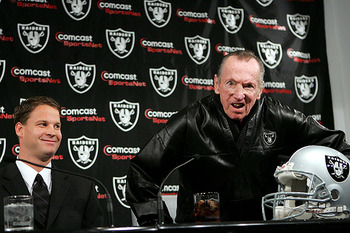 Some people may not consider this a realistic feud, but when the entire team exits the dressing room stating "It's us against the world today!" then you can mark it down as quite a rivalry.
Like the Cowboys, the Raiders are hated by many fans. Still to this day, Oakland is a marked franchise, due to many reasons that have piled up over the years.
This feud in particular though is the Raiders vs. The World, and to me it is fairly straight forward.
For you see, the Raiders were once the team to beat in football. They were strong willed, tough as nails, and had an owner that wouldn't back down, still to this day.
Therefore, Oakland takes out the number one spot on this list, due to their ability to have an entire feud, with billions of everyday NFL fans.
The feud may have died a little recently, but rest assured, it is still out there waiting to pop up someday.
Keep Reading

Oakland Raiders: Like this team?