2010 FIFA World Cup: Top 25 Things We Loved About South Africa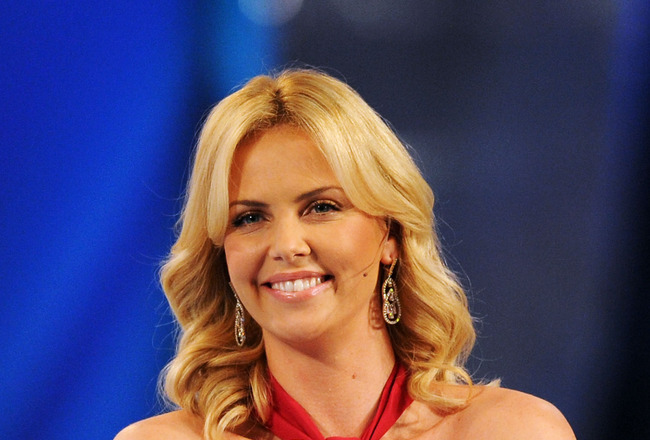 The 2010 World Cup has come and gone. Spain won their first World Cup in addition to being the first European nation to do so on foreign soil.
Now that the latest edition is over, it's time to take a look back.
But rather than get caught up in endless debate about why South Africa was or wasn't successful and how it ranks among the previous 18 competitions, let's just focus on what we loved about it instead.
No. 25—The Fans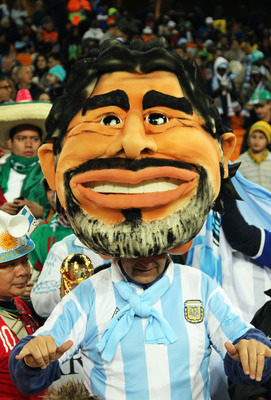 South Africa's most famous fan, the lovely Charlize Theron, was a co-presenter at the World Cup draw.
Charlize is an example of a celebrity fan, so here's a glimpse at the passion from fans in the stands.
No. 24—Gum: Not Just for Chewing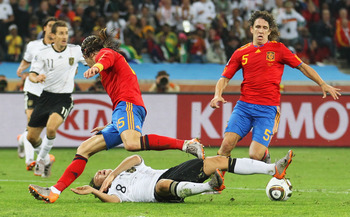 You might have missed this one from German's Mesut Ozil.
It's a little on the disgusting side, but very impressive nonetheless.
See the video below.
No. 23—North Korea vs. Brazil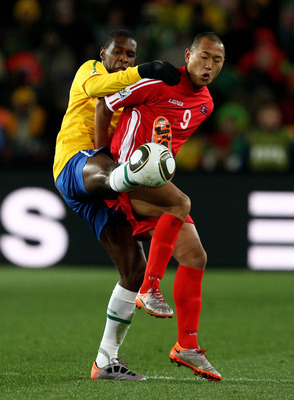 North Korea came to South Africa as the lowest ranked team in the tournament and lived up to everyone's expectations, finishing dead last, thanks to a 7-0 spanking at Portugal's hands...er, feet.
In all fairness, however, they had the misfortune of drawing Ivory Coast and Brazil as well, so they were essentially doomed from the start.
But kudos to Chollima for playing their opening match with heart for an honorable 2-1 defeat to Brazil, a better result than Ivory Coast had against the South American powerhouses.
And they scored a goal, which is more than Portugal can boast.
No. 22—Goal-Happy Germany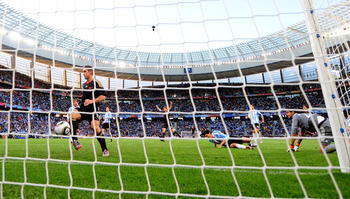 In a World Cup with what has to be a record number of draws (but don't quote me on that), including two penalty shootouts in the knockout rounds (which go down as draws in the record books), I loved that Germany's matches were exciting.
They scored four goals in three of their first five matches, including back-to-back victories over England and Argentina in the knockout stages.
Germany scored 15 goals in all, a third of which came from Golden Boot winner Thomas Müller, who also notched three assists.
To those of us who are anxiously waiting for Americans to embrace soccer, thank you, Germany.
No. 21—David Villa's Goal vs. Honduras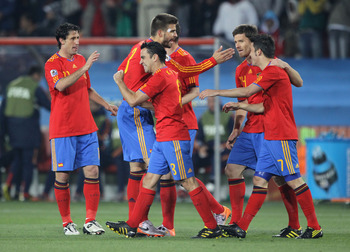 Rather than put it into words, it's better if you see it for yourself below:
No. 20—Animal Pundits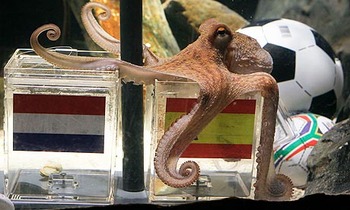 Other than Miss Cleo, who could have foreseen an octopus correctly predicting all seven of Germany's World Cup matches, as well as the final?
Workers at the aquarium where Paul the "Orakel Octopus" lives lower two food containers into his tank with each one bearing a team's logo. Whichever tank Paul eats from first is the team he chooses to win the match.
Given the short life spans of octopi (from six months to five years, depending on the species) and the fact that Paul did the same thing for Euro 2008 (correctly predicting four of Germany's six matches), here's my prediction:
Paul won't be back for 2014.
No. 19—Diego Maradona, The Legend Continues...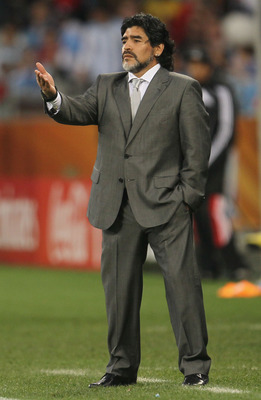 The latest chapter in Diego Maradona's storied career proved to be just as entertaining as everything that came before it.
From the curse-filled rant he delivered to media doubters following Argentina's qualification to the tiff he got into with a Germany fan following Argentina's elimination, Maradona has created a few more memorable scenes in the movie of life, which already include the two most famous goals in World Cup history (something England fans will never forget).
Dressed in a suit and sporting a beard that would make Grizzly Adams jealous, Maradona seemed more like a drug kingpin rather than a national manager, something you just can't help but love.
No. 18—A New European Champion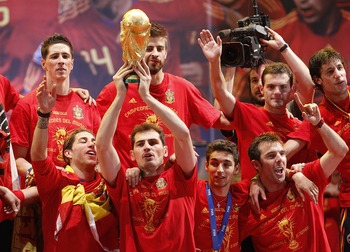 It's always nice to witness a country winning the World Cup for the first time, and the fact that Spain did so in their first-ever visit to the championship match makes it that much better.
No. 17—Casillas Kisses His Own WAG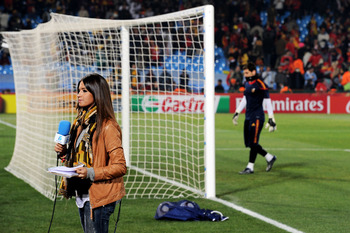 The media labeled sexy Sara Carbonero a distraction and blamed her for Spain's loss to Switzerland in their opening match because she was camped out near Spain's goal—right next to her boyfriend, goalkeeper Iker Casillas.
She even grilled him for the loss in their post-match interview, but things took quite a different turn following Spain's victory over the Netherlands in the final, as you can see from the video below.



">.
No. 16—The Fall of the Old Empire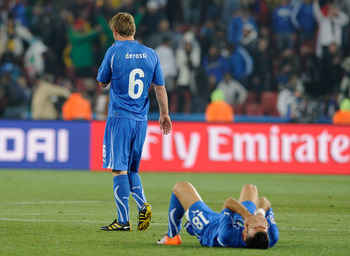 Italy's and France's eliminations at the group stage marked the first time that both teams from the previous World Cup final failed to advance to the knockout rounds in the following competition.
I always like to see Italy fail since they are some of the worst divers on the planet, while France's early exit was karmic retribution for Henry's handball that got them there in the first place.
Two seeded teams failing to make it out of their respective groups also made more room for the underdogs in the Round of 16, where England—another seeded team—exited the tournament.
No. 15—New Blood Rules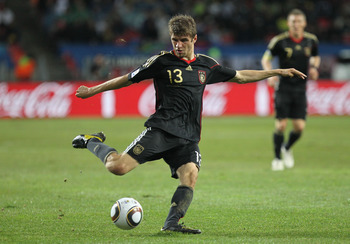 With a number of players on the wrong side of 30, France and Italy also had the oldest rosters in South Africa.
England boasted substantial experience of its own, and even Brazil, whose players have also been around the block, failed to make it beyond the quarterfinals.
On the other end of the spectrum, 2010 World Cup champions Spain had one of the youngest rosters in the tournament, as did Germany, who impressed with several players from the 2009 Under-21 World Cup squad and without the leadership of 33-year-old captain Michael Ballack
Star midfielder Thomas Muller (21) even took home FIFA's Golden Boot along with the Young Player of the Tournament award.
No. 14—Vuvuzelas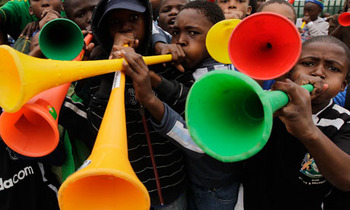 Personally, I don't see what all of the buzz was about; I happened to like the vuvuzelas.
The plastic horn's pleasant drone gave the 2010 World Cup a distinct African flavor and serves as a unique memory from this year's competition that other tournaments have lacked.
And they remind me of going to a Chivas USA match, my local club, where fans also "play" their vuvuzelas. I even had one of my own before they made so much noise in South Africa.
No. 13—Ambush Marketing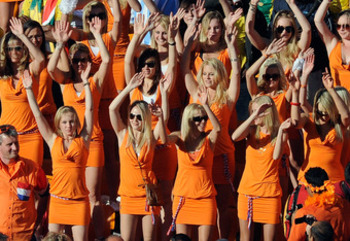 It must be the rebel in me that loves how a beer company was able to generate so much free publicity without having to pay FIFA a dime to become the official beer sponsor (a title that belonged to Budweiser).
And they did it with such style, too.
After all, it's hard not to love a group of hot Holland fans in matching orange miniskirts.
No. 12—Greece Shoots, Scores, and Wins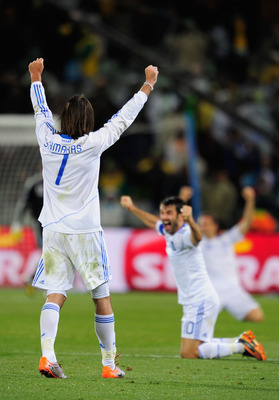 Greece scored their first-ever World Cup goal in their first-ever World Cup win (against Nigeria) in a World Cup full of firsts.
No. 11—The Opening Ceremony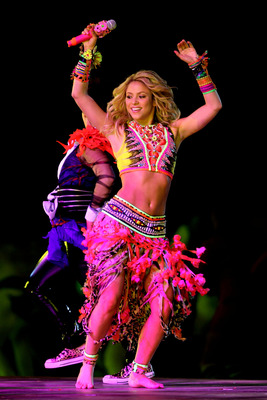 I don't usually watch the opening ceremonies for anything, but I loved that this one kicked off with a concert featuring Shakira—whose "Waka Waka" was the official song of the 2010 World Cup—followed by R. Kelly performing "Welcoming the World Home to Africa" with South African trumpeter Hugh Masekela, Nigerian Afro-funk star Femi Kuti, and the Soweto Spiritual Singers.
Other performing artists included K'Naan (I love "Wavin' Flag," video below), the Black Eyed Peas, Alicia Keys, John Legend, Angelique Kidjo, Amadou and Mariam, and The Parlotones.
And all proceeds were donated to 20 Centers for 2010, a charity campaign dedicated to building 20 Football for Hope Centers for public health, education, and football across the entire continent of Africa.
Much love.
No. 10—Keisuke Honda, Blue Samurai
Honda started making a name for himself earlier this year when he joined CSKA Moscow from Dutch side VVV-Venlo and made his debut in a Champions League match against Sevilla.
In the second leg, he set up the first goal then scored the match winner off of a free kick, sending Moscow through to the quarterfinals, making Honda the first Japanese footballer to play in the quarterfinals as well as the first to score in the knockout stages.
He continued his run of form into this year's World Cup, scoring the only goal in Japan's opening win against Cameroon and the opener versus Denmark—in addition to setting up their last goal—earning him Man of the Match honors for both games.
No. 9 - Larissa Riquelme, Super Fan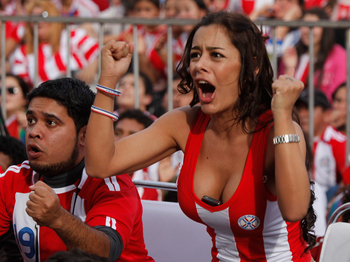 Passionate fans are one of the things I love most about world football. I also love sexy women, and Larissa brings them both together in beautiful harmony.
The model, a virtual unknown prior to the 2010 World Cup, was catapulted to fame for coming up with a new place for women to store their cell phones.
Larissa's enthusiasm for her country's national team was so strong she even pledged to run through the streets naked if Paraguay won the World Cup, and still agreed to do so despite the fact that they didn't.
You gotta love that kind of passion.
No. 8—Commercials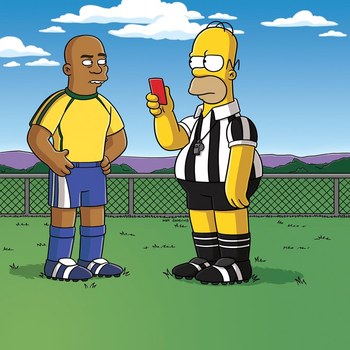 Seeing as how commercials are a big part of the Super Bowl, it only stands to reason they should do the same for world football's Super Bowl.
I really enjoyed a lot of the commercials and loved seeing the kind of production values that had previously been lacking from World Cups past (in the United States at least).
I wanted to use a still from Nike's "Write the Future" ad (video below) featuring Homer Simpson and Portugal's Cristiano Ronaldo, but I had to settle for one with the Brazilian Ronaldo from an episode of The Simpsons instead.
No. 7—Nigel De Jong, Kung Fu Master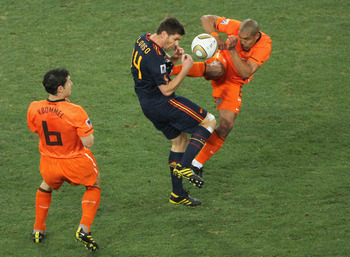 Those who do not like to think of soccer as a contact sport were outraged by the physical game the Netherlands played during the final.
Those people probably didn't love this incident as much as I did—especially Spanish fans—but this picture cracks me up.
I don't really care whether or not referee Howard Webb should have given De Jong a straight red card for this high-footed challenge instead of a yellow; I just love anything that makes me laugh, and this picture does just that.
No. 6—Cristiano Ronaldo Falls Flat on His Face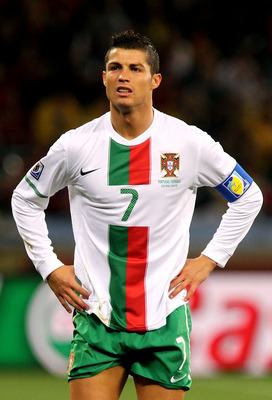 Much like Deion Sanders once upon a time, when it comes to Cristiano Ronaldo, people either love him or hate him.
You love CR7 because he can do amazing things with a ball; you hate him because, like Deion, he's too cocky for his own good—and I always love to see that kind of player fall flat on his face.
Ronaldo only managed to score a single goal in the entire tournament, his first one for Portugal in two years, and not until the 87th minute in a 7-0 annihilation of North Korea (i.e. not very impressive).
"Pride goeth before the fall" as the old adage goes, and that's exactly what happened to the world's most expensive footballer.
No. 5—New Zealand Goes Undefeated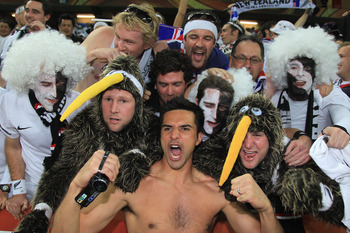 New Zealand doesn't even have a professional soccer league and is a part of the only FIFA confederation that does not receive at least one automatic berth in the World Cup, so it comes as no surprise that New Zealand were huge underdogs.
At No. 78, only North Korea (No. 105) and South Africa (No. 83) were lower in FIFA's World Rankings heading into the tournament.
But the All Whites managed to emerge as the only undefeated team in the 2010 World Cup with three draws in three matches, including a strong showing against defending champions Italy.
No. 4—Divers Getting Booked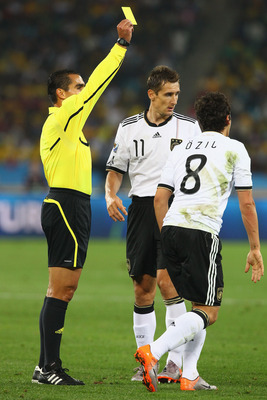 Mesut Ozil was booked for diving 13 minutes into Germany's opening match with Australia. Although it was tough to spot live, the replays clearly showed the German falling to the ground without a stitch of contact from the opposing player.
Later on in the match, Ozil made sure to stay on his feet after losing the ball to a legitimate Australian tackle in the penalty box. The referee also booked Ozil's teammate, Cacau, during stoppage time.
A number of other divers were booked in South Africa as well, which can only be good thing, seeing as how theatrics have gotten way out of hand in recent years.
No. 3—USA Wins Group C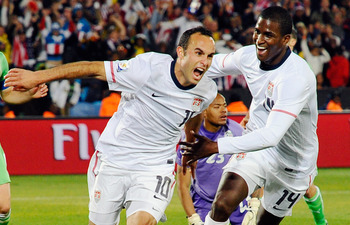 The United States won their group for the first time since the inaugural 1930 World Cup, a huge step for U.S. Soccer.
Team USA also got a nice publicity boost for a hard fought draw with England, an inspiring comeback against Slovenia, and a nail-biting match with Algeria that saw the Yanks go from the brink of elimination to the top of the group in the closing seconds of stoppage time.
No. 2—Bafana Bafana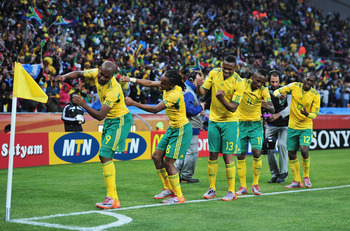 I love that the first goal of the tournament was scored by a South African.
I also love that it was scored by a man with great hair, Siphiwe Tshabalala.
I love how happy they look while doing their little goal dance too.
And I love that Bafana Bafana means "The Boys."
No. 1—USA Draws Record Ratings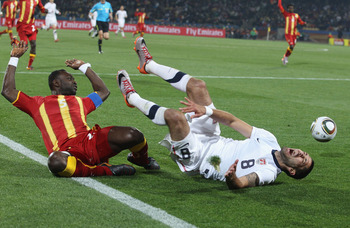 The World Cup final between Spain and the Netherlands drew 24.3 million total total American viewers, over five million more than the 19 million who tuned in for the championship match in 2006, making it the most watched soccer game in U.S. history.
The previous record was set by USA's Round of 16 loss to Ghana from this year's tournament, which attracted 19.4 million eyeballs between ABC and Univision. The record before that was the Brazil-Italy final in 1994, which drew 18.1 million total viewers from both networks.
Ratings for the 2014 tournament are likely to be even higher when the majority of the matches take place during prime time hours in the United States (versus mostly weekday morning matches this year)—especially if USA does even better than they did in South Africa, a definite possibility.
I absolutely love that the beautiful game, my favorite sport, has finally gotten a leg up in America.
Keep Reading