2009-10 SEC Basketball Review: Ball Hogs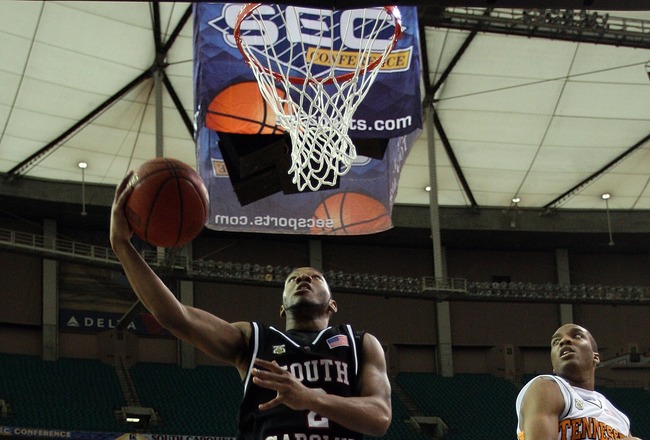 The [long-awaited] second edition of this unveiling is the Minutes per Field Goal Attempted category.
This portrays the SEC athletes most willing to throw up a shot, regardless of circumstances. This isn't necessarily a bad thing: with a solid percentage, this could be a huge benefit for a team. Take a player with a bad percentage, however, and this becomes a huge detriment.
Like the previous list, only one school doubled up, with Ole Miss taking the honors for this edition. The—ranked player, however, does not hail from Oxford and dominated the competition.
Keep reading to find out whom!
10. JaMychal Green, Alabama (2.56 M/FGA)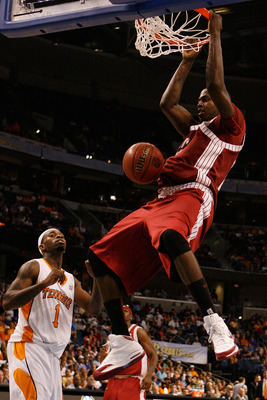 Green made a splash in the league as a freshman, and is poised to become one of the SEC's best big men before he graduates.
A big guy with a touch — he has range and still sports one of the league's best percentages from the field (49.5 percent). He ranked second on the squad in shots made by just one bucket.
Green is a rising sophomore and could be the X factor for a surprising Tide in 2010-11.
9. Chris Warren, Ole Miss (2.55 M/FGA)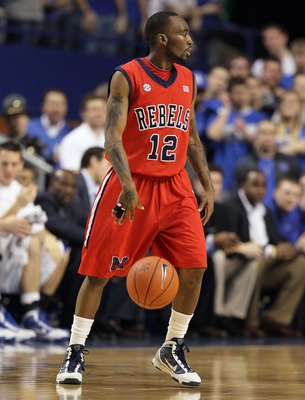 Warren is another player that contributed heavily as a freshman and has only risen to the competition as he ages.
Common logic states that a point guard should set an offense and pass to shooters, and a team which plays a shooting point-guard lacks diversity. This was not as true for the Rebels, considering Warren shot an outstanding 42.6 percent from the field and 40.4 percent from behind the arc despite attempting the third-most field goals in the conference.
This guy is an all-star and look for him to further prove that in his senior 2010-11 season.
8. Tasmin Mitchell, LSU (2.55 M/FGA)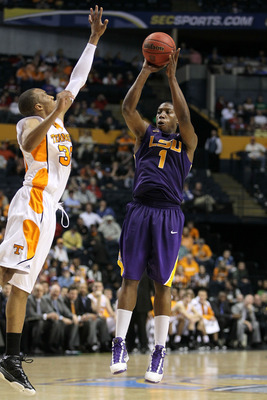 Mitchell saw the mass exit of teammates, to graduation and the NBA in 08-09 ,and his team struggle mightily as a result. The team fell on his shoulders, and he performed well but wasn't able to carry his squad to a decent record.
Mitchell was a big guard or a small forward, but was more than capable regardless. Despite attempting the second-most shots in the league (453), he put up a 43.3 percentage from the field and grabbed nearly 10 rebounds per game.
Mitchell graduated at the end of the season, and the Tigers will sorely miss his dominating floor presence.
7. Kenny Boynton, Florida (2.54 M/FGA)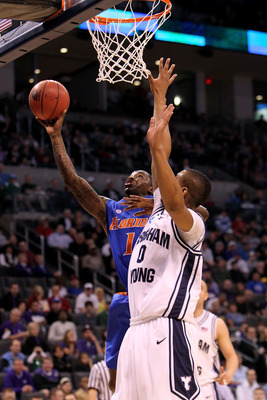 There's a reason only one 2009-10 freshman is on this list. It takes time to adjust to the college game, and Boynton figured that out the hard way.
Boynton ranked second, behind Ole Miss' Warren, in three-point shots attempted but hit just 29.4 percent of those and 37.6 percent of his shots overall.
As a sophomore, he'll need to refine his game and make higher-percentage shots if he wants to actually benefit his team.
6. DeWayne Reed, Auburn (2.49 M/FGA)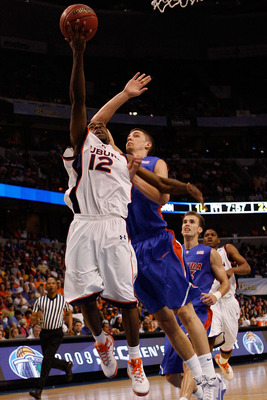 Call Reed a necessary inconvenience. While his numbers weren't solid, the Tigers didn't have much to work with, and Reed could step up in big situations.
Reed was the prototype of a point guard who shouldn't have attempted as many shots, hitting just 39.2 percent of his shots overall and 32.7 percent from long-range. A solid ball-handler, but not a solid shooter.
Reed graduated, leaving a big question mark in Auburn's spot at the One position.
5. Terrico White, Ole Miss (2.47 M/FGA)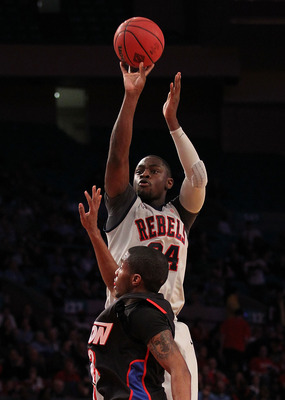 White was the single-most overhyped player in the league heading into 2009-10, and apparently afterward as well. He opted to leave school to declare early, and went undrafted.
If you'll recall, I called White out before the beginning of last season when national publications were vaulting him as one of the league's strongest players. Boy, was I right.
White's 179 attempts from three at a 34.1 percentage is simply bad, though his 43.0 percentage from the floor was decent. A solid, dynamic and difficult-to-guard player for sure, but not among the conference's best.
4. DeMarcus Cousins, Kentucky (2.42 M/FGA)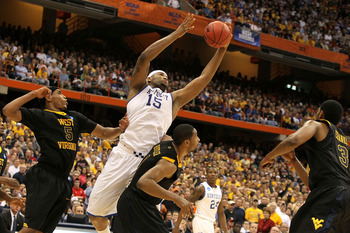 Cousins; my choice for 2009-10 SEC Player of the Year, was a rare style of freshman. He was ready for the NBA from day one, and proved it with flair.
Very little wasn't impressive about Cousins, needless to mention his 55.8 percentage from the floor. Though he attempted a great deal of shots, he couldn't take too many for the Wildcats.
Cousins, understandably, left school for the NBA and was chosen fifth overall.
3. Trey Thompkins, Georgia (2.24 M/FGA)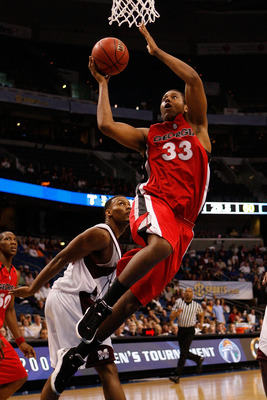 One of the most unfairly unheralded players in the SEC, Thompkins has become the very foundation of Georgia basketball.
Despite his size, the power forward shoots 37.7 percent from three and 48.3 percent from the field. Thompkins carries UGA's offense, and still thrives.
The standout will become an upperclassman in 2010-11 and should challenge for SEC Player of the Year honors.
2. Courtney Fortson, Arkansas (2.23 M/FGA)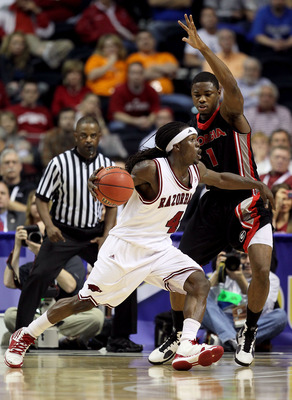 Fortson entangled himself in issue after issue off the court, and it effectively cost him the rest of his Razorback career. He was insanely talented physically, but often played out of control and was the epitome of a ball-hog.
Coming off suspension, Fortson played in just 18 games last season, shooting 36.1 percent from the floor and 31.3 percent from behind the arc. His ball-handling and decision-making was not exceptional for a point guard, either.
Fortson jumped to the draft and went undrafted.
1. Devan Downey, South Carolina (1.78 M/FGA)
Downey beat his league-leading mark from a year ago in this category by .15, a huge jump for any player. He also bested second place this season by .45.
Many were appalled and shocked I didn't include Downey in any ranking of SEC players during the 2009-10 preseason, but he effectively proved me right this season.
Though he led the league in scoring at 22.5 points per contest, he also attempted 139 more shots (592) than any other player in the league. His raw number of points came only from the amount of shots he put up, and not from efficiency.
Downey hit just 34.2 percent of his 202 three-point attempts and just 40.0 percent from the field. These numbers are not only sub-par, but absolutely unacceptable from a player with that accumulation of attempts.
Needless to mention Downey was a "point guard", who should have been focusing on passing more so than shooting.
I eventually decided to include Downey in my Second-Team post-season assessment, only because of his name atop the numerical leaderboard. However; he was was not a benefit to the Gamecocks and his style of play does nothing but hurt the game as a whole.
Downey graduated in 2010.
The Other Side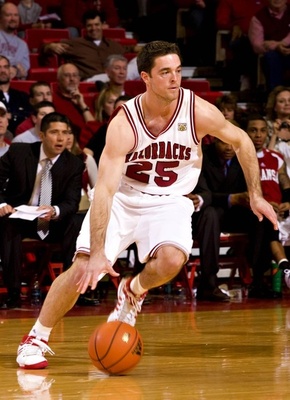 Now for the other end of the spectrum. Here are the 10 players most afraid to put up a brick...
10. Johnnie Lett, Auburn...(7.17 M/FGA)
9. Daron Populist, LSU...(7.43 M/FGA)
8. Steven Pearl, Tennessee...(8.07 M/FGA)
7. John Wallace, Auburn...(8.57 M/FGA)
6. Chris Bass, LSU...(8.86 M/FGA)
5. Perry Stevenson, Kentucky...(9.59 M/FGA)
4. Demario Mayfield, Georgia...(9.75 M/FGA)
3. Ben Eblen, Alabama...(10.15 M/FGA)
2. Tony Neysmith, Auburn...(19.40, M/FGA)
1. Stephen Cox, Arkansas...(23.60 M/FGA)
Thanks for reading! Please comment!
Be sure to follow me @HoopsKnowItAll and join my fanpage: http://bit.ly/bFvppe
Keep Reading