MLB Trade Rumors: Five Prospects the L.A. Dodgers Will Not Sacrifice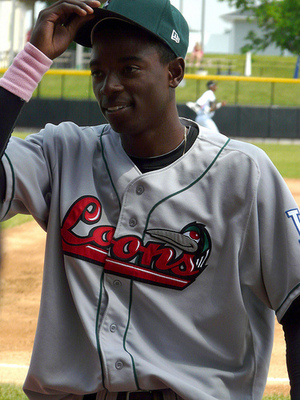 With the MLB trade deadline just over two weeks away, Dodgers general manager Ned Colletti is scrambling to make the best possible roster moves in an effort to mold together a contending playoff squad for 2010.
It's been speculated that financial resources are limited, and outside of several underperforming relievers and a few substandard bench players, Los Angeles really doesn't want to sacrifice talent at the Major League level in order to obtain that missing piece of the puzzle that puts them over the top.
However, the Dodgers' farm system remains one of the most productive in baseball, and several players with high potential may possibly be used as bargaining chips to acquire a much sought-after starting pitcher.
Nevertheless, the Dodger organization prides themselves on their success from building within. Current players such as Clayton Kershaw, Chad Billingsley, Jonathan Broxton, James Loney, Russell Martin, and Matt Kemp are just several examples of the success Los Angeles has had from forging talent from the draft and the minor leagues.
Still, it's impossible to predict what value a prospect will have five years down the road based on potential alone. Names such as Lucas May, Ethan Martin, Pedro Baez, Jerry Sands, John Lindsey, Jay Gibbons, Trayvon Robinson, Tim Sexton, and Josh Lindblom may be thrown around in the next two weeks as possible movers, but there are several future stars that the Dodgers will not deal at any cost.
The following frames outline five prospects who are the future of the Los Angeles Dodgers, and although coveted by many teams around the league, will remain with the Dodgers, at least into 2011.
Kyle Russell—Outfield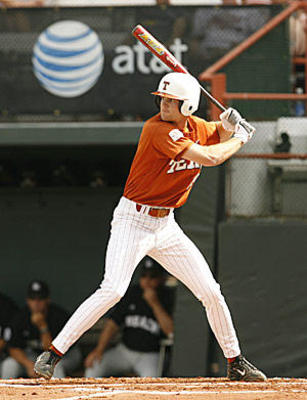 Kyle Russell was selected by the Los Angeles Dodgers in the third round of the 2008 MLB Amateur Draft, and one thing comes to mind when mentioning his name—power.
Russell, who just turned 24, is 6'5" and 220 lbs, and is currently playing for the Dodgers' Double-A affiliate, the Chattanooga Lookouts. He's best known for his place in the University of Texas record books for producing far and away the most home runs in school history.
He has excellent speed for his size both defensively and on the basepaths, and scouts rate his arm strength above average. In 2009 for Single-A Great Lakes, he produced 26 home runs, 102 RBI, 90 runs scored, 39 doubles, seven triples, and 20 stolen bases.
His only weakness right now at the dish is his high number of strikeouts, but coaches and instructors are being patient, and are giving him ample time to develop better contact skills. His 42 walks in 79 games this year are an indication that he's becoming more disciplined at the plate.
Chris Withrow—Pitcher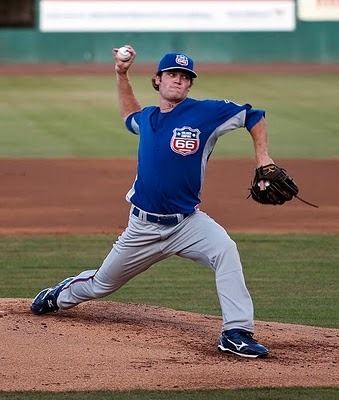 Chris Withrow was drafted out of high school by the Dodgers as the 20th overall selection in the 2007 MLB Amateur Draft.
Withrow, just 21 years of age, is also playing for the Chattanooga Lookouts, and is best known for his hard-throwing right arm and his ability to strikeout batters.
He is still a bit on the raw side, as he continues to develop an off-speed pitch, but his curveball is adequate, and his fastball has been clocked at 99 mph this season.
His mechanics are excellent, however he still has bouts of command issues which are typical for his age.
Look for Withrow to make his mark in the bigs in 2012 and beyond.
Kenley Jansen—Pitcher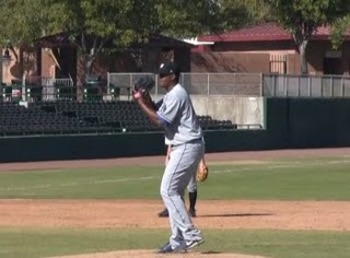 Kenley Jansen is probably the closest of all of the prospects mentioned here to appearing on the Dodgers' Major League squad.
Jansen, 22, wasn't drafted, however he was signed out of the Netherlands as a free agent in 2004.
He started out as a catcher, but after not being able to produce with the bat, and being recognized for his rifle of an arm, focus was shifted to developing him as a pitcher.
Jansen's fastball is explosive, has plenty of movement, and has been clocked at 98 mph already this season. His slider is average, and he doesn't really use a changeup, which isn't a necessity out of the pen.
In 2010 with the Chattanooga Lookouts, Jansen has appeared in 19 games, all in relief, and boasts a 1.88 ERA with a 4-0 record. In just 24 innings pitched, he has struck out 43 batters, which calculates to an astonishing 16.1 strikeout average per nine innings pitched.
With the status of the Dodger bullpen uncertain closing out July, look for Jansen to get a call up in the next several weeks.
Dee Gordon—Shortstop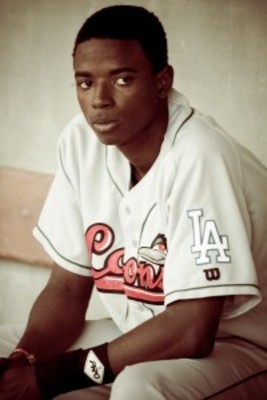 Devaris "Dee" Gordon, 22, has climbed the prospect ladder faster than any player in the Dodger organization in recent years.
Gordon, the son of former Major League pitcher Tom Gordon, was selected by the Dodgers in the fourth round of the 2008 MLB Amateur Draft.
He is known for his athleticism and speed, however his underdeveloped frame is often criticized by scouts around the League.
In 2009 while playing for Single-A Great Lakes, Gordon appeared in 131 games, registered a .301 batting average, scored 96 runs, and produced 17 doubles, 12 triples, and three home runs while stealing a staggering 73 bases.
After a rigorous offseason weight program, Gordon was promoted to Double-A Chattanooga in 2010, where his batting average has dropped slightly to .280, but he has still produced 54 runs, 11 doubles, six triples, two HRs, and 33 stolen bases in just 82 games.
Gordon is still described as "raw" by most Dodger scouts, and still needs a few years on the farm to develop his game, but based on his athletic ability alone, the Dodgers are willing to give him all the time he needs.
Aaron Miller—Pitcher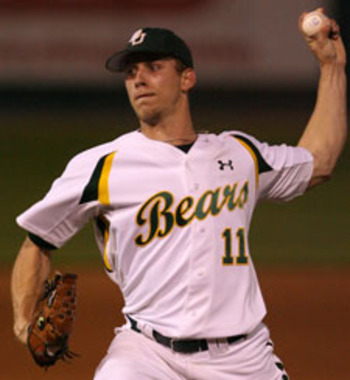 Aaron Miller, 22, was chosen by the Dodgers as the 36th overall selection in the 2009 MLB Amateur Draft out of Baylor University.
It's a little early to write the book on Miller, but in his first full year of minor league ball he has already impressed.
He's not overpowering in terms of velocity, but he consistently throws his fastball at around 92 mph nonetheless. His command is brilliant for a player of his age, and besides his fastball, he features a slider which has had success against both left-handed and right-handed hitters alike.
He was quickly promoted to Double-A ball already this year, where he registers a 2.40 ERA and a 9.7 SO/9 in three starts for Chattanooga.
His success for the remainder of this year will determine if he will make the leap into Triple-A ball headed into 2011.
Keep Reading

Los Angeles Dodgers: Like this team?