Get To Know Your Tight Ends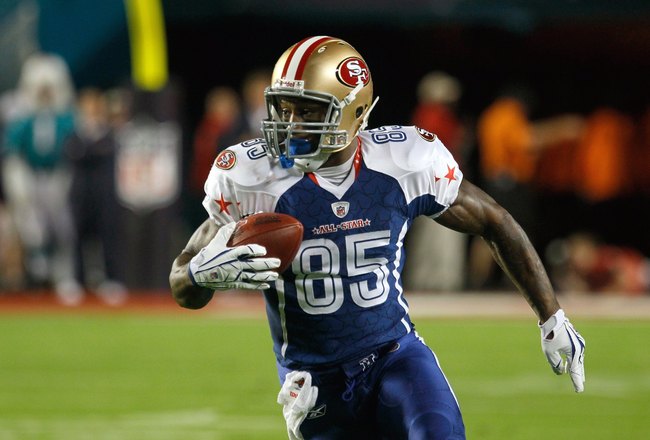 Scott Halleran/Getty Images
VIA: THECOVERTWO.COM
There are a lot of nice tight ends out there (like Jessica Alba's) but people don't seem to pay any attention to them.
Tight ends are like that neighbor you don't really want to talk to, but you feel like you should at least try. Don't be afraid of them, receiving tight ends are a growing trend in the NFL and the 2010 season has plenty of them.
This tight end had 100 receptions 1,106 yards and 10 touchdowns in 2009 which is just one catch, 463 yards less than Pro Bowl receiver Andre Johnson but also one touchdown more.
So why is one player (Johnson) being drafted, on average (based on fantasy football toolbox ADP), in the late first round and the other is being drafted in the third round? Because one is a glamorous wide receiver and the other is just a just tight end. The player I was talking about was Indianapolis Colts tight end Dallas Clark.
To be fair that was an anomaly season for a tight end. Clark has always been good but his previous highest total in receptions was 33 less than what he had in 2009. But Clark isn't the only tight end who had a stellar 2009 performance. There are many other tight ends who are getting drafted later just because they aren't labeled as a wide receiver.
My favorite tight end this year is San Francisco 49ers Vernon Davis. I drafted Davis as a steal last year in the 10th round and boy did he deliver. Davis finished the 2009 season with 78 receptions, 965 yards, and 13 touchdowns. Not only are those impressive numbers but his consistency of play throughout the entire year was phenomenal.
Davis finished the year scoring one touchdown in six out of the last seven games of the season. Not to mention he broke 60 yards in four of those games (twice going over 100). In most leagues that is 12 points which is a good day as any fantasy football owner knows.
Another tight end that has been great over the years is San Diego Chargers tight end Antonio Gates. Gates had one of his best seasons last year with 79 receptions for 1,157 yards and eight touchdowns.
I expect similar if not better statistics out of Gates in 2010 due in large part to the absence of Vincent Jackson and the progression of quarterback Philip Rivers. Rivers has established himself as one of the league's premier passers. He has thrown over 4,000 yards in consecutive seasons and limits his mistakes as he only threw six interceptions last year.
Now let's dig deep into the draft where it really counts. A player I am seeing that is being extremely undervalued is Philadelphia Eagles tight end Brent Celek. In 2009, Celek had 76 receptions for 971 yards and eight touchdowns. Now a lot of you are probably saying to yourself, yeah but Donovan McNabb is gone so he won't play as well. Wrong.
In 2009, Celek broke 100 yards only three times and two of those times came when Kevin Kolb was starting at quarterback. Also in PPR leagues he had eight receptions in both games that Kolb started. So I actually see this young tight end improving on his already great season from last year.
Time to dig even deeper into the draft with another tight end. If you play in a 12 man league this tight end is being drafted in the late seventh round which is a steal. If you're basing his performance from last year then this player is being drafted right about where he belongs but it's what his team acquired that makes this tight end so special.
Zach Miller of the Oakland Raiders now has Jason Campbell to throw him passes. Last year after Chris Cooley got injured in Washington, Campbell looked to Fred Davis for six touchdowns. Campbell loves throwing to the tight end and since Miller is a progressing tight end, this is a perfect match.
Since he's being drafted in the seventh I would try and snatch Miller up a round earlier. You don't want to miss out on him in 2010 when he is hauling in touchdowns.
Now it's time for the project tight ends. By project tight ends I mean that these players have incredible talent but it's too early to tell whether or not that will translate onto the field. These players either make you look like a genius on your way to the fantasy football playoffs or they make you cut them three weeks into the season.
First of these is a name you may or may not have heard of, Jared Cook. He was drafted by the Tennessee Titans in 2009 after amazing the scouts at the NFL combine. He ran a 4.50 40-yard dash time which is great for a tight end. He outperformed every tight end in the class in the vertical leap (41 inches), broad jump (10-foot-3), and also bench pressed 225 pounds 23 times.
Head coach Jeff Fisher said that he envisions Cook to have a "much bigger role in the offense this year." Cook only had nine receptions in 2009 so it's hard to tell how he'll do in 2010. I personally am thinking about taking a chance on him and taking him in the late rounds to have him just in case.
A true project is St. Louis Rams tight end Fendi Onobun. I would not draft him this year but I am going to be following how he does this year. Onobun is an interesting tight end in that he didn't really play college football. Onobun was a four-year basketball player at Arizona and now he's trying to follow in the footsteps of Antonio Gates and Tony Gonzalez.
Onobun ran an incredible 4.4 40-yard dash, oh and did I mention that he's 6′6 and 250 pounds? The Rams need a pass catching tight end but Onobun needs to prove that he can take an NFL hit and still catch the football.
This article is
What is the duplicate article?
Why is this article offensive?
Where is this article plagiarized from?
Why is this article poorly edited?