AFC East Training Camp Preview: The Top 10 Position Battles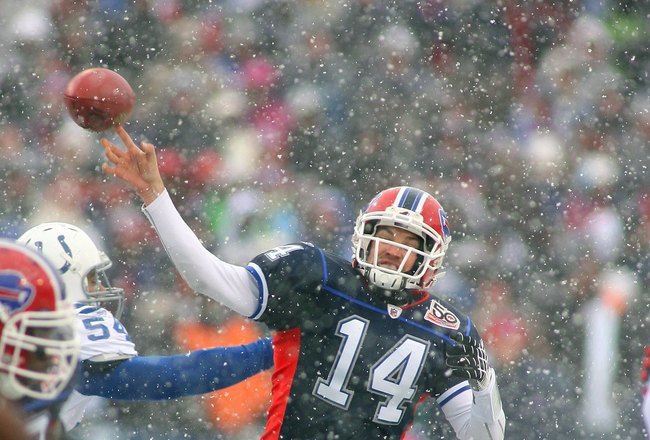 Well, we are a couple of weeks away from training camp, and the season will finally be upon us. Many fans are plotting out strategies for attending and getting news from training camps, so a look at the AFC East's top 10 position battles seemed like a good primer for fans.
These battles were rated according to the impact they will have on their respective teams. There might be a dogfight to see who a team's kicker or punter is going to be, but realistically it probably will have little impact on the team compared to a battle to be the team's starting quarterback.
Even though the AFC East is one of the strongest conferences in the NFL, it's interesting that there are so many positions are up for grabs with multiple contenders for those positions.
So here we go...
10. New York Jets Kicker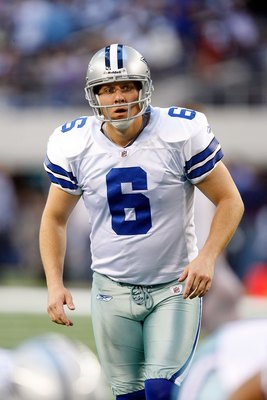 The New York Jets showed little interest in re-signing veteran Jay Feely, leaving a serious question mark at the position.
The favorite to claim the job is Nick Folk. Yes, the former Cowboy's kicker who was waived on December 21 of last year after only hitting 18 out of 28 field goals (64.3 percent). The unceremonious dumping of Folk came after two successful seasons with Dallas, including a Pro Bowl trip in 2007. In 2008, Folk made 20 of 22 field goals (90.9 percent)
His competition is former Fresno State kicker Clint Stitser. The former Bulldog hasn't played football in two years. Stitser made 71 percent of his field goals at Fresno State.
Based on pedigree, Folk would seem to be a lock for the job, but kicker is a position where coaches will go with who is hotter and more consistent. That could be Folk, Stitser, or someone who isn't on the roster yet.
9. New England Patriots starting tight end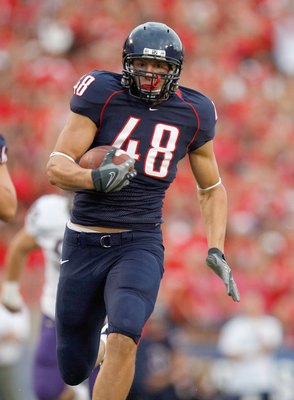 Surprisingly, the Patriots top-three tight ends weren't even on the roster last season and two are rookies.
Each player brings something decidedly different to the table.
Veteran Alge Crumpler started off in the NFL as a receiving threat. He averaged 16.1 yards per catch in 2004 with the Falcons. Then, as he moved on to the Tennessee Titans, he put on weight and re-invented himself as a formidable blocking specialist.
His listed weight is 262 pounds, but I'll say he is much closer to the 300-pound mark. He had just 27 catches last season for an 8.2 yard average.
Rob Gronkowski was drafted in the second round and is clearly seen as the future in New England. He can block and catch, but hasn't played football in over 18 months due to a back injury that required surgery. He entered the draft as a junior.
Fourth-round pick Aaron Hernandez was Tim Tebow's safety valve at Florida. At 6'1'', 250 pounds, he would seem to be more of an H-Back. But considering the Patriots' preference to air out the football, he deserves consideration as a starter.
Hernandez is not an in-line blocking option and probably would have to come out on obvious running downs, if there is such a thing for the Pats.
Expect Crumpler to start, but Gronkowski to see plenty of playing time, if healthy.
8. Buffalo Bills starting running back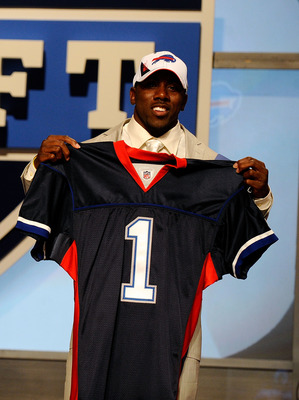 Fred Jackson would appear to be the clear-cut starter. After all, he is coming off a season where he rushed for 1,062 yards and added 371 more catching the ball. He is quick and has great vision.
But the Bills didn't spend the ninth overall pick in the 2010 NFL Draft on C.J. Spiller as a luxury, because Buffalo can't afford luxuries with several holes on the roster. Spiller has world-class sprinter's speed and has to touch the ball frequently for the Bills to be successful.
He may not get 20 carries, but he probably has to line up in the backfield for a good portion of the time to get at least 10-15 touches. Using him split wide might not be a bad idea either.
Then there is what to do with Marshawn Lynch. Despite having numerous brushes with the law, Lynch can still power through defenders. Last year was the first of his three years in the league that Lynch didn't run for over a thousand yards (just 450).
He doesn't have a ton of mileage on his tires, so you would think there would be a trade market, but the off the field problems have teams weary.
Regardless of how it shakes out, the Bills will have a nice situation at running back, which is why this position battle isn't higher on the list. Expect Jackson to be the starter, with Spiller seeing just as much time on the field and Lynch to be released or dealt for a low-round pick.
7. Miami Dolphin starting middle linebacker to pair with Dansby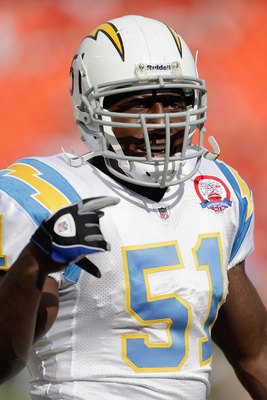 While big-money free agent signing Karlos Dansby will hold down the starting middle linebacker position, there is competition at the other spot.
Channing Crowder had his worst statistical season in 2009 with just 52 tackles. Considering he averaged over 90 tackles during his first four seasons in the league, that's a huge drop. He missed three games last season due to injury, and he is returning from a LisFranc foot injury.
Tim Dobbins was seen as nothing more than a throw-in when the Dolphins and Chargers exchanged first-round draft choices in this year's draft. The Chargers moved up 17 spots, the Dolphins got an early second-round pick, a sixth-round pick, and the teams switched spots in the fourth round.
Upon further reflection, Dobbins was a more important component to the deal than anyone outside the organizations realized.
The fifth-year player racked-up 55 stops in reserve action for San Diego in 2009, but has long been coveted by Miami. He played in a 3-4 defense with the Chargers and can be solid, if not special.
Look for the players to split time with no definitive, consistent starter, unless Crowder is unable to go due to injury.
6. New England Patriots Offensive Tackle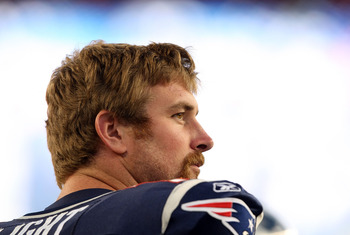 Three candidates for two positions, Matt Light, Nick Kaczur, and Sebastian Vollmer, are all worthy starters at offensive tackle for the Patriots, but there are advantages and disadvantages with each.
Matt Light is a two-time Pro Bowler, but he is 32 years old and might be starting to fade, especially against athletic pass rushers. He is limited to playing the left side.
As a rookie, who played both left and right tackle in spots, Vollmer looked like a potential star. He's a strong run blocker and has showed that he can set the edge against speed rushers. Still, he is only a second-year player that has yet to show how he will hold up as a starter over a whole season.
Nick Kaczur signed a four-year, $16 million contract extension last August. He is solid, but not spectacular in any one area.
There are only two tackle spots and the Patriots are set at guard. If injury doesn't sort the situation out, New England could try to move Light to another team.
5. Miami Dolphins starting receiver opposite Brandon Marshall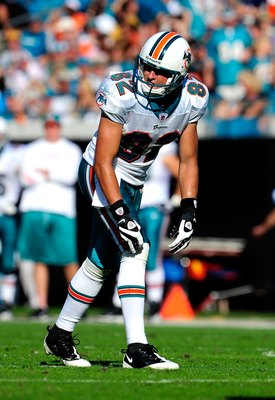 While the acquisition of Brandon Marshall and his 100-catch-per-season pedigree is a big boost to the Miami Dolphins, It does create a logjam at the other wideout spot.
Last season, Davone Bess hauled in 76 passes from the slot position and 54 receptions in 2008. But Bess is a generously listed 5'10'', 190-pounder who probably fits best as a slot receiver, not out wide as a true No. 2 receiver.
Despite, suffering an ACL tear in the 2008 season and going through a lengthy recovery, Greg Camarillo has also managed to catch 50 or more passes in the last two seasons.
It's said that a player only fully recovers in his second season back from ACL surgery. If that's true Camarillo might be the guy. However, speed and separation aren't Camarillo's game; he's similar to Bess. Hands and smarts are what drives these two, and the Dolphins could use more of a deep threat as their No. 2 receiver.
Former Ohio State Buckeye Brian Hartline would appear to be the guy. As a rookie in 2009, Hartline caught 31 balls but averaged 16.3 yards per catch which is over five yards better than Camarillio (11 ypc) and six more than Bess' average (10 ypc).
Hartline isn't a sprinter, but he does appear to have some burst to his game.
4. Jets cornerback opposite Darrelle Revis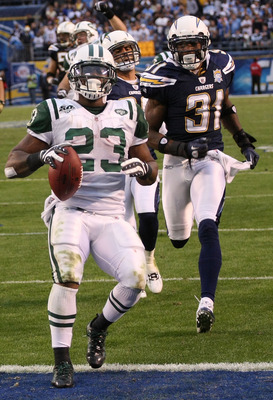 With Darrelle Revis on one side, the New York Jets aren't losing sleep over who will man the other cornerback position, but this player will see the bulk of an opponent's passes thrown his way.
A trade that brought former San Diego Charger Antonio Cromartie for a 2011 third-round pick (that could be upgraded to second-rounder based on Cromartie's performance) was thought to solidify the position.
However, the Jets then selected Kyle Wilson from Boise State in the first round of this year's NFL Draft.
Cromartie has a history of on and off the field baggage ever since he burst on the scene in 2007 (his second year) with 10 interceptions while just starting eight games for the Lightning Bolts.
The problem is that he has just five interceptions since and was picked on by opposing teams for much of last season.
Wilson had 11 interceptions in college and is an underrated player with quick feet and hips who looks like a natural for the position.
With Wilson's ability to return punts, they might not want to overwork him right away, and make him the nickel cornerback.
But, here is one guess: He takes Cromartie's job half way through the season.
3.Miami Dolphins starting free safety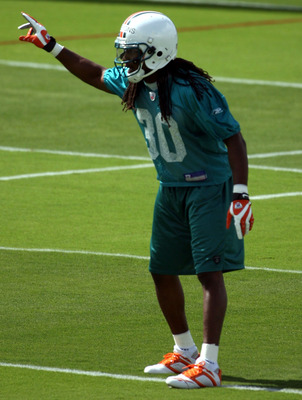 The Miami Dolphins, who were 24th in the NFL against the pass (234.6 yards allowed per game) last year, start two second-year corners and may have trouble rushing the passer this season.
Think the free safety position is important for them?
There are two realistic options to fill the hole created by Gibril Wilson's departure in the offseason. Actually, Gibril Wilson's arrival in 2009 created the hole, since he was absolutely awful as a centerfielder for the team, hence his release after just one campaign.
Second-year player Chris Clemons only garnered 13 tackles last season, but his freakish straight-line speed has him as the favorite to start. Whether his play recognition and leadership qualities are suitable remains to be seen.
Tyrone Culver is a dependable backup and sure tackler, but during mini-camps he seemed to be a more likely candidate to be a reserve somewhere in the secondary.
A long-shot is rookie Rashad Jones. The Georgia product doesn't seem to be a logical fit because he is often caught out of position, even though he carries a reputation as a hard-hitter.
Figure on Clemons as the starter with a short leash if he gives up too many big plays early in the season.
2. New England Patriots Outside Linebacker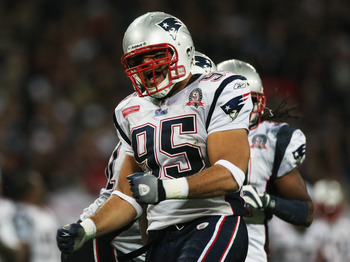 Tully Banta-Cain was re-signed and had a career-high 10 sacks last year. However, he is not the feared pass rusher the Patriots would like to have. He also tends to wear down the more action he gets.
The big problem is that the Patriots truly have no one else to back up Banta-Cain or play on the other side.
Derrick Burgess had five sacks last season and is clearly not the player he was with Oakland in 2005-2007. He was re-signed to a one-year deal and might not make it out of training camp.
Second-round pick Jermaine Cunningham from Florida will get every chance to make a difference, but he is a college defensive end trying to make the conversion to outside linebacker. This move usually takes time.
Cunningham is also not a sack machine. He totaled 19.5 of them during his career at Florida and they were virtually evenly distributed through his sophomore to senior campaigns.
Pierre Woods is unlikely to be an effective starter with 18 of his 36 tackles last season coming on special teams.
Rob Ninkovich is a career journeyman and Shawn Crable hasn't played a snap in two seasons.
The Patriots cut Adalius Thomas, but I wouldn't be surprised if they added a veteran to compete with this non-imposing group. Who starts opposite of Banta-Cain is impossible to predict at this time.
1. Buffalo Bills Starting Quarterback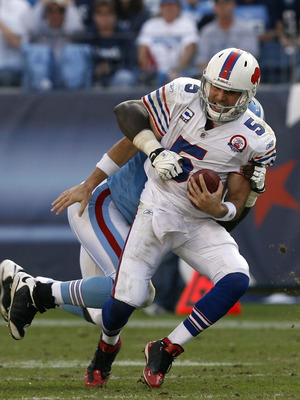 New head coach Chan Gailey didn't come in with a lot of fanfare, and for an offensive mind, he certainly has his work cut out for him at the most important position, quarterback.
The incumbent favorite to be Buffalo's signal-caller is Harvard man Ryan Fitzpatrick. Last season, Fitzpatrick was inconsistent at best, but does have somewhat of a live arm and can make some plays with his legs and moxie. He still threw just nine touchdown passes in eight starts while tossing 10 interceptions.
Trent Edwards is very close to being branded with the "total bust" label. He's a better pure passer than Fitzpatrick, but seems to be hesitant, after a concussion suffered in game six last year, to throw anything more than check down routes.
He's only 26 and has flashed ability in the past, but a quarterback who loses confidence in his ability to throw deep is not a good sign for future success, to say the least.
The wild card in this equation is Green Bay Packers castoff Brian Brohm. It's hard to believe that Brohm came in the same quarterback draft that produced Matt Ryan, Joe Flacco, and Chad Henne, but his one game starting in Week 16 (17-for-29 for 146 yards and two interceptions) last season probably wasn't the best indicator of his ability.
Expect Gailey to give Edwards a chance to start to open the season. However, given the condition of the Bills' offensive line, it's a good bet that all three quarterbacks will start at some point and that they will all be running for their lives.
Keep Reading

Miami Dolphins: Like this team?