Yes We McCann: Braves Catcher Brian McCann Helps Break AL Streak With a 3-1 Win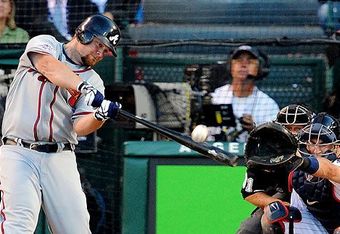 Even on a day that brought great sadness to baseball and the entire sports world, New York Yankees great, "The Boss," George M Steinbrenner III passed away, there was still a game to be played. That was the 81st All-Star game between the American League and the National League.
"It's a difficult time, on a great day for baseball, the All-Star game, something everyone looks to," Yankees and AL manager Joe Girardi said. "A great man in baseball passed. He's meant so much to not only this organization, but to the game of baseball, and to all of us personally."
For the past 13 seasons the American League All-Stars have dominated the National League. Would this year be different?
The game was moving along quickly thanks to young starters David Price and Ubaldo Jiminez, each starting off the game with two smooth innings. It didn't hurt that they received help from the tricky shadows. The sun at Angel Stadium was scattered all over the field that created a twilight first pitch, which gave the hitters more of a problem seeing the ball out of the hand of the pitchers.
It wasn't until the bottom of the fifth that Robison Cano hit a sac fly to knock in Evan Longoria to break a 0-0 tie, giving the AL the 1-0 lead.
As the AL pitching continued to dominate, it looked like they were headed to their eighth consecutive win over the NL and extending their unbeaten streak to 14 games against their counterpart.
Heading into the top of the seventh the American League held a 1-0 lead. Phil Hughes, who has had a Cy Young caliber season was sent to the mound. Joey Votto came into the game to pinch hit for Ryan Howard. He wasted no time in grounding out to Ian Kinsler. Next up was Scott Rolen who singled straight up the middle to center. Matt Holliday then followed with a single to center as well, sending Rolen to third. With one out and runners at the corners, Joe Girardi decided to bring in lefty Matt Thornton. He would first face Chris Young, as it only took him three pitches to send him back to the dugout on a foul out to first.
Marlon Byrd who has had an outstanding season for the Chicago Cubs thus far, came up with runners still on the corners and 2 outs. He battled Thornton to a full count, which eventually led to a walk that would load the bases and bring Brian McCann up to the plate. First pitch was a fast ball that McCann just missed fouling it back. The next pitch was another fast ball that McCann didn't miss this time, driving it down the right field line, knocking all three runs with a stand up double.
Again, the AL was in their usual position, being down in yet another all-star game. This time though, they were facing a much better pitching staff and only had three more innings to go. Would the rally monkey boost their chances to come from behind and win this one?
With the score 3-1 in favor of the NL they sent Cardinals ace Adam Wainwright to the hill. Nick Swisher was first up and dealt with easily. Then John Buck hit a ball to left field that should have been caught but was bobbled and dropped by teammate Matt Holliday. With Buck on second and Kinsler at the plate Wainwright walked him putting two men on with only one out. Next up was Vernon Wells, who reached on a fielder's choice to shortstop advancing Buck to third. With home field advantage in his favor, Torii Hunter wasn't able to give the crowd something to cheer about, as he struck out to end the seventh inning.
Finally, here we were in the bottom of the ninth and it was the last chance for the AL to put together another late comeback. The drama began for the NL as David Ortiz led of with a single to right. Teammate Adrian Beltre came up and only saw three pitches from closer Jonathan Broxton, who struck him out on a high and tight fastball that hit 97 mph. With one out, Buck came up yet again with a chance to tie the game. Instead he hit a blooper to right field that just fell in at the feet of Marlon Bryd. Ortiz had to hold up as it looked like Bryd was going to make the catch but was unable to get there, however, he was still able to make a great play, throwing slow running Ortiz out at second. The AL had one last chance when Kinsler came to the plate. One pitch, one swing, and the final out caught by center fielder Chris Young.
"It felt awesome for us to get the win and break the streak," Broxton said.
It was finally over, the NL was able to break the streak and beat the AL, thanks to McCann and stellar pitching.
This article is
What is the duplicate article?
Why is this article offensive?
Where is this article plagiarized from?
Why is this article poorly edited?