LeBron James Joins Miami Heat: The Top 10 Trios in NBA History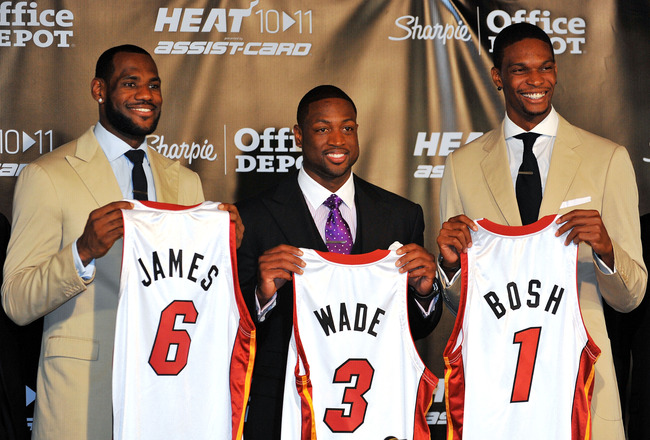 During their pep rally/coming out party, Dwyane Wade stated that the Miami Heat's new power trio of Wade, LeBron James, and Chris Bosh—to whom I have decided to refer collectively as "DeBrosh"—forms arguably the greatest trio in the history of the NBA.
Is this possibly true?
Well, it very well may be, and some day should be, but it is way too soon to place these guys on the list of the Top 10 Trios in NBA History.
Honorable Mention: Garnett-Allen-Pierce (2007-present)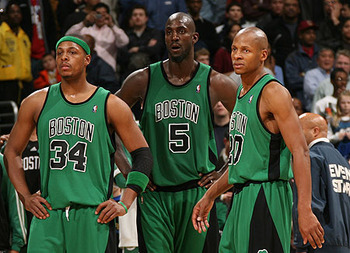 This will be a Top 10 list, but if it were a Top 11, these guys would be on it.
In three years together, they've gone to two NBA Finals and won a championship.
They miss the list because none of them are in their prime, and so much that they have accomplished together—particularly this season—has depended in very large part upon Rajon Rondo.
Nevertheless, this is a Hall of Fame trio, and one which we will remember for years.
And, if not for this group of guys, LeBron and the Cavaliers might actually have a championship by now.
No. 10 Jerry West, Wilt Chamberlain, Gail Goodrich (1970-1973)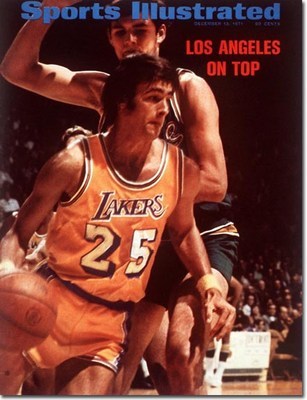 Jerry West, Wilt Chamberlain, and Gail Goodrich will be the first hurdle in DeBrosh's quest to be the greatest trio of all time.
West and Chamberlain are two of the top ten players of all time, and Goodrich was an outstanding Hall of Fame guard.
After a decade of Celtic dominance, this Laker trio teamed up to go to three NBA Finals in four years, winning it all in 1972, the same year they set the NBA record with a 33 game winning streak.
No. 9 Kareem, Oscar Robertson, Bob Dandridge (1970-1974)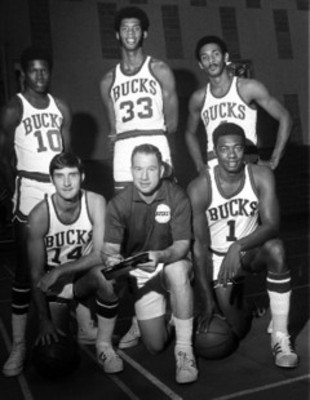 DeBrosh will soon learn that Greatness is measured in Championships. No matter how many points, rebounds, assists, and playoff appearances DeBrosh accumulates, they won't even be up for consideration for greatest trio of all-time until they register at least one championship.
Even then, they will only have pulled even with Kareem, Bob Dandridge, and The Big O.
While Oscar was not in his prime by the time he teamed up with Kareem, it is still difficult to see how LeBron holds a candle to Kareem in his prime and how D-Wade can compete with the Big O.
No. 8 Tim Duncan, Manu Ginobili, Tony Parker (2003-present)
Three non-consecutive championships in eight years together.
Ginobili and Parker are not all time great players, and yet, because of the way we judge NBA players, DeBrosh will not be able to be considered the greatest trio of all time until they match these guys.
No. 7 Shaquille O'Neal, Kobe Bryant, and Whomever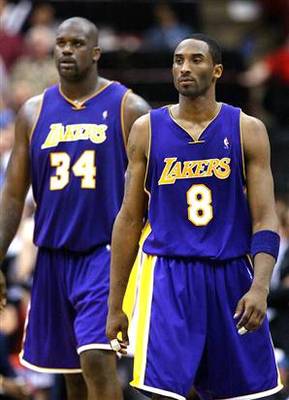 Remember in White Men Can't Jump when Wesley Snipes is so on fire that he guarantees that he'll win, and even invites his opponent to pick his teammate?
That's Shaq and Kobe. Give 'em Derek Fisher, Robert Horry, Rick Fox, Glen Rice, Ron Harper, or Brian Shaw. Doesn't matter.
These guys would eviscerate DeBrosh.
No. 6 Michael Jordan, Scottie Pippen, Dennis Rodman (1995-1998)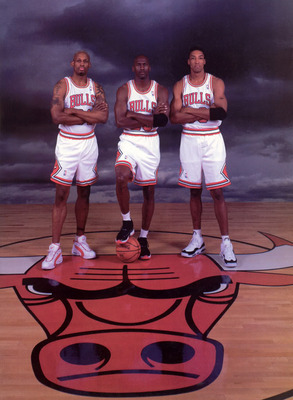 Michael Jordan was the greatest player of all time, and when teamed with Scottie Pippen, he led the Bulls to three championships from 1991 to 1993.
But when they added Dennis Rodman to the mix, the Chicago Bulls became one of the most lethal teams of all time. In their first season together, the Bulls posted the greatest winning record of all time, going 72-10.
In three years together, they won three championships and went a combined 203-43.
One can only wonder what they could have accomplished had they gotten together in their primes. In their first season together, they were all 30 or older.
No. 5 Michael Jordan, Scottie Pippen, Horace Grant (1988-1994)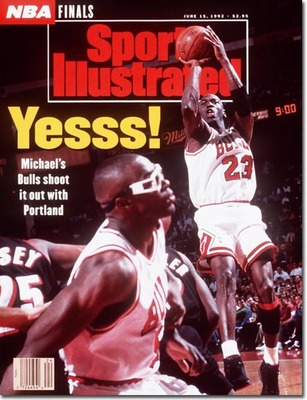 The Jordan-Pippen-Rodman trio may have been more dominant in the three years they were together, but it was with Horace Grant that Jordan and Pippen waged the trench warfare with the Celtics and the Pistons to finally get to the top of the Eastern Conference.
The Jordan-Pippen-Grant Bulls went to the playoffs nine times in nine years, making it to the Eastern Conference Finals five times and the NBA Finals three times, where they won three championships.
No. 4 Bill Russell, John Havlicek, Sam Jones (1962-1969)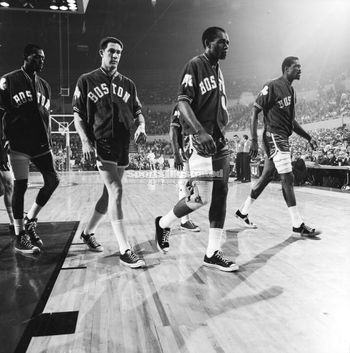 Bill Russell's trio from the second half of his career. With John Havlicek and Sam Jones, Russell and the Celtics won seven straight championships, and are all in the Hall of Fame.
No. 3 Magic Johnson, Kareem Abdul-Jabbar, James Worthy (1982-1989)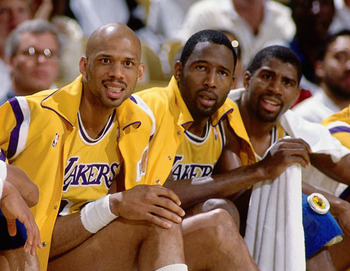 Kareem Abdul-Jabbar was one of the greatest centers of all time. Magic Johnson was the greatest point guard of all time. James Worthy was a Hall of Fame forward.
Together, they went to six NBA Finals and won three championships.
No. 2 Larry Bird, Robert Parish, Kevin McHale (1980-1992)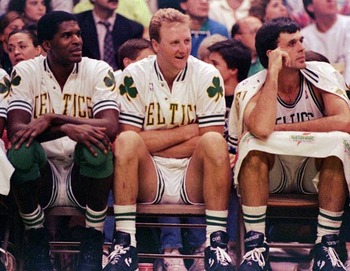 The greatest front court of all time featured three Hall of Famers who would kill you if they had to to win.
Dirty players when necessary, lights-out shooters when necessary, and workman-like assassins when necessary.
Larry Bird, Robert Parish, and Kevin McHale made it to five NBA Finals and won three championships.
No. 1 Bill Russell, Bob Cousy, Tommy Heinsohn (1956-1963)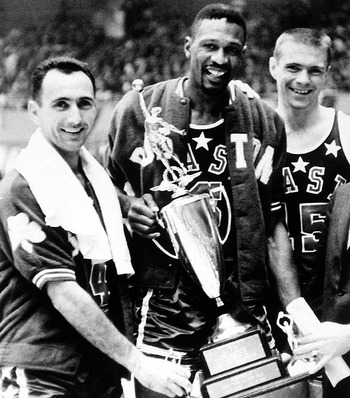 One forward, one guard, one center, three Hall of Famers.
Cousy was the point guard of his era, leading the league in assists every season for nine years.
Bill Russell was one of two centers that changed the game of basketball forever, and arguably one of the two or three greatest players of all time.
Tommy Heinsohn merely averaged 20 and 10 during his prime.
This is the standard. In order to be considered the greatest trio of all time, DeBrosh is going to have to get past these guys.
See you in a decade.
Keep Reading

Miami Heat: Like this team?