The Top 3 Most Unfavorable Moments in Jose Mourinho's Career
Although Jose Mourinho is Undoubtedly one of the best coaches today, he has been plagued by some disconcerting situations in his career and also made some comments the did more harm than good. Some of them were only mistakes while the rest were mere indications of who he is. These are the top three of many other sags in the Special One's career.
Begin Slideshow

»
Jose Mourinho was shockingly let go by Roman Abramovich in the 2007 after a poor performance in the Champions League and some friction between him and the management. He already had two English Premier League titles(to name a few) to his belt but it wasn't enough for the Blues' hierarchy. The media never confirmed if he quit or if he was sacked but it was certainly a major blow to the self-proclaimed special one.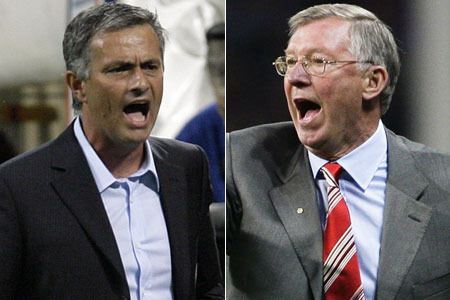 Following Chelsea's Carling cup semi-final in January 2005, the former Blues boss accused the Red Devile of simulation when he said the game was,' whistle and whistle, fault and fault, cheat and cheat'. He even went ahead to claim the United manager, Sir Alex Ferguson, had tried to influence match refree Neale Barry during half-time.
Jose Mourinho was later fined 5000 pounds but as if it wasn't enough, the worst was yet to come.
This incident left the biggest stain in Jose Mourinho's career. During the 2004/2005 season UEFA Champions league season, Chelsea met Barca in the knock-out stages where they lost the first leg 2-1 but made it through with a 4-2 victory in the second leg. The highlights of that fixture were the comments the special one made about the referee who officiated the first leg, Anders Frisk. He falsely accused the referee of inviting the Barca manager, Frank Rijkaard, into his room at half-time, an act that is against UEFA regulations. He stated that it was the reason for the sending off of Didier Drogba in the second half of the match.
UEFA charged Chelsea with inappropriate conduct following the game and a touchline ban to Mourinho in both legs of their quarter-final against Bayern Munich but it was not enough to keep Anders Frisk form resigning prematurely. The experienced referee received a lot of criticism and even death threats from Chelsea fans and, therefore, had to resign for his own safety.
Subsequent investigations revealed that Rijkaard said hello to the refree in the tunnel and then attempted to converse about the match on the way to the officials' room but Frisk was quoted as saying,' This is not the place or the moment to talk about the match', and left Rijkaard outside the room. It was a little too late, though, because Anders Frisk was already gone.