World Cup 2014: 16 Teams To Watch in Brazil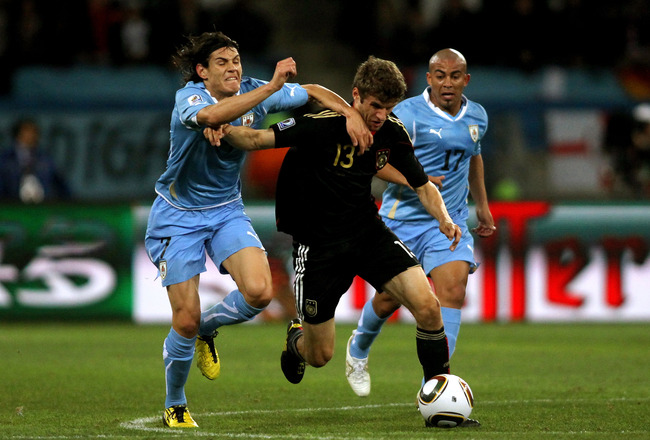 The dominant theme of the 2006 World Cup was experience, as the teams with the two oldest rosters in the tournament—France and Italy—met in the final.
But 2010 was all about youth as Germany and Ghana both featured stars of recent underage World Cups, while the tournament's winners Spain had one of the youngest rosters in the competition.
We look ahead to the next World Cup in Brazil to see which teams will be supplementing their rosters with youth and who is likely to shine in 2014.
No. 16: North Korea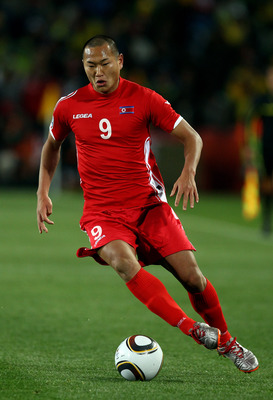 North Korea had the second youngest roster in South Africa and if the team can build on the experience of the 2010 World Cup then it should be capable of qualifying for 2014.
A kinder draw for the group stage might even give them hope of wiping out the memories of that 7-0 thrashing by Portugal.
True, the 33-year-old marauding left-back Ji Yun-Nam, who scored that famous goal against Brazil, is likely to be retired, as is the impressive midfielder Mun In-Guk.
But star striker Jong Tae-se will have just turned 30 and perhaps hitting the peak of his powers.
The People's Rooney might have one more chance to try and outscore his Western counterpart at a World Cup.
No. 15: Nigeria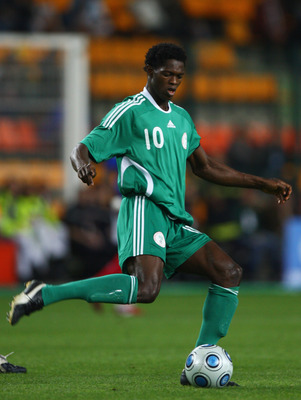 After Nigeria's return from another disappointing World Cup campaign, the country's president Goodluck Jonathan announced that he was banning his side from competing in international soccer for two years in a bid to improve the team.
Assuming this overreaction is quietly overturned and the Nigerian FA take it as a prompt to get serious about its national team, then there is plenty of reason for optimism.
Nigeria did not perform that badly in South Africa and only the stupid red card for Sani Kaita cost the Super Eagles a win against Greece in a game that it had been leading comfortably.

Nigeria's roster features a number of good young players, such as Dele Adeleye and Lukman Haruna, who can form the backbone of the 2014 team.
Striker Obafemi Martins is still only 25, while injured Chelsea midfielder Jon Obi Mikel will be 27 by the time the Brazil World Cup rolls around.
All these players need is a little help from the country's FA, which might entail not installing a highly paid European coach at the last minute.
Lars Lagerbeck's appointment came after the demotion of Shaibu Amodu, whose third place finish at the 2010 African Cup of Nations was oddly deemed a failure.
No. 14. Switzerland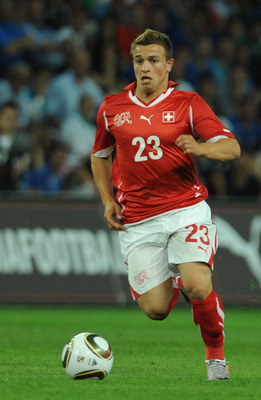 The world may groan at the thought of another World Cup featuring Switzerland's dull, defensive soccer.
But if the Swiss can ever manage to throw off its defensive shackles, it might just find an exciting team waiting to run free.
In 2010 a number of the team's best players such as Tranquillo Barnetta, Valon Behrami and Gelson Fernandes will be reaching the peak of their careers, while midfield inspiration Gokhan Inler will be 30 and likely to be the team captain.
Switzerland won the 2009 Under-17 World Cup and if players from that team, such as striker Nassim Ben Khalifa, can start to break through to the national team, it could add a youthful vigor to the usual Swiss solidity.
Another exciting youngster, 19-year-old Basel winger Xherdan Shaqiri made a substitute appearance against Honduras and is definitely one for the future.
No. 13: Costa Rica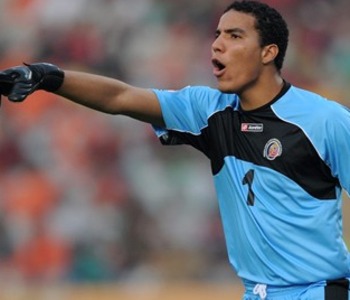 A young Costa Rica came close to qualifying for the 2010 World Cup, losing a playoff to eventual fourth-place finishers Uruguay.
A decent team should continue to develop and Costa Rica will also be able to look at the players who reached the semifinal of the 2009 Under-20 World Cup.
This includes Esteban Alvarado, who was named best goalkeeper of the tournament and who has recently transferred to AZ Alkmaar of Holland.
Costa Rica will be a good bet to qualify for the 2014 World Cup from the CONCACAF region and the team may hope to repeat in Brazil the exploits of the 1990 team that reached the second round in Italy.
No. 12: Cameroon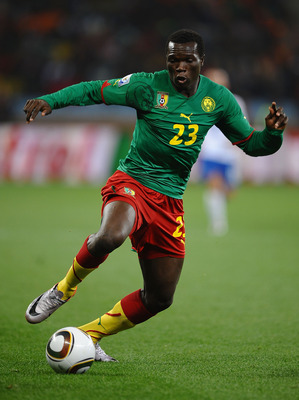 After the disappointment of being one of the first teams to be eliminated from the 2010 World Cup, Cameroon will look to regroup ahead of 2014.
The Indomitable Lions should be able to do so from a solid base, as players like Alex Song, Sebastien Bassong and Stephane Mbia will all be reaching their peak.
Captain and star striker Samuel Eto'o will be 33 in 2014 and so may not necessarily be done with the national team.
However, 18-year-old striker Vincent Aboubakar, who featured as a substitute on two occasions in South Africa, is a promising young prospect that has recently signed for French club Valenciennes.
No. 11: Hungary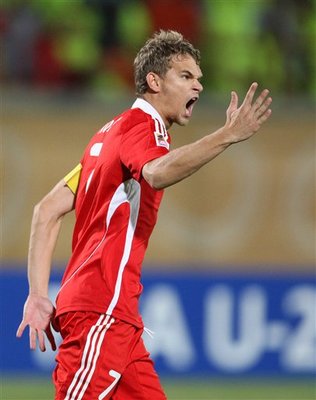 Hungary's national team is finally showing signs of a revival after over 20 years in the wilderness.
A decent fourth place in a tough World Cup qualifying group saw it finish just three points behind Portugal, while its youth side's third place finish at the 2009 Under-20 World Cup points to a bright future.
That team's star was undoubtedly 21-year-old midfielder Vladimir Koman, who scored five times to help Hungary collect the bronze medal.
Koman is on the books of Italian club Sampdoria, but spent most of last season on loan at Bari, where he became the first Hungarian player to score in Serie A in 15 years.
Promising young strike pair András Simon and Krisztián Németh are both at Liverpool and the latter has already made his debut for the national team.
No. 10: Slovakia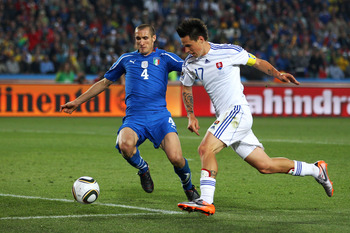 After qualifying for the knockout stage of the 2010 World Cup by eliminating Italy in a thrilling 3-2 win, the future looks bright for Slovakian soccer.
Some of the Slovakia's star performers such as Marek Hamsek and Vladimir Weiss will be in their mid-20s by the time the World Cup heads to Brazil.
If Chelsea's 20-year-old winger Miroslav Stoch continues the progress he made whilst on loan at Dutch title winners Twente, he could be a future star of the game.
Defenders like Liverpool's Martin Skrtel and Wolfsburg's Peter Pekarík will be reaching their peak in 2014, while even four-goal hero Robert Vittek may feel he can add to his World Cup tally as a 32-year-old in Brazil.
No. 9: Bosnia and Herzegovina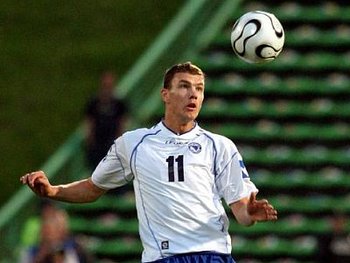 Bosnia and Herzegovina was widely regarded as playing some of the most attractive soccer during the European qualifying campaign for the 2010 World Cup.
The Balkan side finished second in its group behind Spain and only dropped points against the world champions and Turkey.
The Bosnia and Herzegovina World Cup dream ended after a playoff defeat to Portugal, though the team did hit the woodwork three times in a 1-0 first leg defeat.
By the time 2014 rolls around, its exciting attacking players, like Edin Dzeko, will be reaching their peak and if the aging defense can maintain its condition, then Bosnia and Herzegovina could reach its first ever World Cup finals.
No. 8: Chile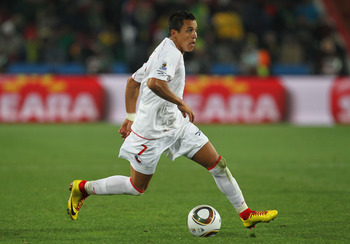 The neutral's favorite from the 2010 World Cup should be even better placed to thrill the world in 2014.
Chile's South African stars such as Alexis Sanchez, Matias Fernández, Mauricio Isla, Gary Medal and Arturo Vidal are all under 25 and so should be hitting their peak with the World Cup comes to South America.
Maturity might even see these players develop the capacity to add the finishing touch to all their exciting build-up play.
No. 7: South Korea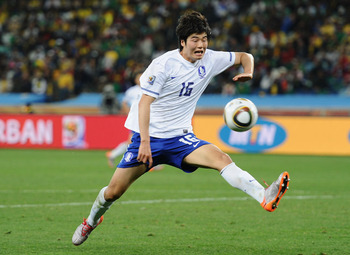 Having gone beyond the group stage at a World Cup for the first time on foreign soil, perennial qualifiers South Korea will look forward to 2014 with confidence.
While many of its stars, such as captain Park Ji-Sung will be the wrong side of 30, the displays of 20-year-old Celtic midfielder Ki Sung-Yeung and 22-year-old Lee Chung-Yong is evidence that the team has a succession plan already in place.
The brilliant Monaco striker Park Chu-Young will be hitting his prime in 2014, but most exciting of all is one of the stars of the South Korea side that reached the quarterfinals of the 2009 Under-20 World Cup.
19-year-old striker Suk Hyun-Jun made his first-team debut for Ajax in 2010.
Apparently he got his break at the club having traveled to Holland and turned up at Ajax's training ground.
After begging the coaching staff to let him join the session, he impressed and was given a trail with the Ajax youth team.
In January 2010 he signed a one year contract and made his first-team debut a month later.
If that's the kind of determination he shows on the soccer pitch, then South Korea may have one of the star players in Brazil.
No. 6: Argentina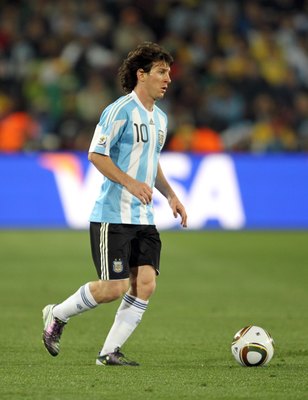 It is a pretty frightening prospect to note that by the time the World Cup arrives in neighboring Brazil, none of Argentina's thrilling young attacking players such as Leo Messi, Gonzalo Higuain, Sergio Aguero, and Angelo Di Maria will be older than 26.
But, as in the case of 2010, Argentina's problems lie elsewhere.
Its current defense is likely to be over the hill by 2014, which given the capitulation against Germany might not be a bad thing.
The problem is who will replace them and coach Diego Maradona's scatter-gun approach to international call-ups over the past two years has seen no pattern emerge as to who will be manning the Argentine defense in four years time.
Unusually Argentina's underage sides have been quiet of late and beyond Guillermo Burdisso—brother of Nicolás who looked so ill at ease against Germany—and Liverpool's Emiliano Insua it is difficult to know what the future holds.
No. 5: Uruguay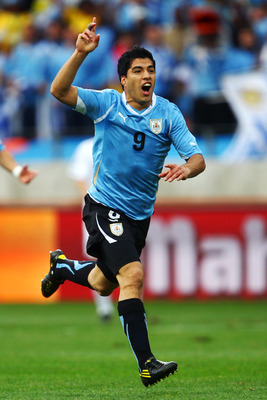 Those who feel that Uruguay's fourth place finish in South Africa will be the peak of the current side's achievements will point to the fact that this World Cup is likely to be the end of the line for 31-year-old Golden Ball winner Diego Forlán.
The same is true for midfield enforcer Diego Perez and even captain Diego Lugano will be 33 by the time the World Cup reaches Brazil in 2014.
However, youth also played its part in Uruguay's 2010 success and the dashing Luis Suarez and Edinson Cavani will both be 27 and reaching their peak in four years time.
Cavani's club Palermo signed 18-year-old Uruguayan striker Abel Hernandez at the start of 2010 and the striker has already scored six goals in 14 appearances for the Serie A side, including goals against both Milan clubs.
Uruguay's defense also looks in good hands as Jorge Fucile, Martin Caceres and Diego Godin will all be in their prime in 2014.
And though promising young 19-year-old defender Sebastian Coates did not make the cut for South Africa, he is likely to develop into the Lugano's replacement at center-back.
No. 4: Spain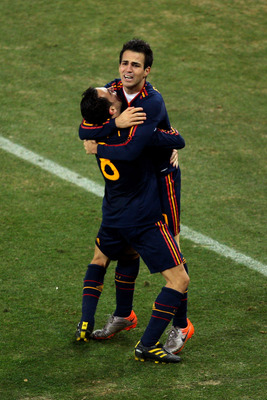 The Spain team that should reach Brazil to defend its world title in 2014, is likely to be much changed from the familiar starting lineup of 2010.
Stars like Xavi Hernandez, Carles Puyol, David Villa, and Xavi Alonso may all have given way to the next generation of stars hoping to continue the national team's new-found success.
Happily for Spanish fans that new crop is already part of the Spanish setup and would probably have walked into most other teams in South Africa.
Arsenal's Cesc Fabregas will finally get his opportunity to become Spain's midfielder supremo, while 21-year-old Javi Martinez is another contender for the midfield slot.
While Spain are hardly short of replacements for Villa, 20-year-old Mallorca striker Emilio Nsue has been a regular scorer at underage level, while 21-year-old midfielder Aarón hit four goals as Spain reached the knockout stages of the 2009 Under-20 World Cup.
Basically, don't count on Spain relinquishing its title of world champions any time soon.
No. 3: Ghana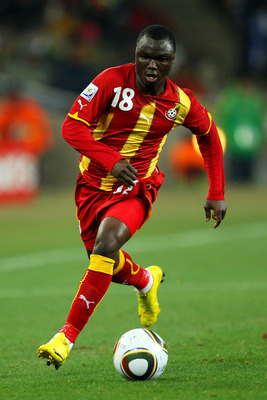 The average age of the Ghana squad that came so close to becoming the first African side to reach the World Cup semifinals was just 24.
So if Ghana's young stars can maintain their meteoric progress and the services of understated Serbian coach Milovan Rajevac, the Black Stars might be real contenders in 2014.
The talents of players Kwadwo Asamoah, Kevin Prince-Boateng, Dede Ayew and Isaac Vorsah should be reaching maturity in Brazil.
Dominic Adiyiah—whose header was saved by Luis Suarez—was one of the stars of Ghana's 2009 Under-20 World Cup winning team and should develop into a much-needed strike partner for Asamoah Gyan, who will be 29 in 2014.
Most of Ghana's older hands were in defense, but with the 18-year-old Jonathan Mensah having picked up some invaluable World Cup experience in South Africa, the Black Stars solidity should continue for another four years.
No. 2: Germany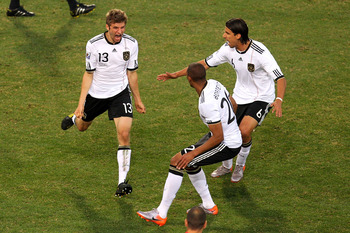 If you thought this 2010 Germany team was good, wait until it matures in 2014.
Germany's third place finishers in South Africa, featured a number of players from the team that won the 2009 Under-21 World Cup, including Mesut Ozil, Sami Khedira and Jerome Boateng.
Let's not forget the World Cup's Golden Boot winner and Young Player of the Tournament, Thomas Muller and the exciting 20-year-old Toni Kroos, of whom we saw only brief glimpses.
Germany's youth development has been breeding success for the past decade so even the current team's established stars like Bastian Schweinsteiger and Lucas Podolski will be only in their late 20s when the World cup reaches Brazil.
Goalscorer supreme and World Cup legend Miroslav Klose is unlikely to add to his tally of 14 given that he will be 36 in 2014, but Germany has a promising young striker waiting in the wings: Bayer Leverkusen's Richard Sukuta-Pasu.
No. 1: Brazil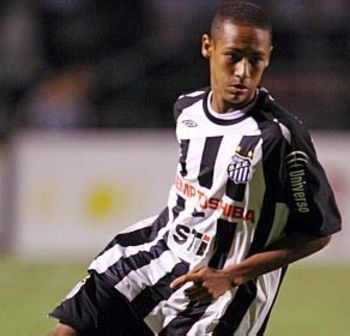 If Brazil expects to win the World Cup every time, then a World Cup on home soil become a must-not-lose.
Whoever succeeds Dunga as national team coach will be under immense pressure to bring Brazil its sixth world title so the new coach will have to shake up the current aging squad.
This won't be as difficult as it may sound, given that Brazil has loads of promising young stars ready to wear the famous gold shirt.
Many Brazilians were disappointed that the 18-year-old Santos striker Neymar was not included in Dunga's 2010 roster after the striker hit 14 goals in his debut season.
Expect him and his teammate, 20-year-old attacking midfielder Ganso, who is seen as a replacement for Kaka, in the roster sometime soon.
Brazil finished runners-up at the 2009 Under-20 World Cup, losing on penalties to Ghana.
Exciting winger Alex Teixeira finished second in the Golden Ball award, while 20-year-old striker Walter was the team's top scorer with five goals and has recently signed for FC Porto.
Another promising striker is Maicon, who came on a substitute in the quarterfinals against Germany and scored twice to turn around a 1-0 deficit.
19-year-old attacking midfielder Douglas Costa has already scored five goals in 13 appearances for his Ukrainian club side Shaktar Donetsk and has been called the new Ronaldinho.
Add this kind of talent to the likes of current young stars, Ramires and Real Madrid defender Marcelo, and you may just have a team capable of fulfilling the host nation's expectations.
Keep Reading