The Hottest Reality Show WAGs of All Time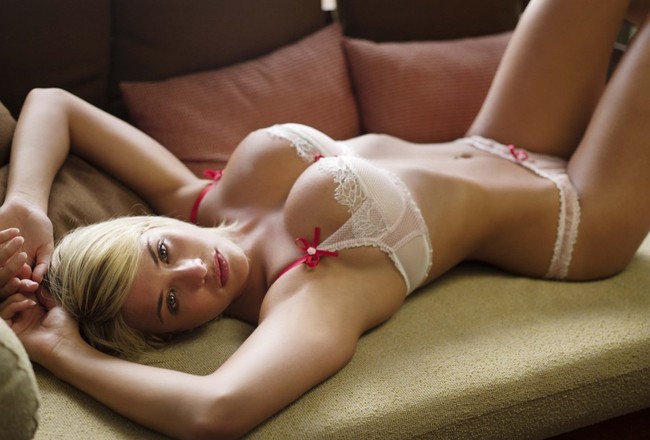 There's no question there are a lot of beautiful women on reality television. After all, these women are hand-picked for their personality, talent as well as their good looks.
So it should come as no surprise when your favorites athletes hook up with the hot girls of reality shows.
There's more reality TV wives and girlfriends (WAGs) than you can imagine. It's not just Kim Kardashian or Kendra Wilkinson, reality television and WAGs are a global affair.
Here are 20 of the hottest reality show WAGs of all-time...
20. Jessica Simpson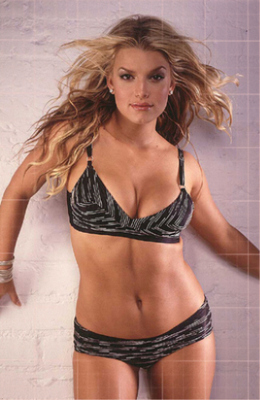 From dating Cowboy's Tony Romo to currently dating former NFL tight end Eric Johnson, Jessica's proven that she's got a thing for NFL athletes.
She apparently loves footballers just as much as she loves being on reality television shows. She's been in MTV's "Newlyweds" and now VH1's "The Price of Beauty."
19. Stephenie Lagrossa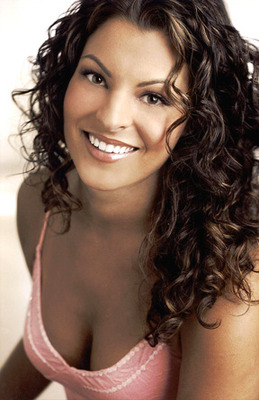 As a contestant on Survivor, she's been one of the strongest competitors in the show's history.
She's appeared on three different seasons of the show and is now engaged to Philadelphia Phillies pitcher Kyle Kendrick.
18. Nicola Tappenden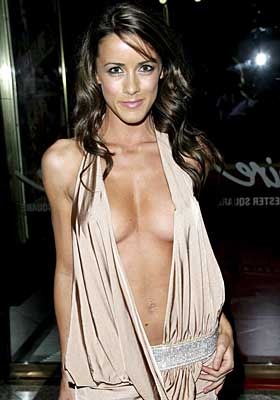 Nicola is a singer, actress, model and most importantly a well-known WAG. She's made appearances on "WAGs Boutique" and a WAG version of "Come Dine With Me".
After her breakup with Fullham's Bobby Zamora, she bounced right over to another soccer player Plymouth Argyle player Simon Walton.
17. Kendra Wilkinson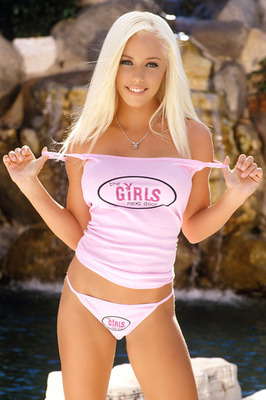 She was formerly one of Hugh Hefner's girlfriends and was featured in the reality show "The Girls Next Door".
After parting ways with Hef, she went on to marry Philadelphia Eagles wide receiver Hank Baskett and is now the star of her own reality show "Kendra".
Although Hank is due to earn six figures from a one-year deal with the Eagles, his reality star wife is probably making more money than him.just for looking hot.
16. Charlotte Mears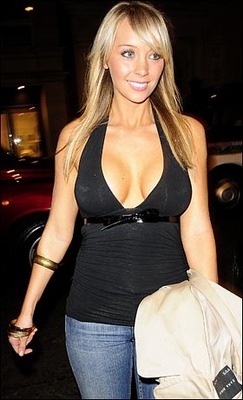 Charlotte is another one of Jermain Defoe's numerous exes. The couple called off their engagement after a two year relationship.
Mears, however, has been able to transition from her breakup to a starring role in the reality show "WAGs Boutique."
15. Heidi Strobel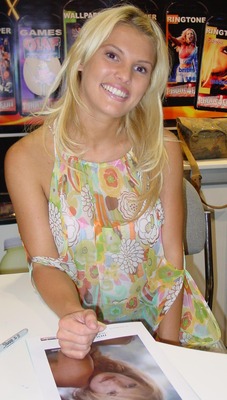 Before marrying Philadelphia Phillies starting pitcher Cole Hamels, Heidi was a reality TV contestant on Survivor.
In one of the most memorable moments in Survivor history, Heidi and fellow cast mate Jenna Morasca took off their clothes for peanut butter and chocolate.
Jenna and Heidi would later strip off their clothes again and become featured on Playboy.
14. Carly Zucker Cole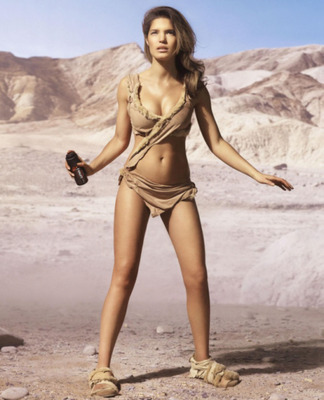 As a contestant on Britain's "I'm a Celebrity...Get Me Out of Here" she was the third to be voted off. She was a well known model and fitness instructor prior to her appearance.
Carly and soccer player Joe Cole were married in 2009.
12. Abbey Clancy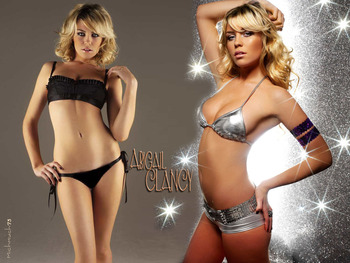 As a contestant on Britain's Next Top Model she came in second place and launched her modeling career.
But it was news of her relationship with soccer player Peter Crouch that received a lot of attention from the media.
The model and the striker are now engaged.
11. Lauren Pope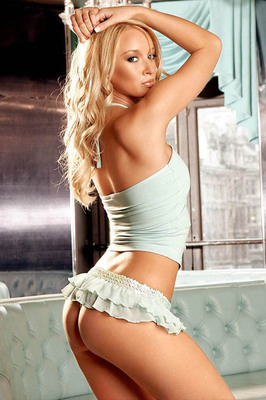 On top of dating Manchester City's Shaun Wright-Phillips and looking extremely hot, she is also an accomplished DJ, record producer, reality TV star and entrepreneur.
She is remembered for being on Britain's "Tycoon". Despite her fourth place finish in the reality TV contest, Lauren still gained notice.
10. LaLa Vasquez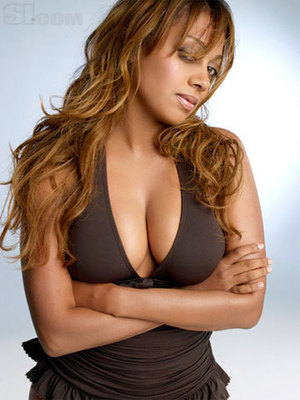 This coming fall a reality series on newlyweds Denver Nuggets forward Carmelo Anthony and La La Vasquez will air on VH1.
She's no stranger to the reality television world, she's spent time as the host for shows such as "I Love New York" and "Real Chance of Love" among others.
9. Francesca Lodo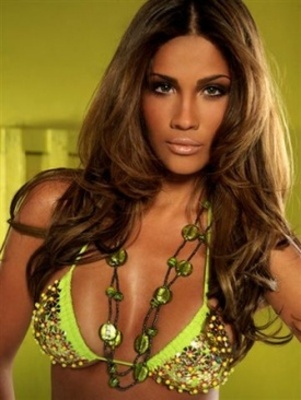 There's really not much to find online about Francesca's time on an Italian reality television show. In English, the show's name translates to "The Small Farm".
Whatever the name, or the purpose of the show the producers found a good excuse to put her on camera.
Francesca has also been linked to at least two soccer player, most recently Francesco Coco.
8. Kim Kardashian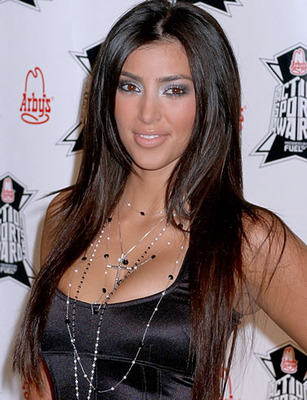 The media can't get enough of Kim Kardashian. She's one of the most talked about celebrities today.
From her relationships with NFLers Reggie Bush and Miles Austin, to her reality show "Keeping Up with the Kardashians" it seems that she's everywhere.
7. Gemma Atkinson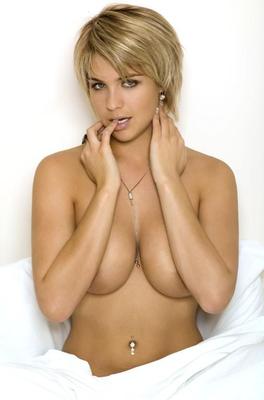 Gemma's been in a number of reality show's including: "I'm a Celebrity... Get Me Out of Here!", "Celebrity Weakest Link", "Celebrity Masterchef", and "Soapstar Superstar".
She loves being on TV as much as she loves dating soccer players, two of he former beaus are Cristiano Ronaldo and Marcus Bent.
6. Aida Yespica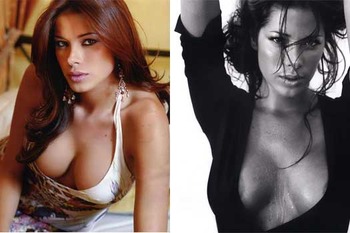 Aida, from Venezuela is the girlfriend of soccer player Matteo Ferrari.
It was her move to Italy, after winning the Miss Venezuala contest that propelled her career. There she became a contestant on their version of Celebrity Survivor and won herself more fans.
5. Elisabeth Filarski Hasselbeck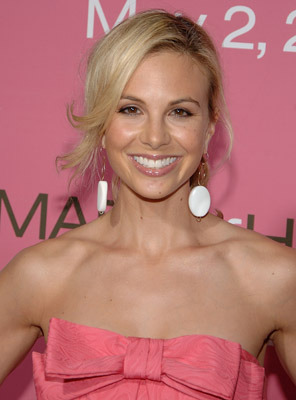 She was fresh out of Boston College when she first appeared on Survivor. Now as the co-host of the daytime talk show "The View" she is arguably more famous than her husband, Tim Hasselbeck.
Tim who is the younger brother of Seattle Seahawks' Matt Hasselbeck saw very little playing time as a backup quarterback during his career.
4. Carrie Underwood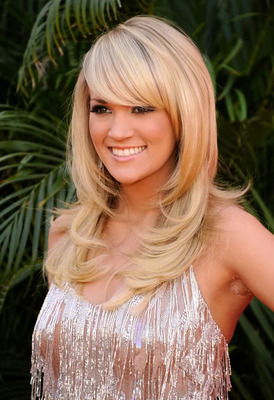 With multiple platinum selling records and Grammy awards, Carrie is one of the most successful winners of American Idol.
She's so famous that her husband, Ottawa Senators center Mike Fisher met her at one of her concerts. Not the other way around, her watching him playing at one of his hockey games.
3. Imogen Thomas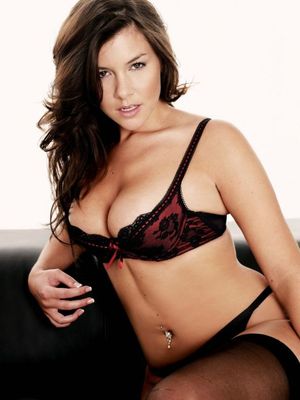 She's was a contestant on UK's Big Brother and an ex-girlfriend of Jermain Defoe.
Imogen is no stranger to the public eye, she's been a Playboy bunny, a former Miss Wales and has starred in her own sex tape.
2. Nicole Scherzinger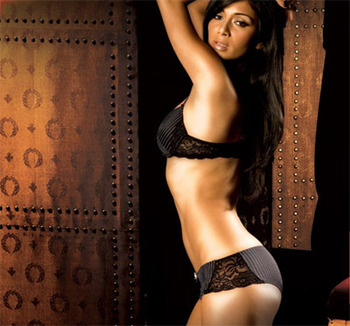 You may not think of her as a reality TV star but winning "Dancing with the Stars" re-launched her career.
Nicole was part of the pop group Pussycat Dolls and recently has been a guest judge of UK's X Factor.
Presumably in England to spend more time with her beau British Formula One driver Lewis Hamilton.
1. Cheryl Tweedy Cole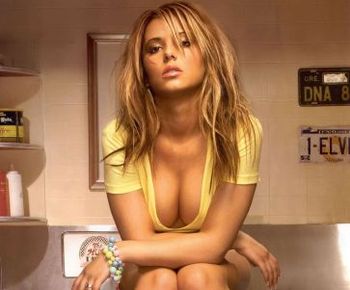 Cheryl was a member of Girls Aloud a singing group featured on the reality show Popstars: The Rivals, when she first gained popularity.
She was able to parlay that success into a job as a judge on Britain's "X Factor" and then transition into a solo artist.
Her marriage to Chelsea player Ashley Cole has been the talk of tabloids of late as the two are in the middle of a divorce.
Can't get enough WAGs?
Check out:
The Top 10 Serial WAGs of All Time
10 Hottest Cheerleader WAGs of All Time
Keep Reading