The 2010 Oakland Raiders Face a Make or Break Season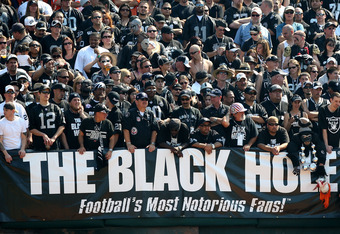 Jed Jacobsohn/Getty Images
The Raider Nation is one of the most loyal, devoted, and intense fanbases in all of sports. Notorious for excellent game-day food, colourful costumes, and blind devotion to a team that often recently disappoints, the Nation is a unique collection of individuals with a common goal: the celebration of the success of the Oakland Raiders.
Unfortunately, we are in the midst of the least celebratory stretch in the franchise's history. Although we all knew our impressive run of the late '90s—early 2000s wouldn't last with an aging roster of veteran talent, no one could have foreseen the epic collapse and subsequent struggles this franchise has endured since face-planting against Tampa Bay (and former coach John Gruden) in Super Bowl XXXVII.
The career-ending neck injury to Rich Gannon in the early 2003 season was the beginning of the end, and ever since, this team has been a rudderless ship looking to get back on course. The ship didn't just stray innocently off the path; it has been lost at sea for some time now.
I could spell out some of the reasons for the team's struggles and give a chronology, but I have already done that in the past, and at this point, most if not all, Raider fans know exactly what has transpired over the last seven forgettable seasons.
Let's just agree that poor player evaluation and development, poor coaching, and some bad luck, decisions, and karma have all conspired to make things unpleasant.
The heart of every sports fan beats with optimism during the offseason, the feeling that if only this were to happen, if only that were to happen, their team could turn it around and celebrations will again ensue.
Without this offseason hope, perennial losers like the Lions wouldn't have any fans. Hell, the Raiders probably wouldn't have any fans left after the last seven years. Loyalty notwithstanding, it's the hope of the offseason that brings the fans back to the fold.
Based on the chameleon-like landscape of the NFL playoffs, this hope is legitimate and realistic. Most of the time.
Fans also have to temper their optimism with realism, though.
I can say honestly that I have been hopeful yet realistic about the Raiders turning things around the last few seasons. Questionable personnel moves, draft choices, and coaching methods have at least laced that offseason enthusiasm with a heavy dose of temperance.
That temperance was earned by years of being burned, by putting faith in decisions to bring in guys like Aaron Brooks or Art Shell or Norv Turner or DeAngelo Hall or any other number of big ticket moves we thought might actually work.
But no. We were blinded only to find out we were becoming the "same old Raiders" season after season. (The"same old Raiders" being a phrase that went from meaning "winning at all costs" to "losing in a spectacularly self-immolating fashion to the delight of all non-Raider fans and NFL media members around the globe").
Well, this offseason has brought legitimate reasons to be excited.
Gone is JaMarcus Russell and his demotivating lack of leadership and professionalism.
In is Jason Campbell, a solid quarterback with a Herculean work ethic who has already commanded the attention and respect of his peers. The cause for most of the optimism in Raider Nation right now is his dedication and leadership.
Gone is coach Tom Cable's overindulgent responsibility of running the team, the offensive line, and calling all the plays.
In is Hue Jackson, a successful NCAA and NFL offensive coordinator who helped coach Joe Flacco into one of the better young passers in the NFL, not to mention a man with a no-nonsense philosophy who is, to the delight of the players, mercilessly working them and whipping them into shape.
Gone is the porous run defense, with little to no size in the front seven.
In are "Big" John Henderson, Lamarr Houston, Rolando McClain, Kamerion Wimbley, and Quentin Groves, all brought in to assist against the run.
Henderson is a known commodity in the twilight of his career, Houston was a steal in the second round, Rolando McClain has already assumed the role of defensive leader, and Wimbley and Groves add the speed and size to the OLB position that have been missing to hold the edge.
Gone is the losing mentality, replaced by proven winners like Jackson, Richard Seymour, defensive line coach Mike Waufle, McClain, Houston, and Campbell, who has lost more than he's won as an NFL QB but brings a true winning attitude to the fold. Locker room distractions and cancers are a thing of the past; team-first players who work hard and are accountable are the new order.
Coaching continuity. An offensive coordinator. A competent quarterback. Two running backs poised to break out. A young, fast, hungry, aggressive defense that has the potential to be special. A team that wants to play together, that enjoys each other, that acts and speaks like winners already. A transformation in both personnel and philosophy. Hope springs eternal in the hearts and minds of the Raider Nation, and for the first time in three years, it feels legitimate. Very legitimate.
That is why this is such an important season. Although most of the people who have abandoned the Raiders during this run of futility were on the periphery of Raider Nation or were simply bandwagon fans, there are some who, due to the ineptness of the organization over the past several seasons, had lost faith in Al Davis, the Raider philosophy, and the legitimacy of the franchise.
A lot of people have abandoned the Raiders' ship in recent years as anger and frustration over personnel moves and head-scratching decisions reached a boiling point.
Al Davis had gone from respected and feared to belittled and ridiculed. The Raider Nation became a punch line for other fans. Many people couldn't bear it. They couldn't bear losing not only the games but also their pride. Many people left.
This is the first time in years the Raiders have had a really good, really sound and logical offseason. There is nowhere you can point on this roster that is weaker than last year. The team has legitimately improved; it is not just us fans blinding ourselves with hope and faith. It is legitimate.
So if this season is another double-digit loss disaster, it will be the most difficult and most painful to swallow.
Those other years, we all knew there were issues and that we weren't a great team, but we all lied to ourselves out of loyalty and necessity; however, we knew the possibility of disaster and unconsciously prepared ourselves so as not to be devastated when it happened.
We knew Brooks wasn't the answer, Randy Moss wouldn't work out, and our draft choices were questionable. We knew, but stayed faithful, loyal.
The hopes and dreams of Raider Nation this season are hefty, and based on the offseason, this is fair. However, expectations have been raised to a level we haven't seen in some years, as most of us feel improvement is simply not enough, that we should win nine to 12 games and make the playoffs. This is not hyperbole; this is the true belief of the Raider Nation right now.
Which means if there isn't significant improvement, if this team wins seven games, if this team improves but doesn't win enough, then due to expectations, this will be the biggest failure of the past seven years, hands down.
The disappointments of the past seven seasons have left us desperate for positives to grab at to the point where the expectations for the upcoming season have been increased due to the need to repair the damage done to our hearts and pride over the last seven years.
For most teams suffering through a stretch like this, improvement on the field would be enough to encourage the fans.
But with the offseason we've had, coupled with the suffering we've endured, means that improvement will not be enough.
Winning is the only thing that will heal this Nation, and we all feel we have the best chance to win that we've had in years. So if, for whatever reason, that doesn't happen, it will hurt more than the last seven years combined.
This team must face the pressure and bring winning back to Oakland because I just don't know if the heart and soul of Raider Nation can take another epic letdown.
This article is
What is the duplicate article?
Why is this article offensive?
Where is this article plagiarized from?
Why is this article poorly edited?

Oakland Raiders: Like this team?