The Loss of a Legend: How George Steinbrenner Will Be Remembered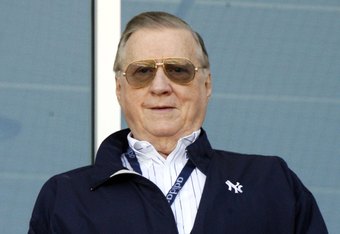 Eliot J. Schechter/Getty Images
This morning not only the Yankees, but the entire game of baseball lost a true sporting legend. A man known by most simply as "The Boss", George Steinbrenner III, will leave the legacy as the greatest sports owner of all time.
In 1973 George Steinbrenner bought the New York Yankees for just 10 million dollars. From that moment on Steinbrenner truly changed the game of baseball for the best. Bringing a burning passion for winning to the Yankees, Steinbrenner changed the culture of the team forever.
For the last 37 years, The Boss did everything he could to win championships. From spending more money than any other owner, to creating a broadcasting network, Steinbrenner made the Yankees an international sports symbol. Steinbrenner not only brought a passion for winning, but he wanted to make the Yankees the most recognizable and profitable team in the world. He succeeded in both endeavors.
Since he took ownership of the team, the Yankees' network has increased from 10 million dollars to nearly 2 billion dollars. Not only have the Yankees become one of the most profitable teams in sports, but they have truly become the world's team. Everywhere you go, from Manhattan, New York to Tokyo, Japan you will most likely see multiple people in Yankee hats.
Steinbrenner did everything he could to increase the Yankee fanbase. He did so through multiple different actions. Through the 1990's Steinbrenner had a character on Seinfeld, played by Larry David. As Seinfeld became one of the most viewed shows of all-time, people began to see a humorous side of the Yankees. Then in the 2000's, Steinbrenner created the YES network. Both of these actions made it easy for fans to watch the Yankees.
George Steinbrenner was truly baseball's first capitalist. With no salary cap and a burning passion to win, Steinbrenner did everything he could to give the Yankees the best chance to win. Steinbrenner did everything he could to make more money, so that he could spend more money to pay players.
Though Steinbrenner changed the game of baseball in a fiscal way, he will always be remembered for his undying and unrelenting passion to win. Within his first few years as owner of the Yankees, he showed he was willing to do anything to win. Whether it be his firing and hiring of manager Billy Martin an astounding five times, or signing of free agents like Dave Winfield and Catfish Hunter, George Steinbrenner's passion for winning caused him to do many radical things. Steinbrenner was once quoted saying, "Winning is second for me only behind breathing".
Though he was thought of as a dictator through his first few years as an owner, Yankees' fans soon realized that like the rest of them he simply wanted the best for the Yankees. In fact, Steinbrenner changed the attitude of most Yankees' fans. The fans of the team began to expect to win. Winning 7 championships in his lifetime George Steinbrenner III will be remembered as an owner with a true passion for winning.
Though Steinbrenner has been thought of as tyrannical, most people do not think of all of his charitable actions. He changed people's lives, often giving people money for school or donating to charities. The Boss not only wanted the best for the Yankees, but for the world.
The Boss will be remembered not only as one of baseball's great owners, but a man who truly changed the culture of baseball through his undying passion for winning.
This article is
What is the duplicate article?
Why is this article offensive?
Where is this article plagiarized from?
Why is this article poorly edited?

New York Yankees: Like this team?