Checking Temperatures: MLB's Hottest and Coldest Players at the Break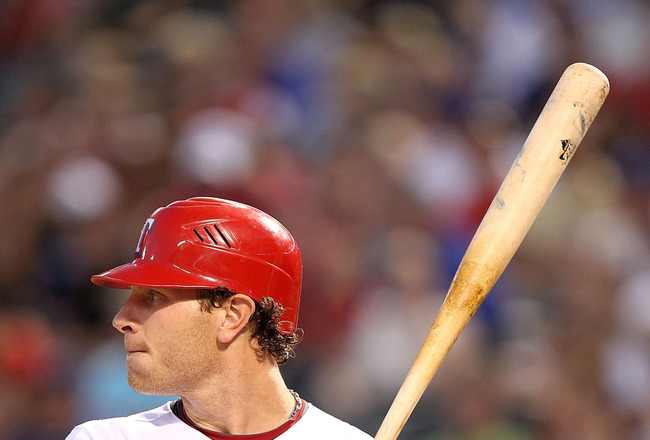 The All-Star Break is just about upon us, which marks the real halfway point for the baseball season. Awards can start to be discussed, playoff pictures can start to be formed, and those who are playing the best and worst can be looked at as well.
There are those who started off strong but have completely disappeared, and those who have had an amazing June for their team. This is not an end-all be-all list; there are many others who are hot and cold as well.
Here's an analysis of five of the hottest and five of the coldest players in the league right now.
Hot: Carl Crawford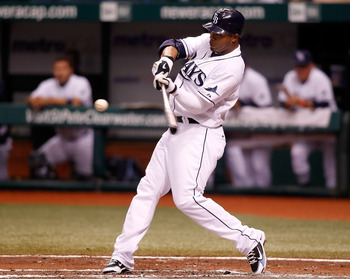 Tampa Bay's center field catalyst has been playing well all season to begin with, hence his fourth All-Star nod. However, he has been on a tear of late. In his past 20 games, Crawford has hit five home runs, 14 RBI, has eight stolen bases, and is hitting .419.
Crawford usually focuses on the speed numbers, but both his power and speed numbers are big this season, good for second in the AL, only behind fellow center fielder and All-Star snub Alex Rios.
Hot: Carlos Quentin
Carlos Quentin had a slow start, both struggling to get to a .200 batting average then struggling to stay there. Since June 15 (21 games), when he had a batting average of .201, he has hit 11 home runs, 28 RBI, and has a batting average of .368.
He still has a bit of work to do batting average-wise, but his power numbers are back and he's suddenly on pace to surpass his 2008 totals should he remain hot in the second half.
Hot: Mat Latos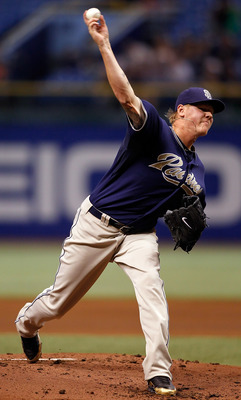 He's a pitcher in San Diego, so of course his stats are good to begin with. An All-Star casualty of a loaded National League, pitching-wise, Latos has shown in his latest outings that he deserved to be on the team.
In his past four starts, he has pitched 27.2 innings and allowed one earned run, bringing his ERA from 3.19 to 2.45. He also has 28 strikeouts to seven walks, and his WHIP has fallen under 1.000. The scary thing is he's only 22. He's just going to get better as he gets more used to the game.
Hot: Felix Hernandez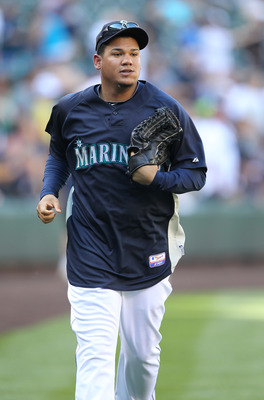 Felix Hernandez was almost in afterthought in May as Cliff Lee returned to Seattle and Doug Fister and Jason Vargas were lighting it up. Since June though, Hernandez has proven who the real ace is in the West now that Lee has moved on.
In the past five starts, Felix has four complete games and one shutout, and has allowed six earned runs in 43 innings, bringing his ERA from 3.61 to 2.88 and his record from 4-5 to 7-5. His 43 strikeouts in as many innings have been great to see as well.
I see a battle to the wire between him and Jered Weaver for the strikeout title, and he has a great shot at it if he can keep this up.
Hottest: Josh Hamilton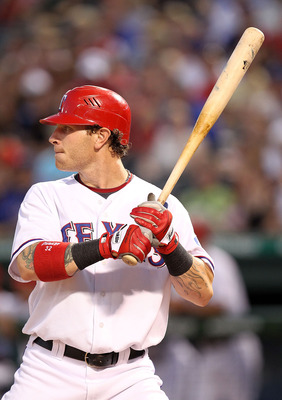 Here is Josh Hamilton's stat line since June 1: .430 BA, 1.247 OPS, 13 HR, 37 RBI.
That's in just under a month and a half. No wonder he made the All-Star team. If he can keep this up, or even keep hitting around .320 the rest of the way along with Vladimir Guerrero's power-hitting, then expect the Texas Rangers to cruise to an AL West title.
Cold: Brendan Ryan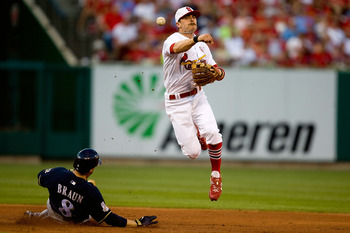 Brendan Ryan hasn't exactly been hot most of the season. He hit his season-high batting average on June 15 with .220, and his defense has not made up for his lack of offense. In his past 18 games though, dating back to June 16, his batting average is .113.
What makes matters worse is that he has no hits in the month of July. Ryan's the one glaring weakness on the Cardinals right now, and they're going to need to sort it out fast.
Cold: Rod Barajas
What happened to the Mets' catcher? He had a solid first couple of months, hitting 11 home runs and finishing up May with a .269 batting average. Nonetheless, to say he has plateaued is an understatement.
Since June 1, he's hitting .183 with no home runs and two RBI. The Mets cannot rely solely on David Wright's RBI production; they need the Barajas that they saw at the start of the season.
Cold: Nick Blackburn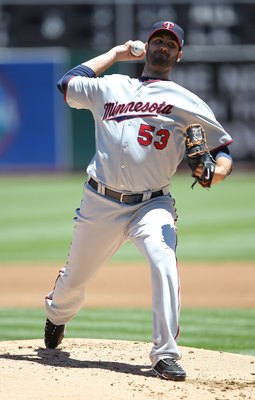 At the end of May, Blackburn was one of the many solid pieces of the Twins' rotation, as he had a 6-1 record and an ERA of 4.28. That's when his struggles began. In his last eight starts, he has an ERA of 10.00 and his record has fallen to .500.
To tighten the view, in his last five starts, he has a 1-4 record and has allowed 28 earned runs in just over 22 innings, good for an ERA of 11.12. His strikeouts and walks were about even, so his coldness extends beyond allowing runs. This is something the Twins cannot afford with the Tigers breathing down their back.
Cold: Franklin Gutierrez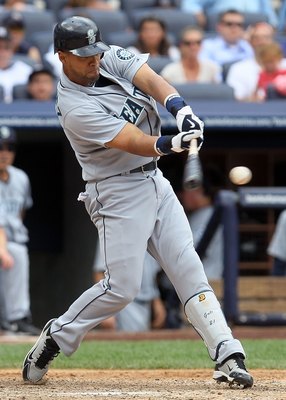 The Mariners are a good pitching team that has no hitting of which to speak. The only reliable hitters they have had this season are Ichiro and Gutierrez. Unfortunately, the latter seems to be crumbling.
He was hitting .300 for a while and left May with a .294 average. Dating back to June 1, Gutierrez is hitting .205 with three home runs and 12 RBI. This doesn't sound all that bad, given that there are some Mariners playing worse.
Unfortunately, when the sample is shrunk to July, he's hitting .103, grounding into a double play half as often as he got a hit. Needless to say, this, combined with the Lee trade, ends the Mariners' season.
Coldest: Scott Kazmir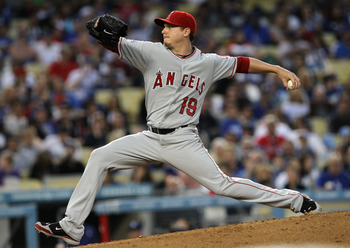 After a bad start, it looked to me like Scott Kazmir had finally turned the corner and had become a reliable starter again. Then, he fell. Hard.
On June 18, he was 7-5 with a 5.08 ERA. That's not great, but it's not awful. In his last four starts though, all of which he earned the loss, he has the following stat line:
0-4, 13.73 ERA, 12 BB, 11 K, averaging under five innings a start. Plus, in his last start against Oakland, he allowed 13 earned runs. That's only happened once in recent memory, to Jason Marquis in 2006.
He finished that season with the league lead in losses and an ERA over 6.00. Will Kazmir follow suit? It's starting to look like it.
Keep Reading