NASCAR Baby Boom: Jimmie Johnson, Other New Fathers Affected By Babies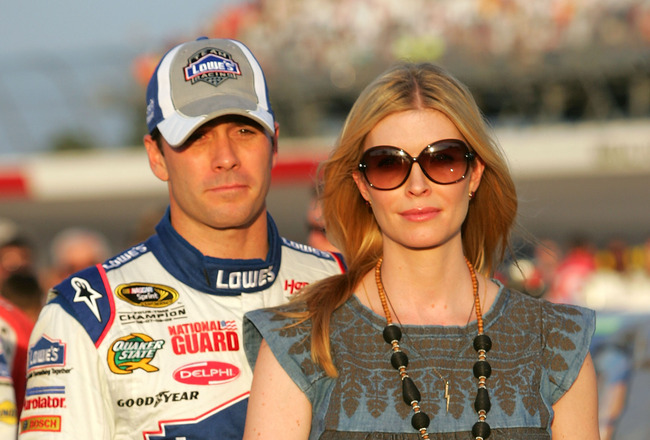 "Oh no! My driver's wife is pregnant! Time to panic." It's a common theme with fans and media alike. We often hear that once a driver's wife is pregnant, the driver won't be able to perform the rest of the season.
But how true is that saying? Listed on the next few pages are the stats of the current "new fathers" of NASCAR before and after their children were born, and an analysis of if fatherhood has affected their racing.
The results may surprise some people, but only confirms the thoughts of others.
Stats from nascar.com
Jimmie Johnson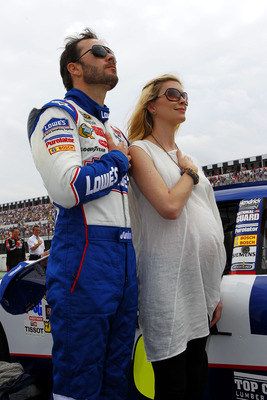 Year- Races- Ave Start- Ave Finish-% Completed
2010 - 18 - 8.4 - 13.2 - 95.1% (Baby year)
2009 - 36 - 8.3 - 11.1 - 98.2%
2008 - 36 - 8.5 - 10.5 - 99.2%
Johnson is probably the most popular of all the fathers on this list. NASCAR welcomed the newest member of the Johnson family to the garage last week.
Genevieve Marie Johnson was born in the early afternoon on Wednesday, July 7, 2010.
Much was speculated about Johnson's 2010 season when the pregnancy was announced in January. It is no secret that Johnson has had rough parts to the season, but it can hardly be attributed to his wife's pregnancy.
In the first half of the season, Johnson has qualified almost right on with his numbers from the previous two years and his average finish is only two spots down from normal.
Johnson currently sits in the third points position, 188 points out of first with five wins. In 2009 after Chicago, he was in the same position, 212 points out of first with two wins. And in 2008 after Chicago he was in fifth position with one win.
In Johnson's case, it seems that fatherhood has agreed with him when it comes to wins and the points.
"Geni" is only five days old, but Johnson is a seasoned competitor who leaves everything behind him when he steps into the car.
If anything, fatherhood may make him more competitive so he can share his fifth championship with his daughter during her first year of life.
Carl Edwards
Year- Races- Ave Start- Ave Finish-% Completed
2010 18 - 19.5 - 14.8 - 96.6% (Baby year)
2009 36 - 19.7 - 15.1 - 97.4%
2008 36 - 12.3 - 9.5 - 98.9%
Carl Edwards welcomed daughter Annie to the world on Feb. 25, 2010. There is no doubt that Edwards and the other Ford teams have struggled this year, but it cannot be blamed on the garage baby boom.
In fact, when comparing stats from 2009, Annie may actually be helping her father focus.
Edwards currently sits in the 10th spot after Chicago, moving up two positions after his second place finish on Saturday. He is 400 points out of first with zero wins and two top fives.
In 2009 after 19 races, Edwards was sixth in points, 446 points out of first, with zero wins and five top fives.
In 2008, Edwards was in the fourth spot at the midpoint of the season with three wins. 2008 was Edwards best Cup season of his career.
While the points race makes it seem as though he is in a slump (two top fives compared to five last year), he is closer to the leader points wise than at the same time last year.
Edwards is the second Ford in the chase after teammate Matt Kenseth.
The stats also show that his average numbers are better than last year with a 19.5 average start and 14.8 average finish compared to 19.7 and 15.1 last year.
In the case of Edwards, the weakness of the Ford camp may be skewing his stats more than the new baby.
Elliott Sadler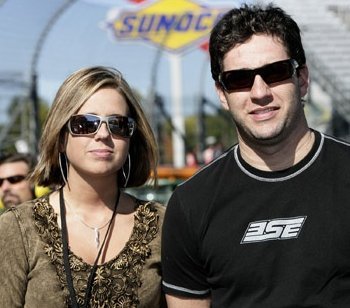 Year- Races- Ave Start- Ave Finish-% Completed
2010 18 - 27.3 - 24.3 - 99.1% (Baby year)
2009 36 - 28.7 - 23.9 - 96.5%
2008 36 - 18.5 - 23.7 - 92.0%
The big lovable teddy bear of the sport welcomed first son, Wyatt, to the family on Feb. 15, 2010, the day after the Daytona 500. Sadler hasn't been close to the top of the sport since 2004 where he averaged a finish of 15.9.
Sadler is part of the struggling Richard Petty Motorsports, which may be a reason for his poor results this season.
But an improvement has been seen this season in his qualifying run and he has even toyed with the front of the field a bit and led laps at Daytona last weekend.
Baby Wyatt had problems when he was born and required surgery, but is he is healthy now.
Elliot's early results may have reflected that distraction but he has had a few good races. He is currently 27th in the points and gained a position after a 21st place finish in Chicago.
In 2009, he sat in the 23rd points position after Chicago and had one top five finish (he currently has no top five finishes this year).
In 2008, he sat in the 26th spot during this point in the season with one top five.
Sadler may be the one driver that lives up to the baby stereotype.
Matt Kenseth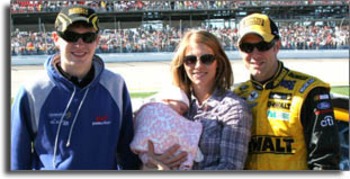 Year- Races- Ave Start- Ave Finish-% Completed
2010 18 - 19.4 - 12.8 - 99.9%
2009 36 - 21.4 - 15.4 - 96.0% (Baby Year)
2008 36 - 16.5 - 16.4 - 96.2%
2007 36 - 19.9 - 13.0 - 97.4%
Kenseth welcomed baby girl Kaylin to the family on July 6, 2009. The 2003 champion has been consistent in the points for many years and Kaylin's birth did not seem to deter his season as he was still in the chase after Chicagoland last year.
In fact, compared to his 2008 season's averages, Kenseth seemed to improve in 2009 in his average finishes. The improvement has carried over to the 2010 season where Kenseth is the highest ranked Ford in the points (eighth).
While there wasn't a huge improvement in his racing after his baby's birth, he definitely did not see a decrease in performance.
Matt had four top five finishes after 19 races in 2008 and 2009. He had zero wins in 2008 and two wins in 2009 at the season midpoint.
In this driver's case, he stayed consistent even after being put on diaper duty.
Photo: Mattkenseth.com
Jeff Gordon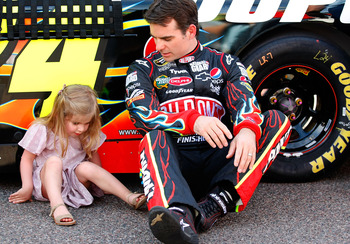 Jeff Gordon
Year- Races- Ave Start- Ave Finish-% Completed
2010 - 19 - 9.6 - 11.2 - 99.7% (baby year)
2009 - 36 - 10.9 - 10.2 - 99.1%
2008 - 36 - 10.7 - 14.5 - 95.7%
Jeff Gordon's second child, a boy, is due in August. When his first child was born on June 20, 2007, the media made a big deal about his lack of performance and blamed it on baby Ella.
However, the last two years has shown that the Rainbow Warrior isn't fazed by his daughter when he is in the car. He has even made comments about wanting to win even more so Ella can enjoy more time in Victory Lane.
Gordon announced his wife's pregnancy on Feb. 4, 2010 and his season up to this point has seen improvement over the last two years. He is currently in second place, 103 points behind leader Kevin Harvick with an astonishing ten top five finishes but no wins.
In 2009, Gordon had one win and ten top five finishes and sat in second but he was 175 points behind points leader Tony Stewart. In 2008, his first full season after Ella was born, Gordon sat sixth in the points at this point with only seven top five finishes and no wins.
2009 and 2010 have been his best seasons in the Cup series since 2007 when he had an average finish of 7.3 and finished 77 points behind teammate Jimmie Johnson.
Could the idea of a little boy running around the motorhome be pushing Gordon to run better this year or is he just more focused on the drive for five now that Johnson has caught up to him with four championships and a daughter?
Juan Pablo Montoya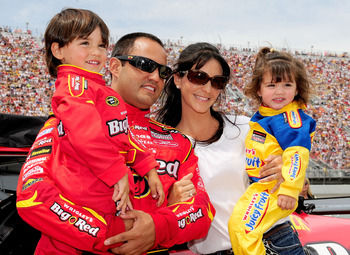 Year- Races- Ave Start- Ave Finish-% Completed
2010 19 - 13.1 - 20.2 - 91.3% (baby year)
2009 36 - 12.8 - 14.3 - 98.5%
2008 36 - 23.3 - 23.9 - 96.2%
JPM already has two children and is expecting child No. 3 this summer.
Montoya is known as one of the more aggressive drivers on the track and has had success in multiple car series including a championship in two of those series and an Indy 500 win.
When son Sebastian was born in 2005, Montoya was competing in the Formula One series with a new team.
His 2005 season ended on a good note with three wins and five podiums. He also set a track record that has not been broken and it is the only one that still stands from 2005, a year that F1 had a new tire rule.
Daughter Paulina was born during the 2007 season, Juan's first full season in NASCAR. His average finish for that year was a 22.7, not bad for a NASCAR rookie.
Montoya has had multiple car issues and accidents this year and currently sits 21st in the points with four top five finishes. In 2009 after 19 races, he sat ninth in the points with zero top five finishes.
He also was in the 20th points position with one top five during this point in the 2008 season.
Juan has not been consistent in the Sprint Cup series and I do not believe that can be blamed on the two kids he has at home.
As the stats show, Montoya has only finished 91.3% of the races and that can hardly be blamed on his wife's pregnancy.
Conclusion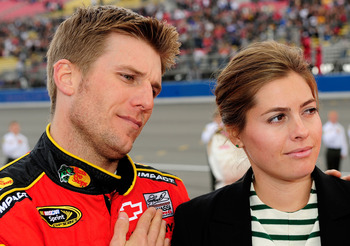 After looking at the statistics of new fathers before and after the births of their children, there is little to no correlation between new babies and race results.
So breathe easy the next time you hear your driver has a child on the way, diaper duty shouldn't bother their on-track performance.
Writer's note: Jamie McMurray is also expecting a child after the end of the season.
Keep Reading