Who Will Replace Isaiah Ekejiuba for the Oakland Raiders?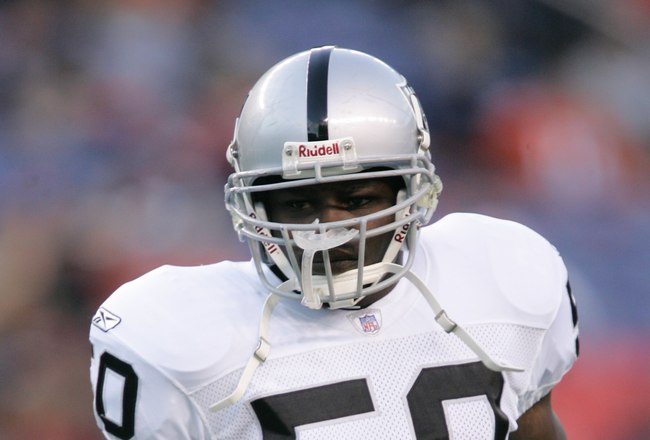 On July 8th, 2010, the Raiders released MLB and Special Teams Specialist, Isaiah Ekejiuba (50). Ekejiuba is in his 6th NFL season. He was 1/3 of the Bermuda Triangle along with Jared Cooper (40-Retired) and Ricky Brown (57). These three hamstrung Returners in the kicking game, and gave our defense long fields to work with.
Cooper retired 2 years ago and was immediately replaced with Tyvon Branch (33) on Special Teams. Last year Branch was relieved of Special Teams duties and started at SS. Without Cooper or Branch we saw a decline in our kick coverage skills last season. Now with the departure of Ekejiuba, will we see a further decline in our coverage skills? Or have we picked up 2 Special Teams Aces to assist Ricky Brown in containing the Returner?
Special Teams is where most rookies cut their teeth in the NFL, so I think we have some options; however there are individuals with such amazing skills/talents bringing down the returner that they build a prosperous NFL career out of doing it. Jared Cooper and Isaiah Ekejiuba are these kinds of players. Serviceable backups at their positions, but never quite good enough to be the relied on starter; however, so devastating on Special Teams that they can change the momentum of the game. With the demands of Offense, Defense and development of future players, the 53 man roster leaves very little room for Special Teams. The Raiders have never ignored the importance of Special Teams, so I am sure they have some adjustments in mind for this.
The bigger question is who will replace Ekejiuba at MLB. You're thinking, don't we have a MLB? Exactly, we have A MLB. Who do we have to backup Rolando McClain (55)? Ekejiuba was our only other MLB before his release. Who steps in if McClain gets hurt? Do we plan on him playing through the pain? Do we go to a 2 LB set and add another S? No. I think the Raiders have found a MLB in this year's players. Who is it?
There are those we can eliminate, and it is easier to start there.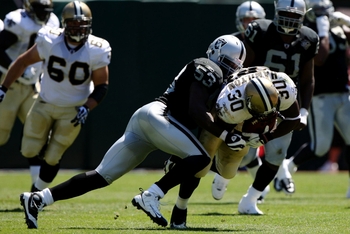 Thomas Howard (53) and Trevor Scott (91) fighting for the starting job at ROLB. If Howard is traded, Ricky Brown (57) and Quentin Groves (52) could be fighting with Scott for the job.
Howard is by far the best coverage LB we have and should secure the starting job. (if we keep him on the team)
LOLB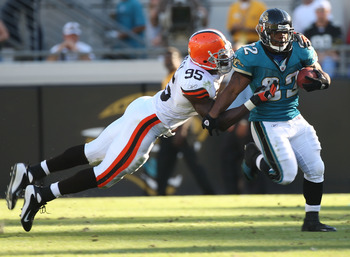 Kamerion Wimbley (96) and Quentin Groves (52) are are probably the #1 and #2 respectively at LOLB. This could change during the preseason. The Raiders are very high on Groves ability, but when you trade for a player like Wimbley, he is your projected starter.
Who does that leave? Sam Williams (54)
Williams is in his 8th NFL season. He has been a solid contributor at OLB as a backup and in some defensive packages. Williams is probably projected to backup for Wimbley at OLB if we keep him. Williams has been on the team for awhile and someone else could be cheaper. We may be releasing Williams in the future.
David Nixon (56) and Slade Norris (58)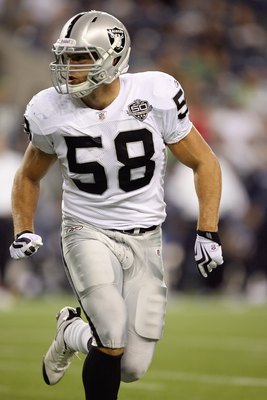 Nixon and Norris are not players we have heard a lot about. They appear to be those guys picked up for preseason depth. They are OLBs and I don't think we'll move either to MLB. Either one must be a Special Teams standout to remain on the roster. Both were signed to the Raider's practice squad last year. Norris was moved to the active roster due to injuries in November 2009, so it seems he has the edge here.
Jon Condo (59)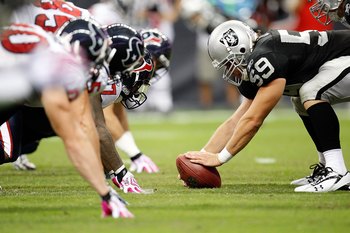 In addition to being a LB on the Raider's roster, Jon Condo is the Long Snapper. Condo went to the Pro Bowl last season as the AFC LS. We will probably focus his talents there more than in the LB Corps.
Ricky Brown (57) and Travis Goethel (48)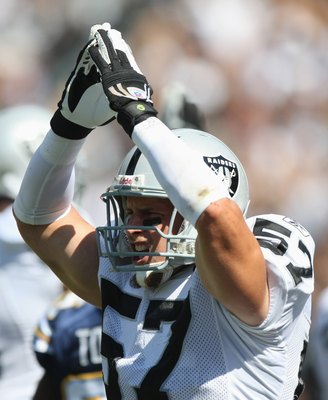 Brown may be a starter at OLB; however, he does have experience at MLB. Additionally, as the last remaining member of the Bermuda Triangle he is a Special Teams Ace. Brown will be on this team based on his versatility. He is serviceable at all 3 LB positions and we are already trying to replace 2 Special Teams Aces. Brown may be McClain's backup at MLB.
On the Raider's website Goethel is described as
- Physical, tenacious linebacker who was a fixture in ASU's linebacker corps the last four years...versatile defender who excels in run defense and has the ability to play any of the three linebacker positions.
Goethel has been described as a solid LB with good character. It is believed he can contribute immediately on Special Teams. If Goethel is the Special Teamer the media believes, then he could be our man.
MLB Isaiah Ekejiuba is replaced by,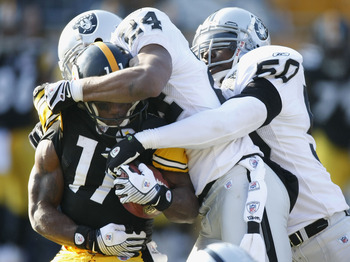 The backup MLB job could very well be between Brown and Goethel.
If Brown isn't starting at OLB (doubtful he will), then we will see a battle to fill the MLB position between these two. Both have the ability to help this team from every LB position, so one of these two will fill the MLB half of Ekejiuba's job.
The other may be Goethel. He has Brown to learn from and may become that Special Teams standout we are looking for.
Keep Reading

Oakland Raiders: Like this team?