Movie Stars v MMA Fighters - Top 12 Fights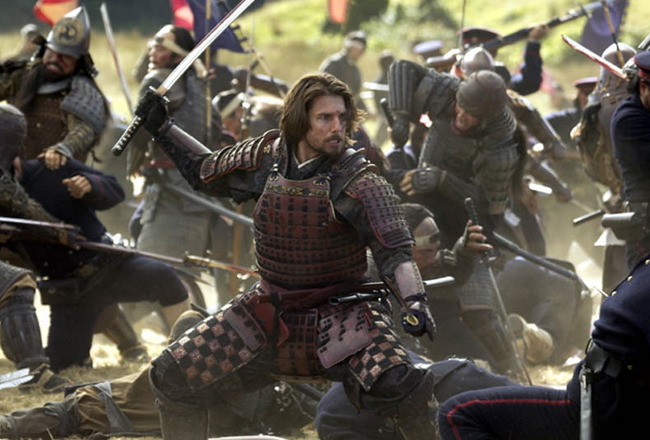 Now that I've got your attention, you can relax. Tom Cruise will not feature in this slide show.
Instead it will be movie stars who actually have martial arts backgrounds, squaring off against MMA fighters under standard MMA rules.
For what it's worth I'll give my verdict on each fight. For the sake of argument we'll assume everyone is in their prime, seeing as some of the players are retired, some are broken down, and one is pushing up daisies.
On to round 1...
12. Wesley Snipes v Joe Rogan - The Fight That Never Was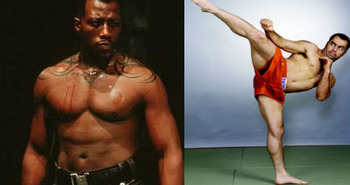 Yes I know Joe Rogan is not officially an MMA fighter, but he does work for the UFC, and he is the world's biggest fight fan and #1 commentator on the sport, so close enough.
Joe earned his Taekwondo black belt at 15, won the US Open Championships at 19, and has held the title of grand champion after beating both the middleweight and heavyweight title holders (as a light heavyweight).
He regularly trains in submissions at Eddie Bravo's 10th Planet Jiu Jitsu School.
Wesley Snipes is an action movie star who does most of his own stunts. He has trained since childhood in Shotokan Karate attaining the rank of 5th dan. He also has training in Capoeira, BJJ and multiple styles of Kung Fu.
He has never competed at amateur or professional levels.

The verdict: I'm a massive Joe Rogan fan, and I know that when the hype machine was in full swing leading up to the fight that never was; most people predicted a Joe Rogan win.
This is probably because Snipes has never fought, and Rogan has fought a lot. Personally, I think it would be a very close fight. Wesley has a broader skill set, while Rogan has a lot of experience under his belt.
In a classic Karate v Taekwondo show down, I don't see either fighter looking to take it to the ground and I'm going to predict a Joe Rogan win by split decision.
MMA - 1
Hollywood - 0
11. Tony Jaa v Chuck Liddell - East Meets West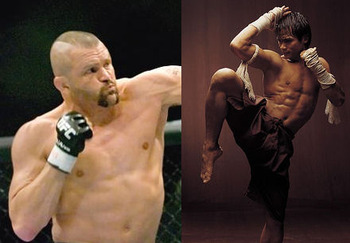 Tony Jaa is an actor and a monk. He is the star of Ong Bak, my favourite Muay Thai movie (not that there have been many).
He grew up in Thailand mimicking the moves of his hero's Bruce Lee, Vince Lam, and Jackie Chan from a very young age and has trained extensively in Taekwondo and of course Muay Thai.
Chuck "The Iceman" Liddell is one of the greats.
In his prime he fought and beat Vitor Belfort, Randy Couture, Renato Sobral, Tito Ortiz, and Alistair Overeem.
He is known for his devastating strikes and has a very impressive resume including a 5th dan in Kempo Karate, and a black belt in Koei-Kan Karate to go with extensive kickboxing and wrestling training.
The Verdict: A Muay Thai v Kickboxing showdown with both fighters having plenty of weapons from extensive martial arts backgrounds. Make no mistake; Tony Jaa is the real deal.
They would look to stand and trade, in a battle of speed (Jaa) v power (Liddell). No way does this go the ground. I expect the more aggressive Liddell to take the fight to Jaa, looking to un-leash 1 punch bombs and head kicks at every opportunity; whilst Tony tries to close the gap and work Chuck over in the clinch with his traditional Thai boxing background.
Unfortunately for Tony Jaa he would feature on the wrong end of KO of the night either late in the first round, or early in the second.
MMA - 2
Hollywood - 0
10. Laurence v Mr. T
Mr T started out as a humble bouncer, before becoming a soldier, bodybuilder, football player, professional wrestler, rapper, and bodyguard to the stars.
He is also an actor, most famous for the A team and his role as Clubber Lang in Rocky III and all the stupid "I pity the fool" imitations that have followed in his wake. He has trained in boxing, wrestling and various martial arts; however nothing to a high level.
Like it or not Kimbo Slice is classed as a mixed martial artist. However we all know the truth. He is a streetfighter who shot to fame through internet videos of his illicit and graphic beat downs of hapless opponents.
Kimbo has however trained with Bas Rutten at his EliteMMA facility and does boast a submission win over Ray Mercer via guillotine choke. His MMA record is 4-2.
The Verdict: This is as easy as they get. Mr T, for all his muscles and tough guy persona would sadly get KTFO by Kimbo within the first minute, probably with a big right hook.
MMA - 3
Hollywood - 0
9. Sylvester Stallone v David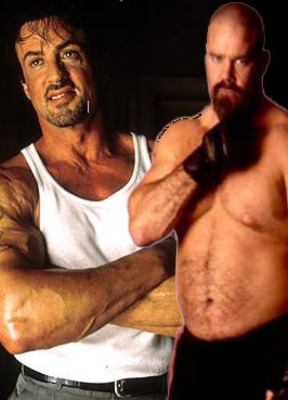 Sly Stallone is an old school bad ass (or just bad) action movie star.
He has had plenty of boxing training on the way to making approximately 50 Rocky movies. He has pumped iron his whole life and is known for his chiseled physique. Um, that's about it.
Tank Abbott is a dinosaur from the early 'no holds barred' MMA days. He is a bar room brawler and streetfighter with very heavy hands. The term 'pit fighter' as a style was made up specifically for him as the term streetfighter was considered too negative.
He is also a former professional wrestler, but I'm not sure that is an advantage in any way. He once benched 600lbs.
The Verdict: I'm predicting a massive upset. Despite no legitimate qualifications other than pumping a ton of weights, ingesting all sorts of 'protein' shakes and basic boxing training;
I predict Sly will call on the Rocky spirit (that is the ability to take a world class beating) and rope-a-dope his way through the first round, whilst Tank attempts to set a world record for consecutive windmill punches thrown and gasses badly by the end of the round, setting up a simple TKO for Rocky, er--I mean Stallone early in the second.
MMA - 3
Hollywood -1
8. Jet Li v Genki Sudo - Neo Samurai Claims Romeo Must Die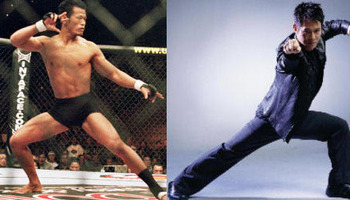 Jet Li is an action movie star and probably the world's most famous exponent of Wushu Kung Fu.
He was trained in old style Wushu and studied all 18 internal and external arms of the art.
At the age of eight, Jet Li ceased attending elementary school and moved into the Beijing sports and exercise school.
There he trained eight hours a day, six days a week on his way to becoming the Chinese national Wushu champion (open division) by the age of 12, competing against grown men.
He has won a total of 15 gold medals and dominated the Chinese national Wushu championships for five years from 1974 - 79. His real name is Li Lian-Jie and he earned the nickname Jet from his blazing speed.
Genki Sudo is one of the most un-orthodox fighters to ever grace MMA. If you are unfamiliar with Genki, watch some videos on You Tube, it's worth it.
Known for his Hollywood ring entrances and bizarre antics, he is also a highly skilled martial arts practitioner, having studied multiple styles, and holds a black belt in BJJ.
He has an advanced repertoire of kicks and favors Kickboxing strikes like the spinning back fist and superman punch.
The Verdict: Both fighters are extremely quick, however. Jet Li earned his nickname for a reason.
Li's speed and Zen like calmness would fend off Genki's un-orthodox strikes and deal with his bizarre antics inside the ring.
Despite Jet's lack of fighting experience, I am convinced his blinding speed would be enough to counter Genki's repeated takedown attempts, and eventually Genki would get caught by a swift Wushu counter attack leading to a 2nd round TKO for Jet Li.
MMA - 3
Hollywood - 2
7. Dwayne v The Rock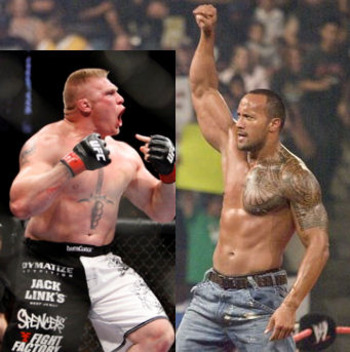 The Rock is an actor, writer, wrestler, and former professional football player (albeit a very brief stint). He is a big, powerfully built man and comes from a long line of wrestlers.
Unfortunately, like his father and grandfather before him, his background is in professional wrestling.
Brock Lesnar is also a big powerfully built man, who's also an ex professional wrestler and football player.
The difference is Brock was an amateur NCAA collegiate wrestler before going pro with a spanking record of 106-5. He also trains in other disciplines such as Boxing and BJJ.
The Verdict: Now that I have actually thought about this match up, I should apologize for a wasted slide.
Twelve seconds into the fight, the Rock, upon realizing that punches actually hurt in the UFC, would verbally submit to the referee and the fans would start rioting.
In hindsight Tom Cruise v Dana White would have been far more exciting.
MMA - 4
Hollywood - 2
6. Michael Jai White v Quentin 'Rampage' Jackson - Blood And Bone

Michael Jai White is an action movie star who has studied martial arts for over 25 years.
He holds seven black belts of varying degrees in Karate (Shotokan, Goju Ryu, Kyokushin), Taekwondo, Kung Fu (Wushu), Tang Soo Do, and Kobudo.
His main style is Kyokushin Karate and he has studied under the legendary Shigeru Oyama (the head of World Oyama Karate).
He has trained with the likes of Steven Seagal, Benny 'the jet' Urquidez and Jean-Claude Van Damme among others. He has fought in numerous full contact Karate tournaments throughout his career.
Quentin 'Rampage' Jackson is a wild man, with powerful wrestling, and genuine KO power. He has a strong background in the 'Western styles' of Boxing, Kickboxing and Wrestling and has fought as a professional kickboxer before MMA.
He uses his combination of raw strength and technical wrestling ability to dominate opponents.
The Verdict: Rampage is very aggressive, but Michael Jai would not back down.
They are similar in size and strength, however Jai would be a lot quicker and likely land multiple strikes with ease, whilst avoiding the KO power of Rampage's blows.
Rampage would look to close the gap and take Jai to the ground for a bit of forearm counselling and a few friendly hammer fists.
Michael Jai is unlikely to be technically proficient enough on the ground to escape Rampage's punishment, but is strong enough to limit the damage and hold on until the end of the first round.
Despite the lack of top tier fight experience, I expect Jai to be too quick on his feet with too many options and end the fight by TKO from multiple strikes early in the second.
MMA - 4
Hollywood - 3
5. Jean-Claude Van Damme v Anderson Silva - Fantasy Meets Reality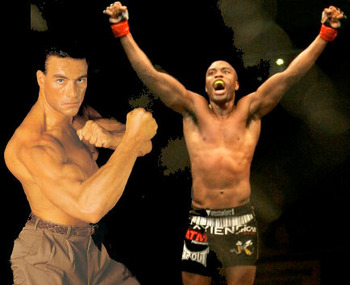 Jean-Claude Van Damme is an action star who has done many martial arts movies showcasing his talents. These include Kickboxing, Muay Thai, Taekwondo and a black belt in Shotokan Karate.
He is also a bodybuilder and former Mr. Belgium, and has trained in ballet for five years.
No, that was not a misprint; I did say ballet!
Considering his physique he is surprising agile and flexible. Van Damme actually has fighting experience in full contact Karate tournaments with an impressive record of 18-1.
Anderson Silva is considered by most MMA fans and experts to be the greatest current pound for pound fighter in the world. I'm not one to argue. He holds black belts in Judo, Taekwondo and BJJ, and has trained extensively in Boxing, Muay Thai and Capoeira.
He has fought professionally as a boxer, and is un-defeated in the UFC, currently riding a 12 fight win streak as the middleweight champion.
The Verdict: The title of this slide is fantasy meets reality, and I would say that sums it up perfectly. Despite Van Damme's fighting experience and his noted speed, he would get destroyed by Silva, and that's putting it mildly.
I would offer 20-1 that he would not make it out of the first round; that is of course assuming Silva shows up to fight (UFC 112 v Maia).
There are so many ways Silva could beat Van Damme that I wouldn't know where to start, so I'll take a stab in the dark and say early 1st round KO by violent flying knee.
MMA- 5
Hollywood - 3
4. Chuck Norris v Georges St. Pierre - Fight For The Ages
Chuck Norris was an actor, soldier and warrior. He learnt Tang Soo Do while stationed in Korea with the US Air Force, and upon returning home he studied multiple styles of Karate and Jeet Kune Do (under Bruce Lee) whilst embarking on a Karate tournament career that saw him dominate both America and the world for almost a decade, retiring with a record of 183-10-2.
I remember GSP's first fight in the UFC against a determined Karo Parisyan. At the time I didn't understand why there was so much hype surrounding him. Oh how I was wrong. With a 5th dan in Kyokushin Karate, and a black belt in BJJ to go along with extensive training in Wrestling, Boxing and Muay Thai; GSP is as complete a fighter as they come. In 2009 he won just about every notable award for fighter of the year.
The verdict: This has the potential to be a fight for the ages, although as great as Chuck was, he is too one dimensional. These days he actually owns a black belt in BJJ (achieved as a 60 year old); however in his prime his grappling skills were limited. GSP has few if any weaknesses and would dictate the tempo of the fight. Norris was a world class striker, however if GSP felt threatened standing with Chuck, he would take him down with relative ease and work a submission or the ground and pound as he saw fit. Chuck is a tough customer and should survive the first round or two but I predict a GSP submission by armbar in the third round.
MMA – 6
Hollywood - 3
3. Steven Seagal v Rickson Gracie - Who Is The Real Submission King?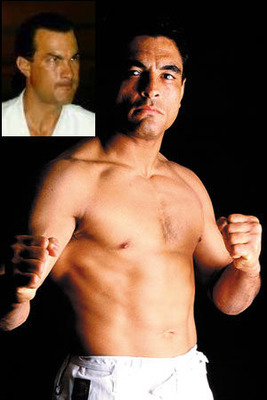 Steven Seagal is a 7th dan black belt in Aikido--this means he is very good.
Aikido is a Japanese grappling art with similarities to Judo and Jiu Jitsu. Seagal supposedly trained under Morihei Ueshiba, who is the founder and godfather of Aikido. He was the first western man to teach Aikido in Japan and was constantly challenged to fights by angry Japanese men.
There are no reports of him ever losing one of these challenges. He also holds a black belt in Kenjutsu, and has trained in Karate, Judo and Jiu Jitsu.
He has showcased his talents in the never ending list of low budget action movies he starred in, always performing his own stunts.
So how would he fare against one of the greatest grapplers MMA has ever seen in Rickson Gracie? In 11 MMA fights Rickson has never been defeated.
He claims to have had close to 400 wins in Sambo, Jiu Jitsu, Freestyle wrestling, and no holds barred fights without a single defeat (although this is disputed by his father Helio).
He also claims to be a two-time Brazilian freestyle wrestling champion. Regardless, he does hold a 7th dan black & red belt in BJJ.
The verdict: It is unlikely Rickson would stand with Seagal, as the Aikido master has lightning counter strikes from close range and instant submission locks.
I would expect Seagal to push the fight with Rickson circling, and looking for the all important takedown whilst keeping his distance.
Unlike some of the other movie stars, Seagal is the real deal. He is one of the greatest Aikidoka's the world has ever seen and once he got his hands on Rickson would end the fight with a quick and brutal submission in the first round.
MMA – 6
Hollywood - 4
2. Jackie Chan v Cung Lee - Martial Arts Explosion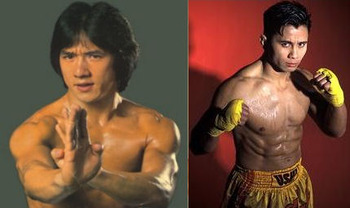 Jackie Chan is one of the world's greatest martial arts stuntmen and has starred in many action and comedy movies.
His main style is actually Hapkido, although the majority of his early movies were kung fu flicks. He has studied many Kung Fu styles, including Tong Long (praying mantis), Bak Mei (white eyebrow), Shaolin, and Wing Chun and has mastered Zui Quan (drunken boxing).
He has also studied Judo, Taekwondo and Boxing--that's a pretty impressive resume.
Cung Lee is a freak of nature who has trained in Sanshou, Karate, Muay Thai, Kickboxing, Wrestling, BJJ, Viet Vo Dao, and holds a black belt in Taekwondo. He is un-defeated as a professional Kickboxer (17-0). The same can be said for Sanshou (16-0).
He has awards in high school and collegiate wrestling. His MMA record is 7-1, with the only defeat a 'fluke' KO by Scott Smith in a fight Cung was dominating.
He avenged this lost on the recent Fedor v Werdum Strikeforce card. He has the greatest arsenal of kicks MMA has ever seen.
The Verdict: Both men have a vast array of moves at their disposal and I would expect Cung Le to take the initiative with Jackie looking to counter attack with his extensive Kung Fu training.
While this would probably be a spectacular martial arts demonstration, at the end of the day Jackie Chan is an actor who has never fought, whilst Cung Le is a warrior who has always fought.
This fight will never go to the ground and I predict a Cung Le TKO from multiple strikes in the 2nd round.
MMA – 7
Hollywood - 4
1. Bruce Lee v Lyoto Machida & Mauricio 'Shogun' Rua - Fair Fight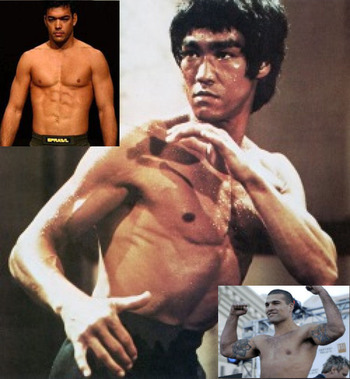 Bruce Lee was a famous actor, and legendary martial who was a warrior in every sense of the word. He grew up in a poor area of Hong Kong where he studied Wing Chun Kung Fu and was reputed to have been in countless vicious street fights.
As an adult he developed his own style of Jeet Kune Do after flaws were exposed in his Wing Chun style, following an infamous fight with Shaolin Kung Fu master Wong Jack Man.
It has been reported that this is the only fight Lee ever lost, although there are many conflicting stories regarding the outcome. He was also an excellent boxer who won the 1958 Hong Kong championships.
Lee was the first man to showcase the devastating power of the one inch punch, and perform feats like the two fingered push up in martial arts demonstrations.
Lyoto Machida is a highly skilled Brazilian fighter with a 3rd dan in Shotokan Karate and a black belt in BJJ. His only loss in MMA (16-1) has come at the hands of Mauricio 'Shogun' Rua, a fellow Brazilian who also possesses a black belt in BJJ to go along with his devastating Muay Thai skills (19-4).
The Verdict: Despite being only 5'7" and 140lbs, Lee's power was infamous and his speed was unmatched. This is one of the rare occasions where lack of a ground game would be irrelevant.
Neither Shogun or Lyoto would be able to close the gap quickly enough, even if attacking at the same time.
It is stretching it to say that Lee could have simultaneously dealt with two highly skilled much larger fighters; however he was adept at dealing with multiple attackers and would look to instantly strike crippling blows to one fighter before turning his full attention to the second fighter.
Bruce Lee is too quick, too powerful, and too dangerous. Double first round TKO's within 60 seconds.
Final Result:
MMA – 7
Hollywood - 5
Keep Reading