All-Star Break Report Card: Rating the Boston Red Sox First Half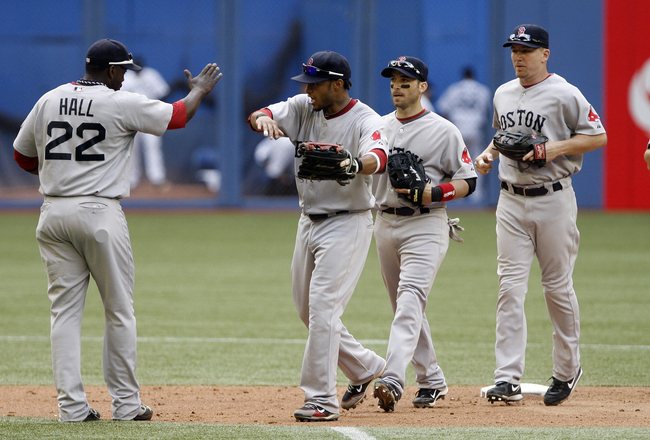 Daniel Nava? Darnell McDonald? Felix Doubront? Household names all, thanks to a wild and bizarre first half of the season that has seen the Boston Red Sox go from floundering to flying to floundering again. The Sox have dealt with a remarkable rash of injuries and yet received critical contributions from sources both expected and very unexpected, and somehow stand just five games back of the Yankees at the break.
Boston fans have gone from the lows of an April and May that featured a fading David Ortiz and frustrating losing streaks that dug a sizable hole to the highs of a June that vaulted the Sox back into contention, within a half-game of first place at one point. And they are now dealing with the question marks of July, as the Sox stumbled into the All-Star break continuing to deal with injuries while fading back to five games out.
So how did the first half break down, really? Not at all like anyone expected. A team built on run prevention has indeed prevented very few runs, but produced more than its fair share. And with the All-Star game just a day away, the first-half report card is officially in.
Leave an apple on the desk in the morning.
Rotation: C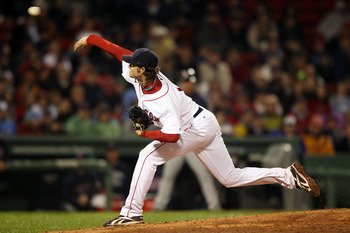 Jon Lester and Clay Buchholz are the reason this grade isn't lower. The two of them have been literal saviors, with Lester proving he's an official ace and Buchholz ascending to an All-Star level. But otherwise this group has been a big fat disappointment.
We haven't even seen Josh Beckett since May, and what we've seen from newcomer John Lackey has been enough to make you turn away from the TV (don't let his nine wins fool you; he's had an awful year). And Tim Wakefield and Daisuke Matsuzaka have combined to inspire as much confidence as a Shaquille O'Neal free throw.
Bottom line, this group has to improve if the Sox are to remain in the hunt.
Bullpen: D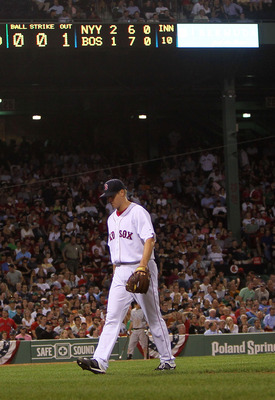 The bullpen is like the starting rotation — only without the saviors. Except for perhaps Daniel Bard, who appears ready to assume the throne of closer if his arm doesn't fall off due to overuse. But, you can't blame Tito for going to the well on a nightly basis, because the rest of the cupboard, quite honestly, is bare.
Ramon Ramirez and Hideki Okajima have been nothing short of woeful, and Manny Delcarmen (Delchameleon?) continues to confound, posting a dreadful June after a promising April and May. When Scott Atchison, who looks like a grandfather in follicles and physique, is one of your more reliable arms, times are tough.
Even Jonathan Papelbon has been shaky at times, and though he's come around some in June and early July, we need to see more. This unit requires some serious tinkering before the trading deadline.
Lineup: A-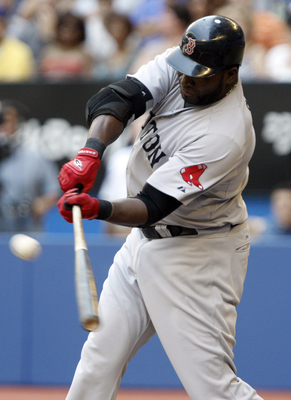 Who was it that said the Sox wouldn't be able to score runs? Oh yeah—everyone. So much for that theory.
Somehow Boston is near the top of the league in every major offensive category, and has four All-Stars to prove it. David Ortiz turned in as good a two-month stretch as we've seen from him in years, and Adrian Beltre has been an absolute revelation at the dish, swinging from his knees while producing a batting average that continues to hover around .340.
What the Red Sox have done production-wise this year has been sturdy and consistent, thanks to the likes of Kevin Youkilis, Dustin Pedroia, Victor Martinez, and a bunch of other guys nobody expected much from.
Bench: B+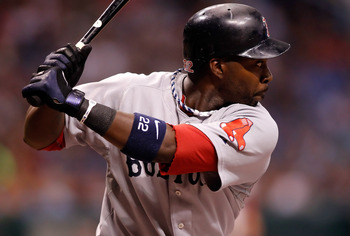 No other reserve unit has been pressed into as much service, and by and large this group has done well.
Bill Hall isn't blowing anyone's socks off, but he's started at five positions, held down the second base job since Pedroia went out, and contributed seven homers.
Darnell McDonald and Daniel Nava jump started seemingly dead Major League dreams, and Jeremy Hermida was productive when healthy. And Jason Varitek has proven to be the perfect back-up catcher.
Lady Luck: F-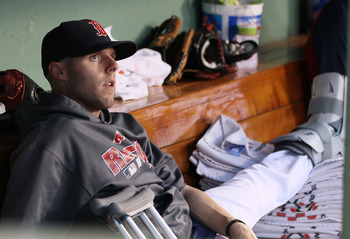 The run of injuries the Sox have had is nothing short of remarkable. I've never seen a team so decimated before the All-Star break. All nine Opening Day starters – Jacoby Ellsbury, Dustin Pedroia, Victor Martinez, Kevin Youkilis, David Ortiz, Adrian Beltre, JD Drew, Mike Cameron, and Marco Scutaro – have had at least a nagging ailment. Four of those players have dealt with significant injuries (Mike Cameron continues to battle through a sports hernia). And the pitching staff has hardly been exempt, with Beckett on the shelf for months and Clay Buchholz still recovering from a hamstring wound.
That the Sox remain anywhere within sniffing distance of the AL East lead is a minor miracle given the parade of Quadruple-A All-Stars that have taken the field thus far.
But it has to get better on the injury front after the break, right?
Right?!?!
Keep Reading

Boston Red Sox: Like this team?