Five Other Reasons Maple Leafs Should Not Sign Ilya Kovalchuk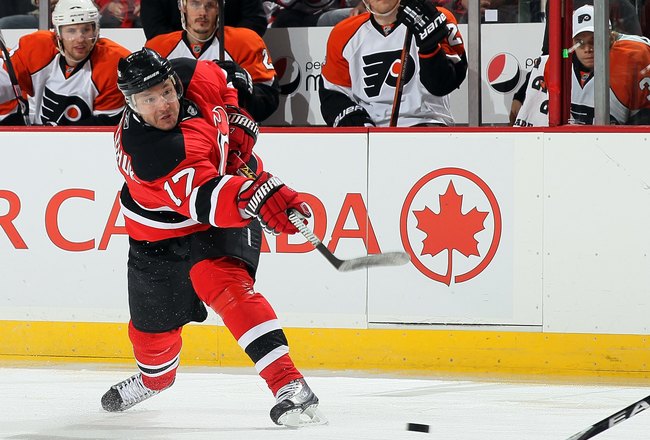 Harold Ballard, who once owned The Toronto Maple Leafs, was angry with Russia and would not let Russians play hockey in his arena: Maple Leaf Gardens. But, since his untimely demise, agents for Russian-born superstars have steadfastly made it be known to the various general management of The Leafs that Russians would love to play in Toronto. I now present to you, fellow hockey fans, five good reasons not to sign Mr Kovalchuk and save your franchise the money, not to mention the disappointment.
Sergei Berezin
For five seasons we Leafs fans were drawn night after night to the diminutive winger, gracing us with his 5'10" frame, after he potted 25 goals in his debut season and showing so much promise. A few years later he notched 37 in fact, but ended up in a Habs uniform in 2001. Some might brazenly argue he helped the team get into the playoffs for a couple of seasons around the new millennia.
All in all, however, his assets on the ice could have easily been replaced by any number of names - but we the fans must maintain the faith in management. And so we waited... night after night. Poor ol' Berezin doesn't even turn up in "what ever happened to" conversations these days. Gone and forgotten.
Dmitri Mironov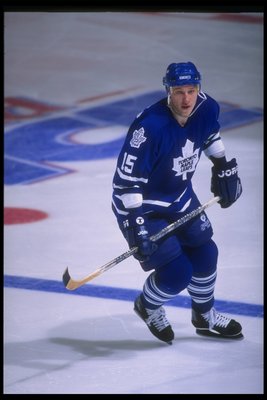 Just to be clear, I'm not saying Dmitri Mironov has the on-ice skills as Mr Kovy, but that the impact will be the same, regardless of the paycheque. Dmitri Mironov came to town in the early 90s and joined a team that featured Gilmour, Clark, Anderson and Zezel up front, a team back-stopped by Grant Fuhr. In his first season, he potted one goal and played in 7 games. A few seasons later he enjoyed his career season, playing in 76 games and netting 36 points in total. But two seasons later he was playing in Pittsburgh, as The Leafs were a new-look team under Mats Sundin.
Alexander Mogilny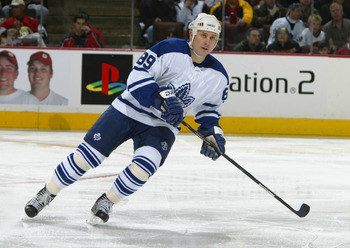 Will Mr Kovy net 50 goals for the Kings or Devils? We thought Alexander Mogilny might for The Leafs, when he joined a mighty 2001 team comprising Mats Sundin and Darcy Tucker, not to mention Mikael Renberg and Robert Reichel up front. Alexander Mogilny certainly had illustrious help in his time with The Leafs from a stalwart defence tandem anchored by none other than Tomas Kaberle and Brian McCabe... btw, joined ably by Dmitri Yushkevich. We were so happy with the scoring touch of Mr Yushkevich, he was back playing in New Jersey in no time, scoring 65 times over 3 seasons in the blue and white.
Alexander Karpovtsev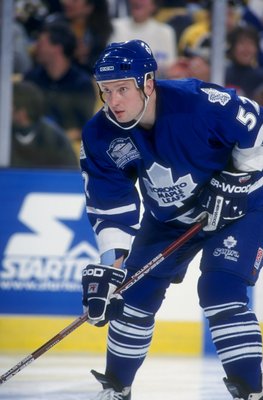 But who can forget the contributions on the blue line of Alexander Karpovtsev? It was the late 90s, and he joined a competitive team. After all, our youthful defense core held its promise in Bryan Berard, but admittedly the team did have a great d-man in Jason Smith. Alas, Alexander Karpovtsev could not make that impact we were promised by management and yet to the media he could not answer to his faults, and so he laboured on for two seasons and ended up in a Black Hawks uniform. There's no need for Russian born players to languish in the NHL anymore and suffer the humiliation of another misunderstood contribution, whether a shift or a career, because today we have the KHL.
Nikolai Borschevsky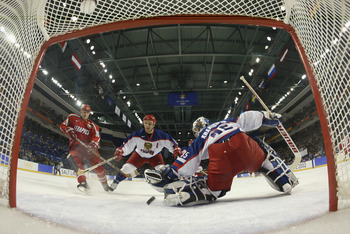 The funny thing is when the image selector can't find a photo of Nikolai Borschevsky, then you know this superstar has had one helluva career. Nonetheless, Borschevsky came to The Leafs in '92 and scored 34 times over the season. Yes, we thought, here was a sniper. Then the next season, though only after playing 45 games, he scored 14. The next year he was gone. There was no room on a forward line that included Gilmour, Clark, Andreychuk and Anderson. Hockey is a team sport; bottom line. What happens in the locker room and off the ice matters as much as on the ice. It all adds up at the end of the day. Winning a Cup is not about one man's pure skill or desire. Ask Ovie.
Keep Reading

Toronto Maple Leafs: Like this team?