Green Bay Packers Offensive Line Developing Depth in 2010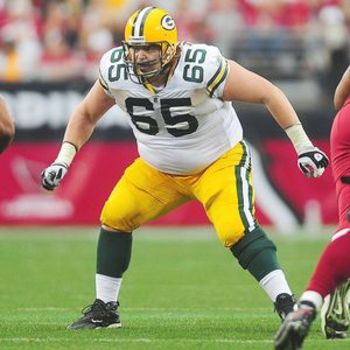 Offensive lineman are arguably the most underrated players on the field, that is, until your quarterback is being thrown around like a rag doll.
We all see the big plays, but rarely do we hear about the men who make them all possible.
2009 Packers Offensive Line Stats included 51 sacks allowed, and 93 QB hits.
The Green Bay Packers used over 20 different combinations of offensive lineman last season, making it nearly impossible to develop any kind of chemistry.
If Rodgers doesn't feel comfortable with his own protection, he's liable to make unnecessary mistakes.
It all starts with the big men upfront. If you can't open holes for your running game or keep your quarterback upright, you're destined for failure.
Here's a prime example: In the first half of the season, the Packers offensive line gave up 37 sacks and the team had a 4-4 record, including a shameful loss against the Tampa Bay Buccaneers.
In the second half of the season, the Packers offensive line gave up 14 sacks and the team went 7-1 with their only loss being a last-second heart breaker versus Pittsburgh.
With veteran T's Chad Clifton and Mark Tauscher returning, we should see more of what we saw in the second half of 2009.
Heading into the 2010 season, the Green Bay Packers have the most depth in their offensive line that they've had in a long time.
Without further delay, here's a look at the 2010 Packers offensive line.
LT: Chad Clifton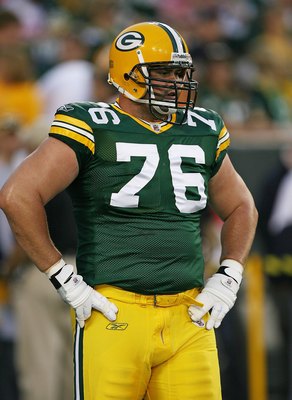 Status: Starting LT
Clifton is entering the season at age 34, but he was still one of the main reasons the Packers offensive line solidified last season.
He just recently signed a three-year, $19.58 million contract, almost all but shoring up the rest of his career as a Packer.
Last season Clifton missed a few games due to an ankle injury, but he's been a full participant in offseason workouts and has said that his ankle is completely healed, which must bode well for Aaron Rodgers.
Barring injury, Clifton will remain an essential part in the protection of Pro Bowl quarterback Aaron Rodgers.
LG : Daryn Colledge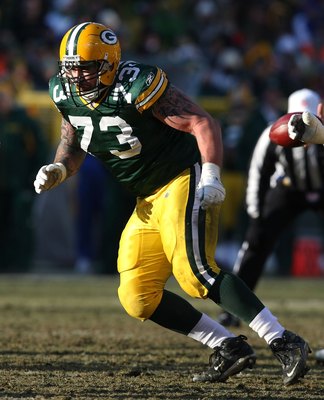 Status: Starting LG
At the beginning of last season, Colledge was quickly becoming one of the most hated Packers due to his inability to keep Rodgers upright.
His move from LT to LG turned out to pay serious dividends.
He surrendered five sacks in just three starts at LT, but redeemed himself by only giving up five sacks in the other fourteen (including playoffs) starts at LG.
Colledge blamed the Packers for his lack of performance last season, complaining that repeatedly switching positions effected his development. Now that we know his strength, he should be able to focus on playing LG.
One thing you can't take away from him, though, is durability. Impressively, he hasn't missed a game in his entire career, NFL or college.
On an unrelated note, I hope we're in for another season of "The Colledge Experience", some of those episodes were enjoyable to watch.
C : Scott Wells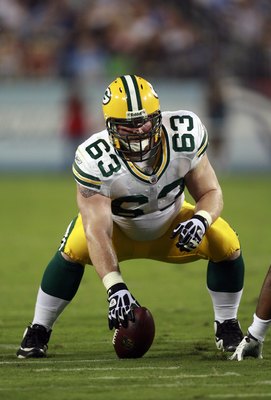 Status: Starting C
Wells lost the starting bid early in 2009, but won it back due to his ability to perform as a run blocker.
He is coming off his best season in Green Bay and is expected to remain the Packers' starting center in 2010, which is ironic considering he was on the trading block last season.
Wells played 1,074 snaps last season and remarkably only surrendered two sacks.
RG : Josh Sitton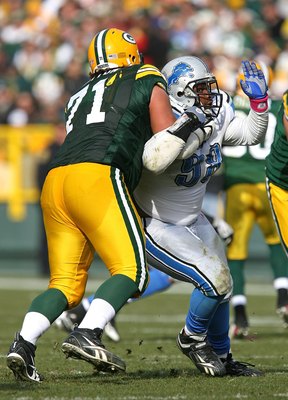 Status: Starting RG
In my opinion, Josh Sitton is one of the most underrated G's in the league, and will be a Pro Bowler very soon.
He only surrendered four sacks in 1,193 snaps last season.
Sitton was held back due to injury in 2008, but should really excel in 2010 with a full season of NFL experience under his belt.
RT: Mark Tauscher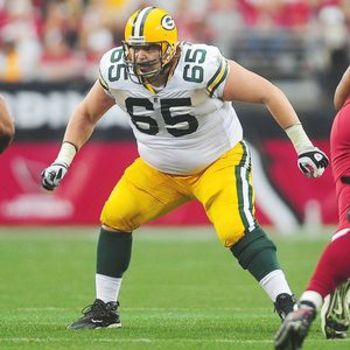 Status: Starting RT
The former Wisconsin Badger recently signed a two-year, $8 million deal, which immediately improves the Packers' offensive line.
Tauscher has been injury prone in the past few seasons, but after a successful "half-season" in Green Bay last year, and an entire offseason to heal, he should be very reliable in 2010.
His presence also benefits backup RT T.J. Lang. Lang will be able to learn from Tauscher who has had a solid career in Green Bay.
RT: T.J. Lang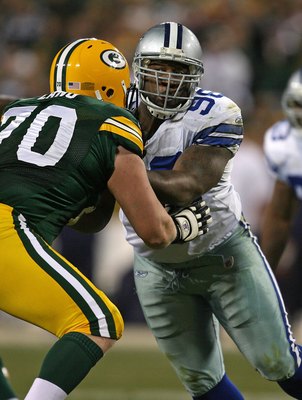 Status: Backup RT
T.J. Lang is a very talented T who has potential to be the Packers' RT of the future.
From what we've seen thus far, he specializes in run-blocking, but if Tauscher takes him under his wing he can definitely become more well-rounded.
Unless Mark Tauscher gets injured, Lang probably won't be seeing much of the field. However, if Tauscher were to go down, Lang is definitely a solid backup.
LT: Bryan Bulaga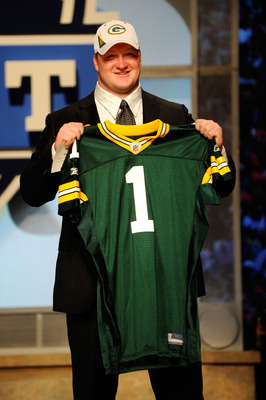 Status: Backup LT
Surprised that Bulaga was still on the board, Ted Thompson had no doubt in his mind who he was going to choose, and rightfully so.
Although there were other positions of need, Thompson couldn't pass on the opportunity to draft a potential LT of the future.
In 30 games at Iowa, Bulaga only surrendered 3.5 sacks and zero QB pressures on 712 pass attempts. Impressively, he was only penalized five times.
Bulaga will likely start the season as Green Bay's "swing" tackle, and fill-in for Tauscher or Clifton if one of them go down.
Keep Reading

Green Bay Packers: Like this team?