San Francisco 49ers' 2010 Draft Class: Predicting Their Impact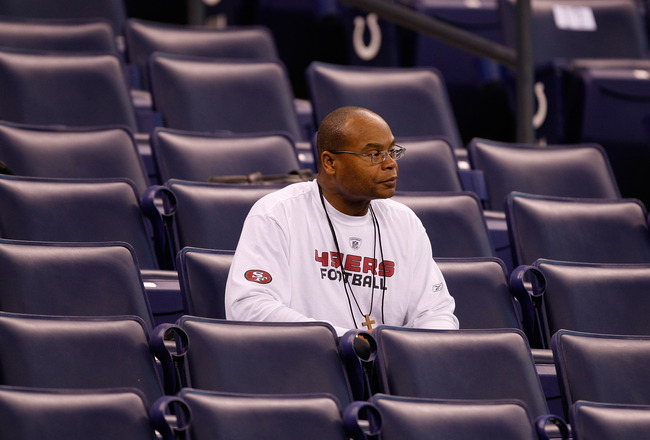 The 2010 Draft saw the 49ers pick eight players with potential impact.
From their highlight reels, to their combine numbers, to their on-field performances, the red and gold has selected a serious group of young, tough talent.
It's still about a month before the 49ers first preseason game, but the faithful are still buzzing over what the rookies have shown during organized team activities.
Of the eight players drafted, most, if not all, are expected to make the team. A couple can have immediate impact on the field, and most will ease into production in situational and special-teams play.
So here's a countdown of the new guys I expect to have the biggest impact in 2010.
8—Phillip Adams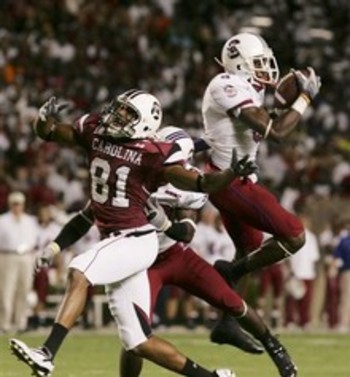 How obscure is Phillip Adams? Try searching Getty Images for a picture of him.
You'll find basketball players, hockey players, cricket players, golfers, and even Aussie-rules footballers named Adams, but no Phillip Adams from South Carolina State.
And that's just the beginning of the long, tough road Adams must travel if he's going to make a name for himself as an NFL corner.
Adams will face tough competition for a roster spot in the secondary.
Although Adams brings a physical style and youthful energy to the defense, Nate Clements, Shawntae Spencer, Micheal Lewis, and Dashon Goldson should anchor the starting spots. And With the arrivals of Karl Paymah, Will James, and Taylor Mays, Adams will struggle just to see time with the special teams unit.
Luckily for him, Adams plays with the physical style Mike Singletary demands.
7—Navorro Bowman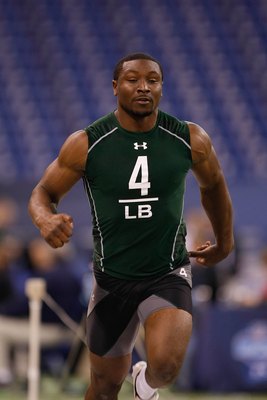 The fast and ferocious linebacker out of Penn State should see time on special teams this year.
As the 49ers groom him to possibly take up an inside linebacker position someday, I suspect he'll sneak onto the field for a few tackles and maybe even a sack or two.
6—Anthony Dixon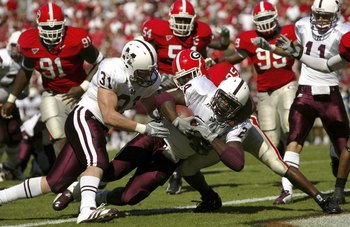 If the 49ers wanted someone to push Glenn Coffee, they found the right guy in Anthony Dixon.
The 6'1", 233 pound running back plays with a razzle-dazzle style usually reserved for smaller scat backs.
San Francisco would like to see the big man deliver more of a pounding to defenses, and he also needs to use his big frame to crush opposition when picking up pass rushers.
But in reality it won't matter what trail Dixon cuts as long as he moves the chains and holds onto the ball.
5—Nate Byham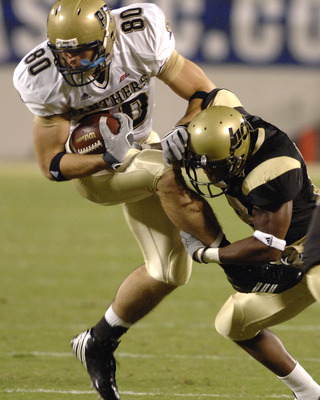 Nate Byham isn't here to catch passes.
Sure, he'll pull in a couple five-to-ten-yard grabs when the defenses forget about him, but he is a blocking tight end, make no mistake about it.
When fans read Byham's quote, "I like to bloody noses. I don't shy away from contact," they knew what they had. At 270 pounds, he's a blocker. A ruthless blocker. The kind the 49ers want up front moving guys off the line.
Byham gives San Francisco a balance to the skill sets Delanie Walker brings. Walker will burn you; Byham will crush you.
A lofty prediction is that Byham catches 10 passes for 100 yards in 2010. Maybe he even gets a touchdown on a bootleg, but everyone is aware that Byham is a blocking tight end by trade.
4—Anthony Davis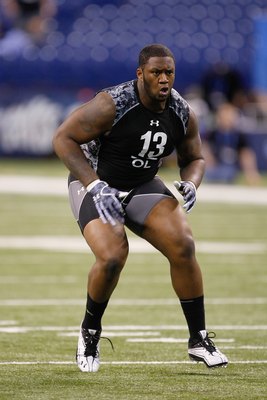 He's the big guy everyone's talking about. The 49ers moved up two spots to take Davis with their first pick of the 2010 draft, and this has many spectators believing that he'll be an opening-day starter.
We've got to remember, however, that the big man is only 20, so he's a long-term o-line investment.
The competition at the tackle spot is such that several big men are going to be working their tails off to grab a piece of the starting position. With Joe Staley essentially locking down the left tackle position, Davis will be one of at least three linemen battling for the starting right tackle spot.
Although it wasn't training camp—players weren't doing full contact drills with pads—Davis didn't look exceptionally impressive at the team's minicamps. He'll need to refine his understanding of the snap count to avoid false start penalties, which could hurt the team.
Barring injury, it's difficult to think Davis cracks the starting lineup before his 21st birthday in October.
But when he is ready, Davis is going to be a beast in the trenches.
3—Kyle Williams; 2—Taylor Mays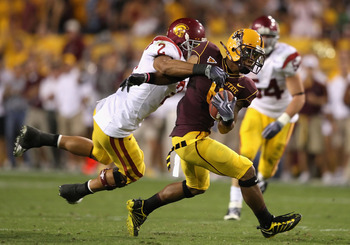 Of course, with both being Pac-Ten athletes, these two had met before they came to the 49ers.
Williams early impact could be exceptional for a sixth-round selection. Having a small, quick, sure-handed slot receiver might be just what the doctor ordered for the 49ers ailing third down percentage; they converted just 65 of 218 attempts on third down in 2009.
Williams brings a quick and aggressive style to the field, and his professional sporting pedigree is very real. Ken Williams, his father, is the general manager for the Chicago White Sox, and his grandfather Jerry Williams was a track star in the 1960s.
Kyle played center field in college as well, but chose football after Arizona State coach (and former 49ers coach) Dennis Erickson urged him to focus on the sport. The experience of fielding pop flies could come in handy, as Williams will be one of several receivers also competing to return kicks as well.
Taylor Mays, however, is a different creature entirely. The super-sized safety from USC had a reputation early as a devastating hitter.
An outstanding combine and pro day, in which Mays displayed incredible speed and strength, had most experts penciling him in as an almost certain first rounder.
Perhaps it was the stalled production over his final seasons at USC, but Mays managed to drop all the way to the middle of the second round.
Mays has impressed many onlookers in organized team activities, and gives the 49ers much needed speed in the secondary. Catch-up speed. Big-play speed. Drive-the-opposing-quarterback-crazy speed.
With the right coaching—which it's nice to think the 49ers provide—Mays could make a very big impact on a talented and physical secondary this year, especially from nickel and dime personnel groupings.
There could be a come-out-of-nowhere-to-make-the-play pick-six in his future, or even a knock-him-out-and-scoop-the-ball fumble recovery to the house in 2010.
1—Mike Iupati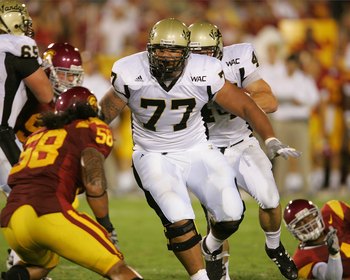 "I want to destroy a lot of people," is the Mike Iupati quote that embodies why he's likely to have an immediate impact on the 49ers. That, and the fact that the 49ers could really use a guard of his caliber.
Taking a guard from the WAC in the first round didn't seem like a genius move at first; the jump to the NFL will be a bit of a transition. Nevertheless, Iupati has the kind of traits and skills that translate very well to the professional level.
At 6'5" and 330 pounds, he's a very big man that can really move.
Agile, hostile, mobile—all three describe Iupati.
On a team that wants to really establish the runs, Iupati should be doing massive damage in the trenches. There's no secret that the 49ers like to mash potatoes between the tackles, but when this guy gets going around the edge he's going to be a nightmare for some poor linebackers.
Iupati could become a serious pancake machine in the NFL by the end of the season. But it's his pass protection that could make Iupati the team's most important rookie this year.
Alex Smith has needed the porous pass protection fixed since he took his first snaps in red and gold. Massive Mike could be just the right plumber to fix the leaky o-line.
Iupati is like a warrior out of a Samoan legend, and his impact should be felt immediately come opening week.
Keep Reading

San Francisco 49ers: Like this team?