AFC South Preview: Top 15 Players Under Pressure in 2010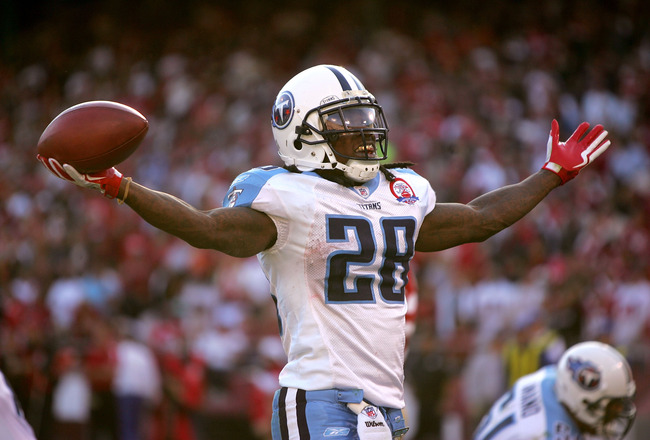 The AFC South enters the 2010 season as one of the league's most competitive and intriguing divisions.
While the Colts are a virtual lock for the postseason every year, this year included, the Titans, Jaguars, and Texans are all under immense pressure to reach the postseason. In fact, one could argue that these three teams are under more pressure than any other three teams in the entire league.
But, you can't spell team without "me," and all four of these teams have players who are under just as much pressure as their teams to perform in 2010.
Some of these players are under pressure to keep their jobs, and some of them are under pressure to earn a starting role.
Either way, 2010 will be a year of judgement for the AFC South and these 15 players.
#15: Bo Scaife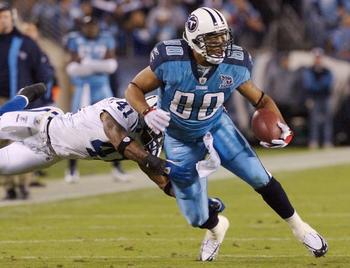 Entering his 6th season in the NFL, Tennessee Titans tight end Bo Scaife has been a mainstay in the team's passing game, but is yet to produce a season worth celebrating.
Scaife's best year came in 2008 when he caught 58 passes for 561 yards and two touchdowns. However, even after his best year, the Titans brought in Alge Crumpler to aid the passing game.
Both Crumpler and Scaife produced minimal numbers last year, but it is Scaife who will likely soon find himself on the hot seat. The pressure is on Vince Young's former Texas Longhorn teammate to start taking on a role as a dangerous threat for the Titans.
#14: Derrick Morgan and the Titans Front Seven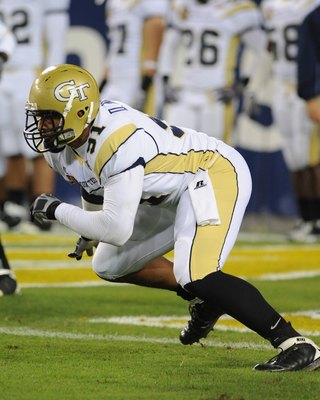 It is not fair to pin the expectations of an entire front seven on one player, but by drafting Morgan with the 16th overall pick in April's Draft, he became the young face of this unit.
The Titans finished 10th overall in rushing defense in 2009, but dearly missed Albert Haynesworth up the middle, and will now have to survive without former Pro Bowler Keith Bulluck.
Tennessee's defensive line and linebacking corps must continue to make up for their losses, and produce a playoff-caliber unit in 2010.
#13: Kenny Britt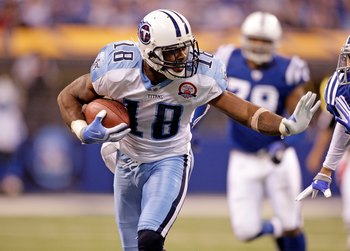 As a rookie in 2009, Kenny Britt showed the NFL he has the tools and the potential to become a dominant force at wide receiver.
Britt caught 42 passes for 701 yards and three touchdowns, while showing game-breaking speed and agility.
However, early reports out of Titans camp claim that Britt has struggled holding on to passes which might put his starting spot and development in jeopardy. The Titans expect Britt to become the elite receiver they have never had, and he must show progress if he wishes to fulfill that role.
#12: Tony Ugoh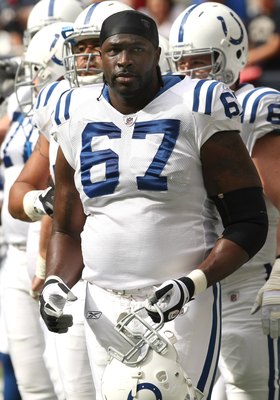 Once heralded as the Tarik Glenn's replacement to protect Peyton Manning's blindside, Ugoh never fulfilled his potential.
The Colts gave Ugoh two seasons to prove his worth at left tackle, but the former Arkansas Razorback failed to amply protect Indianapolis' prized possession.
With his career on the line, the Colts have moved Ugoh inside to play left guard in an attempt to save his young career. If he fails to produce, his days with the Colts will come to an end.
#11: Brian Cushing's Replacement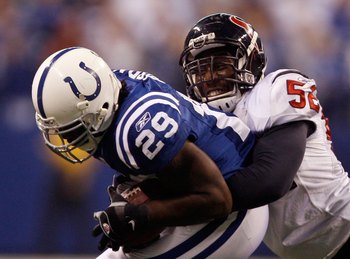 2009 NFL Defensive Rookie of the Year Brian Cushing's four-game suspension leaves the Houston Texans' linebacking corps with a glaring hole.
Although Cushing will miss only four games, the Texans are under immense pressure to produce a playoff berth in 2010, making every game an absolutely vital one.
Linebackers Xavier Adibi, Zac Diles, Darryl Sharpton, among others will compete for the pressure-packed job of filling Cushing's spot. Whoever wins the job must produce in order for Houston's defense to maintain a solid level play.
#10: Amobi Okoye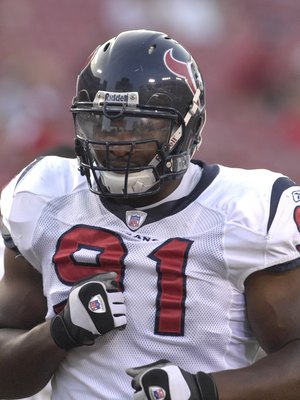 At age 19, Amobi Okoye was selected with the 10th pick in the 2007 NFL Draft by the Houston Texans. Okoye was expected to be a mainstay in Houston's defensive line for at least a decade, and appeared to be so after a stellar rookie season.
However, Okoye's has compiled just 62 tackles and 2.5 sacks since his rookie year, and the Texans' patience might soon begin wearing thin.
Now 23, Okoye must prove that he can be the player the Texans drafted in order to keep his starting position, and his job.
#9: Reggie Nelson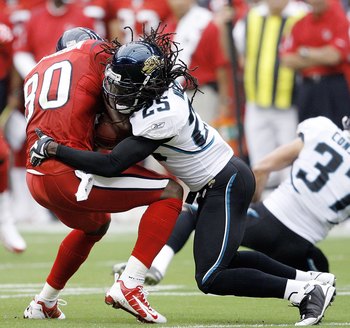 After a promising 2007 rookie season in which he picked off five passes, Jacksonville Jaguars' free safety Reggie Nelson has been nothing beyond mediocre.
The former Florida Gator's numbers have decreased since his rookie campaign, forcing the Jags to begin looking in another direction for safety help. This offseason, the Jaguars pursued free agent Darren Sharper, a clear indication that they are not sold on Nelson's ability to be a long-term starter.
Nelson will have to fend off Gerald Alexander, Sean Considine, and Courtney Greene if he wishes to retain his starting spot. However, one more lackluster season might be all the persuasion the Jags need to let former first round pick go.
#8: Anthony Gonzalez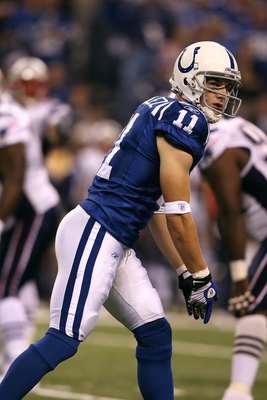 After a strong rookie season, and an even better sophomore year, Colts receiver Anthony Gonzalez looked like the perfect heir apparent to Marvin Harrison.
Upon Harrison's retirement, Gonzalez earned the starting spot, but was sidelined by a nagging knee injury for the entire 2009 season. Gonzalez's absence allowed young receivers Pierre Garcon and Austin Collie to emerge as legitimate receiving threats.
Gonzalez possesses a deadly combination of speed and great hands, but if he fails to get back to his pre-injury form in 2010, he might find himself sitting behind Garcon and Collie on the depth chart.
#7: Tyson Alualu
Few rookies enter training camp to the dismay of his team's fans.
The Jaguars shocked the NFL by drafting Cal defensive tackle Tyson Alualu with the 10th overall pick in April's draft, a player many had pinned as a late 1st round or early 2nd-round pick. With the team the subject of so much relocation talk, Alualu is not the solution most Jacksonville fans were hoping for.
It takes years for most defensive tackles to be groomed into effective players, but expectations are still going to be sky high for a player who might not be ready for an impact role in 2010.
#6: Joseph Addai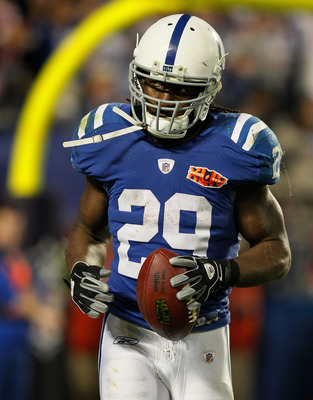 Joesph Addai was under serious pressure in to perform in 2009, and he delivered. Addai resurrected his career, which looked to be on the decline after an injury plagued 2008.
The Colts showed their concern over Addai's decline by drafting running back Donald Brown with their 2009 first round pick, but he received minimal playing time due to Addai's revitalized play.
Bill Polian and his coaching staff won't keep Brown waiting in the wings for long, but if Addai can deliver under pressure once again, he might earn another year as Indianapolis' feature running back.
#5: Dunta Robinson's Replacement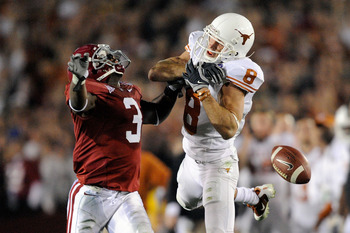 Dunta Robinson's departure from Houston might prove to be a fatal blow to the Texans' playoff hopes.
In an effort to replace the team's only lockdown corner, the Texans will look to first-round pick Kareem Jackson, veteran Glover Quinn, and perhaps safety Bernard Pollard to fill Robinson's shoes.
Whoever wins this battle will have the arduous task of anchoring a defense expected to keep up with a playoff-ready offense, and pressure will be plentiful.
#4: Chris Johnson
There's little question over whether or not Chris Johnson will put up superstar numbers in 2010, but after such an ugly holdout, pressure will be on Johnson to produce numbers that make up for the distraction he caused this summer.
All eyes have been on Johnson this summer, as many speculate and anticipate how long 2009's NFL Offensive Player of the Year will hold out for.
Assuming Johnson gets his pay raise, fans will expect the running back to replicate his 2009 play, which is a feat unlikely to be accomplished. Unless Johnson is able to reproduce 2,000 yards, he is setting himself up to look like just another greedy athlete.
#3: David Garrard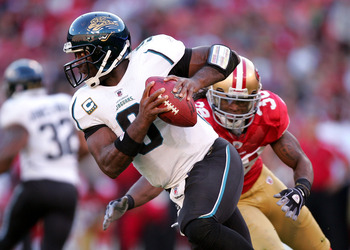 Since running former first round pick Byron Leftwich out of town in 2007, Jaguars quarterback David Garrard has led Jacksonville to one playoff appearance, but not much else.
After signing a lucrative contract extension in 2008, Garrard's play has been simply pedestrian, and he has not displayed the skill or the stats to prove that he can lead this team to a Super Bowl, or even a deep playoff run.
Excuses are beginning to run short for Garrard who finally has a big play receiver in Mike Sims-Walker as well as a top 10 rushing offense. And, it's no stretch to believe that the Jags may look for a young quarterback to reignite fans' excitement in the franchise.
Pressure will be sky-high for Garrard in 2010, and one more lackluster year could spell the end of his days in Jacksonville.
#2: Steve Slaton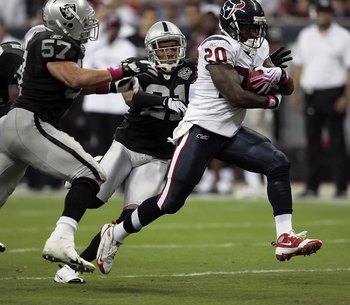 Steve Slaton's rookie campaign put him on the trail to stardom and a feature role in the Houston Texans explosive offense.
But after seeing a drastic drop in his numbers from 2008 to 2009, a year in which Slaton was nagged by injuries, the primary running back role might be slipping from his grasp.
Slaton simply failed to produce in 2009, posting just 437 yards and 3 touchdowns. A product of the injury, overwork in 2008, or a simple decline in skill?
The Texans are not waiting to find out, and unless Slaton produces early and often in 2010, rookie Ben Tate and backup Arian Foster will have a shot at usurping him from the starting role for good.
#1: Bob Sanders
Bob Sanders was once heralded as the only player capable of flipping the switch on a Colts defense that struggled mightily in his absence.
Sanders played an integral role in the Colts 2007 Super Bowl run, but has played in just eight combined games since. His durability issues have allowed safety Melvin Bullitt to emerge as a strong, consistent player, and one that could force the Colts to part ways with Sanders.
If Sanders fails to stay on the field and produce at the highest of levels in 2010, it will be very difficult for the Colts to hang onto him and his hefty contract.
Keep Reading