Move Aside Dwyane Wade? Five Reasons Miami Will Be LeBron James' Kingdom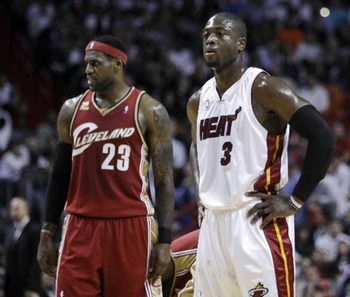 So many have expressed disappointment in LeBron James, not just for leaving Cleveland behind, but presumably leaving his role as top dog as well.
I'm just not convinced that James left that role behind for good.
The Miami Heat may be Dwyane Wade's team right now, but when you add a transcendent talent like LeBron James, things are subject to change. Here are five reasons I believe that LeBron James will have established Miami as his new kingdom by the end of the 2010-11 season.
5. LeBron is the Better Player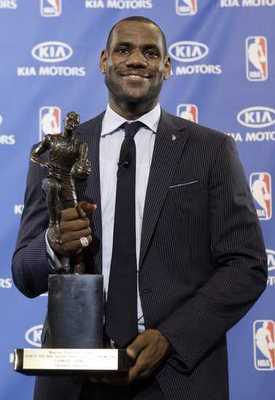 This really is not up for debate. Point to Wade's championship ring all you want, but consider a few key facts first:
Wade got better help at a much earlier stage in his career. In 2004, Wade's second year in the NBA, the Heat acquired Shaquille O'Neal, who was still the consensus best center in the league. At the time, LeBron was still middling around with Drew Gooden.
We won't even get into all the major veteran help that Wade had when he won in 2006 including (but not limited to) Gary Payton, James Posey, and Alonzo Mourning.
Wade was also competing in a significantly weaker Eastern Conference than the one James has been trying to conquer lately. While both players came into the league the same year, it wasn't until much later that Cleveland put players around James that he could even pretend to compete with.
By then the Celtics had welcomed aboard Ray Allen and Kevin Garnett, among other talented veteran players, and saw Rajon Rondo develop into a top-five point guard in the league.
In Orlando, Dwight Howard emerged as the best center in basketball, winning two consecutive Defensive Player of the Year Awards and becoming the first player in the history of the game to win back-to-back rebounding and blocked shot titles.
Furthermore, there's no way in hell the Spurs would have collapsed after leading a series 2-0 and having a double-digit lead in the fourth quarter of Game Three.
We'll leave the somewhat questionable refereeing of the 2006 Finals out of this, but there's no question that LeBron James faced a better team in the Finals than Wade did.
True, LeBron failed to win a single game in the '07 Finals, but his second best player was Zydrunas Ilgauskas. 2006 Shaq or 2007 Ilgauskus? Hmmmmm.
4. You Can Be No. 1 in Notoriety without Being No. 1 in Actuality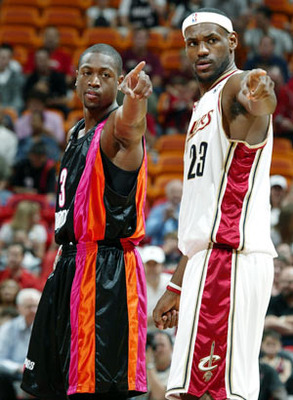 Look, I get it.
Wade was here first. He was a top-three player in the league before and he'll want to continue to show that he is now.
Wade stands in the middle during pictures and rallies, and if the Heat win a championship, he'll be standing in the middle of the Wheaties Box picture.
I get it.
LeBron James does too. That's why there's an element of genius to his decision. Wade is the face of the team, so when they lose he becomes the fall guy and when they win, whoever contributes the most will get the praise.
Keep in mind that James hasn't been able to escape the limelight since before he was old enough to legally have a job. Since he earned his ticket to the NBA he's been the opposition's first and usually only priority.
While that hasn't slowed him much, imagine what he could do without that kind of attention. The media, president Pat Riley, Chris Bosh, and even LeBron James himself have come out saying that the Heat are Wade's team.
If that eventually works its way into the opposition's gameplan, so much the better for James.
3. LeBron Can Control a Game without Scoring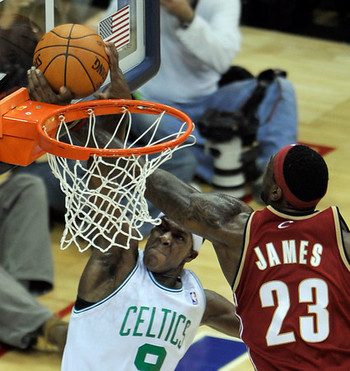 While Dwyane Wade is a very good defender and offensive presence, he can't control a game without scoring. Its no secret that Wade's orientation is more purely offensive.
Every aspect of his game seems to feed his own offense while James consistently impacts every area of the floor, particularly with his passing, where he ranked sixth in the league last season.
LeBron James has also established himself a top-five rebounder in the league in crunch time, even among centers.
While LeBron ranked 33rd in rebounding during the regular season, he ranked seventh in the league during the playoffs while maintaining a nearly identical scoring and field goal percent average.
Of the six people that ranked above him, two were eliminated in the first round and therefore played in fewer games, which made it easier for them to maintain high averages.
Besides, nobody can chase down a ball like James.
The NBA doesn't keep a stat of fast break blocked shots, but it doesn't need to either. James would not only lead the league, but he'd probably double the totals of the next closest guy.
2. Eventually, There Will Be Blood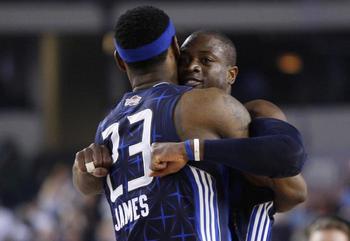 This isn't like Kobe/Shaq or Magic/Kareem.
A center is a guard's best friend and vice versa. There has never been any real answer to who's the better player between Kobe and Shaq, because they're completely different players in completely different roles.
Magic and Kareem are the most successful and best overall players at their respective positions to ever grace a court (yes, Kareem over Bill Russell), so how can you begin to compare those two?
But as we saw with Kobe and Shaq, sometimes elite players feud even when they occupy completely separate roles. While that union lasted long enough to win three consecutive titles, it eventually came apart at the seams.
How much easier is it for things to come apart when the players actually have a style conflict?
The roles of James and Wade are too similar, and both of them have alpha male games and personalities, so the two will have a conflict at some point.
If they're smart, then we'll never know about it, but it will happen. It just has to.
Clearly, one's going to need to make more sacrifice than the other.
There's no doubt that Wade will be the No. 1 decision maker and primary option to start off with, but what happens when the team eventually falls into a slump and/or loses a couple?
Wade will have the backing of the team and management to start, but if James proves to be more effective than Wade as time goes on (and all statistical evidence points that he probably will) don't be surprised if you see an incredibly slow, yet gradual shift of power.
Miami's main interest in this offseason was appeasing Dwyane Wade, but now their main interest is going to be winning. If it becomes clear that two interests conflict, Wade's satisfaction won't likely be at the forefront of Miami's priorities for long.
1. The Heat's Offense Will Become Reliant on LeBron James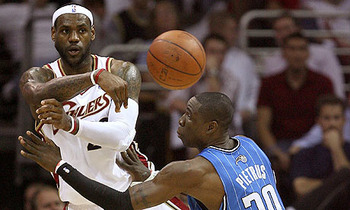 Rebounding is a cornerstone of both offense and defense, and as stated earlier, LeBron is among the very best rebounders in the league.
When you consider the lack of available centers left on the market, Miami's limited cap room, and the fact that no one in Miami seems to have even glanced in Shaq's direction, LeBron's presence there will be key.
Even more importantly, the Heat currently have no true point guard. Theoretically, could Mario Chalmers develop the way Rajon Rondo did? Sure.
But would you really bank on that?
Dwyane Wade is an excellent passer, but no one is more physically equipped to handle the ball for longer and more effective stretches than LeBron James. James averages more minutes, boasts more endurance, and has played the facilitator role far more effectively than Wade.
Just how important is a team facilitator? Ask the Boston Celtics.
Despite their All-Stars, the Celtics are well-known for their offensive struggles when Rajon Rondo is on the bench, and I think the same principle will apply in Miami.
Though Chris Bosh and Dwyane Wade are two of the very best players in the league, sheer offensive talent has never put the ball in the hole. Without a distributor, every time Bosh or Wade would touch the ball they'd be playing one on five. As we saw with LeBron in Cleveland, that formula just doesn't win basketball games.
Unlike in Cleveland, Miami's superior talent should allow LeBron to slide and remain comfortable in that facilitator role where he can be the glue that holds Miami's offense together for years to come.
Keep Reading

Miami Heat: Like this team?