2010 World Cup: Spain vs. Netherlands - Who Had The Hottest WAG?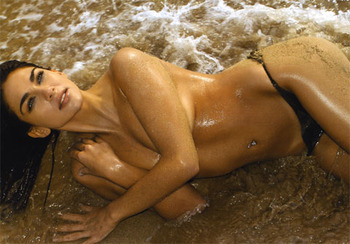 After what seems like a long six weeks, we finally have a 2010 FIFA World Cup Champion, as Spain beat the Netherlands 1-0 in extra time on Sunday to win its first soccer World Cup title ever. Andres Iniesta scored in the 116th minute at Soccer City in Johannesburg after the match finished scoreless in regulation.
As close as the final match was, the 2010 World Cup WAG Championship is not so close. Indeed, a matchup between Spain's WAGs and the WAGs from the Netherlands is essentially like a soccer match between a team with 11 players and a team with four.
There's no contest.
So, in this look at the 2010 WAG Championship between Spain and the Netherlands, we'll go ahead and give the title to Spain, and allow this to be a celebration of the participants.
Roll film.
The Netherlands: This girl.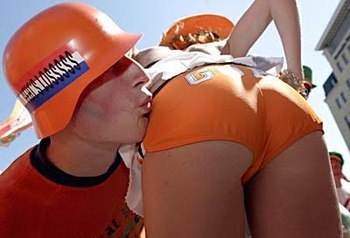 Okay, so we're going to have to cheat a little for the Netherlands, and include one of their hot fans. I mean really, it isn't even fair. It's like the soccer players from the Netherlands don't even care about dating hot girls.
And hey, I'm sure that this girl is the wife or girlfriend of someone in the Netherlands.
Maybe even the young gentleman kissing her rear-end.
The Netherlands: Andra Van Bommel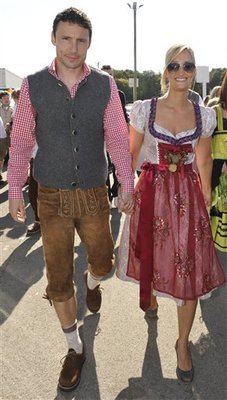 Let's just hope that Mark Van Bommel isn't as violent and physically intimidating at home as he is on the soccer field.
This is a picture of Mark and Andra at EPCOT in Orlando.
Oh wait, you mean they actually dress that way in Holland?
Wow.
The Netherlands: Sylvie Françoise van der Vaart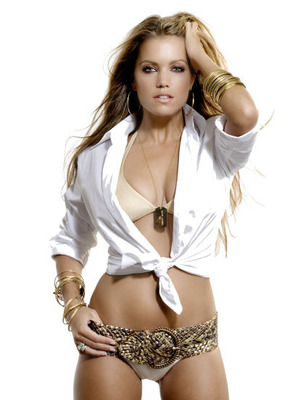 Sylvie Françoise van der Vaart is a Dutch television personality and model, and wife of footballer Rafael van der Vaart.
She's got kind of a Shania Twain crossed with Mandy Moore crossed with Princess Leia thing going on, right?
Right?
Hello?
The Netherlands: More Sylvie Françoise van der Vaart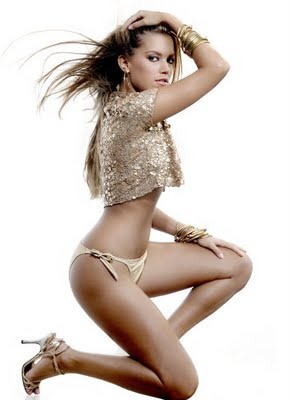 With the front view of Sylvie in the previous slide, and the profile view in this slide, this is becoming the sexiest arrest booking of all time.
The Netherlands: And more Sylvie Françoise van der Vaart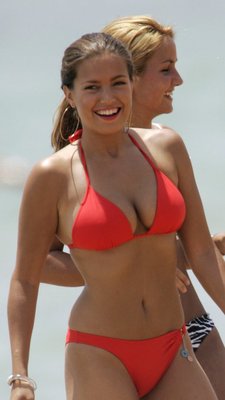 Even her candids look great!
The Netherlands: Yolanthe Cabau van Kasbergen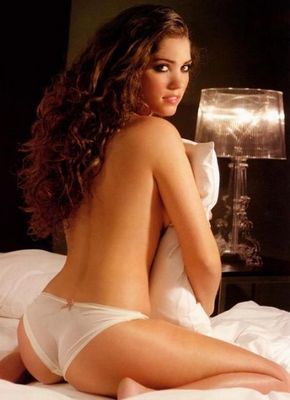 Soap opera star, model, and presenter (don't ask), Yolanthe was voted Sexiest Babe of the Year by Dutch FHM in 2006, 2007, and 2009.
She has dated Wesley Sneijder since 2009.
Isn't it odd how cumbersome the names of hot girls from the Netherlands can be?
The Netherlands: More Yolanthe Cabau van Kasbergen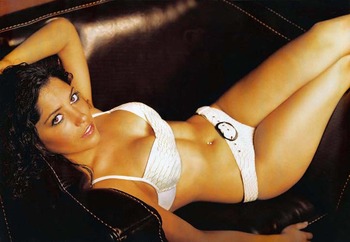 You know, the Netherlands' WAGs may be few, but what they lack in number they make up for in quality.
The Netherlands: And more Yolanthe Cabau van Kasbergen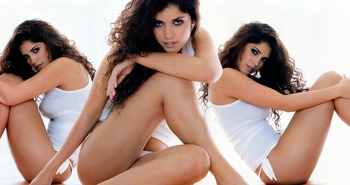 And hey, if this cloning thing ever takes off, the Netherlands may be able to match Spain after all.
Spain: Nani Gaitán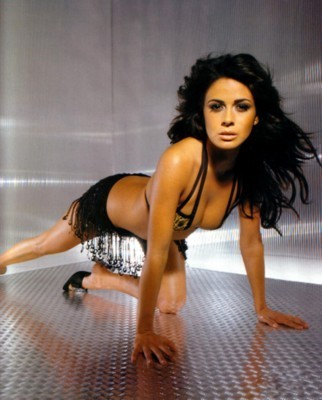 This won't be the first Sergio Ramos girl you're going to see on this list. In fact, I am pretty sure the Sergio Ramos WAGs could have taken on the Netherlands' WAGs single-handedly.
Spain: More Nani Gaitán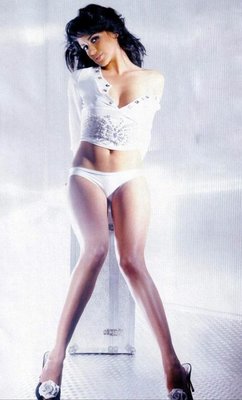 Shirt too small, shoes too big.
And yet, it works.
Spain: Amaia Salamanca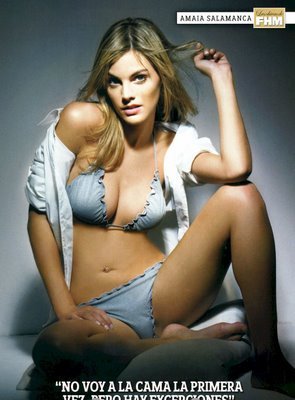 The ex-girlfriend of Sergio Ramos, Amaia is a Spanish actress, best known for her role as Catalina Marcos in the TV series "Sin Tetas No Hay Paraíso"
You know what's awesome about Colombian television? Check out the description of Sin Tetas No Hay Paraiso:
"The story is based on a young girl, Catalina, who lives in Pereira and becomes obsessed with getting breast implants in order to overcome poverty. Catalina decides to become a "prepago" (prepaid), a prostitute who has sex with drug traffickers in exchange for gifts, money and social status."
Awesome.
Spain: More Amaia Salamanca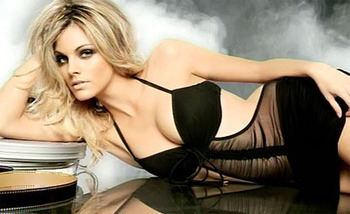 Same girl, different look altogether.
Spain: Eva Gonzalez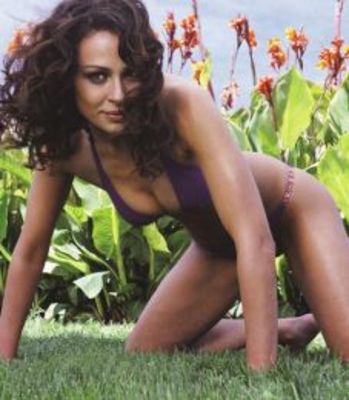 This will not be the only Iker Casillas damsel on the list, which is beginning to make me think I need to move to Spain and teach my son to play soccer.
Eva is a Spanish beauty pageant winner who represented her country at the Miss Universe 2003 pageant, and is one of the hosts of Spanish reality show Dímelo al oído.
This picture was shot shortly after Eva had begun looking for her lost right contact lens.
Spain: More Eva Gonzalez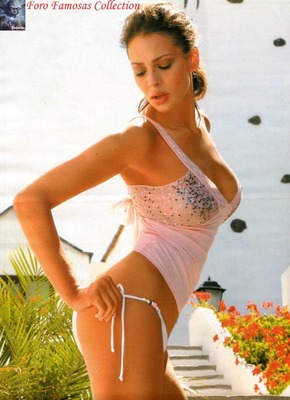 I love pictures of hot girls, and I love pictures of hot girls not wearing many clothes.
However, there are times when you have to call out some of these models and their poses.
Like this picture, for example. What's this pose about?
It Is like she's saying,
"Oh, it's so hard to tie my bikini string with one hand..."
Or something.
Spain: Elisabeth Reyes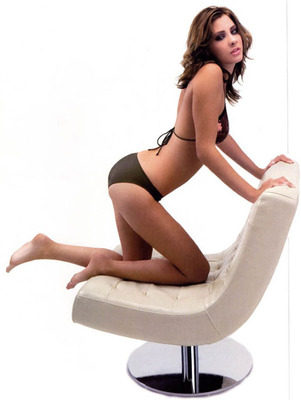 The former Miss Spain (2006) is the girlfriend of Sergios Ramos of Spain.
She apparently also models avant garde chairs for the IKEA catalogue. Hey, everybody needs a day job.
Spain: More Elisabeth Reyes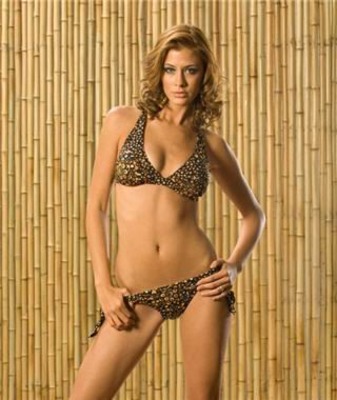 (No words necessary, yes?)
Spain: Lorena Bernal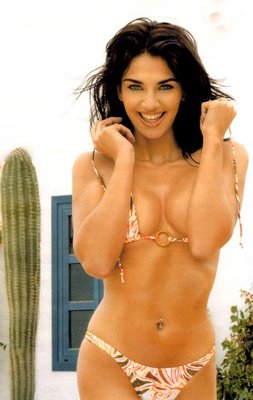 The girlfriend of Mikel Arteta, she is a model and actress and has appeared on CSI: Miami.
Okay, she was only on CSI: Miami once.
And okay, Mikel Arteta wasn't on the Spain team that just won the World Cup.
Watcha gonna do?
Spain: More Lorena Bernal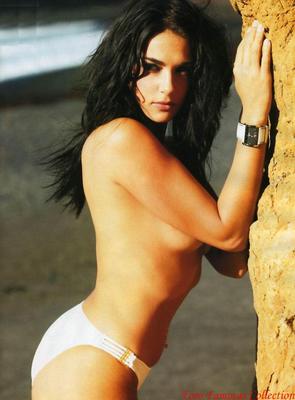 You know, I think society is ready to move past the social taboo of topless women. I say, as long as they are wearing a wrist-watch, let them go topless.
Who's with me?!?!?!
Spain: Sara Carbonero
Voted the Sexiest Reporter in the World by FHM in 2009, Carbonero is the girlfriend of Spain's goalkeeper Iker Casillas.
Their athlete-reporter matchup gave rise to this kinda wonderful, and kinda awkward, moment after Spain won the World Cup on Saturday:
Spain: And more Sara Carbonero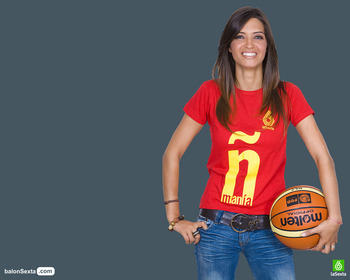 I dunno, can we start referring to her as the Spanish Erin Andrews?
Actually, you know, I think maybe we should start referring to Erin Andrews as the American Sara Carbonero.
Spain: The 2010 World Cup Wag Champion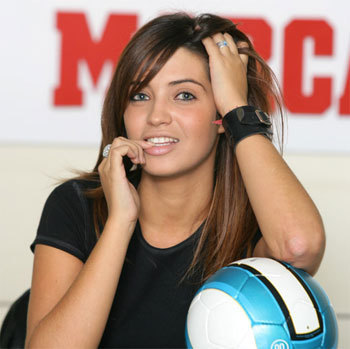 Congratulations to Spain for winning the 2010 WAG World Cup!
Oh, and for that other thing, too.
Keep Reading