Fatal Flaws: Finding The Weakness of Every Preseason Top 25 CFB Team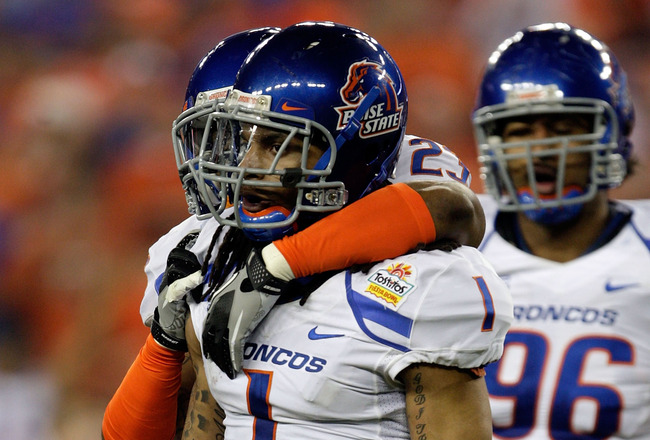 There are a lot of great football teams among the collegiate ranks each and every year. Several of them even manage perfect records.
Still, no team is perfect, and every team, accordingly, has a weakness.
In this article, and with your help, I would like to identify the largest weakness of each team in the 2010 Associated Press Preseason Top 25 poll (no particular factor decided which poll I ultimately chose).
What could ultimately keep each of these teams from winning a National Championship?
Be sure to post your opinions after you read the article, and let's try to pick out the weaknesses football fans should watch out for...
No. 25: West Virginia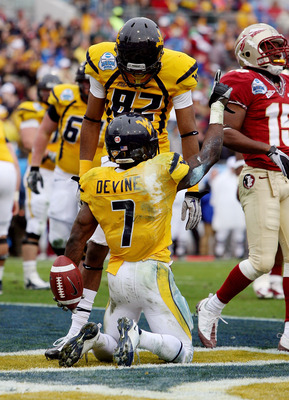 Really, I think West Virginia could surprise a lot of people.
Noel Devine and company return mostly intact, and the schedule presents a lot of very winnable names.
I think most people will say breaking in a new quarterback, but I see several talented options on the roster.
I think the biggest obstacle for this team to overcome could be production and consistency from their defensive front. The talent seems to be there.
No. 24: Clemson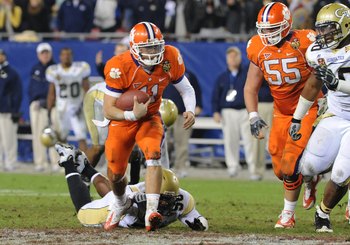 Clemson, as always, seems to have a decent team all around.
There are some big losses to deal with, but the Tigers seem to have plenty of potential replacement options.
I guess that makes my biggest question whether or not a player or two can take their game to the next level and be a real leader. The offense, without C.J. Spiller and Jacoby Ford, will certainly need a new home run threat.
No. 23: Central Michigan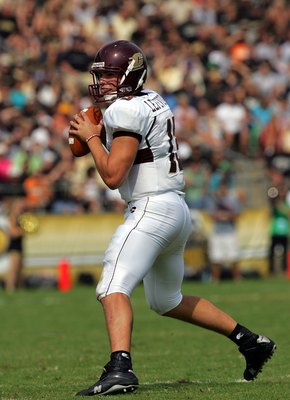 What can I say? I love the Chippewas, but they're not really the Chippewas we once knew.
The coaching staff has left, the offensive production is gone, and the defense suffers its share of losses as well.
This team's biggest problem will be finding replacements, and a lot of them.
No. 22: Southern California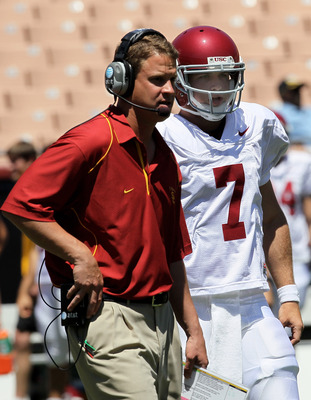 This team, whether I (usually an anti-Pac-10 guy) like it or not, has plenty of talent to go around.
It also has, whether I (usually an anti-Kiffin guy) like it or not, a very good football coach. In fact, the only thing I don't like is the increasingly brutal Pac-10 schedule.
Playing such quality foes week in and week out will be tough on a new coach, so the obstacle to overcome will be getting the remaining Trojans to buy into the system quickly.
No. 21: Texas Tech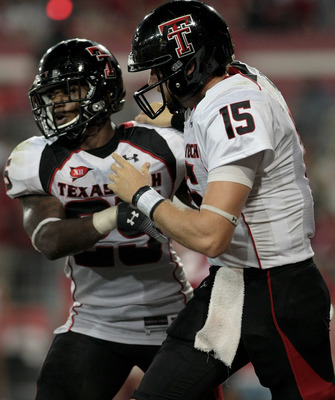 Texas Tech's problem seems relatively simple to me. Tommy Tuberville left Auburn for a number of reasons I don't fully understand, but I believe one of them was his attempt to change the chemistry of Auburn football.
After a year away from football, Tuberville says he's straightened himself out, mostly increasing his knowledge of the spread offense.
The biggest question facing the Red Raiders is whether or not Tuberville can install the quality SEC defenses that made him successful and somehow manage to mesh it with the spread offense.
That defense had better be deep.
No. 20: Ole Miss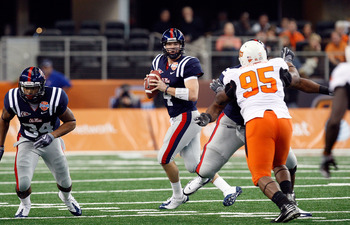 No Jevan Snead, no Shay Hodge, no Dexter McCluster, and no interior offensive linemen.
I don't know enough about Ole Miss to determine what kind of replacements are ready to step in, but replacing so much talent on one side of the ball always seems to leave a leadership void.
Like Clemson, Mississippi's biggest problems will surface if no one on the offense steps up.
Several people have told me that the Houston Nutt two-good-year-two-bad-year curse will cause the Rebels trouble too.
No. 19: Miami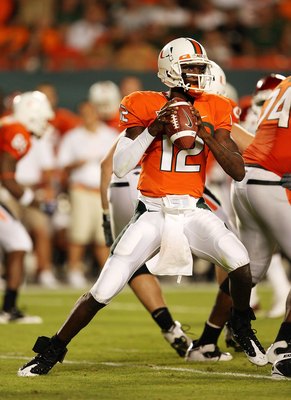 Unfortunately the Hurricanes didn't play the quality football which they were capable throughout the entire 2009 season, but Miami proved they can go toe-to-toe with anyone.
Also, the Canes are short two offensive tackles and a center; not the type of guys you want to lose if you're looking for consistency.
I suppose consistency will be the answer, then. If Miami finds it, they could be a legitimate contender.
No. 18: Utah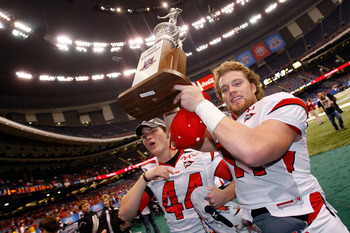 Utah is unique to me. It's talented, just like always, but nothing about it seems to jump off of the page.
I'd say the biggest obstacle for Utah will be its first game against Pittsburgh on September 2nd. It can immediately prove to the world, and more importantly to itself, that it is the real deal.
No. 17: Louisiana State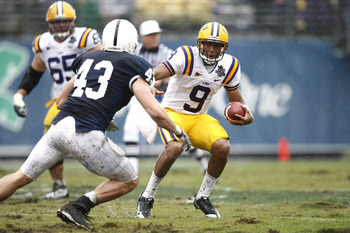 I'm just not sure what to put here about the Tigers. They've got athleticism all over the field, a nice balance of experience and talented youth, and they have a great coach.
Still, it's not the kind of team that just leaps out at you as a national title contender.
About the biggest thing I can think of is to really step up your game and play ball with the best of them. Make the most of the shots you get against Florida and Alabama.
No. 16: Wisconsin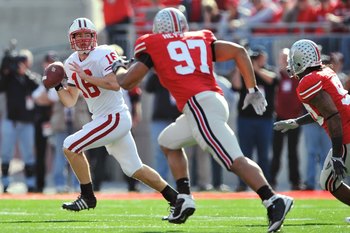 Sure they may have a problem or two on defense to overcome, mostly with consistency I suppose.
But with this team, that shouldn't even matter. In fact, the Badgers are one of my favorite teams to keep an eye on in 2010.
If this team runs the ball as effectively as it is capable and controls the clock, the Badgers will control every bit of every game. Just look at their returners on that side of the ball.
I guess that will be a problem if the Badgers have to get away from what they do best.
No. 15: Pittsburgh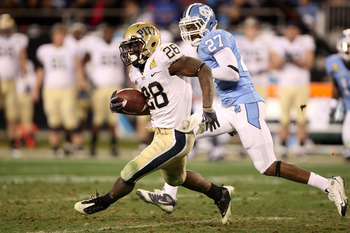 I find it convenient that Pittsburgh comes into the polls just a nod above Wisconsin, because, like Wisconsin, Pittsburgh can be great if they stick to doing what they do best: running the football.
I suppose some more important issues, however, will be replacing some holes on the offensive and defensive lines, the two positions I find really establish consistency for clock-controlling teams.
No. 14: Nebraska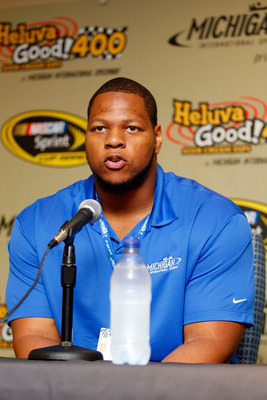 Nebraska's problem is a small one, and a large one at the same time.
The offense is nearly completely intact and more experience should mean more consistency and success. The defense loses a few pieces, but Bo Pelini is the type of guy who can handle most of those replacements easily.
The biggest problem will be finding the right kind of committee to replace the impossibly huge (physically and metaphysically) impact made by 2010's best individual player in Ndamukong Suh.
I don't think anyone will realize just how great he was until they have to watch college football without him.
No. 13: Georgia Tech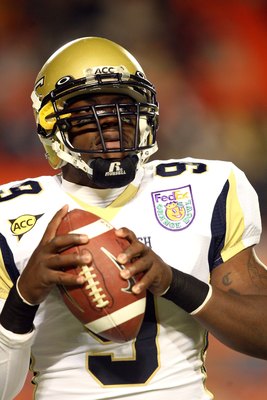 It's a good thing Josh Nesbitt is returning, because the option offense is such a fragile offense to be successful with.
Running the option appropriately takes a lot of experience and know-how. Being a successful receiver in the option offense takes a lot of patience. Tech has lost pretty invaluable pieces on that side of the ball.
The obvious problem to me is finding the right back, offensive linemen, and wide receiver replacements to run this offense without unnecessary turnovers.
No. 12: Brigham Young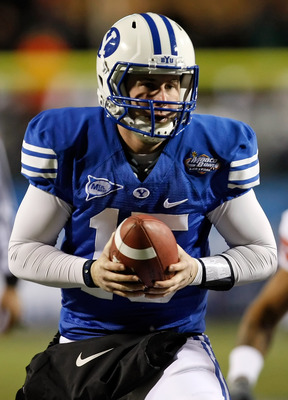 There's a problem with the new quarterback, but the Cougars' system is the type that can make any quarterback successful. The two tight ends are gone, as well, but once again, a brilliant offensive system shouldn't fail to produce a replacement.
I'm worried about the front end of that defense. I foresee a lot of significant loss from a defensive front that I'm not too impressed by to begin with.
Unless 2010 is a case of addition by subtraction, I'd say the front seven is the biggest problem for BYU to overcome.
No. 11: Oregon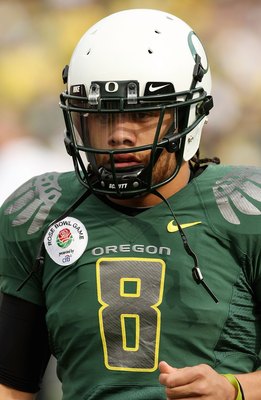 The problem for the Ducks to overcome is replacing the loss of their unquestioned leader to stupidity.
Most quarterbacks either get a year's worth of preparation for a job knowing they could be the replacement or get thrown into the fire due to injury.
Not many sets of backup quarterbacks are happy to see a new opportunity in the form of their old quarterback on the news heading to jail, and any team losing a potential Heisman guy could go through a tough transition.
No. 10: Virginia Tech
I only see a problem when this team gets deep into difficult situations. Tyrod Taylor needs to step up and be a great leader, not just at the end of games, but throughout the entire season.
When the conference schedule gets tough, and even when it gets easier, these Hokies need their signal caller to stay tough, and at this point in his career he is too experienced and talented to do anything less.
No. 9: Penn State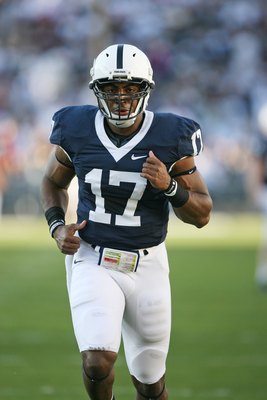 I'm nothing more than your average Bleacher Report columnist, but don't the Nittany Lions seem to have lost way too much talent to be ranked this high?
In fact, like so many teams before them, the biggest issue for Penn State will simply be replacing their big time players, many of which have been taken by graduation and the draft.
I guess the AP plans on Joe Pa finding one more piece of magic up his sleeve.
No. 8: Cincinnati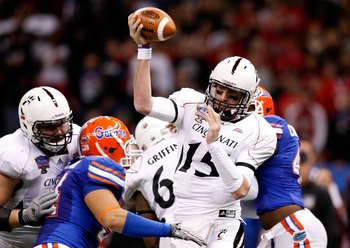 I guess the schedule looks okay, and Butch Jones will be fine, but like Penn State, there's just a lot of talent gone from last year's bunch of Bearcats.
Quarterbacks may be replaceable in a spread offense, but playmakers like Mardy Gilyard aren't, and the front four defensively will be pretty green, too.
At No. 8, you immediately expect a team to be a contender, but unfortunately, because I do like Butch Jones and Cincinnati, I see a lot of problems for the Bearcats to overcome.
No. 7: Iowa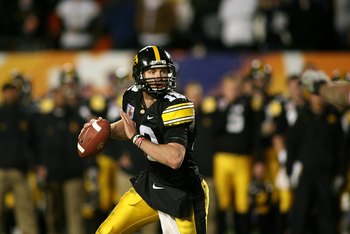 Their offensive line will prevent the Iowa Hawkeyes from winning a championship.
You're a running team with a heavily scrutinized quarterback losing four key members of your offensive line as well as your tight end.
I'm not saying Iowa doesn't deserve this ranking, but the point of the slideshow is the fatal flaws, and I promise an inexperienced offensive line at a place where it means so much is a bullet to the heart.
Fortunately, Iowa breeds great linemen, so down the stretch we'll see some good meshing.
No. 6: Texas Christian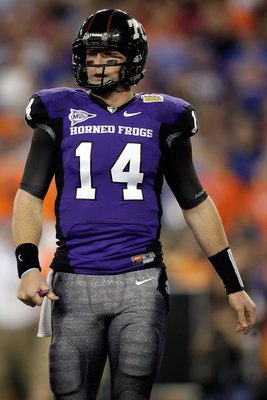 I know TCU replaces great defensive players each and every year, but guys as talented as Daryl Washington and Jerry Hughes don't just grow up over the summer.
Defense is what has always made TCU great and what makes them a contender at all, year in and year out.
This defense will still be superb, as will this team (very possibly as good as 2009), but it won't be a defense that carries TCU to a National Championship as it has had the potential for in the past.
No. 5: Ohio State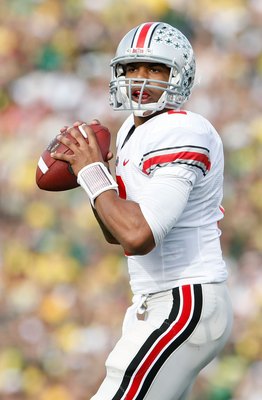 I like the Buckeyes more than most in 2010, especially a feisty-albeit-slightly-undersized group of linebackers. Those guys are tough.
The offense looks well-set, too, especially if Terrelle Pryor really grows into a star (as he looks to be doing).
In fact, I like this team so much that I say they'll win a National Championship if Pryor progresses. The fatal flaw, then, will be if Pryor is passive and nothing more than an athlete behind center.
When I say progress, though, I mean big steps towards being the Heisman kind of guy he's capable of being. That's a pretty big step.
No. 4: Boise State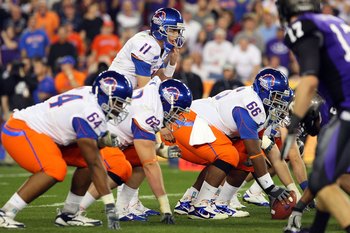 What will keep Boise State from winning a National Championship? It's such a stupid question, isn't it? The same thing that prevents it every year: the schedule.
I mean, no one wants to play it, so it's not even Boise's fault, is it? Then the BCS overlooks it anyway, even when undefeated.
Most importantly, one tiny slip-up in the schedule, even against the toughest opponents they can face, one loss means all hopes of any sort of BCS love are completely gone.
Heck, even a few too many close games will cost them a shot at the BCS ranks.
No. 3: Florida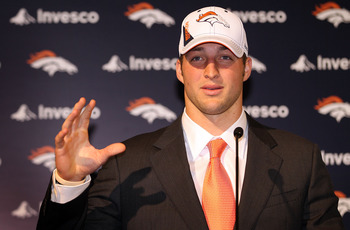 Florida's potential fatal flaw will simply be the stupendously large loss of talent the Gators have suffered this offseason. Can they replace the losses efficiently and effectively?
Sure there's other talent in the folds, but you can't recreate game experience, and the 2009 Gators had tons of it.
More importantly, they had a stupendous winning attitude that can't be taught. The intangibles of wisdom that come with age should ultimately cost Florida.
No. 2: Texas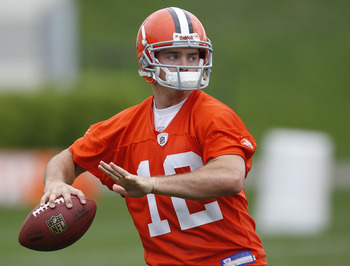 I feel like a broken record. Texas has all the talent necessary waiting in the wings, but will it come through?
Can Mack Brown do yet again what he's been doing for years upon years and find more stars to fill the spaces of yet another potential National Championship slate?
Well, yes I suppose, but if anything costs them a National Championship, like Florida, it's just the intangible wisdom, experience, and winning attitude that can't easily be coached.
No. 1: Alabama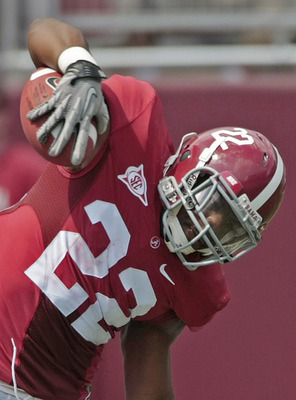 I guess it has to be the inexperience on defense, doesn't it? Because the offense just looks to be as well-set and as dangerous as any other in the country (without or with quarterback troubles, it doesn't matter).
Seriously, though, the Crimson Tide have forfeited their three most important defensive playmakers in Cody, McClain, and Arenas. That's just hard to replace, even with a committee as good as what Alabama and Nick Saban could compile.
Still, for a team as talented as Bama, I doubt even this is a big concern.
Keep Reading