The 2010 Top Ten NFL WR Tandem's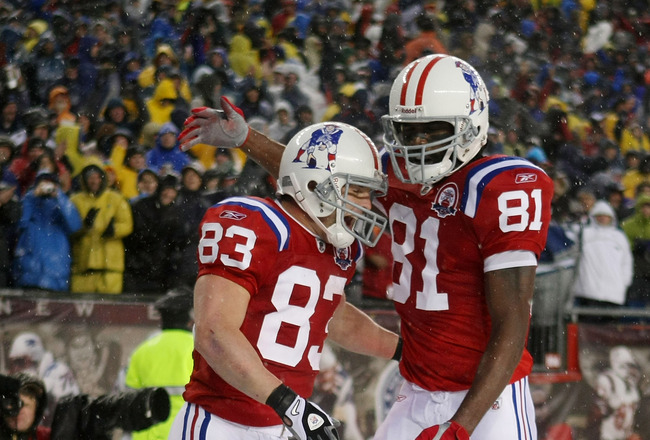 What makes a great wide receiver passing tandem in the NFL?
Is it the Talent of the receiver's?
Is it the Talent of the quarterback?
Is it the quality of the offensive scheme?
Is it what the offenses prospects are this season?
Is it the potential of a sleeper rookie receiver?
Is it the quality of depth at the receiver position?
Is it the quality of a balanced rushing attack?
Or is it all of the above?
I believe it may be all the above for the most part, and with that in mind I set out on the course to try and determine who this seasons top ten NFL WR tandems are going to be.
The NFL is not a mundane sport, watching the Cardinals disintegrate as the Super Bowl team got gutted through the free agency and retirement of their quarterback, well it reveals just one extreme of the equation that makes the suspense of the NFL, awesome theatre.
How this all actually plays out on the wave of reality remains to be seen, but from the view of my liquid crystal display, there appears to be a couple of shockers as well as surprises projecting on the canvas the 2010 NFL season.
So grab some popcorn sit back and relax and enjoy the slideshow....
Here is the 2010 NFL top 10 WR tandem projection.
No. 1 Saints: Marques Colston Robert Meachem
No. 2 Vikings: Sidney Rice Percy Harvin
No. 3 Packers: Greg Jennings Donald Driver
No. 4 Colts: Reggie Wayne Pierre Garcon
No. 5 Steelers: Hines Ward Mike Wallace
No. 6 Patriots: Randy Moss Taylor Price
No. 7 Ravens: Anquan Boldin Derrick Mason
No. 8 Broncos: Eddie Royal Demaryius Thomas
No. 9 Giants: Hakeem Nicks Steve Smith
No. 10 Cowboys: Miles Austin Dez Bryant
Tandems that did not make the cut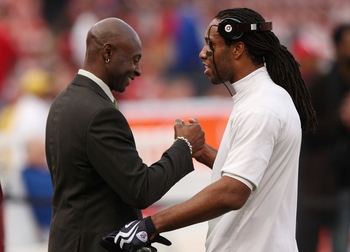 Texans
Andre Johnson 15.5 Yard Average 1,569 Receiving Yards 9 Touchdowns
Jacoby Jones 16.2 Yard Average 437 Receiving Yards 6 Touchdowns
Chargers
Vincent Jackson 17.2 Yard Average 1,167 Receiving Yards 9 Touchdowns
Malcom Floyd 17.2 Yard Average 776 Receptions Yards 1 Touchdown
Jets
Santonio Holmes 15.8 Yard Average 1,248 Receiving Yards 5 Touchdowns
Braylon Edwards 15.5 Yard Average 541 Receiving Yards 4 Touchdowns
Cardinals
Larry Fitzgerald 11.3 Yard Average 1,092 Receiving Yards 13 Touchdowns
Steve Breasto 12.9 Yard Average 712 Receiving Yards 3 Touchdowns
Eagles
DeSean Jackson Yard Average 1,156 Receiving Yards 9 Touchdowns
Jeremy Maclin 13.8 Yard Average 773 Receiving Yards 4 Touchdowns
Bengals
Chad Ochocinco 14.5 Yard Average 1,047 Receiving Yards 9 Touchdowns
Antonio Bryant 15.4 Yard Average 600 Receiving Yards 4 Touchdowns
Bears
Devin Aromashodu 12.4 Yard Average 298 Receiving Yards 4 Touchdowns
Johnny Knox 11.7 Yard Average 527 Receiving Yards 5 Touchdowns
49ers
Michael Crabtree 13.0 Yard Average 625 Receiving Yards 2 Touchdowns
Josh Morgan 10.1 Yard Average 527 Receiving Yards 3 Touchdowns
Redskins
Santana Moss 12.9 Yard Average 902 Receptions Yards 3 Touchdowns
Devin Thomas 13.0 Yard Average 325 Receptions Yards 3 Touchdowns
Dolphins
Brandon Marshall 11.1 Yard Average 1,120 Receptions Yards 10 Touchdowns
Greg Camarillo 11.0 Yard Average 552 Receptions Yards 0 Touchdowns
Sleeper pick?
Panthers: Steve Smith & Armanti Edwards 4.41 40
New Orleans Saints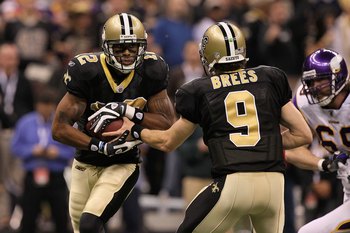 NFL teams that win the Super Bowl, often find themselves experiencing a hang over the following season as their opponents look to prove themselves by sharpening their game on the grind stone of the world champs.
But with New Orleans facing another crisis, the Saints are not going to let it go to waste, look for the Saints to be marching back to the Super Bowl while inspiring the locals once again with the vintage inspirational performance they possessed during the Katrina crisis.
Saints have the most balanced offense in the league, their ground and air attack keep opponents on their heals and toes. The numbers speak for themselves. I can be here talking up the Saints all day long…
2009 Saints Offense Rankings
No.1 Scoring
No.1 Overall
No.4 Passing
No.6 Rushing
Marques Colston 15.3 Yard Average 1,074 Receiving Yards 9 TD's
Robert Meachem: 16 yard average 722 Receiving Yards 9 TD's
Devery Henderson: 15.8 Yard Average 804 Receiving Yards 2 TD's
Minnesota Vikings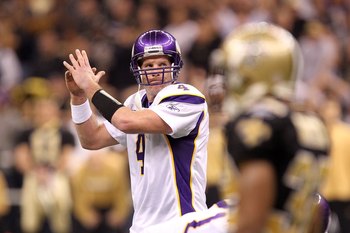 "You all watch TV the same way I do. He ain't working out for no reason. I welcome him back. There's nothing I can do about it so I'm going to welcome him back and hopefully get to the Super Bowl." Vikings quarterback Tarvaris Jackson said Tuesday.
Favre has been working out with Oak Grove High School players in Hattiesburg, Mississippi.
Oak Grove coach Nevil Barr said,
"His arm is great like always. As far as how his ankle is I haven't heard him say anything about it. We don't ask him a whole lot on that."
"I just don't know," Brett Favre said in response to whether he will return or not.
The legend that is Brett Favre, what an epic saga; to be continued...
Back to Minnesota...
Cris Carter may have jumped the gun in ridiculing Rice for not showing up to Larry Fitzgerald's Camp.
"I don't know. You have to ask him. I don't know what it's like to have one good year and then disappear. I don't know what it's like. That's on him. I really don't know. If I had that kind of impact on him he should have been here today."
"I don't get mad about kids coming or not coming. ...Sidney is not here so I guarantee he's not getting no better today."
Rice says he is rehabing a right hip injury from the playoffs. Maybe Carter ought to think about calling a player before berating them with the media.
Legends such as Michael Irvin and Jerry Rice have offered their insights in Fitzgerald annual July workouts. Chris Carter joins a defensive Vikings starting safeties Madieu Williams and Tyrell Johnson.
"Larry called and I was absolutely honored and blown away to get the call to come out and have the opportunity to work with these guys," Said Former Dallas Cowboys Hall of Famer Michael Irvin said. "To see that many guys get the kind of work that they're getting, that's incredible. I love the idea..."
The players in Fitzgeralds Camp range from 37-year-old free-agent Bobby Engram to former Notre Dame rookie Golden Tate, to Seattle's a second-round selection in the 2010 NFL draft. Vikings quarterback Tarvaris Jackson has also accepted Fitzgerald's invitation this season.
"They are going to try to make it as hard as possible to make (training) camp seem a little easier," Jackson said. "As far as the conditioning. They did a lot of different stuff today. That's why I came up here because I knew there would be something different for me."
"It's an honor and my pleasure to be out here and working with these guys," Tate said. "Even if I wasn't working, just to be out there and listening to what Larry and Michael Irvin are saying and interacting with Laurinaitis, who was a rookie last year, and (New Orleans safety Malcolm) Jenkins.
"Just to be out here and be a part of it says something about these guys taking time out of their schedule to work with us. I'm happy to be a part of it and hopefully I get something out of it to help me boost my game come camp time."
"I remember going down (to Carter's camp) in high school and going there in college and just feeling like I got great results from it," said Fitzgerald
"Not only working with Bill and those guys, but I was able to see Randy Moss, Daunte Culpepper and Robert Smith and so many other very talented players working and you saw them on Sunday making all these spectacular plays. But you saw the foundation was built out there on the practice field working. I saw that firsthand and try to relay that to other guys."
Look out for tight end Visanthe Shiancoe stealing receiving touchdowns from the triplets. He had 11 touchdown receptions last season.
2009 Vikings Offense Rankings
No.2 Scoring
No.5 Overall
No.8 Passing
No.13 Rushing
Sidney Rice 15.8 Yard Average 1,312 Receiving Yards 7 Touchdowns
Percy Harvin 13.2 Yard Average 790 Receiving Yards 6 Touchdowns
Bernard Berrian 11.2 Yard Average 618 Receiving Yards 4 Touchdowns

I will get started on my assignment tomorrow I am beat~!!
Green Bay Packers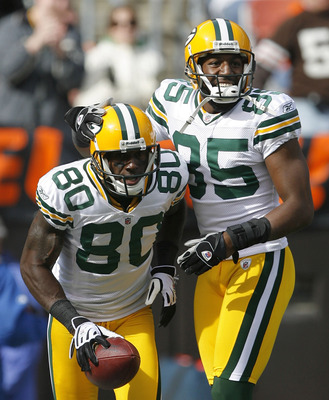 Green Bay Packers head coach Mike McCarthy is proud of how his young wide receivers have taken advantage of the offseason to develop and hone in their game.
"Outstanding off-seasons," said head coach Mike McCarthy during the last Packers minicamp. "If you go through the films, James Jones, just from a production standpoint, probably stands out as one of the top performers through the OTAs. He's gotten a lot of opportunities, particularly in the slot with Donald's absence, and I think he's done a very good job of that."
"I have set my goals. I definitely want to have a 1,000-yard season. That comes with opportunity, so we'll see," Jones said. "I always tell myself to shoot for 1,000 yards and double-digit touchdowns."
Does this team miss the drama of having to wonder where their quarterback is, while trying to bring their young players up to speed? I think if anyone has proved anything, it is the Packers better off without the drama of wondering if their starter is going to retire or not.
The only saga going on here is one that revolves around having your leader represent while getting his young players dialed into making a run at the Super Bowl.
2009 Packers Offense Rankings
No. 3 Scoring
No. 6 Overall
No. 7 Passing
No. 14 Rushing
Donald Driver 15.2 Yard Average 1,061 Receiving Yards 6 touchdowns
Greg Jennings 16.4 Yard Average 1,113 Receiving Yards 4 Touchdowns
James Jones 13.8 Yard Average 440 Receiving Yards 5 touchdowns
Indianapolis Colts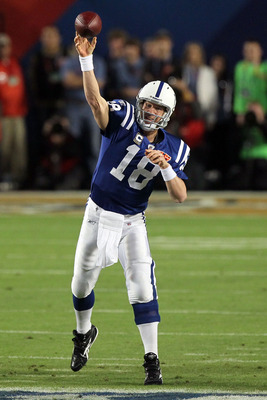 It dawned on me that Indianapolis Colts quarterback, Peyton Manning seems to have a fetish for baiting good teams to think they can get away with playing not to lose against him.
Manning is an expert at casting this mind game; for years I have watched him put on a clinic of doing just that, especially against the Jaguars.
Manning Knows Jac Del Rio will not open up the offense unless his back is against the wall.
Manning happens to be aware that there are also a lot of good coaches who respect him enough not to try and have a shoot out with him.
I imagine blowing teams out the other half of the season must get old to Peyton, going this route at least presents a challenge now and again, while keeping him from making exorbitant and unnecessary risk's against solid opponents when he does not even have too.
Half of the Colts wins last season where accomplished by an average of less than 4 points per game.
I think the only reason he even played the last two games of the season where to break 50,000 passing yards in week 16, while piling up over 4,500 yards for the second time in his career.
There is something very interesting about week 16, the Colts where on a 14 game winning streak, prior to facing the Jets best defense in the league.
I can't help but wonder if the blow out by the Jets was actually by design, considering the Colts figured with a defense like that, they would more than likely face them in the playoffs again.
I mean what is the point of allowing a hard fought victory be turned against you in the AFC Championship game when that W becomes billboard material to motivate your formidable opponent.
Talk about taking the air of motivation out of the sails of the Jets, I am sure Peyton has a hard enough job motivating his own players victory after victory...
Manning is a genius.
"Until any player in here is the head coach, you follow orders and you follow them with all of your heart," Manning said. "That's what we've done as players. We follow orders..."
Mannings Comments after the defeat at the hands of the Jets...
Classic case of tactical warfare, give up the pawn of a regular season victory in order to put the Jets in check mate while on your last stepping stone to the Super Bowl.
Peyton Manning is simply AWESOME~!!
2009 Colts Offense Rankings
No. 7 Scoring
No. 9 Overall
No. 2 Passing
No. 32 Rushing
Reggie Wayne 12.6 Yard Average 1,264 Receiving Yards 10 Touchdowns
Pierre Garcon 16.3 Yard Average 765 Receiving Yards 4 Touchdowns
Austin Collie 11.3 Yard Average 676 Receiving Yards 7 Touchdowns
Pittsburgh Steelers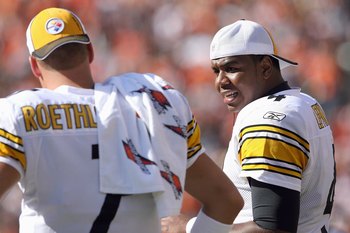 Hines Ward 12.3 Yard Average 1,167 Receiving Yards 6 Touchdowns
Mike Wallace 19.4 Yard Average 756 Receiving Yards 6 Touchdowns
Emmanuel Sanders and/or Antonio Brown
2009 Steelers Offense Rankings
No. 12 Scoring
No. 7 Overall
No. 9 passing
No. 19 Rushing
Pittsburgh Steelers managed to win their last 3 games of the season in 2009.
They finished by beating Dolphins, Ravens and Packers. Ben Roethlisberger threw for over 500 yards and 3 Touchdowns on the Packers Defense, with no interceptions.
Mike Wallace not only caught the first touchdown on the Steelers first play of the game, but with 3 seconds left to go, with the Steelers trailing by 6, Wallace also managed to catch the game winning TD against the Packers.
Mike Wallace was clutch, while being covered and smothered in the end zone.
The Steelers, are one of the NFL's elite four teams who made it into the top ten of both defense as well as offense last season.
Packers No. 6 OFF 2 DEF
Vikings No. 5 OFF 6 DEF
Dallas 2 OFF 9 DEF
Steelers 7 OFF 5 DEF
It appears the Ravens are looking to jump into the elite class this season.
The Steelers lost Santonio Holmes, but they did manage to snatch two incredible steals in the draft to fill the vacancy that Wallace left in taking Holmes spot as the teams No. 1 receiver.
Hines Ward is dialing Wallace into being one of the premier wide receivers in this league.
Ward also has his hands full with Rookies Emmanuel Sanders and Antonio Brown, The dynamic duo add amazing speed to a receiving corp that already has a fast speedster in Mike Wallace.
You will be hard pressed to find 3 faster wide receivers on any team in the league, or more depth at the WR position.
With Speed being the premium that it is in this league, Antwaan Randle El is going to have his hands full not only fighting off the two rookies, but Stefan Logan and second year player Joe Burnett as well.
Wallace in his rookie debut led the NFL with 19.4 yards per catch, nearly a full yard better than runner-up DeSean Jackson.
Sanders and Brown have had an impressive camp, with the sixth round pick Brown actually turning out to be the bigger surprise of the two upstarts.
Speed being the key ingredient for rookie receivers to make an immediate impact, expect some of the heat to be taken off the No. 1 & 2 receivers with these two spreading the field out deep and wide.
4.33 40 Mike Wallace, was too a steal, Steelers traded down fromt he second round to pick up the late 3rd rounder in the 2009 draft.
He emerged as a hero during the Steelers 3 game-winning streak at the end of the 2009 season.
Denver Broncos gave up the 3rd round pick to move up into the second round to get a tackle, oops I mean a tight end, Richard Quinn.
Quinn had all of zero receptions last year, word is he has been dropping passes this spring, but make no mistake about it, the tackle, oops I did it again, I mean tight end is a hell of a blocker; but I digress.
Wallace possess a serious deep-threat, Wallace provides a great compliment to the aging Hines Ward in the starting lineup.
Wallace owes a lot of his quick development to having Hines Ward and Santonio Holmes as his mentors. It is no wonder Wallace is looking exceptional in camp this season. Byron Leftwich only needed one practice to realize that, Holmes may not be that sorely missed this season after all.
"Anything I do, he's watching," Wallace said of Ward this week. "So it's kind of hard to be perfect with Hines out here."
"We all know what Santonio can do," said Leftwich, "Mike, he's running by a lot of people. He's got speed that not a lot of people have. We haven't seen that in the league a lot. There's only a few people who can run like that."
"That's the nature of the business," Wallace said. "One guy's out and the next day I have to step in."
"I feel like they believe I can do the same things Santonio did," Wallace said. "I don't feel like there's anything Santonio did that I can't do. I'm still running some of the routes I ran last year, it's just that I have more of them to run."
"I'm always looking forward to the challenge. What I did was last year, that was my rookie year. I was looking to take a step forward anyway."
"Without 'Tone here, that's one less leader we have…so it's time for someone else to step up and, hopefully, it will be me."
"I learned how to be a pro, coming in every day and working and never being satisfied with a good game or having one good week," Wallace said. "If you're hanging onto that, you're going to get whipped. Every day's a new day, that's the main thing."
"Sometimes the (top) guys lined up on me, but for the most part they were on Santonio or Hines," Wallace said. "But I'm always ready for a challenge. I don't feel like I'm afraid of anybody, I don't fear anybody and they go to work just like I go to work. I'm going to be ready for them, just like they're going to be ready for me."
I touched on this topic in my article Pittsburgh Steelers, Byron Leftwich Poised to Assume Elite Status This Season
Byron Leftwich looks to pick up where he left off when he was a top 10 Quarterback in 2005 before having the rug pulled put from underneath him by Jaguars head coach Jack Del Rio.
Del Rio decided mobility was a premium that trumped the pure pocket passer in the league, and imagine that he goes from being a winning coach to a coach thanks to Byron Leftwich bailing him and his obsolete West coast offense out more often than not.
Jack Del Rio's move was vicious, to cut your starter a week before the season started because you refuse to recolve the offense around his stregnths?
Jack Del Rio has a dozen wins to show for the past two seasons.
Byron Leftwich looks to pick up where he left off when he jacked the Buc's 28th-ranked offense to being fourth best in the league; before having the rug pulled out from underneath him by the coaching staff pulling their sabotaging smoke and mirror act in week three.
The Quarterback competition for the starting role that Leftwich was offered and won in Tampa last season, turned out to be nothing more than a smoke and mirror act.
The Smokescreen was designed to make Byron think that the Team was actually genuine with their word, and even threw in an incentive bonus in the form of millions if Byron played a quota of games in 2009.
"Oh yeah. I felt that all along. Even when they picked up Byron Leftwich. It was something they told me -– they told me it was a smoke screen, everybody would think they didn't want a QB..." Said Josh Freeman Buccaneers first round selection in 2009 following signing Byron Leftwich.
The coaching staff shut down one of the most productive offenses in the league in week three with the obsolete west coast offense.
How does a gunslinger like Byron only manage 22 yards on seven completions in nearly 4 quarters of action, when you consider how he managed to rack up 572 yards in week one and two?
How does a rushing offense that racked up 231 yards rushing be held to just 13 yards rushing?
How can Buccaneers quarter Josh Johnson then all of a sudden come into the game and in just one late fourth-quarter drive outperform the entire passing and rushing offense that played the entire game?
This was a smokescreen designed to do nothing more than shut down Byron to the point of benching him for a mobile QB. Then there is the money factor the Glazers saved millions by not allowing Byron to maintain his starting role, despite emerging as the third best quarterback in the NFL in touchdowns and yards combined prior to the 3rd game of the season.
Byron is looking to pick up this season where he left off while helping the Steelers win their last Super Bowl. Steelers fans are well aware of how Byron managed to stand in for Ben Roethlisberger, even to the point of actually moving the team better than Ben was able too before he got injured.
With Byron at the helm, Mike Tomlin will not have to worry about the ball being underthrown to Wallace, or Wallace having to wait for the ball after beating the WR deep like he did with Ben plenty of times last season.
Byron has the cannons to take the deep passing game of the Steelers to the next level. With Ben coming back to training camp, Byron will have a great opportunity bringing the young upstarts up to speed, considering they will actually be working with the starting QB rather than the back up in training camp.
"When you think of Mike, you think of a deep threat," quarterback Dennis Dixon said. "Whenever you go up top with Mike, you've got to be sure to release it early because he can outrun your arm."
"They're all good quarterbacks, so it doesn't really matter to me," Wallace said. "Anyone of them lines up, I'll be ready to go."
Byron will also be working with two other rookies looking to make a splash in the league this season. With Ben Roethlisberger being suspended for up to 6 games, Byron Leftwich is looking to take this opportunity and breakout this season.
One can't help but wonder how much Pounceys influence of the role Tim Tebow played in being arguably the greatest player in NCAA history, had to do with Pouncey being the first center the Steelers have drafted on the first round since 1937.
Speaking of huge impressions, the performance of running back Jonathan Dwyer has the Steelers coaching staff in awe of the potential the rushing offense possess this season.
From short yardage to long, according to Mike Tomlin, this season's sixth-round rookie sleeper from Georgia Tech, brings the speed and versatility to make him an every down back.
We can't be quick to forget that the Steelers won two of the last four Super Bowls, or the fact that Mike Tomlins is in a ferocious attempt to add his name to this decades Dynasty list.
New England Patriots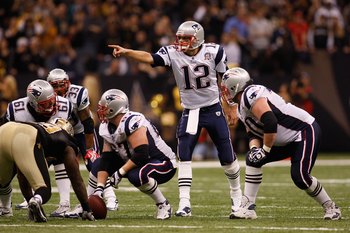 Out with the old in with the new, seems to be the mantra in New England.
The Patriots roster is just dotted with young upstarts just seething at the teeth they are cutting to make a name for themselves in the league.
Former Florida Gators rookie tight end Aaron Hernandez, and Former Ohio Bobcats rookie wide receiver Taylor Price have an opportunity to excel and rack up some flashy stat's in 2010 for the New England Patriots, given their strong showing in mini camp.
Having Tom Brady cheering you on the sideline after making touchdown grab from backup quarterback Brian Hoyer was the bomb for the rookie Hernandez.
"You don't even dream, coming from Connecticut, playing with a quarterback like that. It's like a movie star out there," Hernandez said after Wednesday's practice at mandatory minicamp. "You don't think about it when you're out there, but at the same time I go home and think 'it's crazy.'"
Price experienced some frustrations during the offseason in not being allowed to participate in the offseason program and passing camps until after his college has held graduation, (NFL rule with the exception of rookie mini-camp).
"It's frustrating, but it is what it is," Price told Jeff Howe of NESN.com regarding the rule. "You've got to go with it. There's nothing you can do about it but do as much as you can while you're away from the field."
"I took some information back with me after rookie camp, studied that," Patriots third-round draft pick Taylor Price said Wednesday. "They sent me some stuff in the mail so I was reviewing that. Talking to coaches over the phone, (they were) giving me some review sessions, just try(ing) to keep me caught up as much as possible."
2009 Patriots Offense Rankings
No. 6 Scoring
No. 3 Overall
No. 3 Passing
No. 12 Rushing
Randy Moss: 15.2 Yard Average 1,264 Receiving Yards 13 touchdowns
Taylor Price: 6' 204 pounds 4.33 40 Ohio Bob Cats
Wes Welker: 11 Yard Average 1,348 Receiving Yards 4 touchdowns
Baltimore Ravens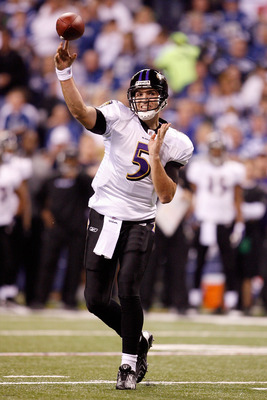 Anquan Boldin has to be a dream come true for offensive coordinator Cam Cameron, who has already taken his passing offense and jacked it up last season 5 receptions per game on average from the season before.
Ravens head coach John Harbaugh hired Jim Zorn as quarterbacks coach, to take Joe Flaccos game to the next and possibly even elite level.
"There are terms like 'elite quarterback' and 'franchise quarterback,'" Harbaugh says. "All of those things are where we expect Joe to go. The expectation is to be the winningest quarterback in the NFL."
Ravens signed pro bowler Marc Bulger, to mentor Flacco. Bulger who has struggled with injuries will make a fine back up while insuring the wide receiver tandem success if Flacco somehow gets injured.
Ravens are popular this season, so there really isn't much to say that most fans don't already know except for the obvious, the Ravens are a strong Super Bowl contender this season.
Ravens
Anquan Boldin 12.2 Yard Average 1,024 Receptions Yards 4 Touchdowns
Derrick Mason 14.1 Yard Average 1,028 Receptions Yards 7 Touchdowns
Mark Clayton and Donte' Stallworth
2009 Ravens Offense Rankings
No. 9 Scoring
No. 13 overall
No. 18 Passing
No. 5 Rushing
Denver Broncos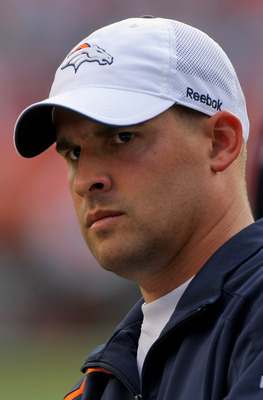 People better wake up and stop hitting the snooze button on the Denver Broncos. It is as if there is a foot stuck in mouth syndrome contest when it comes to Josh McDaniels.
When is the last time we seen a genius get this much flack over his moves to galvenize the players in his locker room while attempting to push the envelope both offensively as well as defensively?
McDaniels is attempting to take the Gospel of Bill Belichick and make heaven on earth for the fan base of the Denver Broncos
I see this fan base treating Josh like Israel treated Moses after he took them from oppression to glory, simply because of what it takes to get there. Glory the likes as such even the queen of Sheba (Egypt) had to declare that not even the half of it was told her in regards to how the reputation measured with the actual article that was Solomon's riches and majestic temple.
McDaniels father was a football coach, so just like the Spartan children of old being raised to be warriors, McDaniels was raised to be an NFL head coach.
His mentor Bill Belichick just so happens to be the preeminent defensive mind in football. Just as Rome was not built in a day, so too can a team take more than one season to build, but McDaniels has the Broncos on the fast track.
Remember the 'Orange Crush'? Well it was one of the first 3-4 defenses. Nearly half the teams in the league have switched to the 3-4 now. While the 4-3 is a great defense against the rush, with the pass happy offenses of the modern era, the 3-4 has been found to be more effective against the pass.
When you consider how the 4-3 was not effective against the run any way, the switch for McDaniels was a no-brainer; especially coming from a Patriots team that ran the 3-4.
While the rushing defense did not improve much during the transition, the scoring defense was night and day from what it was the season before.
The scoring defense was twice as good during the switch to the 3-4 while under the rookie head coach. Broncos 2007 scoring defense ranked 28th, 2008 they ranked 30th, last season however the scoring defense managed to rank 12th in the league.
Last seasons defensive terminology will only be enhanced, it won't be changed as a result of changing defensive coordinators.
McDaniels Promoted linebackers coach Don 'Wink' Martindale to replace defensive coordinator Mike Nolan, who left for Miami. 'Wink' becomes the fifth defensive coordinator in as many years.
Make no mistake about it, this is McDaniels 3-4 defense.
Even though the 'wiz kid' McDaniels spent most of his career on the offensive side of the ball, make no mistake about it McDaniels is going to prove that he is going to push the envelope as far as coaching prowess goes in this league.
Unfortunately his genius has been so far dismissed by the so-called experts, not to mention some fans who have bought into the so called experts opinions on the matter as if the media types even have a clue as to what McDaniels is doing with his cutting edge modern style.
I touched on this topic in an article Josh McDaniels: A Defensive Minded Head Coach?
OMG it just dawned on me I am a huge McDaniels fan~!!
I am in awe of just how spectacular of a display his juggling act of 20 selections in the 2010 draft was to come up with 10 players and steal after steal after steal after steal after steal after steal after steal!
Three of the rookies are pretty much a lock to start. Two more of the rookies could fight their way into the starting lineup this season as well.
Its criminal when you stop and think about what just happened in the 2010 draft.
It was as if McDaniels was leaning on the Patriots scouts as well as Broncos when calibrating on the moves he made. Seeing a few of those moves done with the Patriots, well it was as if both teams where in the same war room.
Name me one team that added more tremendous depth to its roster in this draft in regards to the offensive line, quarterback position and the receiving corp than the Broncos have?
In an era of the NFL being a passing league, McDaniels has made a huge statement in regards to knowing just what time it is this offseason, more than any other coach in the league IMO~!!
McDaniels even got his new defensive coordinator excited while shouting to this players…
"Yeah, who's the man, now? You like that beef up front?"
What is "Wink" talking about?
Try nearly 1000 pounds in the form of Jamal Williams, Justin Bannan and Patriots own Jarvis Green making up what could wind up being the Broncos new starting defensive line~!!
If I had a nickel for every time I have ever heard Tom Coughlin say games are won and lost in the trenches...
After the Giants defensive line all but won the Super Bowl, I couldn't help but notice the frenzy teams where in the following season in regards to stacking their trenches in the first round.
Having set his course to tackle his rushing defense woes through the free agency, McDaniels set his sights through the draft to tackle the issues his interior line possessed in regards to being a true power offensive line rather than the zone/cut-blocking line the Broncos where infamous for.
McDaniels may have drafted the meanest interior lineman in the draft. I covered them in this article,
Which Player Gives The Denver Broncos The Best Value From The 2010 Draft but figured I would touch on a few here for the rest of the 31 fanbases who may not be familiar with who had the best draft in 2010.
6-foot-4 306 pound Eric Olsen is an intelligent player who is familiar with the system McDaniels plays, having played in Charlie Weis' offense at Notre Dame.
Charlie Weis called Olsen the line's "heart and soul."
Olsen has a reputation for possessing a nasty mean streak and he is highly underrated at both guard and center positions.
During his junior and senior years combined, he only allowed four quarterback sacks. That is one sack in 450 pass attempts!
He has a phenomenal combine numbers, and to show how stacked this team is with depth Olsen is a dark horse to make the team.
J.D. Walton was one of, if not the best, centers in college last season.
The Broncos 2010 third round pick, J.D. Walton, the 6'3 305 pound center from Baylor, has been taking first team reps in minicamp in his attempt to replace 6'2 285 pound 36 year old veteran center Casey Weigmann.
"[J.D. Walton is] kind of a nasty guy, not personally, but on the football field, which is kind of a good attitude to have for an interior lineman," McDaniels said.
"We're mean guys, so you've just got to take pride in that and just have fun with it," Walton said.
Despite losing some veterans, McDaniels has managed to keep the competitive edge to the grindstone with this offensive line, especially the interior who may be more mobile than the lighter veterans they replaced from the look of their combine numbers.
The Broncos managed to land another beast of a man in one Zane Beadles, a vocal leader from Utah with the second round selection.
The left guard spot will likely be manned by Denver's third pick of the 2010 draft. The 6-4, 310 offensive tackle, who started at left tackle in his last three years after moving from the guard position, Beadles has recently been seen taking reps with the first team at left guard.
Beadles is regarded as one of the elite offensive tackles in college football. His experience at tackle ought to give the Broncos more depth at the line, and that's a bonus with the rookie especially with both tackles recovering from injuries.
Beadles had been working at right tackle before Ryan Harris came back on a limited basis at right tackle during mini camp.
Beadles has a knack for clearing throwing lanes for the quarterback by his ability to manhandle defenders. The man is a beast, and McDaniels has not ruled out any notion of playing him at tackle.
"He's shown the ability to handle and process the different information on both sides, one time inside, one time outside," McDaniels said. "At some point we'll make a determination of where he has to stay in training camp."
Poor McDaniels has so much talent that he is having a rough time determining where to fit it all in the big picture. How many coaches would love to have McDaniels problems in this league?
Broncos ought to be much more potent, than it was before losing the best tackle tandem in the league when right tackle Ryan Harris was injured in game seven after the Broncos to everyone's surprise started out going 6-0 last season.
Since this is actually a topic about tandem wide receivers, maybe we ought to get back to that.
Kyle Orton is the Matt Castle of the Denver Broncos while waiting for the rookie Tim Tebow to emerge as the Broncos franchise player.
Eric Decker, how in the hell this receiver did not make my The 2010 NFL WR Sleepers list is beyond me. Talk about a huge blind spot on the radar.
Denver Broncos third round pick, Eric Decker is Minnesota's all-time leader in receptions.
"I think he's the best wide receiver in college football, period," said Tim Brewster, Minnesota head coach.
Decker's college career came to a premature end with a Lisfranc foot injury last season. This allowed him to be a steal in this year's draft.
Decker only dropped three balls his whole college career. One can't help but wonder if Decker could wind up being the next Eddie McCaffrey.
"I enjoy (film study) a lot," Decker said. "I think over the last couple years I've had a great relationship with my quarterback. So I went into a lot of meetings with him and our offensive coordinator.
"I got to understand the philosophy of our offense and understand how to read coverage's and how to make adjustments when you see certain things. I really enjoy it because it gives you an advantage."
Decker, having played Division I, shared his views with how his skill set in baseball translates over to football.
"The biggest thing for me was the mental aspect."
"A lot of it is understanding how to control your emotions and being consistent with that. And also I think the physical attributes, the hand-eye coordination at the plate, centerfield, tracking the ball over the shoulder and tracking the ball in the gaps."
"I wake up and I love football," Decker told Buffalobills.com. "I'm fortunate to say that when I wake up I love what I do, and that's play football, preparing for football. I'll get my opportunity this fall and I'm excited about it."
I see why the coach say's his receiver was the best receiver in college, I mean here it is summer time when some players are vacationing with their family taking it easy while waiting for the rigors of the dreaded training camp to start.
Yet Decker is hard at work while being trained by Cris Carter "the best hands in football history" according to NFL networks analyst Jammie Duke. In between mini camp and training camp Decker could be found at Larry Fitzgerald's passing camp.
Decker is far removed from his foot injury, why he could be seen running routes, catching passes and going through the drills that took Sidney Rices' game to the pro bowl last season. Rice gives credit of his breakout season to the passing camp.
Asked if he's healthy, Decker said, "Yeah. It's still a day-to-day thing and the training staff is helping me to move along and progress at a very good rate. I feel comfortable every day so that's the best I can say."
"Oh yeah. I didn't get a chance to practice in OTAs and minicamp," he said. "I'm a little nervous and I'm anxious because I'm back to football, I'm back playing, I'm done in the training room and that's exciting to me."
With Brandon Marshall gone, there is a lot of expectations for the Broncos No. 1 pick in the draft to step up to being the No. 1 receiver, especially considering how bad of a performance Eddie Royal put on last season in his sophomore slump.
"I hope we have a lot of guys that become our No. 1 receiver at different times," McDaniels said. "We're not looking for it to be predictable or throw it to only one or two players."
Demaryius Thomas, the 6-foot-3 229 pound WR, has a strong stiff arm that makes him hard for a cornerback to bring him down. The unique combination of size, body control, and speed has scouts hopeful of Thomas being able to make a smooth transition to the NFL.
Thomas broke the school and ACC record, and his 25.1 yards per reception was second in the nation, he had posted career highs in 46 receptions, for 1,154 yards, and eight touchdowns.
"He's [Thomas] doing great," said McDaniels. "In terms of trying to get better at the things that he has struggled with or made an error with - he has really worked hard to try to fix those.
"He's had a great attitude and approach." Said McDaniels
"I think that comes with playing and knocking off some of the rust and you know, it's only his fourth or fifth practice where he's been out there against NFL caliber defensive backs. Like I said, he'll only get better every day and today was better than yesterday."
Eddie Royal has a strong hold on both the punt and kick return jobs
Eddie Royal has been spending the bulk of his offseason time working out. He too looks to be taking a "Wes Welker" type role in the slot.
I expect Eddie Royal to have a break out season. He put on a sophomore slump clinic last season. This after lighting up my fantasy team the year before. He along with rookies Chris Johnson and Desean Jackson, they helped me overcome losing Tom Brady that year.
Eddie Royal did not have one passing touchdown to speak of.
Josh McDaniels' highly complex scheme, a scheme that has kept Tim Tebow out of the hunt for the starting role, looks to have played a huge role in Royal's disappearance last season.
However, McDaniels expects Eddie Royal to bounce back this season.
"I don't know, it's tough to say," Royal said about his quiet 2009 season. "It was everybody's first year in the offense everybody was adjusting."
"I think he's a smart player, a versatile player (and) a guy that we need to do better with," McDaniels said. "We didn't do a good enough job of getting Eddie involved in the offense in certain games and we have to do a better job of that. He is certainly capable."
"I think a lot of the guys are understanding the system and terminology, they have less questions than they had a year ago," McDaniels said.
"There are a few players, obviously, the productivity maybe the year before they did not match it again last year. We are not happy about that either. Eddie Royal is kind of the same way, we want those players to continue to work and try to get better at what they do and then we need to try to find a way to integrate them in because they are all skillful players who do good things with the football in their hands." McDaniels said.
"We don't think about pressure," Royal said. "Our focus on the offense is everybody do their job and we'll be OK."
Orton said, "I just think a lot of it was I was new to him, he was new to me and we just kind of ... we missed some plays." Orton predicted Royal was "going to have a great year this year."
Speaking of Kyle Orton the man has the starting role locked down headed into training camp. Despite the debacle that was the second half of the season on the offensive line, Orton even after getting an ankle injury as a result, still managed to be a warrior and play hurt while jacking his standing as the 14th best quarterback in the league last season.
Now with a solid season under his belt with McDaniels new scheme, some added beef to go with having the best tackle tandem in the league return, jumping into the top ten ought not be a problem whatsoever if he can stay healthy.
"He is our starter. There is no question," Broncos coach Josh McDaniels said
"I think he deserves that right to come in as the starter," Broncos wide receiver Brandon Stokley said Tuesday after participating in the team's offseason training program at Dove Valley. "Anything can happen. But he deserves that. He played well enough last year and did enough good things to come into all the OTAs and camp as a starter."
With Tebow making the national headlines on the first day of the draft, and Brady Quinn brought in McDaniels did not hesitate to reassured his starter, that the job was his job to loose.

"I talked to him right then, and I told him this is a competitive thing as far as adding competition to any spot on our football team that we could," McDaniels said.
"This had nothing negative to do with Kyle Orton. We are just trying to improve the competition at every spot," McDaniels added. "To me, our conversation was quick, and to me, he embraced the concept of competing with another player. I don't think any player would shy away from that. Certainly, I think that our quarterback room is young and competitive, and I think that is a good thing for our football team."
"I told him the same thing we tell every player, which is, 'You've got to create your own role. What you do on the field, what you do with your opportunities, that's what's going to tell us what we need to know and then your role will be created from there,'" McDaniels said.
"We are looking forward to his improvement and his progress. He is going to know the offense so much better this time around than he did last year. That's going to give us more flexibility. It's going to give him more comfort," McDaniels said.
McDaniels managed to score by being able to bring in a back up quarterback who knows his system. Not to mention a backup who has the potential to actually break out in the right system.
If McDaniels knows anything, it is how to make a top ten quarterback out of one who ranked 25th last season, Matt Cassel is living proof of that.
"In talking to him a few times, he certainly knows the base of our offense. The terminology is, I would say, very close, not exactly the same," McDaniels said. "Our offense has evolved since Charlie left in 2004. Charlie's offense, I'm sure, evolved in a different way. We weren't together. Not that it veered off path significantly, but I think the basis of the terminology, he probably knows 85 percent of the terms and the words we use and the routes and all those different kinds of things.
"I don't think it's going to feel like a fish out of water. ... Again, I think that's why it's a good fit for us, because I think that gives him an opportunity to really go in there and compete and see what he can do. I think that will make our entire quarterback room better."
I believe McDaniels is going to prove that what happened last season during the rookie coaches 6-0 debut was anything but a fluke.

"There's a lot of leaders out there. But, unfortunately, there aren't a lot of good ones," Tebow once said
Contrary to what seems to be popular belief, Josh McDaniels is a good one, he did manage to outscore his opponents in an 8-8 season, despite the injury bug and transition his offense were experiencing~!!
Eddie Royal 9.3 Yard Average 345 Receiving Yards 0 Touchdowns.
Demaryius Thomas 25.1 Yard Average Georgia Tech
Eric Decker
The caveat in the dismissel of the Broncos emmerges from the mainstream media who have been dooped by the radical maneuvers Josh McDaniels has managed to pull. I also touched on this in regards to time tebow in this article.
Denver Broncos: Tim Tebow, Whose Professional Opinion Can We Trust?
How ESPN can get off ranking the Broncos 3rd in the league with their power ranking is beyond me.
New York Giants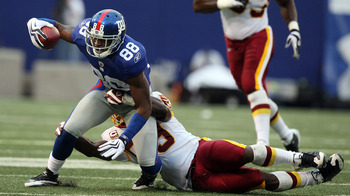 If any QB in this league depends on his running game to bail him out from being consumed by the heat of pressure that the burden of the teams success impresses upon him, it is Eli Manning.
Giants' fans want on the one hand to make a big to-do about how Eli has accomplished so much. Well to that I say where the hell was he when his team needed him the most to carry them last season?
Five interceptions to the Eagles and Cardinals is not going to get it.
Eli has turnover issues, three turnovers against the Panthers, two turnovers and 141 yards in his last game of the season against the Vikings? Brett had four TD's that game while Eli squatted down and laid an egg.
Eli is actually losing games as a result of poor play at the QB position. Eli had at least two turnovers in nine games last season, a season when the Giants needed him most.
Eli turned the ball over 22 times last season? 22 turnovers in a season does not an efficient QB make. 22 turnovers is Eli's average the past four out of five seasons~!!
When you have turnover's of 19, 20, 27 and 22 in 4 out of your last 5 seasons, well that is exactly the type of redundancy that opponents thrive in capitalizing on.
Teams already have the ball turned over to them once when your QB scores a Passing TD.
But Eli's redundant turnovers allow the ball to be turned over twice for virtually every passing TD.
This creates an unfair advantage for the opponent, a handicap a coach can ill afford to give opponents going into each game this season.
"The word to me is redemption," defensive end Justin Tuck said "We've got to redeem ourselves from last year, so I hope everybody keeps that in mind."
"I hate saying this, but we have a lot of talent. We do. And hopefully, this year, we have a lot of healthy talent."
This phenomenal receiving corp ought to be ranked No. 1, but IMO Eli Manning is holding this offense back.
Now how much of that has to do with his head coach bearing down on his psyche, no one will ever know, but I did see this coming, even before Eli decided to thumb his nose at San Diego, talk about your ego train wreck...
Ahmad Bradshaw had surgery on both feet and an ankle over the offseason. With screws inserted into his feet I am wondering if this bionic man will be able to make up for Brandon Jacob's lack of speed to hit the collapsing holes of the offensive line as quick as he had been in order to take some of the heat off of Manning? Something to look for in traimimg camp for sure.
Giants special teams took a huge hit last month when they lost Domenik Hixon for the season with a torn ACL.
While attempting to cut during a punt return, Hixon caught his foot in the new FieldTurf surface of their new $1.6 billion stadium.
"He got his foot stuck in there," head coach Tom Coughlin said. "You can see it on the tape; he's turning a little bit."
Defensive end Justin Tuck, running backs Brandon Jacobs, Ahmad Bradshaw, Hakeem Nicks and Kevin Boss spent all or part of mini-camp on the sideline.
Jacobs is recovering from surgery to repair cartilage damage he suffered and played through last season, not what you want to hear from a physical brawling back.
One can't help but wonder if not having played a full 16-game season, is reflective of his body starting to break down...
The 6-foot-4, 264 pounds bruiser had his average drop last season from 5.0 in 2008 to 3.7 yards per carry, from 15 touchdowns to only five. This season Brandon will have to answer whether or not he is still in his prime.
The mantra that has plagued Tom Coughlin for years is injuries, adding the turf to the plague equation can not be good.
Looks like Manning may have his hands full trying to carry the load if the pieces of the puzzle crumble around him again this season. If not he may emerge as a top ten QB while his receiving Corps rock's the house that is the NFL!
Steve Smith 11.4 Yard Average 1,220 Receiving Yards 7 touchdowns
Hakeem Nicks 16.8 Yard Average 790 Receiving Yards 6 touchdowns
Mario Manningham 14.4 Yard Average 822 Receiving Yards 5 touchdowns
2009 Giants Offense Rankings
No. 11 Scoring
No. 8 Overall
No. 17th in Rushing
No. 11th in Passing
Dallas Cowboys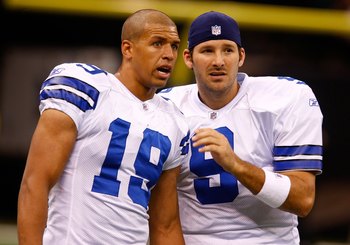 You know for a guy who did not start until week 5, Miles Austin sure did manage to light it up stat wise. Over 1,300 yards passing, and a whopping 11 touchdowns to match gave the Dallas Cowboys a plethora of weapons to choose from in their arsenal.
The No.1 wide receiver spot is up for grabs in Dallas in 2010, and you know Tony Romo couldn't be happier about this battle.
"It is a fair competition for the spot,'' Roy Williams said. "My thing is, if you're good enough, come get it. I've been working really hard this off-season. Obviously, something I've been doing these past two years hasn't been working so I took it another step further and it's working pretty good this year."
Ray Sherman Dallas Cowboys wide receivers coach said, "We're working on synching his hips, bending his knees a little more, getting down in some of his routes. We felt last year he might be a little high. We want him to play a little lower."
"I've gotten a lot stronger and I think that within itself is going to take my game to another level," Williams said
If it was not bad enough for Roy Williams having to fend off Miles Austin and Patrick Crayton, Jerry Jones decided to throw wide receiver sensation Dez Bryant into the mix.
"The dude is scary,'' Roy Williams said. "The dude is good and he doesn't even know it yet. Once the light bulb goes on he will probably be the best in the league. He's a man among boys. He's got big hands. Real big hands. When he shakes my hand, his fingers come up to my elbows.''
If the competition for the tandem was not so heated in Dallas this team would be jacked up a lot further, if this was the best quadruple receivers in the league, Dallas Cowboys would be ranked first.
Miles Austin 16.3 Yard Average 1,320 Receiving Yards 11 Touchdowns
Patrick Crayton 16.8 Yard Average 622 Receiving Yards 5 Touchdowns
Roy E. Williams 15.7 Yard Average 596 Receiving Yards 7 Touchdowns
2009 Dallas Offense Rankings
No. 14 scoring
No. 2 Overall
No. 6 Passing
No. 7 Rushing
Dishonorable Mention
They say don't mess with Texas, but what fun would it be not to rock the NFL boat now and again?
How did the Texans who had a 21 to 24 INT-to-TD ratio in 2007, and a 21 to 20 INT-to-TD ratio in 2008 wind up coming across as being the best passing offense in the league last season?
They say the numbers don't lie, but fact remains that the truth of the strength of schedule can make the numbers do just that. When taking stats into account one must be sure to preserve them with a grain of salt.
With only only 219 yards per game average, and just one touchdown to add to the four interceptions, the Texans exposed their passing offense as being anything but the best in the league when playing against three out of the four top ten passing defenses last season.
If 'the hold on to the ball too long' David Carr or Ben Roethliberger were the quarterbacks playing behind the Texans offensive line, yahoo would have probably ranked the unit 32nd rather than 6th.
When you play 9 games of your regular season, against the 27th ranked passing defense on average, and still not manage to make the 30 touchdown mark in a season, well how can the battle red flag not be raised, especially for a passing offense that was ranked 1st in the league?
Texans waiting till the 6th round to beef up the offensive line does more to hurt than help the Texans passing offense.
The interior of the Texans offensive line is the weak link of the entire offensive unit, and it starts with the finesse center who can be found treated like a rag doll by the monster tackles in the league.
Andre Johnson 15.5 Yard Average 1,569 Receiving Yards 9 Touchdowns
Jacoby Jones 16.2 Yard Average 437 Receiving Yards 6 Touchdowns
2009 Texans Offense Rankings
No. 10 Texans
No. 4 Overall
No. 1 passing
No. 30 Rushing
Keep Reading

New Orleans Saints: Like this team?