2010 Fifa World Cup: Five Best Games of the Tournament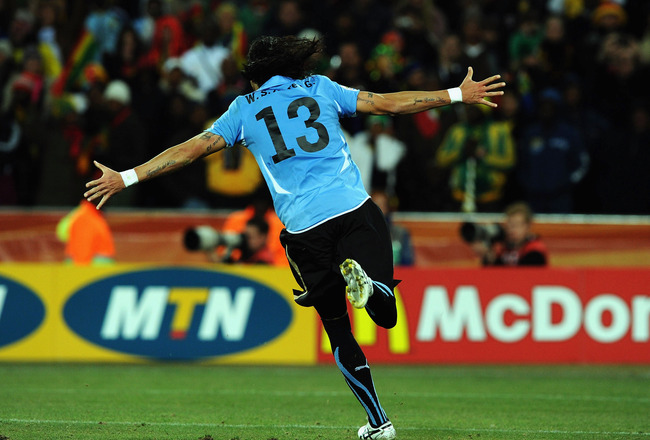 After 64 matches, the 2010 World Cup has come to a close with Spain winning their first title.
Choosing the five best games was tough—so tough, that I had to include five honorable mentions (in no particular order). I based these choices on which games provided the most overall excitement: the games that are most likely to be discussed four years from now.
Enjoy!
5. Netherlands vs Brazil Quarterfinals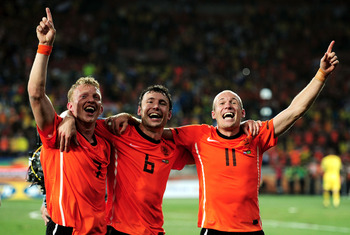 It seemed like a forgone conclusion.
As soon as Robinho scored in the 10th minute, Netherlands supporters all around felt pretty uneasy about their chances.
After all, they were facing the five-time World Cup champions.
But Brazil couldn't score a second goal. And in the second half, Welsey Sneijder made them pay.
The Inter midfielder scored off of a free kick in the 53rd minute (originally ruled an own goal) and a header in the 61st to help the Netherlands pull off the unthinkable.
They moved onto the semifinals by knocking out the World Cup favorite.
HONORABLE MENTION: Uruguay vs. Korea Republic, Round of 16
Before Suarez was "the villain," he scored a brilliant game-winner off the post
4. Germany vs Uruguay Third Place Game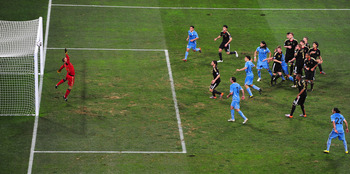 Third place games—especially those in the 2000s—tend to be high scoring affairs.
In fact, every third place game since 1978 has given us at least three goals.
This year was no different as Uruguay and Germany went back and forth, scoring five goals between them.
Golden Boot hopefuls Thomas Muller and Diego Forlan both delivered goals for their side.
Germany took a 3-2 in the 82nd minute from a Sami Khedira header and the game was all but theirs.
But in the final play of stoppage time, Diego Forlan had a free kick just outside of the box with a chance to tie it. The shot (pictured) beat the keeper but couldn't dip below the crossbar, ending Uruguay's World Cup with its second consecutive loss.
Forlan was understandably upset, but he can only do but so much. He was in top form throughout the tournament.
HONORABLE MENTION: South Africa vs. Mexico, Group A
Mostly because it was the opener and the stadium exploded when Tshabalala scored.
3. Slovakia vs Italy, Group F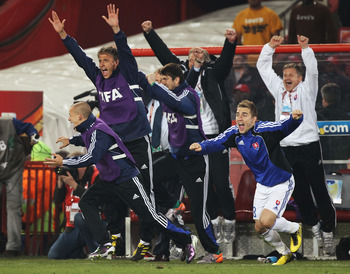 Say what you want about Italy and Group F... let me begin the criticism.
There's absolutely no excuse for the defending World Cup champions to not advance out of a group this weak.
But failing to advance AND finishing last in the group? Embarrassing.
Ok, I'm done.
At least Italy's final game in the group stage was a thriller. After Slovakia shockingly took a 2-0 lead, Anthony Di Natale finally put Italy on the board in the 81st minute.
The momentum took a seismic shift in Italy's favor and they made numerous efforts to tie the match.
But Slovakia's Kamil Kopunek scored a crafty goal off of a throw-in in the 89th minute, which spelled the end of Italy's title defense.
Or so it seemed.
Italian sub Fabio Quagliarella nailed a remarkable chip shot in the 92nd minute (Why he didn't start is beyond me).
But in the end, it wasn't enough. Slovakia advanced to the knockout stage and dealt a huge black eye to Italian soccer.
HONORABLE MENTION: United States vs. Slovenia, Group C
It should've been a win, but the comeback was spectacular nonetheless.
2. United States vs Algeria, Group C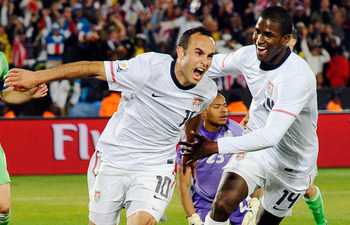 What a finish!
Needing only a win to advance out of the group stage, the U.S. certainly couldn't make it easy on us. That's not how teams get remembered in American sports history.
We love to see the last-second shot or touchdown to win the game. The extra time goal is no different.
After failing to capitalize on countless scoring chances, the Cardiac Yanks' hopes were growing slim.
But in the 91st minute, the breakthrough came. Off of a Tim Howard throw, the U.S. attack sprinted up the field and put away the game-winning goal off of a deflection.
The hero? Who else but the greatest soccer player in U.S. history, Landon Donovan (pictured left)?
The U.S. interest in the World Cup was at an all-time high after by far the most exciting finish of the group stage (and thankfully it remained high even after they were knocked out).
HONORABLE MENTION: Spain vs. Paraguay, quarterfinals
I expected a blowout, but Paraguay made them work for it. No problem for Villa, though.
1. Uruguay vs Ghana Quarterfinals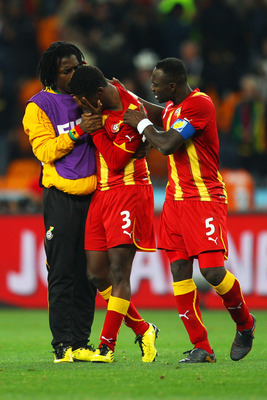 "That is one of the cruelest exits I've ever seen in World Cup history." -World Cup Announcer, Ian Darke
Tell me about it.
The entire host continent is on your shoulders and to have it end like this? Sad to see, especially since I've had a strange obsession with the Ghanaian national team since the 2006 Cup.
But what a game! Tied 1-1 in extra time, Luis Suarez is red carded for swatting away a would-be goal.
The match rested on the foot of Asamoah Gyan, as he prepared to take the penalty kick. Most fans hadn't even caught their breath from the thought of another game-winning PK for Ghana, but there was no need.
The shot bounced off the crossbar.
A golden opportunity to be the first African nation in the semifinals and he couldn't deliver. Horrible feeling.
He avenged himself during penalties, but I'm sure Soccer City wondered where that composure was just minutes before.
After two misses by Ghana (the first was just an awful attempt to begin with, Uruguay iced it with a cool chip shot from Sebastian Abreu.
Uruguay escaped with a win on penalty kicks, reducing Gyan to tears (pictured).
A heartbreaking end for Ghana, but still the best game of the 2010 FIFA World Cup
HONORABLE MENTION: Ghana vs. Serbia, Group D
Gyan's first PK attempt beat a favored Serbia squad in the 85th minute.
Keep Reading