Top 20 Current NBA Players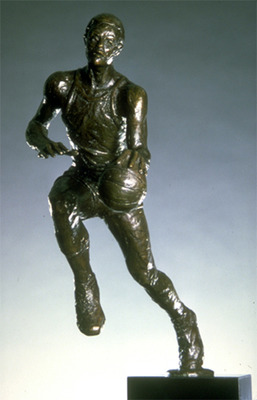 Here is my list of the top 20 players in the NBA today. My criteria is similar to most other lists of this sort, with the one difference being that I tend to give less weight to team performance when evaluating individual players than many other writers do.
#20-Manu Ginobili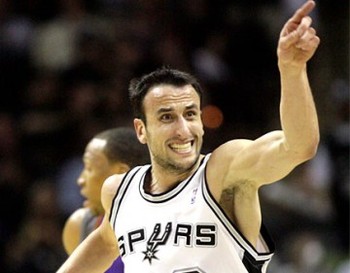 Manu, like another notable Spur, is often underrated due to his lack of flashiness, but what he lacks in style he more than makes up for in substance, as he has been one of the league's most efficient scorers over the past few seasons.
In his best years, he has proven capable of averaging 16.0-18.5 PPG in only 27-30 minutes, truly an impressive feat, and while he got off to a slow start this season he completely carried the Spurs in the second half, reminding us all why he should be considered one of the NBA's elite.
#19-Steve Nash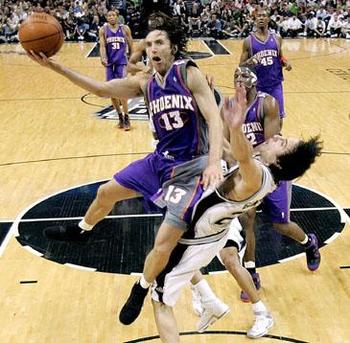 While some may feel this an underrating of the two-time NBA MVP, I believe, at this stage in his career, it is the appropriate slot. Nash is obviously a great passer and a wonder to watch, and on top of that shoots a great percentage and rarely misses a free throw, but his defense has slipped into an abysmal territory.
His steals make his defense look better than it is, because in reality he frequently gets torched in one-on-one situations against pretty much any type of guard. That being said, Nash has been one of the NBA's premier PGs for quite some time now, and while his defense is terrible, his offense more than makes up for it.
#18-Gerald Wallace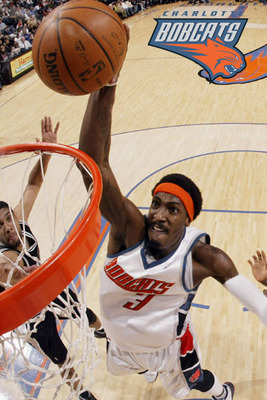 Before this year, you would be hard pressed to find a casual NBA fan who knew much about Wallace, but after the 2009-2010 season, Wallace catapulted into the upper echelons of the NBA. Wallace is a rare athletic freak who also has a great sense for the game of basketball.
Watching him jump over Dwight Howard for rebounds in the playoffs last year really shows you how much athleticism the young Bobcat has. Wallace actually averaged a double-double last year, and if Charlotte can find a better team to surround him, he could finally garner the fame he deserves.
#17-Tim Duncan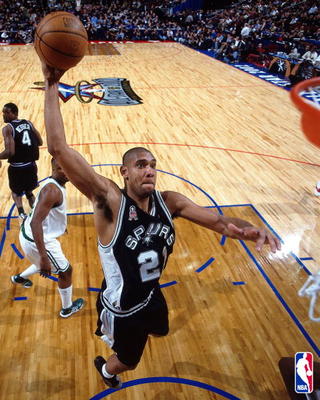 Duncan finally seems to be in the decline phase of his career, but the Big Fundamental is too good to quietly fade into obscurity. He posted his worst scoring and rebounding numbers of his entire career, but still managed 17.9 PPG and 10.1 RPG.
Duncan has never once averaged under 10 win shares in a season, and while indications point towards a steady decline, he is only 33 and has been remarkably injury-free throughout his career, making it completely reasonable to expect another top season from Timmy.
#16-David Lee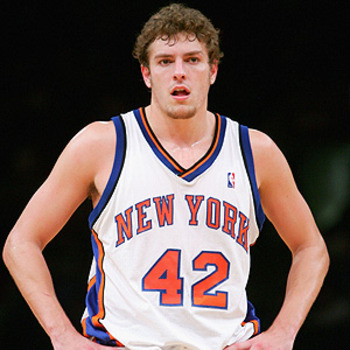 With absolutely no talent around him Lee has managed back-to-back seasons of double-doubles, and while he is by no means a premium defensive talent in terms of one-on-one ability, his rebounding means that he is at least average on the defensive end.
With a move to Golden State, Lee should be able to continue his upward scoring trajectory, that is unless Monta Ellis steals all his shots, and blossom into a perennial all-star.
#15-Al Horford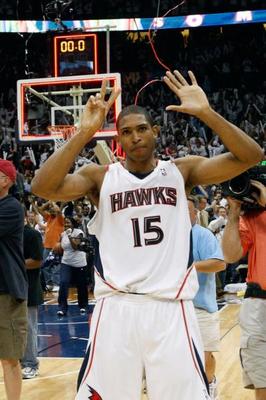 Joe Johnson may have just gotten the massive contract extension, but Al Horford is the best player on the Hawks. Horford shoots a great percentage (55.1%), rebounds well (9.9 RPG), and can score (14.2 PPG), add his fantastic defense on top of that and you have a recipe for a top 20 player.
Joe Johnson may get all the hype, but it was Horford who put up 10.9 win shares last season, and it's Horford who is only 23 and still improving.
#14-Amar'e Stoudemire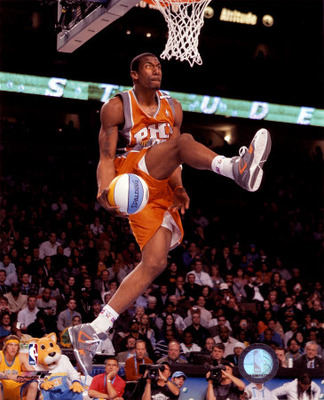 Stoudemire, like Wallace, is one of the most physically gifted players in the NBA considering his size, and frequently destroys less athletically imposing defenders.
Stoudemire is not a great defender, but is improving, and has some of the best scoring ability of any PF in the pro basketball.
#13-Brandon Roy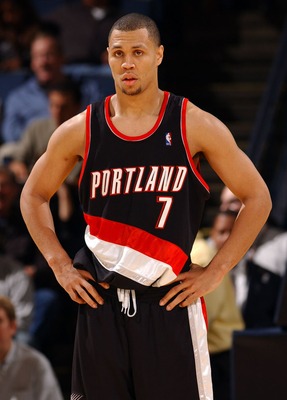 Last season's injuries ensure that Roy will not crack the top 10, but it's impossible to forget how unbelievably good he was in 2008-2009. In the past two years, Roy has shot 48.0% and 47.3% from the field, exceptional numbers for a SG.
While Roy is not extremely athletic, he is still one of the best drivers in the league, and got to the line an average of 6.8 times per game last season. If Roy goes injury-free and plays like he did two years ago, we may be looking at a legitimate top 10 player for years to come.
#12-Carmelo Anthony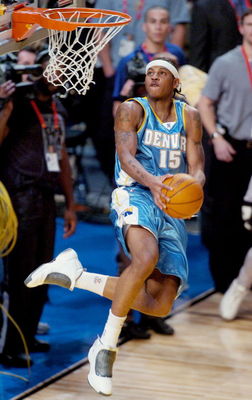 There is no doubt in my mind that Carmelo Anthony is an overrated player by the average fan's standards, but that doesn't mean he isn't one of the NBA's best. While he is a bit of a volume shooter, Anthony still possesses one of the most lethal one on one games in the NBA, as he can post you up, spot up and shoot in your face, and attack the basket with the best of them.
Anthony will probably continue to be overrated as long as he's scoring 25+ PPG, but don't let him become one of the those players who is so overrated that they are underrated.
#11-Danny Granger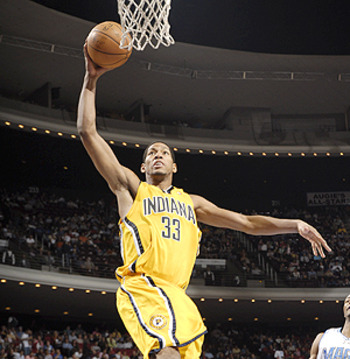 Granger's notoriety suffers from the fact that he plays for the Indiana Pacers, if he were on a more popular and high profile team there is no doubt that most everyone would consider him a star. Granger is the complete package, with elite scoring ability, good defense, and a high basketball IQ.
Granger struggled through injuries the last two seasons, resulting in only 129 games player between the two years, but has averaged over 24 PPG while on the court both years. If Granger can avoid the injury bug this year and, at the same time, post the numbers we're becoming accustomed to, he should be in contention for a 2nd or 3rd All-NBA selection.
#10-Chris Bosh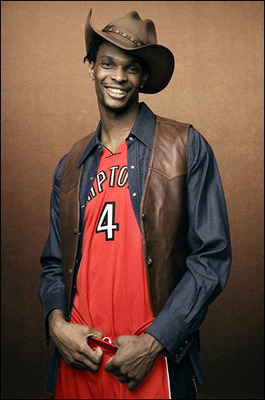 Bosh toiled in relative obscurity in Toronto, but all that will change this fall when he "takes his talents down to South Beach and joins the Miami Heat".
Okay, so maybe those were LeBron's words, but Bosh's image will surely be the biggest benefactor of two when the new big three takes the court later this year. Bosh has been incredibly consistent over the last 5 years, posting at least 9.6 win shares every single season.
And while he has never had a truly dominant season there is something to be said for such dependability. Bosh's numbers will certainly take a hit this year, but that is more a testament of the Heat's star power rather than any decline in Bosh's ability. In fact, at age 25, Bosh is probably heading into his best years as a pro.
#9-Pau Gasol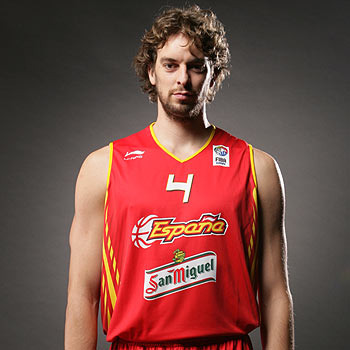 Seeing Gasol's passing ability in a big man is a thing of beauty, rivaled by no one in the NBA right now. Pau's second full season in L.A. saw him have a slight drop in points, but a more than 1.5 increase in RPG.
Gasol is not in the athletic PF mold of Amar'e Stoudemire or Josh Smith, but can do everything well on the offensive end. He has a decent mid-range jumper that he can shoot over most defenders, shoot well in traffic and while being fouled, and is one of the top offensive rebounders in the leauge.
Pau uses his elite size to his benefit, rarely being caught in poor position and capitalizing on any mistakes defenders make while guarding him. Passing wise, there is not a single big in the NBA right now as good as Pau, he has eyes in the back of his head and can throw right on the money passes to teammates cutting behind him while keeping his eyes completely forward.
It seems like Pau has been around forever, but he is just 29 and has quite a few more excellent years left.
#8-Deron Williams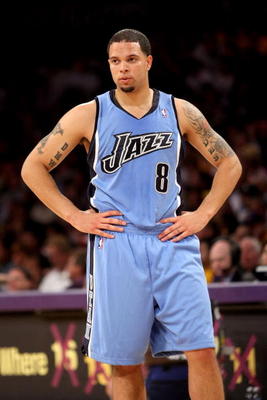 After Chris Paul, Williams is hands down the best PG in the league, averaging over 10 APG in each of the past 3 seasons. Williams plays a smooth game and can manage a half court game and run the fast break with equal ability.
Losing Carlos Boozer may hurt his numbers slightly, but Williams is more than enough to carry a well-rounded Jazz team into the playoffs once again. Williams will only be 26 next season, so the sky is the limit for guy with the best crossover in the NBA.
#7-Dirk Nowitzki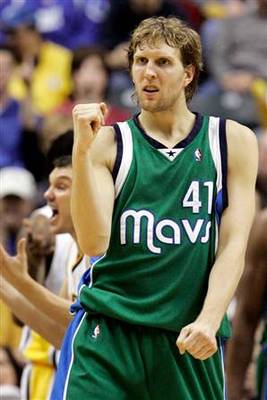 Dirk recently inked an under market value extension to stay in Dallas, and if he continues the elite play he's known for his contract could be one of the best in the NBA next year.
Dirk is a lock for 23-26 PPG and while he is knocked for being soft his career low in RPG since his third year is 7.7. Dirk has got to be one of the most frustrating players for opposing defenders to guard, as he seems completely impervious to any sort of hand in his face while shooting.
His face up game is probably the best of any big in the NBA, and at least for another year Dirk will hold the title as best PF in the NBA.
#6-Dwight Howard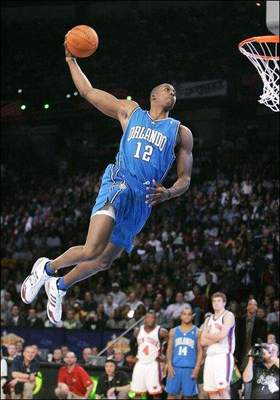 Dwight Howard is the NBA's most dominant physical specimen, capable of things of which most people cannot ever dream. Howard's defensive ability simply cannot be matched, there is no one else in the NBA who comes even close to him in that regard.
Last year he averaged 2.8 BPG and 13.2 RPG, and his unquantifiable shot altering abilities are immense. Howard frequently gets knocked for his perceived lack of polish on the offensive end, but anyone watching him this year would know that he's added a solid repertoire of post moves and now combines his incredible athleticism with good moves to be an offensive force.
#5-Kevin Durant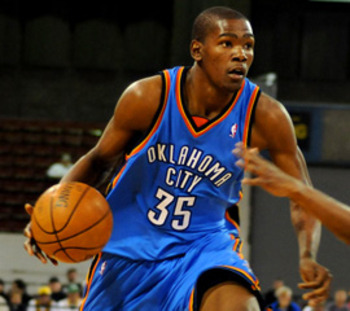 Kevin Durant broke out in a serious way this past year, becoming the most renowned young scorer and one of the most well-liked players in the game today. Durant was the only player last year to average over 30 PPG, coming in at 30.1 to finish the season, and also manages to contribute well defensively, and with rebounds (7.6 RPG).
Durant is an elite athlete, has great length, and has an extremely polished offensive game. It's almost impossible to defend Durant's lanky frame, as he physically dominates smaller defenders and blows by bigger ones, he can create a shot against any defender in the NBA and is as good at getting open off the ball as anyone in the NBA today.
#4-Dwyane Wade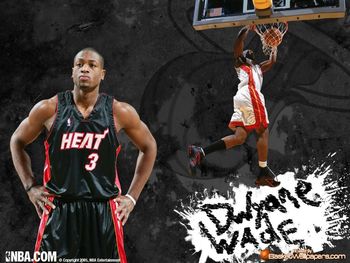 Besides two years lost to injury Wade has had as illustrious an NBA career as anyone could expect. Wade owns a lethal mid-range game, is very explosive around the rim, and seems to always be a step or two ahead of the game.
Wade is the perfect model for a combo guard, as he is as comfortable with the ball in his hands as he is while getting open off-ball.
With LeBron James and Chris Bosh coming to the Heat, Wade might be required to pass the ball a little more, but he has shown no signs of selfishness in the past, and has worked well with another egotistical star when he won the NBA championship with Shaq. Wade is the consummate professional and one of the best talents the NBA has seem in the past decade.
#3-Kobe Bryant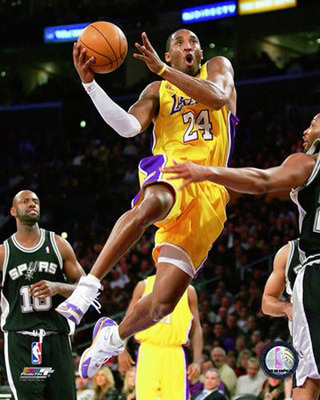 Kobe Bryant will likely go down as one of the top 10 players in NBA history, and I feel blessed as an NBA fan to be able to see one of the NBA's all-time best through his prime. Watching Kobe go to work on a night-to-night basis is as special a treat as any basketball fan can get.
Kobe may have lost a step from his #8 days, but he still has the best mid-range touch of any player in the 2000s. Even with tons of injuries last year put up 27.0 PPG, as talented as the Lakers have become Kobe is still their go to guy capable of putting up 50 on any night.
Because he can beat you in so many ways, Kobe is nearly impossible to gameplan against, thus opposing defenses are simply at the mercy of how hot Kobe's shooting hand feels on a particular night.
#2-Chris Paul
CP3 unfortunately missed almost half of last season with a knee injury, but people have seemed to quickly forget that he had seasons of 17.8 and 18.3 Win Shares before being injured.
CP3 is everything a PG should be, he's quick in transition, one of the best passers around, and rarely turns over the ball. Paul's incredible passing numbers combined with his lack of turnovers very well be his most impressive feature, as he posts less turnovers per 36 minutes than Nash, Rondo, Stockton, and DWill.
If CP3 maintains his health through 2010-2011, he should challenge for the league MVP and emphatically reclaim his title as the NBA's best PG.
#1-LeBron James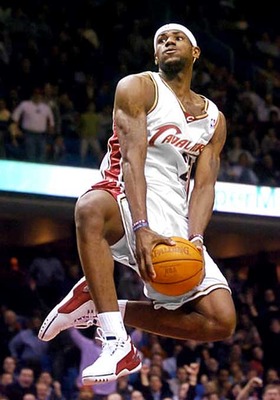 Were you expecting anyone else?
Keep Reading