New York Jets Training Camp: Top Five Training Camp Position Battles
No team has created more of a buzz going into the 2010 season than last year's playoff darlings, the New York Jets.
I thought now is a good time to preview some of the position battles in training camp this year.
The Jets have added talent at a variety of positions in 2010 on both sides of the ball. After leading the NFL in rushing yards per game, there is no certainty as to who will be the starting running back after the release of leading rusher Thomas Jones. The Jets have a holdover, a free agent addition, and a newly drafted rookie competing for snaps.
The Jets also led the NFL in passing defense in 2009, yet broke up the secondary that led the way. With turnover at both the cornerback and safety positions, it'll be interested to see who earns playing time for an ambitious defense that plans on developing into an even stronger unit in year two of the Rex Ryan era.
Are the Jets planning on signing a veteran quarterback to provide more stability and depth at the position?
Who steps up at slot receiver during the first four games of the season while new addition Santonio Holmes serves his suspension?
Some positions are set in stone, some are a little murkier. It's definitely going to be a wild ride, as Jets training camp begins year two in the Rex Ryan era in Cortland, NY. The television cameras will be set to go as HBO's Hard Knocks will chronicle an uncensored training camp experience on national television.
2010 is set to be a wild ride for Jets fans. I know I'm excited to see if the Jets can kickoff the inaugural season in New Meadowlands Stadium with a memorable season.
Let's look at five position battles that will have a big impact on the team going forward as the season starts.
Battle for Starting Left Guard Spot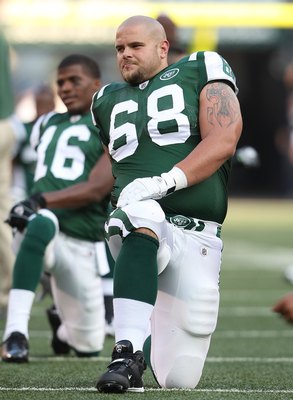 After putting up the best team rushing performance in franchise history, the Jets offensive line proved that they are a well-oiled machine capable of greatness, especially when considering young stars D'Brickashaw Ferguson and Nick Mangold, two guys who haven't hit their prime yet.
With Damien Woody and Brandon Moore anchoring the right side, the left guard spot is the only place on the line that will have a new starter after the release of Alan Faneca. The job will likely come down to rookie second-rounder Vladimir Ducasse and second-year man Matt Slauson. At this point in time, there isn't a real front-runner yet either.
Ducasse was drafted in the second round out of UMass with the intention of being a big part of the offensive line in the future, either at guard or at tackle. It remains to be seen if right tackle rather than left guard will be his permanent position when the dust clears, but in 2010 he'll likely be playing guard with the uncertainty at that position and the strong play of Woody.
Slauson has an inherit advantage of being a second-year pro instead of a rookie. Slauson also played at Nebraska, where Jets offensive line coach/assistant head coach Bill Callahan was his head coach. It's probably not an accident that the Jets drafted Slauson in the sixth round in 2009 for that very reason.
Callahan deserves the credit for being the running game coordinator. His system uses a zone-blocking scheme that allows the backs more freedom of choice of where to run on any given play. This flexibility behind the strong push up front from the game's best offensive line is what makes the Jets running game so successful.
If Callahan likes what he sees from Slauson, he'll get the first crack at the job. However, the Jets were said to have liked Ducasse enough to have taken in the first round at 29th overall had Kyle Wilson of Boise State not been available.
If I was a betting man, I'd wager on seeing Ducasse win the job with Slauson being the primary backup at both guard spots. This battle is wide open, however, and it should be an interesting fight to the finish.
Battle for the Most Snaps at Running Back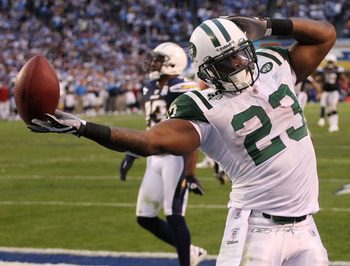 The running back position was completely revamped from last year's opening week roster, as starter Thomas Jones and third down back Leon Washington have both moved on.
Rookie third-rounder Shonn Greene came on strong late in the season, getting his first two career starts in the playoffs, as he rushed for more yards in the postseason than any back in the NFL last year.
Greene will likely be named the starter, although as the NFL has evolved in the last decade, we all know that he's not going to carry the ball 30 times a game.
LaDainian Tomlinson has come over from San Diego, eager to prove himself as a tenth year pro, desperate to prove to his doubters that he still has something left in the tank after a terrible 2009 season behind an awful run-blocking line in San Diego.
Tomlinson's biggest strength is his ability to catch passes out of the backfield, an offensive weapon the Jets did not have last year after the injury to Washington. Greene is a bruising, straight-ahead runner who occasionally bounces it to the outside, but he's not known for having soft hands.
Rookie Joe McKnight will add another dimension to the offense, with fresh legs and some serious speed to burn. McKnight, a former teammate of Mark Sanchez at USC, drew comparisons to Reggie Bush in high school but wasn't quite the sensation in college that Bush was.
All McKnight has to do with the Jets is be Joe McKnight instead of trying to be Reggie Bush. He and Tomlinson should help the passing game even more than the running game.
The key is how to split the snaps between the three. There may be packages where two of the backs will be in the game at the same time. They may line up Tomlinson and/or McKnight in the slot.
Heck, with All-Pro fullback Tony Richardson and rookie fullback John Connor in the mix, there's limitless possibilities as to what the Jets can do.
I expect Greene to get the majority of snaps, but I wouldn't be surprised to see others, Tomlinson especially, get 15-20 touches a game as well.
The Jets can get creative on offense with all the weapons they have, and Brian Schottenheimer's creativity will be on full display in 2010.
Battle for Snaps on the Defensive Line Rotation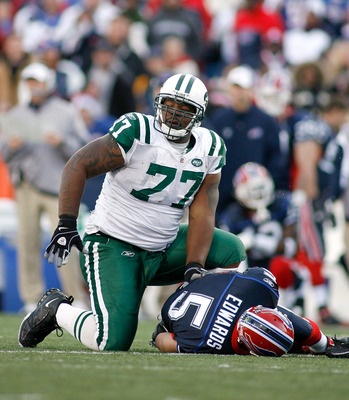 The Jets defense is a complex system that opposing offenses have struggled to get a good feel for.
One of the wrinkles the Jets threw in there after the loss of NT Kris Jenkins to a knee injury last season was shifting from a three-man line to a four-man front on some snaps.
Backup nose tackle Sione Pouha played fantastic as a run-stuffer down the stretch, as the Jets line didn't miss a beat after losing their unit's best player mid-season.
Jenkins is back in the middle this year, flanked by Pro Bowler and longest tenured Jet Shaun Ellis on one side and possibly 2008 first-rounder Vernon Gholston on the other.
Gholston has thus far been a tremendous bust at outside linebacker in his first two seasons since being picked sixth overall out of Ohio State. He's barely seen the field, as his raw strength and athleticism have not translated well to learning a new position at the pro level.
Maybe that's why Ryan and his staff are moving Gholston back to his more familiar defensive end spot that he played in college. Gholston's best attributes are his high-motor and his brute strength, so it's not so farfetched to expect him to play far better as a gap-stuffing lineman than as an outside linebacker.
Aside from those starters though, is the second unit that includes Pouha and Mike DeVito. The two of them were both tremendous when they were on the field last season, and I expect to see continued development from them in 2010.
With Ellis, Jenkins, Gholston, Pouha, and DeVito among others, the Jets can mix and match lineman in threes or fours throughout each game to keep everyone fresh.
I'm very interested to see how many snaps they each get. It's not impossible for DeVito or Pouha to get the the starter label from Gholston, although this season, at least early on, it appears Gholston will be given every chance to succeed. He's probably on his last legs with this team, and if he doesn't have a good season, he might find have to find himself a new team in 2011.
I expect the five big guys, as well as some others, to rotate around all season in Ryan's defense to keep the run defense strong all season long.
Battle for the Punter Job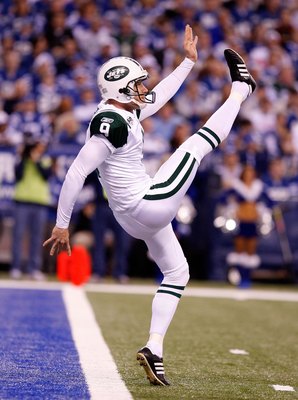 Ok, so maybe a punter isn't the sexiest position battle on a team, but special teams are still one third of a football team. And with Nick Folk apparently being handed the placekicking job, the only kicking battle will be between punters Steve Weatherford and T.J. Conley.
Weatherford is the incumbent, having punted for the Jets all of last season before missing a playoff game against the Bengals with heart palpitations. Health issues aside, the 27-year-old wasn't all that effective last year.
Weatherford was 27th in the NFL with a 42.0 average on his punts, although his 25 punts inside the 20 yard line was tied for 12th.
Conley was an undrafted rookie who was in camp with the Jets last year, so obviously they like him if they've brought him back for a second training camp. He didn't make the team last year, but appears to be mentally readying himself for a serious run at the punting job this year.
If Conley or Weatherford can grab hold of the job and put up some impressive kicks during training camp, it'll help Ryan and his coaching staff breath a little bit easier during the season.
Hey, it's not the most glamorous job on the team, but somebody's gotta do it. In Brian Schottenheimer's offense, the punter also runs some trick play fakes too, so take that for what it's worth.
Battle for Snaps at the Safety Spots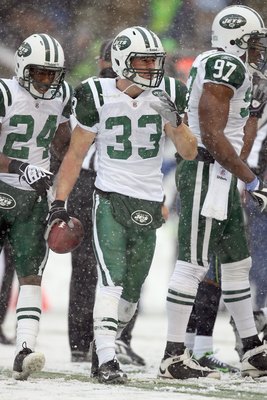 Jets strong safety Jim Leonhard quickly became one of my favorite Jets in his first season with the team last year, as one of the three ex-Ravens to follow coach Ryan to New York.
Leonhard is the general of the Jets defense, making all of the play calls for the top-ranked defense, a task usually handled by a team's middle linebacker.
Alongside Leonhard, however, the one questionable starting spot in the Jets secondary is the free safety position, previously held by ex-Jet Kerry Rhodes.
Brodney Pool and Eric Smith are the frontrunners, with James Ihedigbo likely to see snaps as well.
Pool is best suited to roam around the field like a centerfielder, as Rhodes was used a lot in his Jets career. Smith, while a decent pass defender, is much better suited to coming up on blitzes and making big tackles at the line of scrimmage.
There's even some talk about using cornerback Dwight Lowery at safety this season, now that the Jets have some serious depth at CB with Darrelle Revis, Antonio Cromartie, and first-rounder Kyle Wilson.
Lowery has a good skill set for the safety position, and it should be very intriguing to see how Ryan, defensive coordinator Mike Pettine, and defensive backs coach Dennis Thurman plan on using the personnel they have to replace the playmaking Rhodes.
It was very apparent that Rhodes did not mix well with the Jets new coaching staff last season, as he didn't like his role in the defense and his attitude was a strain on the team.
Now Rhodes is in Arizona, and the Jets have a talented influx of talent to play his position. Leonhard is a given at one of the safety spots, but the other one is still up in the air.
The Jets had the top-ranked pass defense last season, and they were over 30 yards ahead of the second-ranked team. With the way the Jets use their defensive backs, it wouldn't surprise me to see them get created and not miss a beat in 2010.
These position battles are five of the best ones to watch during training camp, and HBO's cameras will be there to document everything.
Keep Reading

New York Jets: Like this team?